Cech & Drogba hailed after Chelsea's FA Cup final victory & Roy Keane questions Manchester United captain Patrice Evra
Comment & analysis round-up
Quote of the day: "You look at big players like Didier and Lamps — when it's the big occasion, they always step up to the mark. It is incredible. The momentum we get from this will help us in the Champions League final. When the team have their backs to the wall, that is when we are dangerous. People can question us all they like but the hunger in the squad is incredible. The spirit has been excellent throughout." – John Terry.
Runner-up: "It's been an ­insane transfer market for a long time and I think clubs like City create that. They can buy all the players and put a marker on all the ­players and that makes it ­difficult for clubs then to be ­reasonable. There's no chance of that calming down and I don't see how the financial fair play can work. No-one can match City's financial power – ­no-one. We have to accept that, so we do it a different way. We'll try to look at young ­players with the potential to develop in the club, which we're good at, so we'll stay with that. We'll assess where we are going in terms of players. We'll no doubt be bringing players in. Maybe two or three, who knows? It depends on the type of market we're dealing with and player availability. But Scholes and Giggs are coming to the end so it's a fact that we have to guard against that. It's difficult to think you can get a Giggs or Scholes falling off trees. Tom Cleverley has got fantastic potential and Michael Carrick has still got years left in him. But we'll probably add someone to the squad. There's nothing settled for Berbatov. We're waiting for someone to make an offer. He won't go for nothing." – Sir Alex Ferguson.
Chelsea win the FA Cup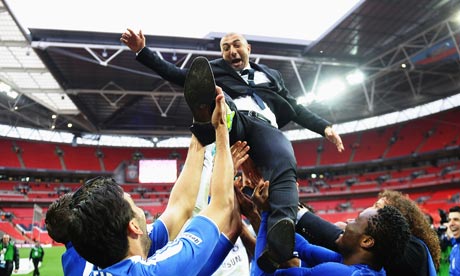 Chelsea and Roberto Di Matteo kept in credit by bank manager's call (Daniel Taylor, Observer) "There was the width of a cigarette paper in it. On the far side, a sunrise of a smile had broken out on Kenny Dalglish's face. He was punching the air, convinced Liverpool had pulled level. Andy Carroll had begun his celebration run, pursued by his team-mates. An hour after the game, the striker was still arguing his header had gone over the line. At least this time, unlike Chelsea's semi-final against Spurs, the officials got it right. It will go down as outstanding goalkeeping from Petr Cech aided and abetted by the eyesight of Andrew Garratt, the assistant referee, who kept his flag down as the ball ricocheted off Cech's glove against the underside of the crossbar, down and out. Garratt, a bank manager from Walsall, got it spot-on and, half an hour later, the Chelsea players were giving Roberto Di Matteo the bumps in the goalmouth. It is turning out to be one hell of a job application Di Matteo is putting together for Roman Abramovich. The small print says: sacked by West Bromwich Albion, turned down by Birmingham City. The top of the page says: Champions League final and FA Cup victory. All achieved in two months."
Didier Drogba proves his value to Chelsea is more than just as a Wembley talisman as he downs Liverpool (Henry Winter, Sunday Telegraph) "Oft criticised, oft written off, the Chelsea striker is now the first player to score in four FA Cup finals, the man who has struck eight goals in eight competitive games at Wembley yet he is still expected to leave Chelsea. The club need to answer a question from their fans. Why? Why let Drogba go? The talisman with the occasional tantrum in him always has a goal in him. The player who always seems to have the final word in finals does not have the final word in his Chelsea career. At 34, Drogba wants a two-year contract at the Bridge, which the club are loathe to offer as they seek to rejuvenate the squad. He is still a force, still a goalscoring threat, and still apparently booked on a slow boat or fast plane to China and the riches of Shanghai Shenhua. The way he kissed a post and touched the Wembley turf amidst Chelsea's post-match celebrations looked like a man saying his farewells to a favourite venue."
Rob is a special one… sign him up (Rob Beasley, Sunday Sun)
Kop fury at ghost goal (Shaun Custis, Sunday Sun)
Ramires key to Chelsea's future after impressive FA Cup final display (Dominic Fifield, Observer)
Carroll cameo comes too late for lonesome Luis to use his craft (Glenn Moore, Independent on Sunday)
The title race
I've got doubts about Evra as United's leader(Roy Keane, Sunday Sun) "In my view, Manchester United need to strengthen this summer. Not their squad but their team. We're not talking drastic surgery here and I'm a little bit surprised about all of the doom and gloom around United. Sure, the last few weeks haven't been good but they are still level on points at the top of the table and it won't exactly be back to the bad old days if they do finish second. But it has been a frustrating season and, of course, Alex Ferguson has never been one to settle for second best. They were just that against City on Monday and I think it was the performance more than the result that really alarmed people. You were waiting for the late onslaught and a goal, like United have done so many times. But maybe we're all guilty of living in the past."
Even if they win the Premier League it is clear Manchester United are a team in decline rather than transition (Jim White, Sunday Telegraph) 
Fair play, City will make money as well as spend it (Steve Tongue, Independent on Sunday)
Wayne Rooney had a point about Manchester United's spending power (Daniel Taylor, Observer)
Sir Bobby's magic still inspiring Newcastle as statue is set to be unveiled (Joe Bernstein, Mail on Sunday)
Could Arsenal finish 5th?
Arsenal leave their fate in the hands of others (Jack Pitt-Brooke, Independent on Sunday) "This game, which could be Robin Van Persie's last at this ground, told the story of his and Arsenal's season. After watching so many dismal minutes he was very close to personally transforming failure into success. Van Persie's efforts, though, were not enough. The draw against Norwich City means that Champions' League qualification is no longer in Arsenal's hands. Van Persie must have despaired. He was little more than a spectator for 70 of the worst minutes of football seen here this season, as Arsenal were outrun by Norwich before two more of his goals turned a 2-1 deficit into a 3-2 lead. It seemed to have delivered three crucial points, which would have secured Arsenal's hold on third place. But Steve Morison's strike, with five minutes left, ended that."
Arsenal 3 Norwich City 3: match report (Sunday Telegraph) 
Roy Hodgson & England
Hodgson's first job? To get the right backroom team (Gary Neville, Mail on Sunday) "No one can deny that it was a shock on Sunday night when it became clear that Roy Hodgson had been approached to be England manager. Everyone had been lured into thinking that Harry Redknapp would get the job, and that is who I would have picked as my candidate. But once the initial surprise had gone and you examined their records, and their strengths and weaknesses side by side, it was impossible to say that Harry Redknapp's credentials were a million times better than Roy Hodgson's. They were both good candidates offering very different qualities for the job, and you can make a good case for either. And though there has been a lot of negative reaction to the appointment of Hodgson in certain newspapers, I actually think that is going to work in his favour in rallying people behind him. When it comes to dealing with pressure, you don't get much more in club football than managing Inter Milan and Liverpool."
Hodgson has spent his career becoming perfect for England (Patrick Collins, Mail on Sunday) 
Is British football scared of brains? (Andrew Anthony & David Baddiel, Observer)
Gossip
You got the Luuk: Premier League big guns chasing FC Twente striker (Sunday Mirror)
---
GAMBLING CAN BE ADDICTIVE, PLEASE PLAY RESPONSIBLY