Cash strapped Manchester United move for Joe Cole as West Ham target David Beckham
Comment & analysis round-up
Quote of the day: "I'm going to say it because it is impossible, I would like to coach Rooney, as much for his football as for his mentality. But my friend, [Sir] Alex Ferguson, can relax, because it's impossible." – Jose Mourinho.
Runner-up: "People say Alex is saying money is there because he has to. Anyone who knows Alex Ferguson knows he wouldn't say that if he didn't mean what he said. The money is definitely there. The financial results will show the figures are about £95m cash. We are not in a situation whereby Alex is restricted in what he wants to do with the club. We can invest in the players, the training ground and the stadium." – David Gill.
Today's overview: England dominate with the final friendly prior to the World Cup with Japan coming up tomorrow. There is also focus on Fabio Capello and who the Italian will cut from his squad. Elsewhere, transfer gossip reins supreme with the future of Joe Cole heavily discussed.
Three Lions: The Sun bring bad news from Austria. "Steven Gerrard gave England another injury scare yesterday when he failed to complete his SECOND successive training session. The Liverpool skipper pulled out halfway through shooting practice – a day after he needed a massage on his right calf. Gerrard completed yesterday's warm-up drills but then withdrew from the main group as he jogged three laps of the ATV Arena with head physio Gary Lewin and Anfield team-mate Jamie Carragher close behind."
Henry Winter looks ahead to England's friendly with Japan tomorrow. "The man who should be granted the anchoring role alongside Lampard tomorrow is Scott Parker, who has been training with trademark thoroughness, and faces an effective play-off with Tom Huddlestone against Japan to discover who makes the 23. Parker deserves his chance. Michael Carrick was poor against Mexico and question marks cling to Huddlestone as a mobile ball-winner. England should win comfortably enough but without banishing all the concerns. There will be no doubts about England's cause, though."
Terry Venables picks his seven players to cut from the England squad. "Ledley King: despite his assurances that his well-documented injury problems will not hamper his ability to play three games in a week, I am not convinced we can take the risk of including him when there are also concerns over Rio Ferdinand's fitness." In The Times four journos describe who they would take to South Africa.
Ian Wright surprisingly focuses on John Terry's demotion from being England captain. "If we win the World Cup, he'll know that he's missed out on the greatest moment in his life because of his off-field behaviour. He could say the greatest moment of his life was his kids being born, but not even that comes close when you've got the opportunity to maybe lift the World Cup for England. If he's standing next to somebody in defence who's going to have the opportunity to do that instead of him, you can't tell me Terry's not going to be thinking about it."
James Lawton hopes David Beckham can turn Theo Walcott into the finished article. "If Beckham can indeed build in Walcott a significantly improved awareness of the need to put the ball in the most dangerous places he will have performed a mission far outstripping the value of a thousand sound bites."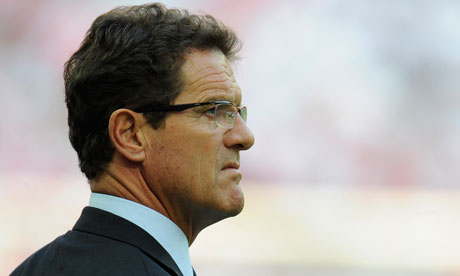 Don Fabio: Kevin McCarra profiles Fabio Capello: "There has been plenty of coaxing from the manager, whose status is so great that he has never hesitated to lower himself and make appeals to footballers. Paul Scholes turned him down, but Jamie Carragher was talked into coming back for his country. Capello is all the more formidable in his post because he can coax and compromise as well as scare the wits out of underachieving players."
Gabriele Marcotti explains the difficulty of writing an autobiography on Don Fabio. "The difficult part about writing a biography of Fabio Capello is the amount of ground you have to cover. Before he started in management he had a successful playing career and, before that, a compelling youth, marked by a special relationship with his father, Guerrino, a prisoner of war who almost starved to death in captivity. How old school is Capello? Consider that he and Guerrino wrote long letters to each other twice a week until his father's passing in 1982. A psychological treatise could probably be written about Capello's relationship with his father and how men born in the 1940s relate to fathers who survived the horrors of war."
New Daily Mail columnist Glenn Hoddle describes what its like to lead England at a World Cup. "For the coach, the worst part is the last two or three games of a domestic season, when you can't stop yourself wondering if the next phone call will bring bad news. I remember driving back from matches on Saturday nights, looking at the telephone and willing it not to ring. During the countdown to the 1998 World Cup we lost Ian Wright and Jamie Redknapp to injury. I had two tactics boards: one in the office at the FA and a replica at home. Each board had discs with names on them and I would spend hours looking at them, talking to the coaching staff, moving players around and adjusting them, creating pictures in my mind." Also in the Mail, Des Kelly hopes England don't lose on penalties again.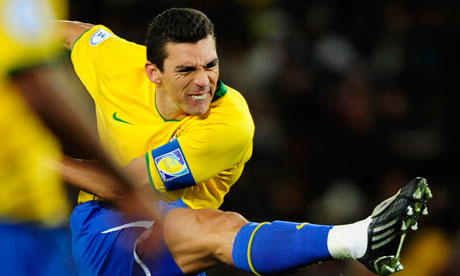 World Cup: Fernando Duarte interviews Brazil captain Lucio: "To those who complain about style, I just say nothing is more beautiful than winning. This is the kind of spectacle we should be giving to people."
David Smith believes Carlos Alberto Perreira has given South Africa "discipline and purpose." "Parreira, brought back in November for his second spell in charge, faced an almighty task to stop the rainbow warrior sinking. He ordered intensive boot camps in Brazil and Germany to build team morale and unity. That he has now gone 11 matches unbeaten suggests that the coach, a World Cup winner with Brazil in 1994, is doing something right."
Kevin Garside believes President Obama has given the US squad a lift. "The players were surprised and grateful for the PR leg-up. The idea that a contest that comes with the word 'world' attached might take place outside America is slow to catch on in these parts."
Manchester United, a selling club: Elena Moya reports in The Guardian: "United posted a £9.3m profit on the disposal of players that was far behind last year, when they sold Cristiano Ronaldo to Real Madrid for £80m. 'The loss shows that the business model doesn't work unless there are player sales,' said Philip Long, partner at PKF accountants and business advisers, who has worked on football deals. 'It's an absolute mess – when the full-year interest is accounted in and there are no items like last year's sale of Ronaldo, what's going to happen?'"
In the second part of The Independent's interview with David Gill, the Manchester United chief executive describes the process of Sir Alex Ferguson quitting Old Trafford. "Alex is on a rolling [one-year] contract. He is doing well, he is happy and he has a good staff who he works very closely with. He delegates well. So while he continues to have that health and support he will continue. When he decides he wants to retire he will have a word with me and say 'The end of this season or next season'. We would work with him in terms of identifying a replacement. In terms of criteria we will sit down and say What attributes must a manager have?' Lots of things come into that. British or European? What experience they have, languages, all that sort of thing as well as their track record."
On a similar theme, Patrick Barclay provides a bleak outlook for the economic future of the biggest English clubs. "The impotent hand-wringing of David Moores — a decent man who sold his beloved Liverpool to Tom Hicks and George Gillett Jr because, after mature but sadly superficial reflection, he deemed it best for the club and himself — offers an all too accurate depiction of what the entity once known as 'English football' has become."
West Ham: The lead in the Daily Mail by Matt Barlow is that "West Ham's audacious transfer policy has seen them make an offer to Joe Cole and reveal an ambition to sign David Beckham. Co-owner David Sullivan, looking to rebuild the team after a traumatic season that resulted in the sacking of Gianfranco Zola, says he has asked Cole to 'name his price' to rejoin the club where he started his career.  The Chelsea forward turned down the offer." In a supplementary article, David Sullivan claims his West Ham "will be the Arsenal of East London."
Joe Cole: Oliver Kay and Matt Hughes team up in The Times to tell us "Manchester United are planning a shock move to sign Joe Cole on a free transfer next month as Chelsea prepare to let him leave for nothing at the end of his contract. Chelsea have not made contact with Cole's advisers to discuss a new deal since the end of the season, leaving the England midfield player to conclude that he is no longer wanted at Stamford Bridge." But in The Guardian we learn that "Harry Redknapp, now in charge at Tottenham, will be among the front-runners for his signature on a free transfer."
Transfer gossip: Valencia have confirmed Manchester City are in talks to sign David Silva. And The Sun add that Wolves and Blackburn are after Kris Boyd. The Daily Mail report that Arsenal must up their bid for Lorient defender Laurent Koscielny and Liverpool boss Rafa Benitez has been handed a transfer kitty of just five million pounds.
The Daily Mirror bring the obligatory Cesc Fabregas story of the day: Joan Laporta says Barcelona won't pay an unrealistic fee. Also in the Mirror we learn that Avram Grant has targeted Nadir Belhadj for West Ham but Valon Behrami and Carlton Cole could be leaving the Hammers for Aston Villa. The Telegraph inform that Manchester City have delayed their approach for Edin Dzeko.
---
GAMBLING CAN BE ADDICTIVE, PLEASE PLAY RESPONSIBLY