Capello signals his "disapproval of Liverpool" & is Alan Shearer set to manage the Toon?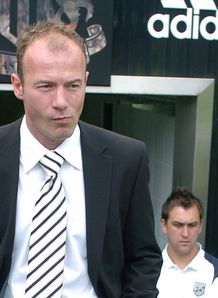 Comment & analysis round-up
Quote of the day: "I can honestly say, yes, Alan Shearer will manage Newcastle. Until now I would have just said that he would one day but I finally believe that he would tomorrow if the job is how he wants it, without all the silly games going on that have killed it. The fans would love Alan to take over now. Mike Ashley would solve a lot of his problems by appointing Alan and accepting that mistakes have been made. Alan could be a priceless get out of jail card. Now is the time to make the club what we all want… It is time for Alan to take the job on. Roy Keane and Gareth Southgate learnt on the job and, like Keane at Sunderland, one thing Alan has is the respect of every single player at Newcastle." – Rob Lee.
Runner-up: "Juande Ramos said about four words to me in a year… There were times when I questioned Spurs' motives for buying me. I have no idea whether Juande wanted me. There were always people saying it was [the former sporting director] Damien Comolli who had bought me but I'd always known it was going to be difficult getting into the team with Jermain, Berba and Keano ahead of me. They've all since left, which was a big disappointment for Tottenham, but it has given me more games and a licence to express myself." – Darren Bent.
Today's overview: The club versus country battle is a central theme in today's papers, while attention is also given to Argentina ahead of their match against Scotland.
On England and Steven Gerrard's withdrawal, the wedge between Fabio Capello and Rafa Benitez appears to be widening with Kevin McCarra concluding "it seemed as if Capello wanted to signal disapproval of Liverpool" by forcing the Reds' captain to have a medical with the national side yesterday. Oliver Kay concurs, writing "tensions remain between Capello and Benitez, with both managers unhappy at the way that the other has handled the matter." Martin Samuel sums up the affair saying "Capello thought that he was being taken for a mug and demanded his own scan as proof," a point reiterated by Henry Winter who penned "by insisting his medical staff checked whether Steven Gerrard and Frank Lampard did indeed have 'legitimate' injuries, Capello reminded club managers that he decides who can be excused international duty, not them."
Taking a step backwards, Steven Howard questions all the England absentees saying "I may be open to charges of cynicism here but the whole thing has the appearance of being superbly stage managed by the players' clubs." Sam Wallace observes that tomorrow night's match "is shaping up to be the biggest non-event the FA have taken part in since Steve McClaren threatened to deliver a management masterclass to American football coaches. But at least he had the decency to cancel." Mike Norrish runs his eye over England-Germany matches of yesteryear to focus on the key men who helped shaped this fixture's history and to discover where they are now.
From the Argentina training camp in Scotland, Ewan Murray tells the story of how Diego Maradona "made a young lad very happy, 13-year-old Adam Brown discovering a gold medallion on the Celtic Park turf which had earlier been misplaced by the Real Madrid midfielder Fernando Gago." And keeping with Diego, Matt Dickinson travels to the birthplace of the Argentinean god saying "putting Maradona in charge makes more sense to the Argentinians than turning to a Swede or an Italian."
Glenn Moore picks up on some of the tactical questions facing the Argentine defence. "Defensively Argentina have not replaced Roberto Ayala. Javier Zanetti, once a great player, is 35 and fading, Martin Demichelis is struggling at Bayern, Gabriel Heinze is short of top drawer quality, Gabriel Milito is injured, Nicolas Burdisso is out of the Internazionale team."
In other news, Spurs' keeper Gomes is under the spotlight with Oliver Brown writing "in the same way the sobriquet 'calamity' once attached to David James and 'comedy' to Fabien Barthez, Gomes is in grave danger of becoming a figure of fun." The Sun get the thoughts of Erik Thorstvedt on Spurs' keeper woes. while The Mirror report that "Harry Redknapp will step up his attempts to land Robert Green in January after another horror show by Heurelho Gomes on Saturday."
Standing alone in the papers is an article from James Lawton, reporting on the memorial in Scotland for John Thomson, "the 22-year-old goalkeeper of Celtic who, the folklore of the game north of the border insists, would have grown into the fabulous, world-defying guardian of the net the nation has always craved."
Former athlete Steve Cram wades into the new drug testing debate in the Guardian, insisting that "whereabouts" rule is positive and arguing that "I think it's asking a lot for highly paid sportsmen not to take this more seriously and it would be nice to see their unions acting more responsibly instead of offering a false sense of protection of their members' lifestyle."
On the European front, Sid Lowe reports on the troubles at Real arguing "if Real Madrid think that sacking Bernd Schuster is the solution to all their ills, they are sadly mistaken." Looking back at the Rome derby, Paolo Bandini notes that the victors Roma "are a long way from being out of the woods, of course, and [the] win lifts them only to 17th." On Ligue 1, Ben Lyttleton relives the big Lyon-Bordeaux match, reporting on "the ball-boy who reacted quickest after Bordeaux defender Marc Planus smashed a clearance into the stands, by smartly giving a different ball to Kim Kallstrom to throw to Karim Benzema."
Click here for more Premier League betting tips
---