Can Steven Gerrard show his league form for England?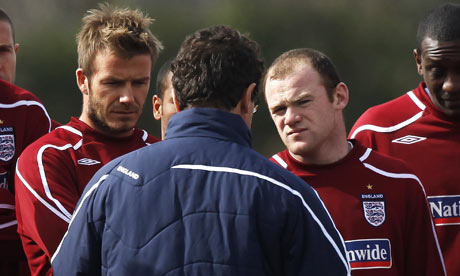 Comment & analysis round-up
Quote of the day: "What do you want me to say? He lost his virginity to a man." – Maradona on Pele after the Argentina coach was asked to respond to Pele's claim that he was a negative influence on children.
Runner-up: "I have to say something about Mr Redknapp, he spoke about the England national team, but a Spurs player who is Scottish was in the squad after four months injured. I don't understand why he spoke about Ledley King and not about Alan Hutton. I think it's the same position so I don't know why he is happy with Scotland and not happy with us. We have to check all the players and in the last squad we did it to [Steven] Gerrard. That is what we must do. There is no problem with Redknapp. It is his right to talk, but we should stop now because we have a game and not against him." – Fabio Capello.
Today's overview: The papers are dominated with chat about England's friendly with Slovakia, with the usual suspects (Terry Venables and The Sun) getting everyone in the mood whilst there are those with more negative voices (Patrick Barclay and Barney Ronay) on the Three Lions. There also features on many other World Cup qualifying matches taking place around the world today.
Sam Wallace points out in The Independent that Fabio Capello has his facts wrong in the public spat with Harry Redknapp. "Capello's accusation that Redknapp had made a major fuss about King but not Hutton is not correct, but there is no way the England manager could have known unless he has been at Spurs' training ground last Friday. There, Redknapp complained that George Burley, the Scotland manager, was wrong to want to pick Hutton, who played in a reserve game on Monday night, and that it would be madness to do so."
Kevin McCarra in The Guardian urges Fabio Capello to find some balance and in the same paper Steve McManaman pinpoints five things that could be learned from the friendly match. These include: "Aaron Lennon or Shaun Wright-Phillips? Is Ben Foster the No2 goalkeeper? Can Steven Gerrard bring league form to a wide-left position? Can Wayne Rooney channel his aggression? Who can make right-back their own?"
Patrick Barclay bemoans the Wembley pitch and England's failure under Capello to play good football. "It really does matter. Enjoyable football does not happen entirely by chance. The most important items in the game are the pitch and the ball (which also happened to be of high quality in Austria and Switzerland, its predictability of flight encouraging rapid distribution). Wembley's monstrous regiment of 'executives', as much as anyone, deserve better entertainment than Capello and his men have been able to lay on so far."
Oliver Kay analyses Wayne Rooney in depth following Capello's "crazy" comments earlier this week. " Rooney will continue to mature, but, deep down, he is what he is, a street footballer with all of the good and a little of the bad that that entails. He is not only from the streets. He is of the streets. It is what makes him what he is, a delightfully ordinary young man with an extraordinary gift." Des Kelly also writes of the Manchester United forward and urges him to "put the dummy back in."
Matt Hughes pinpoints Aaron Lennon as the one player who will be looking to shine in the Slovakia friendly. Alan Smith also writes of the Spurs winger, "Now in his fourth season at White Hart Lane, Lennon is beginning to mature, with a better understanding of what full-backs do not like. That will come in handy if he gets picked since Capello likes nothing more than a clever footballer, someone who uses his noddle out on that pitch."
In a classic jingoistic piece in The Sun, Terry Venables urges Fabio Capello to mould his team around Steven Gerrard, just like Sir Alf Ramsey did with Bobby Charlton prior to the 1966 World Cup. "It is Gerrard, in such a rich vein of form, who should be England's attacking spearhead. Maybe he will then end up with a World Cup winners' medal — just like Bobby." James Lawton also highlights the Liverpool captain, "Steven Gerrard can only blame himself if England's expectations are running a little riotously before today's friendly against Slovakia at Wembley, but what is there to regret? Not since the golden generation was scratched once too often and revealed to be something rather less than 22-carat has an individual player hit such a vein of form and if that piles responsibility on the shoulders of a 28-year-old who will be winning his 71st cap, so be it."
On the other side of the spectrum to Venables, Barney Ronay asks "are we still allowed to boo England." "The relationship between the Wembley crowd and this England team has degenerated to the point where it resembles an ill-advised 1950s marriage, a business of smothering silences, breakfast-time sulks and swallowed anger. Things have been said. Feelings have been made clear. Doors have been, if not slammed, then drawn to significantly."
Glenn Moore points out that Slovakia are more concerned with their match against Czech Republic on Wednesday than the friendly at Wembley. "They face the Czech Republic, with whom they were not always happily united for most of the last century. It is also a World Cup tie and, with Slovakia leading Group Three, by two points from Northern Ireland, the Czech Republic, Poland and Slovenia, there is plenty at stake. 'It is a huge game,' said Martin Skrtel, Liverpool's Slovakian defender. 'It's like Liverpool v Everton – a real derby. A lot of Czech people think they are better than us Slovaks. Before Czechoslovakia was broken up, there were 10 million Czechs in the country and only five million of us. Because of that they thought they were better."
With a number of European World Cup qualifying matches tonight. There are some features well-worth reading including on "Huntelaar. the new Dutch goal machine, " how Ireland are hoping to take inspiration from their rugby-playing counterparts and how Raymond Domenech "must harness France's creative forces."
Ewan Murray claims that Scotland's match in Holland is in fact meaningless. "It is not the game in Holland that will decide Scotland's World Cup fate – Wednesday's visit of Iceland is far more important."
Kaveh Solhekol reports how Diego Maradona has opened up an old wound with Pele. "When Maradona was asked at a press conference before Argentina's World Cup qualifying match against Venezuela to respond to Pelé's claim that he was a negative influence on children, he said: 'What do you want me to say? He lost his virginity to a man.'"
Ahead of the African World Cup qualifiers, there is an interview with Stephen Constantine, the former Millwall first-team coach now manager of Sudan.
In Premier League news, George Caulkin reports that Joe Kinnear will be eased back into the managerial hot-seat at Newcastle. And "Chelsea's hopes of keeping Guus Hiddink next season were boosted last night when the Russian FA said they were 'comfortable' with extending the existing job share." The Sun highlight quotes from Hiddink: "Yes, there is such a contract. It expires on May 31. They offered me to continue working for them after that date as a consultant."
Finally, Colin Young speaks to Djibril Cisse about being a fashion victim in the Daily Mail and with The Damned United released yesterday there continues to be much hype over the film. Pete Bradshaw (Guardian) describes it as a "fresh, intelligent transformation, terrifically involving all the way through; it has responded to the human drama and found a persuasive anti-hero in Clough. His story has been recreated as mainstream entertainment with tremendous watchability and flair." And Geoffrey Boycott hopes David Peace doesn't write a book about him.
---
GAMBLING CAN BE ADDICTIVE, PLEASE PLAY RESPONSIBLY