Can Nani prove United's new Ronaldo, as Liverpool target £5m Shawcross & Barca (again) go after Arsenal's Cesc
Comment & analysis round-up
Quote of the day: "If the referee sees it [Ballack vs Evra] properly, it's a red card. He's elbowed him clearly. The referee's in line and had a clear view so Ballack's lucky. But he's made a rod for his own back. He'd stopped the game twice already: when Nani was down and on a second occasion when Ballack went down. We've seen that before with him. I spoke to the referee [about that previous incident] and he said it was serious and Ballack needed treatment, though he was up straight away. The least he should have done is stop the game. When players are acting to get the game stopped, when they lose possession and lie down… it's an area I'm concerned about. We've got to find a solution to that. You see it all the time when teams attack and then the other side go on a counter, so a player lies down in the penalty box to try and get the game stopped. It's not right. The referee didn't get it right today. You have to be consistent and he blew twice but not the third time." – Sir Alex Ferguson.
Runner-up: "My priority is Arsenal, but there are other clubs. If it's Arsenal, so much the better. I hope it'll be sorted out very quickly. I am not sleeping as well as I normally do. I made my wishes known to the directors at the end of last season. I expressed a wish to join another league. As much for Bordeaux's sake as for mine, my situation has to be clarified. I thought they [Bordeaux[ would have made things easier for me." – Marouane Chamakh.
Today's overview: The scribes line up to tackle all the main talking points from Sunday's Community Shield including the needle in the so-called friendly, the Ballack body-check, and whether Nani can be the new Ronaldo.
Kevin McCarra records how the Community Shield was more than a mere friendly. "This Community Shield occasion cannot be dismissed as a bogus match. It had the hallmark of authenticity in the rancour that so often comes to the fore when rivals meet." Henry Winter chips in with his usual poetic style to comment "this Community Shield was all about good football and bad blood, stirring the pot vigorously as the Premier League hurtles back next weekend. Curtain-raising? Hair-raising more like." Singing from a similar hymn-sheet, Sam Wallace scribbled "granted, it was not the same feverish pitch as Bremner's and Keegan's punch-up in the 1974 Charity Shield but 25 years on, there was not much charity and very little community spirit."
Self-righteous ex-ref Graham Poll chastised Chris Foy's handling of the Ballack-Evra incident. "Chris Foy could have saved himself a big problem by using common sense in Sunday's Community Shield… Foy was correct to play an advantage as the ball fell nicely for Wayne Rooney to continue an attack after a blatant block by Michael Ballack on Patrice Evra. However, with Evra still down following the German's challenge, Foy could and should have stopped play for the Frenchman to have his injury assessed and, probably, cautioned Ballack, too."
Nani must be sweating this Monday as, after impressing at Wembley, much more is expected of the Portuguese forward.
For Daniel Taylor, "maybe, now he is no longer in the shadow of Ronaldo, he can fulfil the potential that persuaded United to spend £17m to sign him from Sporting Lisbon, at the age of 20, two years ago." Oliver Kay looks to temper the hype noting "the issue is whether Nani can perform consistently and, having dislocated his shoulder in a tackle with Terry in the second half yesterday, it may be some time before he has the opportunity to prove he can."
Countering the Nani love-in is Mark Fleming. "Nani's certainly a wonderful footballer, but there is little evidence to support the theory that he will one day blossom into a world-beating player away from the overwhelming presence of Ronaldo."
One player who failed to impress was Manchester United goalie, Ben Foster. According to Sam Wallace, "Foster was Fabio Capello's first choice goalkeeper to start against the Netherlands on Wednesday but the England manager was given cause to think again after another unconvincing performance from the Manchester United man yesterday."
In a classic over-the-top headline that screams "Benitez faced with defensive crisis," Ian Whittell discusses how the Merseysiders are in dire need of new recruits ahead of the new season. Fortunately John Edwards believes he has a cure for Liverpool's ills, reporting that Stoke's Ryan Shawcross is a £5million target for Benitez.
With the season just days away, Patrick Barclay goes about talking down the prospects of Manchester City. "There are two ways of looking at this new-fangled Manchester City. You could say that Mark Hughes has assembled a squad of quality players with something to prove. Or that he has spent lavishly on a group of top-four rejects who, by that harsh definition, will not get City into the top four." Taking a slightly more considered approach to the Citizens is Martin Samuel. "Blackburn Rovers, Wolverhampton Wanderers and Portsmouth are City's first three opponents, so the truth should be known by the end of August. It is a very gentle opening and if they struggle at the back through the first month, there will almost certainly be trouble ahead."
Oliver Kay also tried his luck at prediction-making, talking down Liverpool's title credentials. "Looking down their squad list, it is not easy to conclude that they have the strength in depth to go one better this time. More is expected of Lucas Leiva and, if he gets his head right, Ryan Babel, but Philipp Degen, Andrea Dossena, Nabil El-Zhar, Andriy Voronin and David Ngog are not names to inspire confidence." Joining the anti-Liverpool clamour is Martin Samuel, who is left ruing the sale of Alonso. "Gerrard and Torres are still Liverpool's crown jewels, but Alonso was the pedestal on which they sat. Aquilani is a fine player, too, when he is fit, but for all their technique, foreign imports often take one season to adapt to English football. That was the beauty of Alonso: he played Spanish, thought English. He was already there, ready-made."
Perhaps the most pathetic prediction attempt is made by Jamie Redknapp in the Daily Mail, as the hack sticks his neck on the line listing Didier Drogba and Fernando Torres in his "10 to watch: The players who will light up the Premier League this season" list.
Oh poor Newcastle.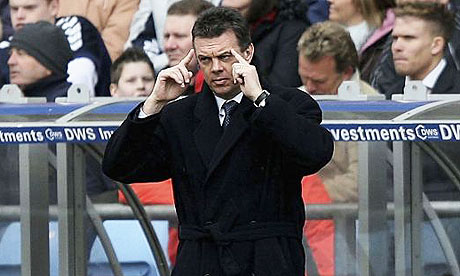 The latest installment of the car-crash saga that is the Toon sees Simon Jones announce that "Mike Ashley is prepared to take the club off the market to give [David] O'Leary the security he wants" by appointing the Irishman as the new manager. Moving to quickly deny the story is Simon Williams, who contests that "Newcastle United have denied reports that David O'Leary will be installed as manager should takeover talks with the Tyneside businessman Barry Moat collapse this week."
Keeping with the Magpies, James Corrigan gets a rant off his chest. "On the subject of Shearer, this is clearly an absolute scandal which highlights everything bad about football. The wishes of the faithful supporters are being totally ignored here. I mean, how did we Match of the Day fans end up with him? It's simple. We don't want him. They do. Sort it out. Mike Ashley for BBC director-general, I say. With Mark Thompson going the other way if necessary."
Staying in the lower leagues, Peter Lansley announces that "The Times has learnt that Sven- Göran Eriksson will earn a basic £250,000 a year at Notts County and will take his salary into the million-pound range only if he hits a number of ambitious targets."
Switching to football on the continent, Gabriele Marcotti traces how Lyon are trying to buy their way back to the championship. "By the time the transfer window closes, Lyons will have outspent all but a handful of clubs in Europe (Real Madrid, Barcelona, Manchester City and perhaps one or two others). In the financial climate — and given the club's situation — it's a massive gamble and one that could backfire badly."
Onto the transfers, where The Times' Gary Jacob leads with the big one. "Barcelona are said to have turned their attention to Cesc Fà bregas after failing to sign Javier Mascherano, the Liverpool midfield player. The Catalan club believe that an offer in the region of £25 million could tempt Arsenal to sell the Spain midfield player, who has expressed his unhappiness at the club's failure to win a trophy in the past four seasons."
Momentum is growing that Manchester City are set to sign another defender. According to Daniel Taylor, "City have approached West Ham United about the availability of Matthew Upson, amid a growing sense that Everton are not to going to allow Joleon Lescott to leave Goodison Park."
On Spurs, Mike McGrath notes that "Harry Redknapp admits he would welcome Ashley Young in his squad, but expects Aston Villa not to sell the England winger… Redknapp is also an admirer of Celtic midfielder Scott Brown." Elsewhere, the Independent link Gareth Bale to AC Milan, Ajax and Birmingham, while the Daily Mail also claim that Birmingham are in for free agent Sol Campbell.
Continuing to shovel the transfer lies, the Daily Mail claim "Aston Villa have agreed a £7million deal with Middlesbrough for striker Tuncay Sanli," while a second article boasts that "Wolves manager Mick McCarthy will step up his interest in giant Austrian striker Stefan Maierhofer this week."
---