"Can Capello iron out all the problems in the 19 days before they face the United States on 12 June? So many questions, so little time" – Sam Wallace
Comment & analysis round-up
Quote of the day: "I'm happy for the result. Mexico were good technically, faster than us, and it was not easy getting the ball back. But I learned a lot about this game and I spoke to the players at half-time. We have to press more. Not all the teams we play against will play like this, but it's very important to press the ball and win it back quickly. We have time to recover a lot of the spirit of the team and the qualities we have. When we counter- attack, we're really dangerous, but I don't just want to play on the counter. I want more." – Fabio Capello.
Runner-up: "I still need to speak with certain [Real Madrid] people face to face. Having met with my representative I know the agreement is almost finalised but the decision is mine, not his, so I need to have the impressions of certain people and know exactly what it is they want from me. I want to know what they can offer so that I can begin work without any fear. I am confident I will end up signing… The message to the players will be that they are not the stars. The star is not the coach either, the star is the team." – Jose Mourinho.
Today's overview: So England beat Mexico 3-1, but it was far from the most convincing performance from the Three Lions. And the outcome could barely have been better for the backpages as the fourth estate digest a decidedly average night at Wembley.
England-Mexico: Richard Williams falls into the classic trap of contradicting himself within two sentences as he first tries to minimise the importance of the friendly with Mexico only to big it up seconds later. "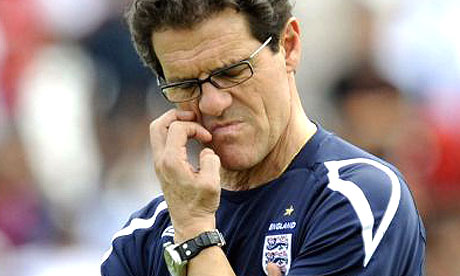 Williams: "Not too many conclusions should be drawn from a pre-World Cup friendly, particularly one in which England were without several key figures. But it would have been nice to see, along with the energy and the eagerness to please their coach, just a little bit of joined-up football, something to suggest that they had spent a week on the training pitch. Most of that sort of thing came from Mexico, a reminder of the times without number when even England's most ardent admirers have despaired of seeing the white shirts pass the ball with the intelligence and accuracy shown by their opponents."
Another broadbrush summary of England's performance was provided by Matt Hughes. "Capello's pleasure at the ruthlessness of his side's counter-attacking play was offset by disappointment at their inability to build periods of sustained pressure, as well as concern at occasionally shambolic defending. The Italian revealed that he had given his players a stern talking-to at half-time and accused them afterwards of being one-dimensional."
Dominic Fifield makes the case that it was a great night for Gareth Barry, whose absence was sorely missed in midfield. "[There was] an admission from the manager that the balance in midfield has been severely affected by the absence of Gareth Barry… The 29-year-old was a key member of Capello's side in qualification and was missed here as, even in victory, the hosts were left exposed by Mexico's fluid attacking play and dominance of possession. Neither Michael Carrick nor James Milner imposed himself with Barry and the rested Frank Lampard not involved."
Also picking up on England's midfield problems was Oliver Kay. "Midfields tend to operate in at least one of three ways at the highest level. They pass, like Barcelona, or they press, again like Barcelona, or they contain, like Inter Milan. To talk up the merits of a possession game might seem strange in a week in which Inter have been crowned European champions while treating possession as merely one tenth of the law, but, even with Barry in the team, England struggle to contain top-class opponents. Without him and the perennially injured Owen Hargreaves, the defence had no protection whatsoever."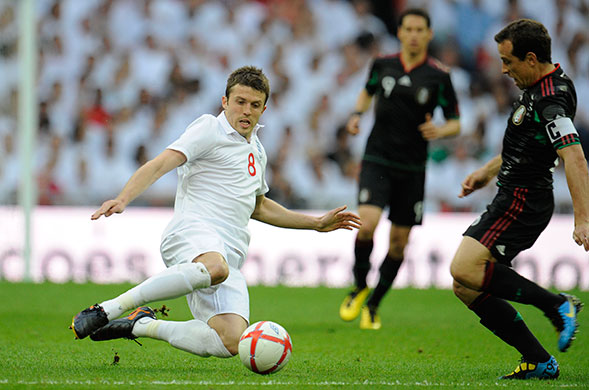 Another scathing report on England's midfield was delivered by Matt Dickinson. "Paul Scholes's whereabouts last night are unknown but it was easy to see why Fabio Capello wanted him on the pitch at Wembley rather than walking the dog or putting the kids to bed. At 35, Scholes cannot perform as in his pomp, but he can do that clever foreign thing of keeping the ball. That was beyond the wiles of James Milner or Michael Carrick, at least for 45 minutes last night, and to have central-midfield players who cannot retain possession rather defeats the purpose. You may as well have a bucket with a hole."
Jason Burt also stuck the knife into Michael Carrick. "As he trudged off the pitch, head bowed, an hour gone and his number raised, Michael Carrick looked like a man who had been presented with a first-class air ticket – and then forgot his passport… Carrick was a casualty last night."
Kevin McCarra observed other problems in England's performance against El Tri. "Ledley King, in his first international appearance for three years, was far from showing that he can flourish at a high level despite his chronic knee condition… James Milner was uneasy at the core of the midfield and lacks the anticipation to perform satisfactorily in that department… Capello is also bound to have misgivings about Leighton Baines at left-back."
Picking up on Ledley King, Paul Hayward supports the Tottenham's centre-half's inclusion in England's 23-man World Cup squad. "A special case is being made for a special player… The Ferdinand-King partnership lacked a sharpness and energy at times in the first period but England back fours tend to tune out in these friendly internationals until Capello gets verbally stuck into them. They are generally less alive to danger than they would need to be in a big World Cup knock-out game… Centre-back is only the most obvious position for him to play in Capello's final 23-man squad. The word on the street is that the holding midfield role has also been considered."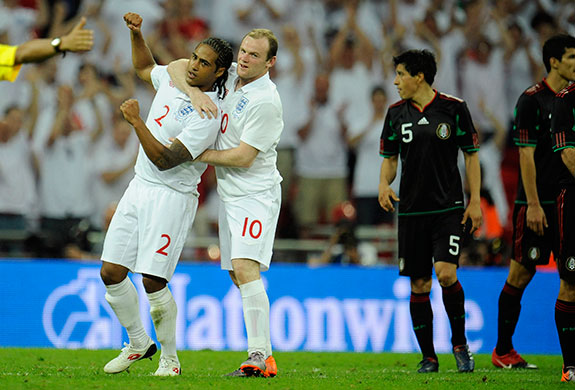 Upbeat, Patrick Barclay believes the England have full-backs who can lead the team to success. "England have Johnson and Ashley Cole and, while the younger man has to prove that his habit of being sucked too far forward has been eradicated, the prospect of their alternating in support of Capello's attack is exciting."
Shifting attention to the final third, Alan Smith remains perplexed about the composition of England's attack. "At the end of the night we were left none the wiser as to the make-up of England's strike force for the opening game on June 12. Heskey, Crouch or Defoe to partner Rooney? None seems ideal. Perhaps it's time to use that Plan B."
Rounding off the England talk, Sam Wallace claims its a case of deja vu. "Historically England teams have a unique knack of going off the boil when it matters most and as they applauded a half-empty Wembley last night everyone was thinking the same thing. Can Capello iron out all the problems in the 19 days before they face the United States on 12 June? So many questions, so little time."
World Cup Watch: More bad news for the Germans as the Guardian report "midfielder Christian Träsch was ruled out of the World Cup after sustaining an ankle injury during a friendly at the squad's training camp in Italy today."
Managers on the Move: Despite tabloid rumours that Roy Hogdson could replace Jose Mourinho at the San Siro, the Guardian claim "current Catania manager Sinisa Mihajlovic is among the leading candidates to take over" at Inter Milan.
The Daily Mail report "Portsmouth administrator Andrew Andronikou has revealed that Brendan Rodgers and Steve Cotterill are among candidates for their vacant managerial post."
The Gossip: The Sun's Antony Kastrinakis spews news that "Arsenal last night slapped an astonishing £80million price tag on skipper Cesc Fabregas." The Gunners also have eyes on their on targets, Pat Sheenan revealing that "Arsene Wenger must stump up around £14million to land Bolton centre-back Gary Cahill."
Daniel Taylor details how "Manchester City have made their first inquiries to ascertain Mikel Arteta's availability from Everton as a replacement for Stephen Ireland after the unsettled midfielder made a transfer request… [City] are weighing up whether to turn their interest into an offer in excess of £20m and can possibly offer Ireland in a player-plus-cash exchange."
According to Jeremy Wilson, "Chelsea are confident that Ashley Cole will remain with them next season despite Jose Mourinho showing interest in making the England left-back one of his first signings at Real Madrid."
Rory Smith chugs "Liverpool are believed to be monitoring Brazil striker Diego Tardelli ahead of lodging a £6 million offer." The Daily Mail offer a slightly different line claiming "Liverpool  and West Ham have been told they will have to pay Atletico Mineiro £5million if they follow up their interest in Brazilian striker Diego Tardelli."
Continuing to scrape the barrel, the Daily Mail and their no-name reporter also fart that Tottenham still want Everton's Steven Pienaar, that Chelsea and Arsenal are weighing up a summer bid for Barcelona's Israeli teenager Gai Assulin, Birmingham have apparently opened talks with £5m Valencia hitman Nikola Zigic, and that Newcastle are keen to sign Youssuf Mulumbu as West Brom midfielder stalls on new deal.
The Sun also roll out their own phantom reporter to write "West Ham will need to come up with £6million if they want to sign Jamie O'Hara from Tottenham," while also noting that "Everton are ready to test Cardiff with a £4million bid for Joe Ledley."
In an interesting rumour that appears to have some legs, Tony Praskin farts "Martin O'Neill is weighing up a £10million offer for West Ham talisman Scott Parker as a potential replacement for James Milner."
Finally in the Mirror we learn that Harry Redknapp has apparently put Jermaine Jenas and Robbie Keane up for sale, while John Cross bleats "Arsenal are keeping tabs on Valencia teenager Francisco Alcacer [more commonly known as Paco]. Striker Alcacer, 15, has caught the eye for Spain under-17s in a tournament in Liechtenstein with four goals in two games."
---
GAMBLING CAN BE ADDICTIVE, PLEASE PLAY RESPONSIBLY