"Can anyone actually remember what replaced football the last time we were forced to endure a summer as bereft as the one looming ahead?" – Barry Glendenning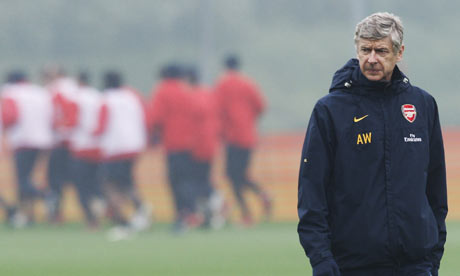 Comment & analysis round up
Quote of the day: "When you look now at people assessing the situations of the clubs, it has become ridiculous. You sit here, you are in the last four in Europe, and every day you feel you have killed someone. It is unbelievable. If you do not take a distance with it, you think: 'What kind of world do we live in?' We lose against Man United who have 10 times more resources, it's not a shame. They are the best in the world. Congratulations to them. If you play tennis tomorrow and you lose against [Rafael] Nadal, you can still say you are a good player… It hurts, believe me, but it's not like we have lost against nobody. I believe as well we have to keep a little bit of common sense. Our average age in midfield is 22. Normally, you play not to go down in the Premier League with a team like that." – Arsene Wenger.
Runner-up: "I have a strong rapport with Galliani, very warm. It's been like this for a long time. It's an attachment which we have consolidated in time and now we're in perfect harmony. My rapport with the club as a whole is a good one, too. Very warm and affectionate. There is no Chelsea-Milan issue. There is a lot of fantasy talk, but I'm at Milan. I don't think that, in the case of a win [at Udinese] anything will happen, but we'll see. At the moment, it is like I am living in Big Brother, but the end of the season isn't long away now." – Carlo Ancelotti.
Today's overview: With the season weeks away from its close, the backpages feel slightly lighter than usual this Saturday, with the most meaty topic tabled being whether Chelsea can secure the services of Carlo Ancelotti.
The Ancelotti-to-Chelsea story becomes cloudier by the day, Dominic Fifield reporting that "the London club still hope to appoint Milan's Carlo Ancelotti this summer despite the continued mixed messages issued by those at San Siro." According to Neil Ashton, "Carlo Ancelotti has been promised a greater say in transfers as part of AC Milan's last, desperate attempt to keep him." Jason Burt fleshes out the latest developments in this story, writing "Chelsea are aware of complications in Ancelotti's life and also, more immediately, the doubts over Milan's future with talk yesterday that owner Silvio Berlusconi might be close to agreeing a deal to sell 35 per cent of the club to Middle East investors."
Seemingly convinced that Cristiano Ronaldo will not be at Old Trafford next season, James Lawton talks of Sir Alex in a post CR7 world. "Ferguson will miss the impact of his talent, his extraordinary ability to break open a game which arguably reached its perfect expression in the destruction of Arsenal in the second leg of the Champions League semi-final, but he will not mourn the loss of the behaviour of a player who has increasingly slipped out of sync with the meaning of what it is to represent United."
On the future of Carlos Tevez, Geoff Sweet quotes Diego Maradona as saying "I spoke with Tevez on the phone and the first thing he said to me was 'That old man doesn't like me."
Tony Cascarino makes the case that clubs are willing to hold onto has-been strikers because of golden memories of yesteryear. "Clubs give fading strikers chance after chance if they were once great, or even just had a single prolific season, because those memories stick and there's the belief that a striker never loses his eye for goal. You can live off your reputation for years. Andy Cole, Ian Rush, Robbie Fowler, Dwight Yorke, Ian Wright… and now, Michael Owen."
David Lacey, looking to sum up the season, criticises the Premier League for being stale. "The competition has become both predictable and repetitive, the only uncertainty being the identity of the fellow manager with whom Ferguson will fall out, in print anyway, as the pattern of the contest emerges."
With the season only weeks away from its conclusion, Barry Glendenning is beginning to worry. "Can anyone actually remember what replaced football the last time we were forced to endure a summer as bereft as the one looming ahead?"
Patrick Barclay focuses his attention on supporting England's bid for to 2018 World Cup. "For a World Cup to take place here would have the added validity of an Olympics in Athens (whoever decided that the Games should leave that city bears a heavy onus) while avoiding obscene expense in a country that, at the time of writing, is undergoing an economic and political crisis of imponderable gravity. A World Cup could only alleviate it. Good luck to the bid."
In a sideways article, Ed Smith uses Eric Cantona as his exhibit A in discussion how "body language matters: it reinforces your own self-belief and affects everyone around you, friend and foe."
In the Saturday interviews, Henry Winter has a chin-wag with Manchester United legend Ryan Giggs, while Amy Lawrence sits down with Tottenham's Luka Modric. The Independent's Simon Hart makes small talk with West Ham's Herita Ilunga.
The most enlightening interview is carried out by Martin Samuel, who has a revealing meeting with Andrei Arshavin. The Russian was quoted as saying "I would never give driving lessons to women. We need to build new roads for them. Why? Because you never know what to expect from a woman on the road. If you see a car behaving weirdly, swerving and doing strange things, before you see the driver you know it is a woman. It is always a woman."
In today's transfer rumours, Rob Stewart pens that "Alan Shearer has called on club owner Mike Ashley to secure Sebastien Bassong's services on a long-term basis to fend off Arsenal's interest in the French centre-half." Geoff Sweet claims that "Tottenham are chasing £5million-rated Almeria left-winger Albert Crusat."
Turning to the continent, Rory Smith reports how "Inter president, Massimo Moratti, is desperate to win the Champions League and will hand [Mourinho] the funds to build a team capable of fulfilling his wishes. Chelsea's John Obi Mikel and Didier Drogba, as well as Tottenham midfielder Luka Modric, are all believed to be high on Mourinho's list of targets for the summer."
The Daily Mail report how Premier League vultures are set to pick apart CSKA Moscow's squad. "Yuri Zhirkov is in line to join Chelsea in the summer and has been linked to other top English clubs after impressing down the left wing for club and country. Teenage midfielder Alan Dzagoev could be part of the £15million deal to Stamford Bridge. And Brazil striker Vagner Love has been interesting Everton, Manchester City and Tottenham over the last six months after an impressive goal haul."
Best football betting tips & free bet offers
Click here for more Premier League betting tips
---