Calls in the back pages for Serbia to be banned from international football as Fleet Street criticise Warsaw washout
Comment & analysis round-up
Quote of the day: "It is disgraceful. There is no excuse for the scenes we have just seen. There were punches being thrown; if it was me they would be kicked out for the next five tournaments, European, World Cups." – Paul Ince on Serbia.
Runner-up: "The pitch is in a very poor condition, the water is lying on the surface and it's going to need a lot of attention if it's going to be playable. The players are disappointed because when you've got a game in the evening you spend the whole day preparing for it. They have a long morning and then they go and relax in the afternoon knowing it's going to be difficult for them to sleep at night after a game of football. But it's even harder to sleep at night when you've been resting all day and you've not had a game of football. So we're all very unhappy about it but what can we do? We just have to live with the situation. I hope it will be the same team tomorrow but you never know, people can fall ill." – Roy Hodgson.
Kick Serbia Out
Kick them out (Ian Wright, Sun)  That's it. Enough. Serbia must be thrown out of international football. For the sickening racist abuse and missiles hurled at England's Under-21 players by their supporters. For the disgraceful violence their players and coaching staff dished out to their visiting English counterparts. And, most of all, for not learning their lesson. They cannot say they have not been warned. Last year UEFA president Michel Platini threatened Serbia with expulsion from Euro 2012 and their clubs with exclusion from European competition if they did not sort out their hooliganism and racism problems. Well, now let us see just how serious Platini, FIFA and everyone else in football are about tackling these issues. I do not care if the Serbs were given a year's deadline to fall into line and then did enough to be allowed to go to Poland and Ukraine last summer. Now they have lowered themselves again, when they have not got any immediate threat. I would love to know what the highest fine is that FIFA or UEFA have handed out for racism. They give bigger fines to players than they do to federations.
Shameful! England Under 21s subjected to racism and violence in shocking scenes in Serbia as football returns to the dark ages(Dominic King, Daily Mail) Racism and violence marred a record-breaking night for England's Under 21s as Stuart Pearce branded Serbia's actions 'a disgrace'. A number of England's black  players, including Danny Rose, were subjected to racist chants as the visitors won 1-0 with a late  Connor Wickham goal to secure a 2-0 aggregate win and a trip to Israel next summer. It will be their fourth straight European Championship finals appearance, the first time any nation has achieved that. Rose, sent off after the final  whistle for a second bookable offence, made gestures to Serbia fans after being racially abused and pelted with stones. He was  inconsolable afterwards.
Now will you act? The sickening scenes in Serbia are what we get when UEFA doesn't take racism seriously (Darren Lewis, Daily Mirror) Tuesday's appalling scenes are what happens when we try to deny that football has a problem with racism. When we close our ears to what we are hearing and try to claim that incidents are being blown out of proportion. When UEFA hands out paltry, pitiful, pathetic fines instead of going in hard and leaving countries that cannot control their fans and players reeling. The last time England's Under-21 side played Serbia – at the European Championship in Holland five years ago – officials from UEFA were forced to make a public appeal to the Serbian fans to stop targeting England defender Nedum Onuoha. That was after half an hour of the game. UEFA didn't deal with it properly then (when have they ever dealt with racism properly?) and now millions of TV viewers and fans have witnessed Tuesday's carnage at the Mladost Stadium in Krusevac.
Danny Rose racially abused as England Under-21 game ends in chaos(Jamie Jackson, Guardian) Paul Ince, who was working as a pundit on ESPN and whose son Thomas set up Wickham's goal, called for Serbia to be hit with a 10-year ban from major tournaments. "Sepp Blatter and [Uefa's president, Michel] Platini need to look at this. If it was me they [Serbia] would be kicked out for the next five tournaments – European, World Cups – but they will get a little ban and that will be it. Things like that are not what we want to see in football – it takes it back to the dark ages." He added: "If you are black, it is hard to actually keep control of yourself because you are the one having the racist chants. From looking at what we have seen on TV, they have done very well to keep cool heads. It is a shame because tomorrow we will be talking about something we don't want to talk about. What we should be talking about is England qualifying for Israel in 2013."
If Uefa cares for game, it will take Serbian villains to task following racist abuse directed at England U21s (Henry Winter, Daily Telegraph) It is an image that shames Serbia, that should finally spur Uefa into meaningful action over the scourge of racism. It is the footage from Krusevac of Danny Rose, dismissed and distraught, of a usually equable character provoked beyond self-restraint, reacting to Serbian racists by signalling the monkey gestures they had directed at him. It is the 21st century and discrimination is still a stain on the game and on society. It is time to ban the Serbs. It is time for Uefa's president, Michel Platini, to honour the words he uttered in Belgrade last year, following a meeting with the then Serbian president, Boris Tadic, to discuss the behaviour of his country's fans after they forced the abandonment of an international against Italy in Genoa.
The Warsaw washout
Plumbing the depths of flood and blunder in Warsaw (Martin Samuel, Daily Mail) This is what happens when you let every good plumber leave the country. No doubt they were ringing around desperately at the National Stadium in Warsaw on Tuesday night. 'Of course, Aleksy! Why didn't I think of him before? No, not that Aleksy. Aleksy Pawinski. No, he's good. Yes, you do remember him. Twenty four hour service, no job too large or small. Little yellow van. He knew something about drainage. Give him a call.'
Why there is no defensible reason for the delay to decide that a game cannot be played on open water (Ollie Holt, Daily Mirror) England officials had been given conflicting explanations about why the roof had not been closed. One was that it took 24 hours for the operation to be completed. Another was that the Poles had been taken by surprise by the weather. But it had been obvious to anyone in Warsaw yesterday the weather was closing in. By early afternoon, the city was shrouded in fog and lashed by heavy rain. At the scheduled kick-off time, referee Gianluca Rocchi carried out a pitch inspection. There was more consternation among the England ranks when he returned to the tunnel, still refusing to call the game off. There was momentary relief when a stadium announcement was made and spectators started streaming for the exits. Some of the England camp believed then that the game was officially off. Then there was another announcement that Mr Rocchi was planning a further pitch inspection. Confusion reigned.
England flooded out in Poland is straight out of the Likely Lads (Philip Cornwall, Guardian) While Poles translated their TV pundits for us we were soon following the online coverage from back home and it, too, was using the language of comedy. It was farcical, we were told, a joke. It was difficult not to smile as we watched the absurd pitch inspections and felt relieved we hadn't made it all the way to the ground. But any rearrangement posed problems more costly than Terry's and Bob's lost bet. Polish TV suggested next month, but England's November window is occupied with a trip to Sweden. Would I get my £300 back, spent as long ago as April, for four nights in Stockholm, or would my insurance company tell me to enjoy my smorgasbord and try to find a pub showing the match? For once, my luck is in: the game will now kick off at 5pm local time on Wednesday and I do not fly home till Thursday, but thousands of England fans will be on earlier flights that cannot be changed.
Fans furious at Polish FA for leaving pitch open to elements (Sam Wallace, Independent) England's World Cup qualifier against Poland descended into farce yesterday after the Polish FA (PZPN) ignored weather forecasts and left the roof of the stadium open, with a five-hour pre-match deluge forcing a postponement of last night's match until 4pm UK time today. As of last night, the rain had stopped and the tarpaulin roof had at last been closed – the stadium operators had not been able to shut it while the rain had continued. There is also the possibility that the game today will be played behind closed doors, because Polish police will not be able to guarantee the safety of supporters. There was anger from both sets of fans, especially the English contingent, most of whom have flights back home today and will miss the re-organised game. 
Poland v England: Hints of Monty Python as National Stadium slides from the sublime to the ridiculous (Paul Hayward, Daily Telegraph) To put this into perspective, Poland's National Stadium is built on rubble from the Warsaw Uprising: a cataclysm that could not bear comparison with a waterlogged pitch. But this ticked all the boxes of indecision and farce as this wonderful arena's roof went unused and the groundsmen simply vanished. Less than four months ago this landmark ground beside the Vistula symbolised Poland's emergence as a major European power. In a Euro 2012 semi-final, Mario Balotelli scored twice for Italy to expel the tournament favourites, Germany. Everything went right for the hosts as Poland's efficiency and modernity were displayed across the football world.
Spain 1 – France 1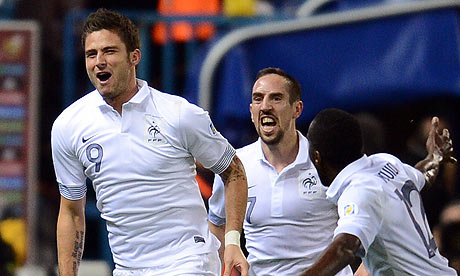 France's Olivier Giroud levels in last minute to put Spain in jeopardy (Sid Lowe, Guardian) Olivier Giroud scored a dramatic late equaliser to hand France a vital advantage in the race to qualify for the 2014 World Cup. Spain, who had won 24 consecutive qualifying games before Tuesday night, will travel to the Stade de France in March 2013 knowing that they may have to win if they are to qualify from the top of Group I. If not, a play-off awaits. When Giroud headed in, the Vicente Calderón had long been nervous, the whistles ringing out as the fans implored the German referee to bring this game to a close. As the ball hit the net, the clock showed 93 minutes; there was barely time for Spain to take the kick-off.
The end is nigh for Craig Levein
Endgame for Levein as defiance peters out (Martin Hardym, Independent) The debate, if it has even had time to become that, is in such infancy that the key points have not even been addressed, but Scotland's people were saying "no", rather than writing it on a bit of paper, last night. No more of this kind of abject failure, no more of these dire campaigns, no more failure to even rev up some sort of false optimism. Two draws with minnows at home. A dispiriting defeat to a Wales team who are pretty poor themselves and then, at the King Baudouin Stadium, this, the expected final hurrah of Craig Levein. Except, and perhaps this says everything, there was no hurrah, and, by closing time, there was not even an official goodbye.
Redknapp for Republic of Ireland
Harry wants Republic job (Owen Conlon, Sun)
Fernando Torres
Torres: I didn't care if Chelsea won or lost… but my attitude's changed now(Sami Mokbel, Saily Mail)
De Rossi for City
Join our posse, De Rossi (Phil Thomas, Sun) Daniele De Rossi is back on Manchester City's hitlist. And a £30million bid in January could finally see Roberto Mancini make it third-time lucky for the midfielder.
Jen Chang v Duncan Jenkins update
Liverpool under pressure for explanation as creator of 'Duncan Jenkins' faces forum abuse (Ian Herbert, Independent) The pressure on Liverpool to explain their meeting with the creator of the fictional "Duncan Jenkins" Twitter character escalated yesterday after he received personal threats on an internet forum which posted an image of him and his son. Sean Cummins, the 35-year-old copywriter who created the Twitter character, declined to discuss the matter publicly yesterday, in order not to draw attention from the latest developments in the campaign to establish justice for the 96 fans who died at Hillsborough. But the forum abuse, seen by The Independent, came four days after Cummins claimed the club's communications director, Jen Chang, had told him he would come under personal attack if he failed to make public the fact that @duncanjenkinsFC had no inside track on transfers at Anfield.
---