Bellamy's furious bust-up with Mancini & the bashing of Arsenal keeper Fabianski continues
Comment & analysis round-up
Quote of the day: "I was surprised that they played David [Beckham] in central midfield; I thought that they'd have played him wide right… The one thing that's so amazing is that for the first 15 minutes I felt in shock, really in shock, because the atmosphere was unbelievable. Coupled with the noise when they scored, it unnerved me and it unnerved my players. No matter how much experience you have got, you get drawn into that cauldron of noise — and to get through that really did take a lot of courage." – Sir Alex Ferguson.
Runner-up: "He is not a temptation… Arsenal came fishing for our young players, one of them was Cesc. Now he is playing very well at Arsenal. I can't say any more about this." – Joan Laporta on Cesc Fabregas, full Times interview with the Barcelona president here.
Today's overview: It is a mixed bag this Friday with Craig Bellamy and Roberto Mancini sharing the headlines with Lukasz Fabianski.
The main story in The Sun concerns Craig Bellamy's "furious bust-up" with Roberto Mancini. "It ended with Manchester City's boss screaming at the player: Get out – and don't come back for THREE MONTHS. Mancini exploded after Bellamy refused a request to train on Thursday with one of the manager's Italian staff. The £14million striker was ordered into Mancini's office, where the pair had a heated exchange."
David McDonell reports that "Roberto Mancini is facing a dressing-room revolt among his Manchester City players over his controversial training ground methods. Several City players are unhappy at Mancini's habit of changing their training schedule at the last minute, leaving them little time to plan their lives. And at least one senior first-team player believes the training sessions themselves lack the intensity of those under Mancini's predecessor Mark Hughes."
Steven Howard adds his two penneth on what the future holds for the dapper Italian. "Yes, Mancini has taken City to fourth place. But only after a comparatively easy baptism – a run in which they still managed to lose at Everton and Hull. And the natives are growing restless at a more defensive style of play. Now it's Liverpool and Chelsea, the first real test of his managerial prowess aside from the Carling Cup defeat by United. And he must wheel out the psychiatrist's couch to get Bridge in the right frame of mind to face John Terry at Stamford Bridge. This is not what he bargained for. Yes, he knew it was going to be tough. He knew there would always be the spectre of Jose Mourinho hovering in the background. But he could have never imagined all the other sideshows. La Dolce Vita? Hardly."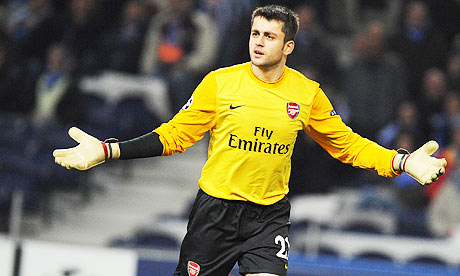 Lukasz Fabianski remains the center of attention following his two howlers at Porto. Oliver Kay writes: "In Wenger's ideal world, Almunia would have been usurped by now — most obviously by Fabianski, but feasibly Vito Mannone, the Italy Under-21 goalkeeper, or Wojciech Szczesny, the 19-year-old Poland international, who is earning rave reviews on loan at Brentford — but if there is one thing that this inexperienced Arsenal team do not need, it is a young, inexperienced goalkeeper behind them."
Amy Lawrence also bashes the Polish custodian. "Blooding a goalkeeper is a tricky business. It is significant that Fabianski, now 24, has been at Arsenal for three seasons but has barely had a notable run in the team. His longest sequence since leaving Legia ­Warsaw in May 2007 was a five-game spell at the end of last season which included a 2-1 battering by Chelsea and a 4-4 draw at Anfield – games which were not ideal for defensive confidence. When the chances have come to stake his claim as the viable alternative to Manuel Almunia that he has always reckoned himself to be, he has choked."
Matt Barlow joins the debate: "Those supporters who fear Wenger has developed a worrying blindspot where goalkeepers are concerned will watch his next moves with particular interest. Normally, the Arsenal manager would be quick to back Fabianski after such a demoralising experience and keep him in the team." Fabianski's performance in Portugal could well be his last for some time as Manuel Almunia is set to recover in time for the match with Sunderland tomorrow. Mark Fleming reveals that Cesc Fabregas made a personal apology for the performance on the plane home to London.
Ian Ladyman warns Liverpool not to pin too much hope on the Europa League. "As the strains of You'll Never Walk Alone filtered from the tannoy prior to kick-off, Ian St John, hands deep in pockets, sang along quietly. To most devoted Liverpool followers, it comes naturally. Last night, however, was not an occasion about which St John or any other supporter could feel overly proud. No, this was a night from which lessons had to be learned. This, the Europa League, was a place which Liverpool must vow never to visit again. St John never won the European Cup, of course. For him, back in the Sixties and Seventies, the UEFA Cup was a competition very much worth winning."
It will come as no surprise, considering where his team are in the Premier League, that Harry Redknapp has come out in support of the Champions League play-off idea. "Sure it's hard for teams to break into the top four and a play-off would be one way of ending that cartel of Chelsea, Arsenal, Liverpool and Manchester United. Only Everton have managed it in recent years and, of course, Leeds when they were spending big. There's a big part of me that believes yes, it could work, I can see it being a very popular idea with fans, who would love the excitement and the money men who run clubs, they would love the thought of balancing their books with a late-season flourish. But there are also nagging doubts. Mainly, can you keep calling it the Champions League when it is being watered down?"
Following Wolves' suspended fine for fielding a weakened side against Manchester United, Patrick Barclay picks the ruling apart. "No club repeating the offence for which Wolverhampton Wanderers were fined a suspended £25,000 yesterday can expect to get away with such light punishment. It could be, say, £125,000 next time — but name the manager who would consider that bad value for a point or three towards the avoidance of relegation. Or, for that matter, an opportunity to rest top players in readiness for a tougher fixture in either the Barclays Premier League or the Champions League. This was the point to which Mick McCarthy alluded: the suspicion that the blind eye so often turned to clubs with big squads had opened wide when his Wolves tried a bit of rotation."
As ever, there are some new developments over the future of Portsmouth. Jamie Jackson reports: "Portsmouth could have a fifth owner this season after the Guardian learned that Endeavor Plan, a Hong Kong-based investment company, has viewed documents relating to the club's financial position and has informed Pompey's chief executive, Peter Storrie, of its interest in buying out the current owner, Balram Chainrai. It has suggested that 30 days' due diligence may be required before being able to complete." In a further development, West Ham co-owner David Gold has offered Pompey 10 million pounds to keep them from going bust.
The Independent tag team of Sam Wallace and Nick Harris report that "Fifa last night gave permission to Portsmouth to take the unprecedented step of selling off their players immediately, outside the regulation transfer window, in order to save the club from extinction. The club made the application yesterday which was handed by the Football Association to Fifa, world football's governing body, which has ultimate control over the rules governing transfer regulations. The Premier League and the FA are expected to meet today to discuss how they will implement the controversial new measures which are fraught with problems." Yet the Daily Telegraph rubbish that claim saying FIFA were unmoved by Portsmouth's plea.
The John Terry-Wayne Bridge drama rumbles on, Oliver Kay reveals in The Times that "Fabio Capello is preparing to name Wayne Bridge alongside John Terry in his squad for England's World Cup warm-up match against Egypt on March 3, but the pair will be warned not to bring their personal dispute into the national team camp. Capello has no interest in mediating in the conflict that has arisen since it emerged that Terry had an affair with Bridge's former partner, Vanessa Perroncel, and he will not raise the issue directly with either of them. He will, however, send a message to them via intermediaries — whether the team's general manager, Franco Baldini, or their respective club managers — that he will not tolerate such tensions inside the England camp in the build-up to the World Cup." Ashley Cole meanwhile had to deal with a break-in at his home last night.
Comparing LA Galaxy pair Landon Donovan and David Beckham, Rory Smith feels the American is the real star of the MLS side. "Donovan has been consistently excellent under Moyes's astute guidance, playing wide on either flank or through the middle, quick and strong, technically assured, confident and hard-working. His set-pieces are consistently accurate, his decision-making almost flawless. He is, without question, a player of genuine quality. Everton will miss him when, or if, he returns to California."
Andy Cole in his weekly column in The Independent describes what it is like to be a footballer. "You can't just go out for a few drinks, even on your days off, and expect that to be private. Top footballers are constantly under scrutiny. Paparazzi and people who make money from selling information about even your most mundane activities, like shopping, mean your life unfolds under the microscope. This is not a complaint, because it goes with the territory, but it's a statement of fact. You cannot take "normal" activity for granted."
There is some rather random transfer gossip floating around today. Nadir Belhadj would welcome a move to Barcelona (shock!), Matthew Upson is refusing to committ his long-term future to West Ham and Birmingham are targeting Israeli striker Itay Shechter. The Daily Mail report that "Arsenal and Liverpool target Mauro Zarate has threatened to walk out on Lazio."
---
GAMBLING CAN BE ADDICTIVE, PLEASE PLAY RESPONSIBLY