Becks seeks Prem return & Heskey to return to Liverpool?
Comment & analysis round-up
Quote of the day: "I am enjoying the qualifying games and honoured to be involved in a team that's now doing so well and that's playing some great football. There's a manager now that knows how to win, not just at Wembley but away from home, he's very excited about the World Cup – and it's great to be involved in that. I worked with him at Madrid for a year so I know what he is like as a manager and a person. I know what he expects from players and he gets the best out of them. There's a seriousness but that has to be there because you are playing for England and on such a big stage. He has installed that back into the team and it's important that it stays there because we are getting the right results and we are getting everything we need. Things are looking bright, though we are still only four games into the new campaign. We are not going to get carried away, we will be professional and enjoy each game and hopefully it continues. It's about time the country and the fans had something to look forward to." – David Beckham.
Runner-up: "It was a sitter, I should have used my left foot and just rolled it in, but I thought I'd done everything and it was a certain goal. If there were any children watching, the important thing is to keep practising with your weak foot as well as your strong one and use it from time to time." – Steven Gerrard.
Today's overview: Two main rumours come through this morning, on the back of England's win in Belarus.
The lead story in the Daily Telegraph is the claim that "David Beckham may return to the Premier League in an effort to prolong his England career under Fabio Capello." And many of the papers report the Daily Mirror "exclusive" that Liverpool are interested in bringing back Emile Heskey. The Sun lead with this story with the headline: "Heskey: Come 'n get me, Rafa".
On Goldenballs, Richard Williams discusses David Beckham's bit-part role for England in the Guardian: "his experience brings a calming influence to bear while forcing the opposition to cope with a different kind of threat." Although, Henry Winter questions Becks' role in the squad, "England do not really need the cameo king any more."
But the main man in the eyes of Fleet Street is undoubtedly Fabio Capello. Sam Wallace (Independent) looks at Wayne Rooney's excellent recent form, concluding that "Capello has to keep the most mercurial talent in harness, fit and primed for the next 22 months." Tony Cascarino (The Times) also makes a link between Rooney's form and the influence of Fabio Capello.
James Lawton (Independent) waxes lyrical about Don Fabio. "Why is Fabio Capello making the job that so absurdly was deemed impossible by so many for so long seem like such a satisfying embrace of professional weight and hitherto grievously unfulfilled potential? It is because he is tough and adult. It is because he has cleared away so much accumulated rubbish. Rubbish thinking, rubbish attitudes, rubbish juvenilia, that is."
Martin Samuel (The Times) pinpoints exactly how Capello has influenced many of England's first-choice players. "Sir Edmund Hillary, the first man to reach the summit of Mount Everest, talked not of conquering mountains, but of conquering the self. That is what Fabio Capello has brought to England's rapid ascent to respectability."
No day seems to go by without some football business analysis. David Conn in The Guardian reports on Andy Burnham's (the culture secretary) comments yesterday on "football's relationship with money." And Brian Moore (Daily Telegraph) analyses finances in the Premier League and backs Lord Treisman. "The recommended maximum percentage of turnover spent on wages is about 44 per cent. Premier League clubs run on an average of 63 per cent; Championship clubs – 79 per cent. Businesses are vulnerable if a substantial chunk of their income comes from only one source."
Other interesting features include Bolton's latest idea to pull in punters: free beer, The Sun reveal Leo Messi's new deal that makes him the highest-paid player in Spain and Fernando Duarte analyses Dunga's position as Brazil manager.
The lead story in the Daily Telegraph this morning is the claim that "David Beckham may return to the Premier League in an effort to prolong his England career under Fabio Capello… With Beckham's Major League Soccer side, LA Galaxy, facing elimination from the end-of-season play-offs, Beckham's club season could be over in two weeks. Apart from a two-match Galaxy tour to New Zealand and Australia in December, he will play no club football until next April.  Beckham, 33, knows he needs top-class first-team football if he is to add to his 107 England caps."
Richard Williams discusses David Beckham's bit-part role for England in the Guardian. "Capello recognises what only the terminally prejudiced would deny, which is that Beckham still delivers the best cross and dead-ball kick in the squad. His inclusion has not been allowed to hamper the progress of Walcott or Shaun Wright-Phillips, but when England are closing out a match, as they have done in every round of this qualifying series to date, his experience brings a calming influence to bear while forcing the opposition to cope with a different kind of threat."
But, Henry Winter questions Goldenballs' role in the England squad. "So England hardly need Beckham yet he can hardly be criticised for accepting the cameos and caps. He loves the honour of playing for England, and probably appreciates a good game of football after the athletic-based rigours of the MLS. Far from casting a large shadow over England's preparations, old Golden Balls has been impressively low-key. With Walcott now his successor, Beckham has been commendably generous in his encouragement and advice to the youngster. There is a dignity about Beckham that commands respect. The England fans still love him. Even Belarus supporters cheered him. But England do not really need the cameo king any more."
Many of the papers report the Daily Mirror "exclusive" that Liverpool are interested in bringing back Emile Heskey. Daily Mail: "Emile Heskey could return to Anfield at the end of the season after becoming a shock target for Liverpool. Manager Rafa Benitez, who arrived at Anfield in 2004 shortly after Heskey was sold by outgoing boss Gerard Houllier, has been alerted to the in-form England striker's eagerness to play in the Champions League again. He believes Heskey would provide valuable cover for Fernando Torres and is ready to challenge Tottenham and Aston Villa for his services should the 30-year-old continue to resist Wigan manager Steve Bruce's efforts to tie him to a new contract." (The Sun lead with this story with the headline: "Heskey: Come 'n get me, Rafa".)
Chris Whyatt and Andrew McKenzie analyse what is so special about Emile Heskey on the BBC. "Yet, as the dust settles on England's perfect start to their 2010 World Cup qualifying campaign under Italian manager Fabio Capello, credit is being showered upon Wigan's 30-year-old forward Emile Heskey like never before in his 50-cap international career.  With a laboured England locked at 0-0 with Andorra in September, Capello made a typically decisive half-time move in bringing Heskey on in place of Jermain Defoe to partner Wayne Rooney in attack.  Four wins, 14 goals, and 12 points amassed… since his introduction in Barcelona Heskey has been a permanent fixture as England have banished the McClaren regime and left fans dreaming of South Africa.  But, with just one goal in every 10 games for his country and an traditionally unfavourable reputation, how has Heskey been able to make such an impact?"
Sam Wallace (Independent) looks at Wayne Rooney's excellent recent form. "Capello and Rooney is an unusual partnership. The 62-year-old strict Catholic with an obsessive nature. The 22-year-old force of nature, chaotic and volatile, whose only nod to his own Catholic roots is the big Celtic cross tattooed on his arm. Rooney's radical haircut last week was a result of the boredom of being shut up in the team hotel under the new England regime. He is a difficult man to keep occupied at the best of times – all Capello has to keep the most mercurial talent in harness, fit and primed for the next 22 months."
Tony Cascarino (The Times) also makes a link between Rooney's form and the influence of Fabio Capello. "Now that England are brave and ambitious up front, he's getting goals and chances. He looks a forward who can score a goal every two games for his country and you wouldn't have said that under the previous regime. As with the rest of the players, he's got a spring in his step. They've bought into Capello's management, even though life is less comfortable than in the past because he is much more demanding and not afraid to stir things up. I suspect he's more than ready even to tamper with a winning team. That's the kind of ruthless and restless ambition that made José Mourinho such a winner."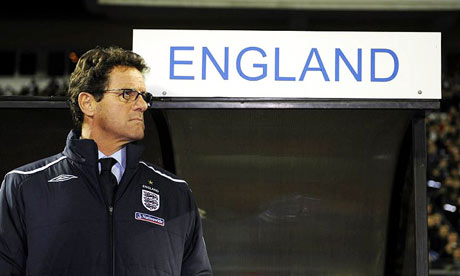 James Lawton (Independent) waxes lyrical about Fabio Capello. "Why is Fabio Capello making the job that so absurdly was deemed impossible by so many for so long seem like such a satisfying embrace of professional weight and hitherto grievously unfulfilled potential? It is because he is tough and adult. It is because he has cleared away so much accumulated rubbish. Rubbish thinking, rubbish attitudes, rubbish juvenilia, that is."
Martin Samuel (The Times) pinpoints exactly how Capello has influenced many of England's first-choice players. "Sir Edmund Hillary, the first man to reach the summit of Mount Everest, talked not of conquering mountains, but of conquering the self. That is what Fabio Capello has brought to England's rapid ascent to respectability. He has given his players the mental strength to overcome the doubts that have plagued them since the failure at the World Cup in 2006."
Kevin McCarra praises Fabio Capello in the Guardian. "Capello has been ready for the battle, prepared to grapple with a foreign language when others would have relished the excuse to depend entirely on an interpreter, who inevitably keeps interrogators at one remove. The image the Italian projects is of an autocrat whose mastery of every football issue is beyond dispute. No manager, of course, has actually been flawless."
Charles Sale in the Daily Mail reports that "Unbeaten group leaders England are less than halfway through their qualifying campaign but have already pinpointed their favoured training base in South Africa for the 2010 World Cup finals. The five-star Pezula Resort Hotel and Spa on South Africa's Garden Route between Cape Town and Port Elizabeth is acclaimed as one of the country's most luxurious destinations."
Anna Thompson on the BBC website features Phil Brown and Hull City's incredible start to the season. Brown: "I'm an ambitious guy and I don't think I've achieved half the things I want to achieve, to be a Premier League manager was one of my ambitions, I've achieved that now and I'm fully intending on staying there. It's one step at a time. I'm not saying I should be the next England manager by any stretch of the imagination. But that was one of my ambitions as a 36-year-old and as a 49-year-old, it's still one of my ambitions."
Anna Thompson in the Daily Mail reports on Bolton's latest idea to pull in punters: free beer. "Bolton will offer free beer to fans before their derby game with Blackburn tomorrow in an attempt to beat falling attendances at the Reebok Stadium. The Lancashire club will treat the first 1,000 supporters into their pre-match Fanzone to a free lunchtime drink as well as cut-price food and subsidised beer and cider from £1.75 ahead of the clash with Paul Ince's men."
David Conn in The Guardian reports on Andy Burnham's (the culture secretary) comments yesterday on "football's relationship with money." "Speaking at the Supporters Direct conference in Westminster yesterday, Burnham said that while the Premier League is 'the world's most successful domestic sporting competition,' it risks becoming too predictable on the field, not developing sufficient homegrown players, and, more broadly, 'losing further touch with its traditional supporter base' if it continues on its current path."
Brian Moore (Daily Telegraph) analyses finances in the Premier League and backs Lord Treisman. "Those who advocate the free market, or rail against the meddlesome peer David Triesman, have to be consistent; but this means accepting, without complaint, whatever transpires for any debt-ridden club. Should bankruptcy visit, let there be no whingeing or begging for government support because 'this club is the heart of this town or city'. Furthermore, you cannot have it both ways; these clubs are either businesses, or they are not. If the former, it is not ridiculous for anyone to point out that the way Premier League clubs operate is not sound business. The recommended maximum percentage of turnover spent on wages is about 44 per cent. Premier League clubs run on an average of 63 per cent; Championship clubs – 79 per cent. Businesses are vulnerable if a substantial chunk of their income comes from only one source."
Following the news that the Championship match between Derby and Norwich is to be investigated for match-fixing. Des Kelly in the Daily Mail looks at global football gambling. "Ask a firm of bookmakers to quote odds on the likelihood of that happening in this age of electronic money transfers and overseas accounts and the early prices posted on the board would scare the horses. Trust is a non-runner. So while Norwich, a city more readily associated with Delia, tractors and turkeys, might appear to be an unlikely setting for the latest prospective match-fixing scandal, it's actually just as plausible a potential crime scene as anywhere else. In the age of the internet, the tentacles of corruption are truly global."
The Sun reveal that "Barcelona have given Leo Messi a £48million deal in a bid to stave off interest from Chelsea and Manchester City. The Argentina midfield ace is on a £160,000-a-week, six-year contract, making him the highest-paid player in Spain."
Following Brazil's 0-0 draw with Colombia, Fernando Duarte analyses Dunga's position as Brazil manager. "'The jeers kind of hurt, but even Carlos Alberto Parreira and Luiz Felipe Scolari went through this when they managed the national team. We have got to keep calm,' said Dunga. Nonetheless, the fact that his first managerial job is the most coveted in the country, while both predecessors had a proven track record before getting the big promotion, plays against his calls for patience — especially now that doubts about his main qualification for the job, the leadership and motivational skills showed in his years as captain of the national side, seem to be on the rise once again. The fixture list does not help: next stop is Ecuador, away and probably in the altitude. At least it's not until March."
Click here for more Premier League betting tips
---