"Beckham's injury is no more relevant than a similar fate befalling Matthew Upson or Michael Carrick… [But] this is Beckham, a national institution, and inevitably he is splashed all over today's papers" – Rob Smyth
Comment & analysis round-up
Quote of the day: "We will wait for tests but it looks very serious. The injury makes us feel terrible. He is an extraordinary guy and his performance in this game proved that yet again. I cannot enjoy this evening considering what has happened to David [Beckham]. But when the tendon goes you feel it straight away and he understood immediately that he had torn it and what that meant." – Leonardo.
Runner-up: "It seems that it's an obsession for the president [Florentino Perez] to go for Rooney. I imagine Manchester United wouldn't like to lose a player like him. Sometimes it is a point of money and, if there is a proposal, maybe a deal can be reached. You have to take into account that the most important thing is what the player wants to do." – Former Real Madrid president Ramon Calderon.
Today's overview: A little bit like Michael Owen, who was never ever going to be on the plane to South Africa but was then officially ruled out when his brittle hamstrings snapped again, the backpages uniformly grieve this Monday after David Beckham ripped his Achilles, forcing Goldenballs to watch the Three Lions this summer from his jumbo-sized TV in Los Angeles.
The big fear, as spelled out by Dominic Fifield, is that Beckham's footballing career could now be over. Calling it "an injury that will rule him out for the season and could curtail his illustrious 18-year career" the scribe reported that "Milan confirmed that Beckham had snapped the tendon in his left leg, with early indications suggesting his rehabilitation could stretch to five or six months."
Taking the cynical approach to Beckham's injury was Rob Smyth. "England received a huge blow to their rapidly dwindling hopes of winning the World Cup yesterday, but it did not come in Milan. The news that Aaron Lennon, England's incumbent right-winger, is still "quite a way off" fitness… In pure football terms, emotionless as it sounds, Beckham's injury is no more relevant than a similar fate befalling Matthew Upson or Michael Carrick… [But] this is Beckham, a national institution, and inevitably he is splashed all over today's papers."
Similarly cynical, Sam Wallace tries to find a silver lining. "If there was any consolation for Fabio Capello last night upon hearing the news that David Beckham had snapped his Achilles tendon then it was this: at least it was not Wayne Rooney… Instead of two players for every position, there was to be three right wingers including Beckham and utility players to make up the shortfall elsewhere. Now Capello does not have those worries."
Oliver Kay also positioned himself as a pragmatist when chewing over Beckham's sad injury. "There was a strong case for Capello to go to the World Cup without Beckham, whose principal value since he was recalled by Steve McClaren in 2007 has been the experience he brings to the group. To say such things this morning will be to speak ill of a national treasure, but, with two of Aaron Lennon, Theo Walcott and Shaun Wright-Phillips offering pace and penetration on the right-hand side and with Steven Gerrard, James Milner and Joe Cole all able to perform effectively there, he had ceased to look a natural inclusion in Capello's squad."
Arguably proving Rob Smyth's point, Martin Lipman in the Daily Mirror laughable presents himself as having inside knowledge of Capello's plans for Beckham at the World Cup. "Capello had planned to use Beckham as a 'closing pitcher', looking to use the veteran to see out the final 15 minutes of games when he could utilise his football brain and ball-keeping ability as well as that legendary set-piece delivery."
The pandering Daily Mail go a step further, putting Beckham on a pedestal by rewriting history of Milan's Champions league exit to Manchester United last week. "Only last week Beckham proved his value against Manchester United at Old Trafford. Milan were comprehensively beaten 4-0 on the night, and 7-2 on aggregate, by the English champions but Beckham emerged as their most effective player."
Yet England do have good reason to be optimistic ahead of the World Cup. And the reason centres around a certain Mr. Wayne Rooney.
After yet another match-winning performance against Fulham on Sunday, Paul Hayward makes the case that Wazza "is England's most potent force since Bobby Charlton." "On that scroll of candidates for the title of best-since-Charlton there are several who could win games on their own through force of hunger or ability. How many matches has Lampard shaped for Chelsea? Was Robson not Roy Keane but with greater attacking prowess? No English player since Charlton, though, has had such a transformative effect on club and country as Rooney has this year. England's greatest go bald early and bestride Old Trafford: that's just the way it is."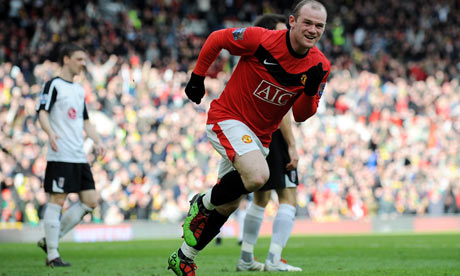 Patrick Barclay joins the chorus of those praising Rooney. "He has transcended the hackneyed claptrap of his environment. He is a man of the world and to survey those pictures of him gazing at the 12 inches of solid gold that is the World Cup last week was almost to feel the excitement of what might begin to happen in South Africa in June. After the beauty of Glenn Hoddle, the brittle genius of Gazza and the glitter of Beckham, the real thing is on England's side."
After a weekend of turmoil on Anfield things are a little sunnier at the start of the new week as David Facey farts that, in the wake of Fernando Torres plea for new recruits, funds could now pour into Liverpool. "Torres will get his wish for a massive Liverpool spending spree after it was revealed at least SIX groups want to invest in the club."
Tony Barrett fleshes out the story to report that Liverpool have been made an offer from the Rhone Group. "The Liverpool ownership saga has yet to be resolved but Rhone Group, a New York-based investment vehicle, has become the first of several interested parties to declare its hand by making an official proposal to the club… That offer was made in the early hours of Saturday morning, with Rhone seeking to acquire a 40 per cent majority stake in the club for a fee in the region of £110 million."
The tabloids refuse to let the Torres-to-leave story go however, leaving the likes of David Maddock to clutch at wafer-thin straws when penning "major new investment is on its way to Liverpool – but it might still not be enough to keep Fernando Torres at Anfield… Torres has shown some awful body language in recent weeks as frustration has got the better of him."
Alan Hansen makes the argument that Liverpool's future success rests not on new players, but a new ground. "The most important thing for the club is the building of a new stadium with a greater capacity to generate greater revenue. Without this, it becomes so much more difficult for Liverpool to compete with all of their rivals."
Wrapping up the Liverpool news, Matt Lawton excitingly slaps the word EXCLUSIVE on his article that shouts "Liverpool can't afford to sack Rafa Benitez! Firing would trigger £16m pay-off clause." "The clause is one of the reasons Benitez remains in his job after what has been a disastrous seven months for Liverpool… Anfield's American owners have not stuck by Benitez out of loyalty and the belief that he can turn things around at the club but because of the expense of getting rid of him."
It's Monday, so that means that Stan Collymore can shout his mouth off in The Mirror.
Collymore begins by making a promise he may be able to keep. "Nicklas Bendtner will be a Premier League superstar one day – and I look forward to him continuing to prove his critics wrong at Arsenal… How dare any Arsenal fans suggest Bendtner isn't a top-quality forward in the making?"
Then, on possibly the worst day ever to do so, the hack tears into Goldenballs for his scarf wearing antics last week. "I regard Beckham as the master headline grabber and football politician… I just wonder whether Beckham's actions were anything to do with Wayne Rooney's brilliant display… Prhaps David just couldn't quite let that go without letting people know who is still the most saleable asset in football."
Changing tracks, Gabriele Marcotti uses his weekly column in The Times to ask "Could the young stars of Belgium prove dark horses for Brazil 2014?" "Lukaku is a regular at 16, Fellaini, Hazard and Defour have been starting for decent sides since the age of 17, Dembélé and Witsel since they were 18, Vertonghen and Mirallas 19. The skills and experience they're gaining at such a young age will, no doubt, serve them well down the road."
Is this the most underwhelming story of the day?
James Nursey has Birmingham fans gripped to their seats when typing "Birmingham owner vows to spend big this summer." So who is on the club's radar? "The club want Fulham left-back Paul Konchesky, Celtic right midfielder Aiden McGeady and a striker after going for Roman Pavlyuchenko in January." In other transfer news, the Daily Mail spew "Aston Villa are weighing up a move for Manchester United goalkeeper Tomasz Kuszczak."
Two offbeat stories close out today's backpages.
Martin Samuel claims that everyones most hated Premier Leaguer could be heading for jail. "The charming El Hadji Diouf faces a two-year prison sentence after being accused of assaulting a Senegalese woman in a brawl at a casino. Diouf, the Blackburn Rovers forward, has already been convicted of an assault on the ex-wife of team-mate Khalilou Fadiga. This latest incident happened while Diouf was at the Casino du Cap Vert resort with Cheik Sadibou Boye, a wrestler. Boye is described as the head of Diouf's security team, although whether he is there to protect his client from the public or the public from his appalling client is unclear."
Finally, Arthur Martin reports on the BBC's World Cup plans. "It sounds like the perfect base for the BBC's coverage of the World Cup. The pentagon-shaped glass studio in Cape Town will be purpose-built and have panoramic views of Table Mountain, Robben Island and the new city stadium. The only problem is, it will be 1,000 miles away from the tournament's logistical centre in Johannesburg – and is likely to add £1million to the BBC's bill."
Best football betting tips & free bet offers
Click here for more Premier League betting tips
---