Beckham to coach England at the World Cup & Fabregas heading to Barcelona (again)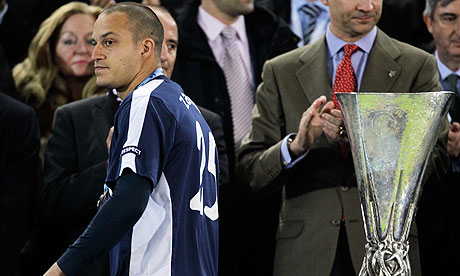 Comment & analysis round-up
Quote of the day: "Its obviously a major disappointment, not to be going to the World Cup. It has been a completely up and down season for myself, to have scored a lot of important goals and to have gone so far with Fulham, but to be struggling in the last couple of weeks and missing out on the international team is very disappointing. It was a decision between their medical team, our medical team and myself. I told Fabio that I was struggling and I knew that if I had gone, I wouldn't have done myself or England justice. He wished me all the best and hoped that I get fit and would be there next season. You could see I was struggling to play [against Atlético]. It [the injury] is one of those things, it's come at a bad time. The last five weeks have been terrible for me. It's been so good on the pitch and to now pick up this injury has kicked me in the teeth. That's football, it's a cruel game. And we've seen how cruel it can be again here with losing this final in the last couple of minutes, but on the whole, I'm delighted with the season." – Bobby Zamora.
Runner-up: "I would like to [step into management], I joined Everton when I was nine years old and football has been a massive part of my life. When I do stop playing, I want to be involved in football. I started doing my coaching badges this year, and probably did not do as many classes as I would have liked. Hopefully I can continue them next year. I love football and enjoy football — I can't see myself running a restaurant, I want to be in football." – Wayne Rooney.
Today's overview: It is a truly mixed bag this Friday morning with a whole host of topics dominating the back pages. David Beckham now seems likely to be going to the World Cup after all and there are further features on next month's eagerly awaited tournament. Elsewhere there are previews of the FA Cup final and where Fulham go now. Finally, Cesc Fabregas dominates the transfer gossip pages with the Spanish playmaker hinting at a move to Barcelona – again.
Becks will go to the ball: The Times lead with the news that "David Beckham is expected to accept an offer to travel to the World Cup finals as a full-time member of Fabio Capello's coaching staff. The former England captain has been invited to work in South Africa, acting as an intermediary between manager and players, and assisting on the training ground."
David Beckham backs the World Cup 2018 bid in The Times. "As you read this I am in Zurich about to undertake the unique privilege of handing England's bid book for the 2018 and 2022 World Cups to the president of Fifa, Sepp Blatter. This is an amazing honour for any English man or woman. As a player, nothing could possibly beat playing in front of your own fans in your own country at the World Cup and I hope our players of the future will be fortunate enough to experience this. The bid book contains all of the detail of how we would host the World Cup in either 2018 or 2022."
The World Cup: Harry Redknapp calls for Fabio Capello to take Joe Cole to South Africa. "I've got three words to say to all those people asking me if Joe Cole should be on the plane to South Africa – definitely, definitely, definitely. When Fabio Capello named his initial 30-man England squad this week, naturally I was delighted to see so many of my Tottenham players in there. Six of my lads made it, and aside of the more obvious choices Jermain Defoe and Crouchy, I was especially delighted for Tom Huddlestone and Michael Dawson. But I have to say I was just as pleased for Joe Cole, who has had a bit of a rough time of things this season. I signed Joe for West Ham when he was only 11, and even now I still rate him as the best young player I have ever worked with."
Rio Ferdinand reveals in the Daily Mail that he will be fighting fit for the World Cup. "Ferdinand, however, is utterly resolute in his dismissal of the 'Captain Crock' label. 'Listen, I'm fit,' he says. 'It has never even crossed my mind that injury would put me out of the tournament. My back troubles happened before Christmas, so I knew the time scale. 'There's been a lot of frustration for me at my club and it's been a disappointing season all round. But if there is any silver lining to be found, it's that I'll be fresh and full of energy at the World Cup.'"
Bitter Andy Cole lays into Glenn Hoddle and Sven Goran Eriksson in his weekly column in The Independent. "The omission from Sven Goran Eriksson's squad in 2002 was something of a surprise because Sven had called me in early February of that year. 'Hello Andrew, it's Sven,' he said in his usual friendly way (and I mean that, he's a nice guy). 'Hello Mr Eriksson,' I replied. 'I just wanted to let you know that I won't be picking you in the squad for the friendly coming up,' he said. England were playing the Netherlands in Amsterdam. 'But don't worry,' Sven added. 'It's just because I want to have a look at a few other players. You'll be in the next squad, for sure.' I said: 'That's fine, I understand, thanks for letting me know.' That was February 2002. And, dear reader, I can disclose that I'm still waiting for Sven's next call!"
Harry Pearson also looks back on Italia 90 and wonders where all the great north-east footballers have gone. "Much has been written about Scotland's marked decline as a producer of talented footballers – whatever the causes of that slump might be they seem to have drifted south. Looking to raise my spirits, a friend comments that Waddle, Beardsley and Gascoigne emerged under a Conservative government. Another points to the emergence of Andy Carroll and Jordan Henderson, the return to form of David Wheater. It is a time for clutching at straws."
Gallant Fulham: Jim White describes the lifestyle choice that is supporting Fulham. "As Fulham's weary army of supporters return home following their team's harsh Europa League final defeat, as Lily Allen dries her eyes and Hugh Grant leaves a healthy tip for the nice man who kept bringing him beer throughout the game, we have to wonder: has there ever been a more polite collective of football followers to leave these shores?"
Sam Wallace analyses what looks likely to be a summer of rebuilding at Craven Cottage. "Mark Schwarzer, Chris Baird, Paul Konchesky, Simon Davies, Dickson Etuhu, Danny Murphy, Zoltan Gera and John Pantsil, the latter an unused substitute against Atletico, all have just one year left to run. With an ageing squad there are suggestions that Fulham will attempt to move on a lot of these players this summer for a fee and attempt to recruit younger, cheaper replacements."
The FA Cup final: Steven Howard writes of Pompey boss Avram Grant. "So while the Pompey fans will get the sympathy vote, I'm not sure the rest of the country will extend the same feelings to Grant – a man viewed by many as an opportunist whose greatest quality is having friends in high places. Yes, he appears to say the right things and with that hangdog expression has the suitably morbid looks to reflect Pompey's predicament. But I'm not sure he totally got it right when he addressed Portsmouth fans at their final home game."
Bill Mouland in the Daily Mail features the man with the bell. "Most days he is just John Anthony Westwood, a mild-mannered antiquarian book dealer with a royal warrant for picture framing in a peaceful national park market town. Come this weekend, however, he will transform himself into John Anthony Portsmouth Football Club Westwood, better known as Pompey John, tattooed talisman of the terraces — from which he is occasionally evicted — the man who put fan into football fanatic. Instead of browsing sales and house clearances to find priceless first editions to add to the shelves in his shop in Petersfield, Hampshire, he will don his bright blue wig and stovepipe hat, pull on his ex-chef 's chequered trousers and bare his tattooed torso to the elements for the sake of his team, as relegated Pompey play underdog to newly-crowned champions Chelsea in tomorrow's FA Cup final."
John Terry is also featured in a number of papers, Mark Fleming highlights some quotes from the Chelsea captain yesterday. ""Nothing will ever make up for Moscow unless we go there and win it in my lifetime. That's a fact,' Terry said after training yesterday. The depth of Terry's angst over that defeat is a reminder that, despite the great strides taken by the club this season under Ancelotti, the inability to land the Champions League remains an itch the club have yet to scratch."
Russell Kempson in the Times speaks with the cup final referee Chris Foy and linesman John Flynn.
Transfer gossip: The main transfer goss centers around top class Spaniards. The Sun jump on quotes from Cesc Fabregas yesterday and Antony Kastrinakis writes: "Fabregas is ready to walk out on Arsenal next week after admitting: I'd love to join Barcelona. The Gunners skipper will decide his future this weekend after crunch talks with boss Arsene Wenger."
In a supplementary article Kastrinakis predicts doom and gloom for the Gunners should Fabregas jump ship. "For the sum of all fears at the Emirates is this: Could Arsene Wenger follow? The Gunners manager has tried hard to persuade his brilliant Spanish international to resist the lure of Barcelona. But while everyone accepts there is a giant question-mark over what Fabregas will do, nobody has queried Wenger. He has one year left on his contract yet, worryingly, seems to be heading into his final season with no sign of agreeing a new deal to stay for life. That uncertainty must be praying on Fabregas' mind. If his manager is not signing a new agreement, why should his player?"
Chelsea boss Carlo Ancelotti has also got the scribes scribbling after admitting for the first time he would like to sign Fernando Torres. Fellow suitors for El Nino, Manchester City, have a 150 million pound transfer kitty this summer, according to Neil Custis in The Sun.
In further bad news for Liverpool, The Mirror claim Inter Milan want to buy Steven Gerrard to convince Jose Mourinho to stay in Italy. The Mirror add that Sol Campbell is hopeful of two more years at Arsenal and Birmingham are after Bobby Zamora.
The Daily Mail can't resist showering us with some transfer goss: Dimitar Berbatov is happy at Manchester United, Fulham are interested in Curtis Davies with Aston Villa set to offload six players and Sochaux are closing in on John Utaka.
---