Bayern worthy CL champs, Real to splash £25m on Man United's Rooney + £60m on Spurs' Bale & Arsenal target £15m Pogba
Comment & analysis round-up
Quote of the day: "I'm here with friends and family and they have helped me to write a few things here. I'm not going to hold out until Monday. My family and friends already know my decision. On Monday I will sign a contract with Barcelona. I want to thank the fans of Santos for these incredible nine years. My feeling for the club and the fans will never change. It is eternal! Only a club like Santos FC could give me everything I have experienced on and off the field. I thank the wonderful fans who supported me even in the most difficult moments." – Neymar.
Runner-up: "FC Barcelona and Santos have agreed to terms for Neymar da Silva Santos Junior. The Brazilian forward will don the Blaugrana strip for the next five seasons. The 21-year old is one of the most promising footballers on the planet." – statement from Barcelona.
Barcelona Finally Land Neymar
Neymar signs for Barcelona (Sun) Barcelona have landed £20million Brazil star Neymar on a five-year deal. The striker is heading to Europe after Santos finally agreed to sell South American football's hottest property. Writing on Instagram, Neymar said: "I have spoken to my friends and family. On Monday I will join Barcelona."
Bayern Win The Champions League
Bayern Munich's Arjen Robben nets winner against Borussia Dortmund (Daniel Taylor, Observer) It was a night of outstanding drama, fully reaffirming all the eulogies about German football, and when it was all done Bayern Munich had won their fifth European Cup and we were reminded what a brutal business football can be when it comes to making losers of heroes… This is some Bayern team and they deserved their victory because of the way they gradually asserted control when the goals arrived in the second half.
At the last, the Bayern Munich steamroller rumbles over the line (Barney Ronay, Observer) If this really is the dawning of the age of Bavaria it arrived at Wembley with a sense of relief as much as elation at the final whistle for the newly enthroned European champions. Of all possible outcomes – the Dortmund miracle, the steamrollering assertion of Bayern power – this was perhaps the least expected, a victory eked out of a below-par performance in what was still a brilliantly entertaining final.
Robben banishes pain of 2012 as German champions claim fifth European title (Rob Draper, Mail) Last night at our brash, modern national stadium, Bayern and Dortmund delivered perhaps the finest final since Wembley reopened… The winning goal, scored in the 89th minute, was straight out of England: a hopeful long ball, dreadful confusion in defence as Franck Ribery  back heeled and former Chelsea player Arjen Robben seized the loose ball to sway past two challenges and slip the ball past Roman Weidenfeller to end Bayern's status as serial losers.
Stirring Champions League final shows how far English game must advance (Michael Calvin, Independent) The English game will not move on until it acknowledges, and addresses, the fault lines of a system which permitted only 22 Academy products to make their Premier League debuts this season. That's seven fewer than the previous year, and exposes the revisionist nonsense that great strides are being made in youth development in the domestic game.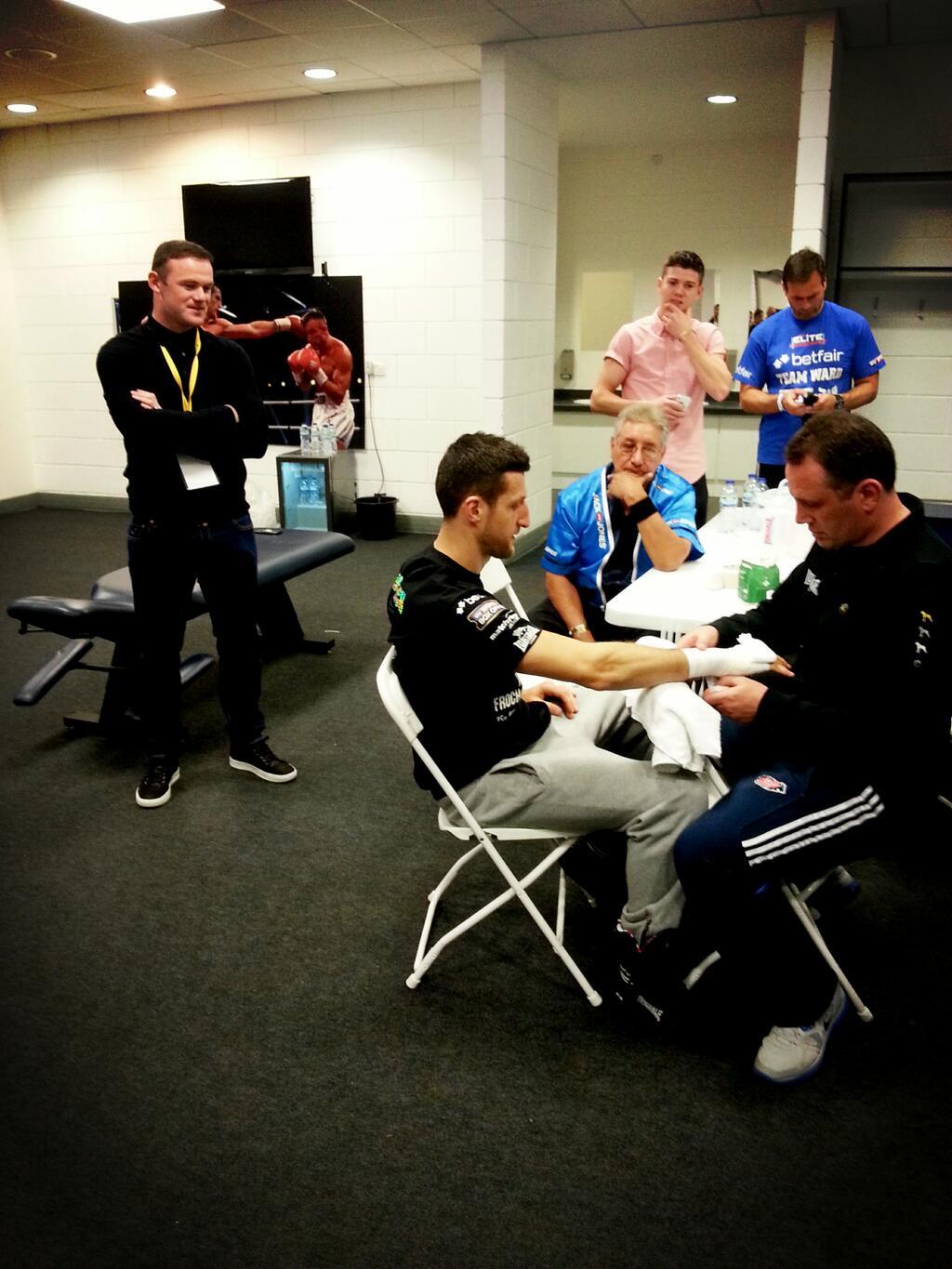 Rooney: Wanted By United & Real Madrid
Moyes to meet striker for talks as United try to resolve Fergie fall-out (Rob Draper, Mail) Wayne Rooney is to have urgent summit talks with new Manchester United manager David Moyes as the club attempt to resolve the impasse over the England striker's future created by his fall-out with Sir Alex Ferguson… The club now accept that Rooney has never submitted a formal transfer request and, although Moyes will want to meet the player personally before final decisions are made, with Rooney committed to the club and Moyes an open admirer of the player, a resolution seems imminent.
New Manchester United manager poised to buy Marouane Fellaini and fighting to keep Rooney (Simon Mullock, People) David Moyes will make Marouane Fellaini his first signing at Manchester United. And the new Old ­Trafford boss is ­brokering a peace deal to keep Wayne Rooney at the club. Moyes will raid former employers ­Everton to land the Belgium star in a £24million deal.
Ancelotti plots a Wayne Rooney and Cristiano Ronaldo reunion under him at Real Madrid (Alan Nixon, People) Carlo Ancelotti will offer Wayne Rooney an escape route if he takes over as Real Madrid boss… Ancelotti's current employers, Paris Saint-German, are fighting to keep the Italian. But Perez is determined to get his man – and start rebuilding at the Spanish giants, with a £25million move for Rooney on the cards. Real do not want to lose United old boy Cristiano Ronaldo, so an exchange deal is not on the agenda.
David Moyes plans £25m swoop for Cesc Fabregas (John Richardson, Express) Manchester United are planning a shock £25million move to bring Barcelona midfield star Cesc Fabregas back to the Premier League… If they can't land Fabregas, United will switch their attention to Modric who only joined Real Madrid last summer from Spurs for £30m, with Moyes also interested in Belgian international Marouane Fellaini from his former club Everton.
Moysie v Mour For Mod (Paul Hetherington, Star) David Moyes is planning to make Luka Modric his first signing for Manchester United. And that could put the new United boss in direct competition for Modric with Jose Mourinho if – as expected – the Special One returns to Chelsea.
Mourinho's Chelsea
Jose: Lukaku can be our new Drogba (Rob Beasley, Sun) Chelsea's boss-in-waiting insists Belgian international striker Lukaku will not go out on loan again. SunSport can reveal the Blues have already snubbed a number of approaches — including from West Ham and Swansea — to take the powerhouse hitman on loan next term. Lukaku, 20, plundered 17 Premier League goals after he was lent to West Brom last season. Now Chelsea are adamant he is staying at Stamford Bridge and will get a chance to prove himself under Mourinho.
Arsenal Want Pogba
Arsenal poised to go for Paul Pogba again after previous two attempts failed (Dave Kidd, People) Arsene Wenger is ready to use his ­summer war-chest to fund a move for long-term ­target Paul Pogba… Despite the 20-year-old's fine form, the Gunners have been alerted to the fact that he is ­unsettled in Turin ­after being the ­subject of racial abuse in a derby match against Torino last month… Arsenal would now have to pay top dollar for the player as Juve are not keen to sell and are likely to ­demand at least £15million.
Spurs Set To Get A Bid Bale Bid
Real Madrid ready to tempt Tottenham Hotspur resolve with an audacious £60m summer bid for Gareth Bale (Jason Burt, Telegraph) Real Madrid are ready to test Tottenham Hotspur's insistence that Gareth Bale is not for sale at any price this summer by making a £60 million bid for the Wales international… Spurs are determined not to sell the player, with Levy adamant that the 23-year-old will not go, even if Real, or any other club, make a big offer. Spurs will also resist any bid even if Bale does not sign a new contract. Talks are ongoing over that proposed deal, which would lead to a significant rise in his wages.
Managers On The Move: Martinez & Benitez
Martinez to quit Wigan as Everton hover (Phil Thomas, Sun) Roberto Martinez is ready to tell Dave Whelan he wants to leave Wigan — paving the way for his move to Goodison Park. The Spaniard flies home from a family holiday and will go into one last set of talks with the Latics owner… Stoke are also keen to speak to the Spaniard, but Everton will beat them by stealing a march with a faster approach.
Everton will move for former skipper Weir if Martinez snubs chance to lead the Toffees (Joe Bernstein, Mail) Everton chairman Bill Kenwright has interviewed three internal candidates for the manager's job: former Goodison Park players Alan Stubbs, Phil Neville and Weir. And it is Weir who has particularly impressed the chairman as having the personality and credentials to step into Moyes's shoes.
Rafa set to seal Napoli deal as Chelsea obligations come to an end (Rob Draper, Mail) Rafa Benitez is expected to finalise a two-year deal with Napoli this weekend as the Chelsea interim manager fulfils his final duties at the Premier League club. Benitez still has to meet Paris St-Germain officials this week before deciding which club he will manage next season. But Champions League qualifiers Napoli, who prematurely announced a deal with the Chelsea interim manager last week, are favourites to get him because of the determination of president Aurelio de Laurentiis.
Stoke target Hughes and Mackay as Pulis' replacement at the Britannia (Joe Bernstein, Mail) Former Manchester City, Fulham and Queens Park Rangers manager Mark Hughes is the leading contender and is rated highly by Stoke chairman Peter Coates. But negotiations with Hughes, 49, are currently at an early stage and Cardiff City boss Malky Mackay may be seen as a cheaper option to the Welshman.
Playoff Final: Watford v Crystal Palace
Getting up and staying up is the real prize (Harry Redknapp, Sun) Getting into the Premier League is difficult enough: staying there is another matter entirely… You can keep the blokes who got you up and the younger ones with promise of course. But add a couple of experienced campaigners and you give yourself a big start in the survival battle, It starts from the moment the final whistle blows on play-off day.
It's Motormouth against Mr Modesty in the battle for a place in the Premier League (Joe Bernstein, Mail) Like him or loathe him, Crystal Palace manager Ian Holloway was impossible to miss when he breezed into the Premier League with Blackpool. No manager embraced the cameras and microphones more gleefully, even as his club were being relegated. Who else would have reacted to news of Darren Bent's £24million transfer by declaring: 'You can't buy a four-bedroom house for the price of a two-bedroom one'? Gianfranco Zola, whose Watford side meet Holloway's Palace in the £120m Championship Play-off final at Wembley tomorrow, would never dream of being so indiscreet.
---