Barcelona, Real Madrid & Inter Milan begin circling Chelsea's love-rat Ashley Cole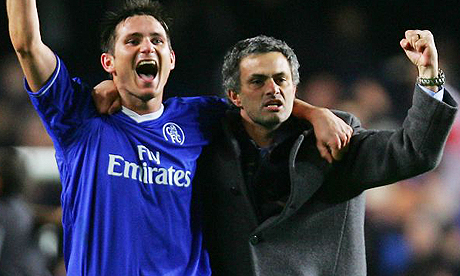 Comment & analysis round-up
Quote of the day: "Chelsea today is the consequence of what I built up. They haven't forgotten what I did for the club and how I made history." – Jose Mourinho.
Runner-up: "Turning up to games 10 minutes late and things like that just doesn't do the job. The green and gold protest is fabulous, a symbolic and significant message to the owners. It is like the white handkerchiefs in Spain. But that won't force the Glazers to sell to us. However, if enough people – and I am talking about thousands – stop turning up to matches and do not renew their tickets, then that does it. The supporters have to hurt the Glazers in their pockets. They have to be prepared to take the pain of not watching their club in order to achieve a long-term gain. Supporters have to be galvanised to say, 'We will not come. We will not buy programmes and merchandise.' 'It's a big ask, it's a risk, but that is what must happen. The Glazers are thick-skinned and seem impervious to protest. They will not be impervious to enormous drops in their revenue. I would not talk about this if I didn't have full confidence in our ability to raise the money to do this. I never talk publicly unless I have confidence. Getting the money together is the easy bit. But we can't make an offer until the Glazers are placed in a position where they are forced to consider it." – Keith Harris.
Today's overview: He has his trophy wife. He has his trophy mansion. He has a incredibly over-sized wage packet. And he then got busted (again) for cheating. But is Ashley Cole ready to take his punishment like a man? Of course he isn't!
Owen Gibson reports on how Cashley, just a day before his club's match of the season away in the San Siro, has opted to make public that he "intends to fight any disciplinary action taken against him by Chelsea over allegations about his off-field behaviour. The left-back believes he is being victimised by the club… Cole could face sanctions up to and including the possibility of being transfer-listed, although a hefty fine is a more likely punishment following allegations about
extramarital relationships… There are indications that Cole is so incensed at the prospect of being punished that he could look to leave Chelsea in the summer… If Cole goes as far as to seek a move from Stamford Bridge, there is likely to be interest from Real Madrid, Barcelona and Inter among others."
On potential suitors for Cole, Mark Fleming scribbles "Barcelona, Real Madrid and Internazionale would all undoubtedly be keen to recruit Cole… [Cole] has been told he would get more privacy in Spain or Italy. He is also said to be tempted by the less punishing tax levels enjoyed by several European countries."
Digging the hole deeper for Ashley Cole, Matt Hughes teases out the left-back's complaints against Chelsea. "Cole is also unhappy that his treatment has differed from that afforded to John Terry, the Chelsea captain, who, rather than a disciplinary hearing, received public backing from the club and Carlo Ancelotti, the manager, during his well-documented personal difficulties… Chelsea's position is that the cases are completely different, because for all the embarrassment caused by the lurid headlines involving Terry, his indiscretions were private matters carried out in his own time. Cole, on the other hand, stands accused of breaking club rules by bringing women back to the team hotel on at least three occasions."
Offering a scintilla of support for Ashley Cole, Owen Gibson wonders whether Chelsea's decision to impose retroactive punishments is a sensible one. "The danger now is that it has become open season on the private lives of Chelsea players, with the tabloids opening their chequebooks. And now that the club has set a precedent by taking retrospective action, it risks having to spend much of the rest of the season dealing with the fallout."
Sick to the back teeth with the Cole smut story, Kevin Gardside criticises the tabloid-hungry public while defending the Blues' defender. "We have become a nation of voyeurs, training the long lens at the curtains of the rich and famous in the hope of glimpsing a quick grope. When we catch them out we throw the moral book at them with the force of a medieval legate on the lookout for heretics in the attic. Wherein lies the obligation to live a moral life? What part of the contract signed by a footballer compels him to adhere to an ethical code? Where is the clause marked role model? While not defending a man who reportedly cheats on his wife, the idea that Cole is somehow answerable to his employer for his alleged private behaviour in an American hotel room is a nonsense."
Sam Wallace also whips his knives out for Chelsea, who he argues should not be punishing Cole for his private life. "Say what you like about Ashley Cole – and most people do – but what goes on in the privacy of his marriage is not anyone else's business, not even his employer… If Cole's crime is that he broke the rules at Chelsea then he is not the only one. In fact, his very signing at Chelsea was facilitated by Kenyon and the then manager Jose Mourinho running roughshod over the regulations governing transfers. But Chelsea did not censure either of them, it took the Premier League to do that."
Lastly on the Cole-smut-saga, loudmouth Ian Wright invents a whole series of excuses to alleviate the left-back of his infidelity. "Something was obviously missing from his relationship at home, so he has decided to go elsewhere. Maybe Cheryl has been at fault as well, with her work in a band, on hit TV shows and flying all over the world. It seems Ashley may have felt lonely and neglected and this might have been the reason why he has had to look further afield… Maybe Ashley is the latest example that you can sometimes have far too much too early."
From one club with internal problems to another, and Jason Burt opens up a rift between Mancini and Tevez with the Argentine reportedly upset over his treatment for caring for his premature baby. "Carlos Tevez hopes to return to England on Thursday but is upset and disappointed with the way Manchester City manager Roberto Mancini has handled his compassionate leave following the premature birth of his daughter, who is in intensive care. The striker is understood to believe that Mancini has reacted insensitively to his plight and has told friends that this is symptomatic of the way the Italian has run the club since he succeeded Mark Hughes at the end of last year."
Chancing his luck, Jason Burt goes on to fart that Mancini's tenure is already in danger at Eastlands. "Several players are said to be unhappy — as many as eight according to one source at the club — and there have been questions over Mancini's training methods, his ever-changing tactics, his substitutions during games and his curious deployment of some players… City are boring as well as unconvincing. There is little sign of serious progress being made by Mancini while the suspicion that his early success was primarily due to a fortuitous run of matches has resurfaced."
Another day of woe for Portsmouth fans.
After owner Balram Chainrai admitted on Monday that he would dip into his own family money to save the south coasters if necessary, Tuesday breaks with news that one of the prospective buyers has pulled his interest. Jamie Jackson reports "Victor Cattermole, one of the ­parties interested in buying the club, ruled out taking over before Monday's winding‑up petition. Cattermole's company, Endeavor Plan, was named by Portsmouth as one of two prospective buyers in the statement of affairs demanded by the high court."
With terrible off-field problems to contend with, Nick Szczepanik brings more problems for Portsmouth on the field. "The precarious nature of the club's situation appears to have translated into tension at the training ground, with reports last night that Michael Brown and Jamie O'Hara, the midfield players, were involved in a fight."
England face Egypt next week at Wembley, and the Guardian announce that "Fabio Capello is planning to give Joe Hart his first start for England," while in bad news for the Three Lions and Spurs the Guardian also print that "Aaron Lennon has suffered a setback in the build-up to the World Cup after feeling discomfort in his injured groin while training at the weekend… Arsenal's Theo Walcott looks set to get a chance in his absence against Egypt next Wednesday."
Onto the transfers.
The Daily Mail chug "Wigan have confirmed midfielder Ben Watson has moved to West Brom on loan until the end of the season." And in other confirmed news, the Mirror shout "Tottenham last night signed Zambia's brilliant young left-back Emmanuel Mbola in a £1million deal. The 16-year-old defender has already clocked up a remarkable 20 caps for his country and was the youngest player in the recent Africa Cup of Nations."
Finally, Andrew Dillon farts "West Ham are planning a summer swoop for Manchester City's England Under-21 keeper Joe Hart."
---
GAMBLING CAN BE ADDICTIVE, PLEASE PLAY RESPONSIBLY