Barcelona makes moves for Arsenal's Cesc Fabregas & Manchester United's Wayne Rooney
Comment & analysis round-up
Quote of the day: "Negotiations are progressing well, especially in the case of [David] Villa. The situation with Cesc is different because even if you have the will of the player it is very important to talk to his club and, if you can, find an agreement. But what makes it easier is that both players want to come to Barca." – Barcelona vice-president, Rafael Yuste.
Runner-up: "I am worried about Gudjohnsen. I don't know the name of the volcano, it's too difficult, so it's Gudjohnsen. I'm worried about the volcano, I would like to go Friday but it seems we may have to go tomorrow. I like to work here. That's my only worry." – Jose Mourinho.
Today's overview: It's now not a matter of if for Arsenal fans. Cesc Fabrages is on his way out of the Emirates as the Spaniard prepares to go home to Barcelona.
Cheerio Cesc: Dominic Fifield laid down the facts concerning the Arsenal captain's impending transfer. "Barcelona's long-running pursuit of Cesc Fábregas appears finally to be nearing a successful conclusion as the Arsenal midfielder has made it clear to Arsène Wenger that the time is right for him to return to the Camp Nou… The manager will seek to speak with the 23-year-old again later this week, though it appears the Spaniard's mind is made up… Barcelona hope to secure the player for around £30m, and could offer to include the unsettled Ivory Coast midfielder Yaya Touré or even the Sweden forward Zlatan Ibrahimovic as part of the deal, though there is no guarantee that the Londoners would accept either player. They will seek nearer £40m for their captain, a demand that will prompt what is likely to prove a protracted and fractious period of negotiations, with Wenger having gone on record towards the end of last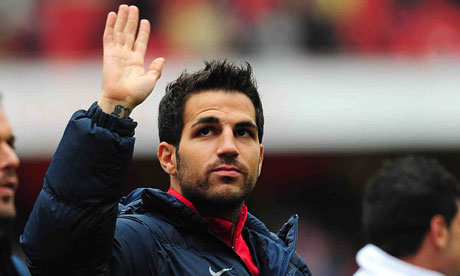 season that he was under 'no financial pressure' to sell."
Ramping up the tension, Matt Hughes announces that Fabregas "is prepared to submit a written transfer request if necessary… Arsenal insisted last night that FÃ bregas is not for sale at any price, but such a position is likely to prove untenable once Barcelona have made a formal bid, not least because, by declaring his hand so early, FÃ bregas has ensured that Arsenal will come under huge pressure to do a deal before the transfer window shuts at the end of August. That may ultimately prove impossible to resist."
In a supplementary article Matt Hughes takes an extreme negative position to wonder whether Cesc's departure may spark an Emirates exodus. "Fà bregas is the first iconic star to demand a transfer while at the peak of his powers… Fà bregas may not be the last if some of his team-mates reach similar conclusions. Robin van Persie and Andrey Arshavin would have no shortage of offers from Europe's leading clubs, while Aaron Ramsey is also likely to be inundated with offers."
Staying with the Arsenal-bashing, Jeremy Wilson argues "if Arsenal cannot persuade their best young players to spend their peak years at the Emirates, then the team will be perennially one of promise rather than achievement… Should Fabregas leave this summer, it would certainly represent the end of an era."
James Lawton appears to get lost in the hyperbole as the scribe is sidetracked by singing Cesc's praises. "Fabregas is a superstar all right, someone in the bracket of Messi, Ronaldo and Rooney, but he is also besieged by the conviction that unlike those brilliant and equally precocious rivals he has waited too long for the fulfilment of brilliant talent."
The excellent Gabriele Marcotti is forced to take a beat, however, as the Anglo-Italian questions whether moving to Barca makes sense for Cesc at this juncture. "When Fà bregas looks at the Barcelona line-up, he may well wonder where — and if — he fits in alongside Xavi Hernández and Andrés Iniesta, his Spain team-mates. And he may conclude that Barcelona's interest in him has more to do with regaining prestige and helping a candidate to secure the presidency than it does with footballing reasons… It is very crowded in the Barcelona front six and that situation is unlikely to change soon. Fà bregas, ever rational and calculating, realises this."
Ignoring the fact that Barca spent millions on Zlatan, Pete Jenson attempts to dismissed Marcotti's fears that Cesc will not be an automatic starter at the Nou Camp. "Barça are not preparing to part with around £30m for a substitute. Fabregas will start all important games – the only question is who will lose their place to him. If Iniesta's next season follows the pattern of his last two campaigns then Guardiola's mind will be made up for him… Fabregas is seen as the man who will conduct Barça's symphonies after Xavi has put down the baton and seven years his junior he may start doing that next season as the maestro is rested more frequently."
Nevertheless, accepting that Fabregas is virtually a goner Paul Hayward considers how Arsenal should react to losing their talisman. "Wenger either needs to find some warriors in the Patrick Vieira/Emmanuel Petit mould or somehow cause his boys to become men overnight… Reality will dictate that the Fábregas money would have to be reinvested: not on more promising 19-year-olds but ready-made gladiators who know how to win."
Off on his own tangent, John Ley encourages Arsenal to pursue Mikel Arteta should they lose Cesc. "[Yaya] Toure would add weight to Arsenal's midfielder but there are other candidates including another Spaniard, Everton's Mikel Arteta. The Goodison Park club are believed to be determined to resist any attempts by Arsenal to lure Arteta to the Emirates. Arteta has two years of his contract remaining and rather than lose him, Everton are keen to extend his contract once he returns from his holidays. He would carry an asking price of between £12 and £15 million."
Recruitment Drive: Kicking off this section with managers on the move, John Edwards claims that Rafa Benitez could move to Inter Milan while the Daily Mail also spew "Former Aston Villa boss John Gregory has agreed a three-year-deal to take over Israeli Premier League side Ashdod FC, less than a week after being relegated with Maccabi Ahi Nazareth."
Birmingham are plotting their summer purchases in earnest, Stuart James noting that the Blues "hope to confirm the signing of Ben Foster from Manchester United within the next 24 hours for a fee rising to £6m… The Birmingham manager, who has signed the 20-year-old Spanish midfielder Enric Valles on a free transfer from the Dutch side NAC Breda, is also pursuing Burnley's Steven Fletcher and Wigan's Charles N'Zogbia."
Staying with the Blues, The Sun report "West Ham have rejected an £8million Birmingham bid for Carlton Cole. Brum swooped for the striker after a move for Fulham's Bobby Zamora failed but were told to up their offer to £12m."
Manchester City maybe about the splash serious cash on a duffer. Rory Smith claims "City have been placed on red alert after it emerged that Barcelona may allow Zlatan Ibrahimovic to leave the Nou Camp less than a year after he moved to Spain in a deal worth £55 million." In slighter more exciting (but nevertheless unbelievable) news, The Sun cough "Manchester City are set to make a £22million raid for French ace Yoann Gourcuff."
On the City outgoings, Danny Fullbrook yawns "Real Madrid will target Carlos Tevez – once Jose Mourinho becomes their new boss." Lastly up in Eastlands, John Cross toots "Shaun Wright-Phillips will be offered a new contract at Manchester City before the start of the World Cup."
The hardest working hack in football, the Daily Mail's nameless reporter, today chugs "Tottenham have opened preliminary talks over a proposed deal for Galatasaray captain Arda Turan with the possibility of Giovani dos Santos going the other way." Next, the faceless-one barks "Celtic have opened talks with Hull City about a loan deal for Jimmy Bullard," adding "West Ham primed to pounce for Spurs' Alan Hutton" and that "Manchester City have been linked with a move for Atalanta midfielder Tiberio Guarente as Roberto Mancini looks to add steel to his midfield." Finally the phantom hack links Arsenal with a bid for Juventus keeper Gigi Buffon.
According to Phil Thomas "David Moyes wants to make Martin Petrov his first summer swoop," while Geoff Sweet details that Deco is set to join Fluminense imminently. Elsewhere, The Mirror claim "Everton and Liverpool are competing to sign Ajax centre-back Jan Vertonghen," John Cross scrawls "Manchester United misfit Anderson is a summer target for Portuguese giants Benfica," while hugely unbelievable The Mirror print "PSG have tried to pip Manchester United and Everton in the race to sign Hatem Ben Arfa."
Elsewhere, Ian Murtagh sniffs that Newcastle's "shopping list includes loan targets Danny Welbeck and Tom Cleverley at Manchester United and Arsenal's Jack Wilshere, plus Cardiff free agent Joe Ledley," while Ben Smith announces "Barcelona have confirmed they are in talks with New York Red Bulls over a deal that would see Thierry Henry move to Major League Soccer after next month's World Cup."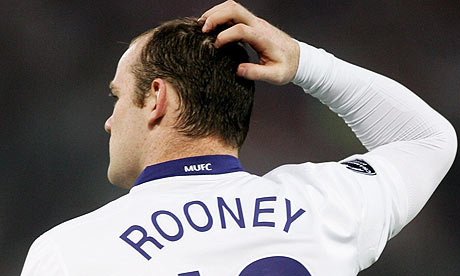 Lastly, Bill Bradshaw spins the never-gonna-happen bone-faced lie that Barcelona are trying to lure Wayne Rooney for £80million. "The Barcelona camp have activated agents to sound out the possibility of a Rooney move. They know that he is happy at United but the chance for him to link up with Lionel Messi – expected to be a World Cup star for Argentina alongside England's Rooney in South Africa – at the Nou Camp has massive appeal. Rooney is still under contract until 2012. So £80m for a 24-year-old of his standing is realistic – had he only a year left on his agreement his market value would fall significantly."
Miserly (or poor?) Manchester United: It is always very difficult to swallow whole any mutterings from Sir Alex Ferguson on his side's future transfer policy when disclosed to the press, but this Wednesday we're led to believe that United will not splash the cash on new recruits.
The Guardian detail "Sir Alex Ferguson may add just one more player to his Manchester United squad this summer as he plots to regain the Premier League title from Chelsea… To that end, Ferguson also revealed he would not be replacing the goalkeeper Ben Foster with a new signing."
The feeling that Manchester United's transfer policy is being dictated by financial problems rather than Fergie's on-the-filed desires is played up by Helen Power. "Manchester United are facing a hefty interest rate of 16.25 per cent as of August after breaking financial rules governing their loan. The 2 per cent rise will strengthen fears that the Glazer family, United's unpopular owners, will try to pay off the high-interest loans rather than spend money on the team, a move that would infuriate supporters."
Steve Hawkes also focuses on Manchester United's financial woes, reporting "United fans reacted furiously as the club could face £75million extra debt."
Triesman & the backlash: If the Mail on Sunday thought that their contribution to torpedoing England's hopes of winning the 2018 World Cup bid by publishing Lord Triesman's bribery quotes had gone unnoticed, they thought wrong.
Almost gleefully, the Guardian's David Conn scribbled "Gary Lineker has quit his weekly column in the Mail on Sunday in protest at the newspaper's publication of Lord Triesman's secretly recorded conversation on Sunday… [Lineker] is an official ambassador of the bid and believes the Mail on Sunday's story had little merit but did potentially serious damage to the effort to bring the 2018 tournament to this country."
The Independent though have the scoop, as Gary Lineker EXCLUSIVELY explains his decision to stop working for the Mail on Sunday. "It was clearly a case of entrapment. Whatever you think about Lord Triesman and whatever you feel about what he said, his comments were obviously meant for one person's ears and one person's ears only. And however ridiculous these comments might appear, they are very damaging. I think it's a real shame the newspaper made the judegment that they did for short-term gain in sales of newspapers because it's hard to see that there was any other positive from it."
World Cup Watch: Like a kid in a sweet shop, Matthew Syed almost wets himself as he gets ready for the World Cup to start. "On what other occasion do we get to talk to total strangers on the railway platform without seeming bonkers? On what other occasion do we cram into a pub and exchange high fives and hugs with our fellow punters? On what other occasion do we glimpse the idea of the nation as a collective, shackled together by a common purpose?… The joy of watching England at the World Cup derives not from the aesthetics of the football, but from the deeper joy of sharing in a collective experience."
On the England squad, Jason Burt updates the nation that "it is increasingly unlikely that Gareth Barry will make the World Cup, although he will have a final medical assessment on Monday. If there is the slightest doubt when Barry sees the specialist James Calder, the country's leading orthopaedic surgeon for footballers, then he will not be selected. Barry's foot is still in a protective boot."
With Barry touch-and-go, Matt Lawton offers an alternative midfielder enforcer. "Fabio Capello has identified Ledley King as a possible solution to his midfield problem and is now considering the Tottenham captain in the holding role for this summer's World Cup."
Champions League Final: With the final approaching this Saturday, Gabriele Marcotti wonders how great is the Special One. "Bottom line? He's a good manager, not a great one. He managed the biggest spending club in Portugal and won, the biggest spending club in England and won, the biggest spending club in Italy and won. But he has been to the Champions League semi-finals four times in his entire career. (And, when he left Chelsea, Avram Grant took them to within a penalty kick of winning it all). Nothing special about that."
---
GAMBLING CAN BE ADDICTIVE, PLEASE PLAY RESPONSIBLY