Barcelona eye Wayne Rooney, Arsenal close in on Canales, Spurs want Van Nistelrooy, Chelsea search for an Essien stand-in & West Ham get new owners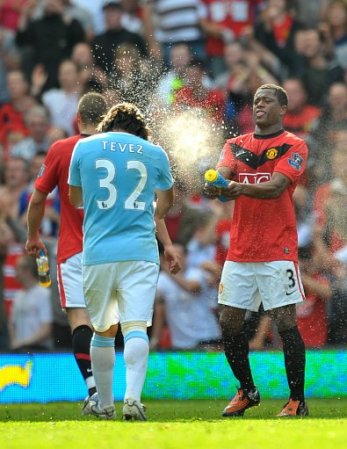 Comment & analysis round-up
Quote of the day: "It's an important game against City, a big game, but I only talk about it because I want to win this game and have a chance to win a trophy. Maybe that's the difference between United and City. We play the game to win and to win the Carling Cup, they play to win against Manchester United."  – Patrice Evra.
Runner-up: "I would never sign for Manchester City. That's mainly because I am a Man United fan. It doesn't matter about money. It is always about loyalty with Manchester United. They are the team I supported and the team that I played for for years and I just couldn't bring myself to sign for City. I couldn't do it. City will never be bigger than United. Money does a lot for a club and a team, but being successful and being one of the most recognised clubs in the world doesn't come from the money. It's about history. There aren't many clubs that can boast the history of Manchester United, Real Madrid, Barcelona or AC Milan. It's not about having all the money in the world. All that does is creates attention but you can't buy the history of a club." – David Beckham in an interview with the Mirror.
Today's overview: Day 19 and still nothing to shout about in the transfers. Unless your a tabloid that appears to invent stories.
Grabbing the headlines with a story that'll never happen, The Star's Danny Fulbrook barks "Barcelona are ready to offer Wayne Rooney £8m a season – after tax – to lure him from Manchester United… It would mean Rooney would be on a staggering £200,000-a-week deal."
Another deal with appears to have little chance of coming off sees the Daily Mail fart "Arsenal have held talks with the father and agent of Spanish whizkid Sergio Canales over a potential move from Racing Santander… Canales' father has also met Manchester City and plans talks with Chelsea." Staying with the Gunners, the Independent claim that "Fulham defender Chris Smalling could be on his way to Arsenal after impressing Gunners manager Arsene Wenger with his displays."
Next, we turn to a group of players who have been unsuccessfully angling for January moves for weeks and weeks now.
John Cross claims "Birmingham boss Alex McLeish has gone back with a THIRD offer for Liverpool outcast Ryan Babel… And that deal will in turn help fund Liverpool's £14million move for Sunderland striker Kenwyne Jones." Fleshing out the stry further, the Daily Mail claim "Liverpool are pressing ahead with their move for Kenwyne Jones and hope to have him signed to face Tottenham on Wednesday."
A similar heard-it-all-before rumour sees Simon Cass barf "Harry Redknapp was last night negotiating a deal to take Ruud van Nistelrooy on a loan deal to Tottenham…  Redknapp was in a swanky London restaurant on Monday night (right) with Van Nistelrooy's agent, Rodger Linse, setting out his visions of the future at White Hart Lane."
Keeping with the Lilywhites, Jason Burt spluttered "it's understood that Spurs watched Bordeaux defender Mathieu Chalme during his club's 1-1 draw with Marseilles on Sunday. Chalme, 29, is understood to be interested in playing in England although he may want to remain in France until the summer with his club still involved in the Champions League." And Tottenham's targets do not stop there, Gary Jacob revealing that Spurs are tracking Manchester United's £4m rated keeper Ben Foster while "Tottenham have also inquired about Simon Kjaer, 20, the Palermo and Denmark centre half."
Spreading his net wide, Ian Murtagh reports on porous Sunderland that Steve Bruce is targetting Maynor Figueroa and Hamburg's Ivory Coast ­defender Guy Demel, while on the out-goings Kieran Richardson appears to be expendable.
With Michael Essien out with another knee injury, are Chelsea in need of a new holding midfielder?
In almost a throwaway line from Martin Lipman, the hack spouts the following nonsense at the close of his article. "If Essien's injury is diagnosed as serious, the Italian will be given the green light to try to capture a replacement, with AC Milan's bulldog Gennaro Gattuso likely to be Ancelotti's first choice." Similar lies are tabled by Tony Banks in The Express, who farts "Chelsea had dropped plans to sign anyone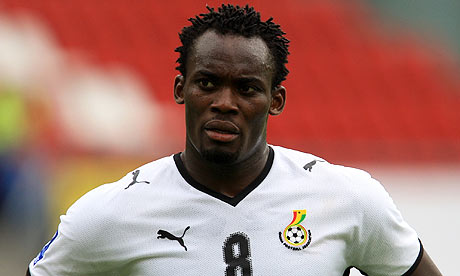 during the transfer window, but if Essien's injury is long-term that could change. Roma midfielder Daniele De Rossi and Bayern Munich star Bastian Schweinsteiger are targets."
Offering a third way is Matt Hughes in The Times, who coughs "Chelsea have been monitoring the performances of Jack Rodwell for some time, but the England Under-21 international is out with a hamstring injury and Everton insist that he is not for sale. Jerko Leko, a Croatia player at Monaco, has also impressed Ancelotti. "
Heading to cash-strapped Pompey, Darren Lewis coughs that "Younes Kaboul is now a £10million target for French club Lille with Portsmouth desperate to sacrifice the defender to raise cash."
Classic stuff from the Mirror. Only a day after Jermaine Beckford committed his future to Leeds, and the red-top pushes a story that the striker is already being eyed by a Premier League club as James Nursey spread the rumour that "Beckford is planning to walk out on Leeds this summer for Premier League Everton." And there is more gossip for the Toffees as The Sun bark the Landon Donovan could extend his loan stay at Goodison while "Molde defender Knut Olav Rindaroy travels to Goodison today to discuss a possible move to replace Turkey-bound Lucas Neill." 
One deal that is locked is Hull's capture of Amr Zaki, Paul Brown detailing how the Tigers have signed the striker on a five-month loan deal from Egyptian club El Zamalek. Other strikers reportedly on the move include James Beattie, with the Daily Mail linking Wolves, Aston Villa, Blackburn, Middlesbrough and Newcastle with teh Stoke forward. And the Daily Mail go on to link Bolton, Birmingham and Fulham with a move for Monaco striker Frederic Nimani.
Moving away from the transfer lies, and the headline story in The Sun sees Phil Thomas report on how Manchester United turned to their own players to see if they are interested in buying into the bond issue. "The Glazer family have gone cap in hand to Manchester United's players – effectively asking them for a multi-million pound loan!  United stars were stunned by the handout request when they arrived back last week from their Qatar training camp.  Players were handed a prospectus, as owner Malcolm Glazer attempts to raise a staggering £500million through a bond issue to refinance huge debts."
If asking your own players isn't galling enough, the Glazers are further rebuked by Paul Kelso in the Telegraph after the scribe uncovered that "the Glazer family could take out more than £600m from Manchester United's revenues over the next seven years in dividends, interest payments and fees arising from the club's bond issue… The massive cost to United's bottom line of the Glazer's heavily-leveraged acquisition confirms the fears of supporters who maintain that the bond issue allows them to take money out of the club and shore up their position."
So what are Manchester United fans able to do about it?
Mark Ogden reports that "Manchester United supporters are planning a 10-minute boycott of the Champions League clash against AC Milan on March 10 in an attempt to raise global awareness of their bid to force the Glazer family out of the club…Â Plans to enter the Milan game after 10 minutes have been played are aimed at exposing an empty Old Trafford to the world on a night when a worldwide audience is expected to watch the game."
Loudmouth Ian Wright jumps all over quotes by Gary Neville ("I can't disagree with [Fergie's] decision on Tevez") to invent his own argument that Tevez is a better forward the Dimitar Berbatov. "For me, Dimitar Berbatov, who has replaced Tevez, has not done enough at United to suggest he was worth the £32m paid to Spurs… I fancy City big-time over the Carling Cup semi-final two legs. The big question is what kind of team will Fergie put out. It wouldn't surprise me if he rolled out his big guns, including Berbatov. But one thing I can assure you, Berba won't be as influential as Tevez."
There is new year cheer for West Ham fans this Tuesday as it finally appears that the club's long-standing takeover is near completion.
Duncan Wright is found bleating "Icelandic bank Straumer are ready to accept a £46m offer which will see [David] Sullivan and [David] Gold take a 50 per cent stake, and provide money to spend on bringing in new players this month." Slightly different figures are spouted by Simon Cass in the Daily Mail, who yabbers "the pair have sealed a deal worth £105million for 50 per cent of the club and will take on their debts. Strengthening West Ham's threadbare attack is the priority and money is available immediately to fund moves for Manchester City's Benjani and Monaco's Eidur Gudjohnsen."
Slightly more worryiong though for Hammers fans is Jason Burt's claim that Zola's position could now be in doubt at Upton Park. "Attention will now turn to the future of West Ham manager Gianfranco Zola. Sullivan has already twice sounded out Mark Hughes about succeeding Zola, but the former Manchester City manager is unsure that it is the right move for him until he is given more details over the club's future and the funds that will be made available… Hughes is also wanted by the Turkish federation as the new coach of their national team and is on a shortlist with Guus Hiddink and Giovanni Trapattoni."
Finally, Matt Dickinson delivers a brilliant article in The Times discussing the problems facing AFC Wimbledon in their attempt to stay a fan-owed club despite rising costs brought on by promotion. "The question now, which seems to drive right to the heart not just of Wimbledon but of modern football as it wrestles with issues of ownership and debt, is whether AFC can stay different. Because the higher they go, and the tougher the competition becomes, the more money it will take to sustain their momentum. And that's when the temptation to sell out to an investor may start nagging incessantly…What happens when the supporters, accustomed only to success during the heady climb from the Combined Counties League, become frustrated that progress has stalled, as it inevitably must?"
---
GAMBLING CAN BE ADDICTIVE, PLEASE PLAY RESPONSIBLY