Barcelona & Balotelli are lauded; Dean Ashton to announce retirement & Portsmouth have to sell again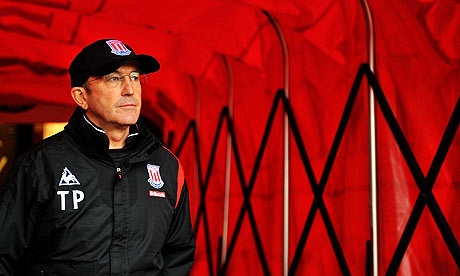 Comment & analysis round-up
Quote of the day: "What you miss in Liverpool is the technical pace and the passing. They have a couple of players who can do that but not all over the place. There's no real flow and there's a lack of creativity. If it's down to Torres or Gerrard, then that's not enough. You can't always put it on the shoulders of two players. That's why they need more quality in the team to make sure they finish in the top four this season. It is a big surprise that Liverpool didn't make it to the final 16 because they have always been there over the last few years and had tremendous success. There were always questions at the start of the season – especially after losing Xabi Alonso, who was a tremendous asset to Liverpool over the last few years. It's sad that Liverpool are not in the knockout stage because that is where they belong, Liverpool's name is huge on the continent. In my opinion they are lacking creativity and a real No 10, a playmaker, and a great world-class striker next to Torres. It's frustrating to see where they stand now. Over the stretch of six games they just couldn't keep up. They lack quality. It also shows in the Premier League that they don't have the consistency to keep up with the big teams. Now is a moment to think about how they are to go forward." – Jurgen Klinsmann.
Runner-up: "I have been a manager for 18 years and you have certain golden rules and one of the rules I stick to is that whatever happens in the dressing room stays in the dressing room." – Tony Pulis.
Today's overview: No one theme dominates this Friday morning, to get the most out of the features, Glenn Moore on Mario Balotelli, Jim White on QPR and Marcela More y Araujo on Daniel Passarella, are all worth a butchers. 
Steven Howard joins Jurgen Klinsmann in laying into Liverpool and Rafa Benitez. "The blind faith with which Liverpool fans continue to support Rafa Benitez looks increasingly irrational. It now smacks of stubbornness, two fingers up to the rest of the world and a blatant refusal to accept the inevitable. That Benitez's time on Merseyside is up (anywhere else, especially in his native Spain, he would have been sacked long ago). Most neutral observers who hadn't already arrived at this conclusion before Liverpool's tame display against Fiorentina on Wednesday have now done so. It was Liverpool's chance to go out of the Champions League with a bit of style. To show some fight and pride. They failed. Benitez greeted their exit with yet another defiant claim that Liverpool's season had just started. It hadn't. It had just ended."
Looking back on the Champions League group stages, Amy Lawrence feels it is Barcelona's competiton to lose. "the sight of Lionel Messi arcing an immaculate free-kick in the deep freeze of Kyiv on the final night was a reminder that Barcelona's qualities remain as refined as they come. It was hardly surprising the holders have had a hangover of sorts after last season's stylish procession. But don't read too much into the defeat to the Russian debutants Rubin Kazan at the Camp Nou. Last term they fared only marginally better in the group stages, in a group that was far less challenging."
Andy Townsend joins the Barcelona love-in, in the Daily Mail. "The millions spent by Real Madrid in the summer were meant to signal a shift in power back to both Spain and the nine-time winners of the European Cup. But, for me, the only threat from La Liga that Chelsea, Manchester United and Arsenal must fear remains Barcelona who, despite making heavy weather of their group, will only get better."
Following his match winning performance for Inter Milan against Rubin Kazan, Glenn Moore features (Super) Mario Balotelli. "Mourinho regards the 19-year-old as arrogant (who better to judge?) and lazy. He has been dropped for his attitude in training, and for being late. Last month he gave Balotelli a mark of 'close to zero' for his performance in a draw with Roma. Earlier this year he criticised the negativity Balotelli brought to the squad. So far, so typical. Another tale of a footballer who thinks he is God's gift, who believes he's made it after a few headlines, who needs, as commentators regularly say about Balotelli, to mature. Except Balotelli is far from typical and, rather than being a young man with nothing to think about but playing football, he is subject to unique pressures."
Concentrating on the Tony-Pulis-James Beattie dressing room incident at the Emirates, Tony Cascarino brings his take on player power. "Player power is on the rise, stories are leaked and footballers are sensitive these days. The old macho culture is changing and it's no longer acceptable to ignore bad behaviour with the excuse that football's 'a man's game'. Yet conflict between players and managers will always be present. Emotions run high and managers get very frustrated if the team's losing and players aren't doing their jobs. Ultimately, it'll be the manager who pays the price for his players' lack of professionalism."
After seemingly always hitting the headlines for being injured, Theo Walcott denies he is injury-prone in The Times. Walcott: "The funny thing is the injuries are no fault of my own, it has been very bad luck. I am not an injury-prone player, so hopefully I have a long career ahead of me. You have just got to keep your head up. Tomas [Rosicky, his team-mate] was out for a very long time, and he is out again, but he used to come into the training ground smiling and that is what kept me going. Lately people may have thought I have been injury-prone but I just need to play more games. The more I play the better I'll get."
Many of the papers report the sad news that Dean Ashton is set to announce his retirment today. "While other strikers are jostling for a place in Fabio Capello's squad for the World Cup finals, Ashton, who suffered his first serious injury on England duty, is resigned to ending his career after doctors warned him that he risked causing long-term damage if he persisted in trying to make a comeback. Ashton's problems started when he was first called up by England, for a friendly against Greece in 2006. He suffered a broken ankle in a tackle from Shaun Wright-Phillips and was sidelined for more than a year. will announce his retirement from football today." Jason Burt adds in the Telegraph that Ashton may sue Chelsea and Shaun Wright-Phillips over the challenge that ruined his career.
Louise Taylor praises the job done by Chris Hughton at Newcastle. "While Kevin Keegan, Joe Kinnear, Dennis Wise and even Alan Shearer variously departed the scene with reputations damaged by involvement in Newcastle's slow and agonising descent into the Championship, the Londoner unexpectedly survived to spark a quite startling renaissance. Wednesday night's 2-0 win at Coventry was the Championship leaders' seventh in succession, so the team Hughton took charge of last summer equalled a club record set by Keegan's Entertainers back in 1996."
Matt Lawton reveals the troubles facing Portsmouth. "Portsmouth are facing up to the nightmare scenario of selling yet more players to avoid becoming the first Premier League club to go into administration. Avram Grant is desperate to add to his squad when the transfer window opens in January in a bid to guide them away from relegation danger. Instead, Pompey have to sell to pay their debts, leaving Grant limited to loan signings at best. That will not impress England goalkeeper David James, who on Thursday stressed how important it was to bring in new players." The Daily Mail also report that the whole Crystal Palace playing staff is up for sale.
Jim White wades into the mess at QPR. "At QPR, however, the first instinct of the motor racing demons at the merest hint of trouble is to get rid of the manager. If he goes, Magilton will make it four revolving through the exit door in two years (not including the departure of John Gregory a month before Briatore took over), a turnover which even Jesus Gil in the height of his Caligula-esque reign at Atletico Madrid might have considered a touch over excited. Some, like Luigi di Canio, have gone for personal reasons. Others – Paulo Sousa – for questioning the directors' decision to sell his best player without informing the manager first. Though to be fair to the owners, at least one boss, mentioning no names Iain Dowie, has gone for the crime of not being very good. Now the speculation is mounting as to who could succeed the feisty Magilton. Darren Ferguson and Gareth Southgate are said to be at the head of the wish list. In which case, does either of them know what they are letting themselves in for?"
The saga at Notts County shows no signs of abating, Kevin Eason and Peter Lansley join forces to tell us that "Sven-Göran Eriksson will walk out on one of the most extraordinary appointments in football within days unless the mysterious owners of Notts County guarantee the club's future. The former England head coach has been hurt and disappointed by the series of damaging revelations surrounding the takeover of England's oldest professional club since he was appointed director of football in July." In The Guardian, former Notts County chairman John Armstrong-Holmes tells how he felt "hoodwinked" into selling the League Two club.
Staying in the lower leagues, Chris McGrath in The Independent interviews the youngest manager in the football league, Bournemouth's Eddie Howe. "Even to muster three for the bench they have sometimes had to summon the assistant manager from retirement, or a boy from his GCSE revision. Unfortunately, the latter has now picked up an injury as well, but the manpower crisis at Bournemouth has not yet reached the point where Eddie Howe himself has had to hobble on to the field. In theory, as the youngest manager in the League, he would be perfectly entitled to do so. He only turned 32 a fortnight ago, after all. And there was a time when he wore an England shirt alongside Frank Lampard, Jamie Carragher and Emile Heskey, in winning two Under-21 caps. But Howe only fast-tracked into his second football career because his first was ruined by a chronic knee injury. And, as things are turning out, both Howe and his team know how to make a virtue of necessity."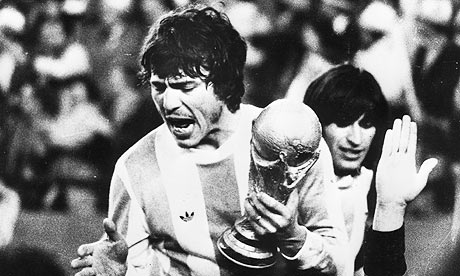 The always excellent Marcela Mora y Araujo has a fine piece on the new River Plate president, Daniel Passarella. "Passarella has started off amid controversy and with considerable opposition. What's new? He has already pledged alliance with Boca Juniors and a handful of other big clubs in what is known as the G-6, a lobby by the biggest clubs to take a higher share of the TV revenue, in an on-going saga that is defining the financial state of club football in Argentina. He has already pledged to audit the club's coffers and get to the bottom of the debt and hardship afflicting the institution. 'No more thieving' is one of his mottos now."
Transfer lies are in short supply this morning. In north London, Carlos Vela has signed a new "long-term" contract and Daniel Levy has told Arry Redknapp to sell before buying in January. The Daily Mirror also report that Blackburn are closing in on midfielder Amine Linganzi from St Etienne and Ipswich's "new Wayne Rooney" Connor Wickham is set to sign a new contract with the Tractor Boys.
---