Barca target Liverpool duo, as the Catalans are poised to offload Eto'o on Manchester City
Comment & analysis round-up
Quote of the day: "I don't know if I am the most suitable person to be talking about signings by Real Madrid but these amounts seem excessive to me. In principle, I don't like it. We cannot always complain in an economy with a free market when there is something we don't like, and there are a lot of things that I don't like. It would be bad for the government to step in and say to a bank, this credit yes and this credit no. It has to be the private sector that takes the risk."- Spanish Prime Minister, Jose Luis Rodriguez Zapatero.
Runner-up: "Absolute nonsense! We don't talk with Tottenham. At the moment we don't talk with any club. Of course, things can change overnight, but one thing is sure: Arjen will certainly not join Tottenham." – Hans Robben, Arjen's father.
Today's overview: Are Barcelona about to raid Liverpool of two of their prized-assets?
Barca's net appears to be closing in on Liverpool's Javier Mascherano. As reported by Andy Hunter, "Mascherano's agent, Walter Tamer, met Barcelona representatives in the city's Rey Juan Carlos I hotel for two hours last night as the European champions intensify efforts to sign the 25-year-old." Seemingly plucking figures out of thin air, the Daily Mail baselessly print "Barcelona would have to bid around £45million to even tempt Liverpool or strike a deal that would include a similar player such as Yaya Toure." And, according to Mark Irwin, the Catalans intend to steal more players away from Anfield as "Barcelona will offer £17million for Liverpool keeper Pepe Reina."
Transfer gossip continues to grip the fifth estate as reports of the UEFA issued bans for bans for Chelsea duo Didier Drogba (six game ban, two games deferred) and Jose Bosingwa (four games, one of which has been suspended) are spiced up by Fleet Street.
According to Dominic Fifield, an upshot from the bans is that Bayern may shelve "their interest in Bosingwa – a potential make-weight in Chelsea's pursuit of Franck Ribery." On the bans themselves Sam Wallace makes the case for why Chelsea will not appeal these punishments. "If any appeal was to be unsuccessful, they risk incurring an even more severe sentence… it might be judged wiser to take the punishment and not risk anything worse."
Just how greedy is Blues' target Sergio Ageuro?
According to Gary Jacob, "Chelsea have been unwilling to meet the contractual demands of Sergio Agüero, the Atlético Madrid forward, who wants to be paid £100,000 a week net." Not so, says Andrew Dillion, who farts "The Argentina star wants a staggering £10million a year to quit Spaniards Atletico Madrid for the Premier League. That would easily make him the highest-paid player in England on a whopping £200,000 A WEEK."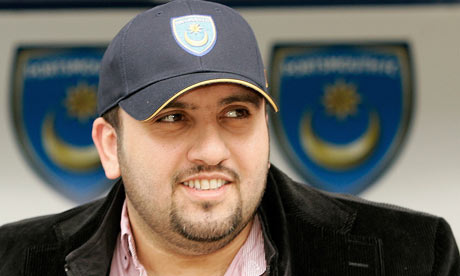 Poor poor Portsmouth. Still waiting for their takeover to complete, the South Coasters today have to fend off new speculation after Sulaiman al-Fahim was removed as the CEO of Hydra Properties – the company leading the buy-out of the Premier League outfit.
Jamie Jackson explains "Fahim described his change of role to a position on the Hydra board and his appointment as chairman of the Arab Union for Real Estate Development as a 'promotion.' But he was already the president of Aured, having been voted into the position in March. And given that he has been superseded as CEO of Hydra by Ali bin Sulayem, an executive of the Royal Group, which is Hydra's parent company, his successor is apparently a superior."
Keeping with Pompey, Gary Jacob suggests that "Sol Campbell will have his wages cut by more than half if he accepts the offer of a new two-year contract from Portsmouth."
The depth of Manchester City's pockets is a central theme in today's backpages.
James Ducker investigates the rising wage bill at Manchester City. "City's players earn an average of nearly £2.3 million a year — or £44,000 a week — well over twice the average basic salary in the Barclays Premier League." Yet, the EXCLUSIVE delivered by Simon Jones points to City's wage bill exploding in the near future with the purchase of Samuel Eto'o. "City will pay a transfer fee of just under £30m, but will need to match Eto'o's wage demands of £192,000 a week AFTER TAX over the four-year-deal, making him the most expensive arrival in British football. Having Eto'o on the pay roll will cost in excess of £320,000-a-week (£16.6m a year), more than twice as much as leading Barclays Premier League stars such as Frank Lampard and Steven Gerrard."
In other transfer speculation surrounding the Citizens, the Telegraph report "Espanyol have confirmed Manchester City are keen to sign young midfielder Joan Angel Roman, but insist they are still waiting to receive a "satisfactory offer" from the English club."
Moving the the red side of Manchester, Ian Herbert spreads the rumour that "United continued to be linked in Spain with the Barcelona goalkeeper Victor Valdes, whose contract talks have stalled over disagreement about his desire for wage parity with some of the European champions' highest-paid outfield players… There are persistent reports from Spain that United have made an offer for Valdes to join them the end of next season and may be willing to meet his demands because he would be available on a Bosman free transfer." Elsewhere, a faceless article in the Daily Mail barfs "United back on the trail of Roma's £15m hitman [Mirko] Vucinic."
Churlishly, Ashley Gray smears CR7 for apparent excessive wage demands in an article headlined "I want more! £200,000-a-week at Real Madrid is just NOT enough, moans Ronaldo" in the Daily Mail.
Another day, and another transfer target for Spurs.
Gary Jacob inks "[Redknapp] revived an interest in Nigel Reo-Coker last night as he contemplated disappointment in his pursuit of Arjen Robben and Klaas-Jan Huntelaar, the Real Madrid attacking players." The same story is echoed by John Ley, who chucks a few other names into the hat as supposed Spurs targets. "Moussa Sissoko and Etienne Capoue, the Toulouse midfield players, are also reported to be in his sights. Sissoko, 19, is a six foot, one inch athletic midfielder much in the mould of Zokora, while Capoue, 20, is a more physical midfielder." A third way is forwarded by James Nursey scribbling "Aston Villa boss Martin O'Neill is offering Nigel Reo-Coker to his Spurs counterpart Harry Redknapp in a swap deal for Tom Huddlestone."
Bucking the trend, Sam Wallace argues that Spurs may yet buy Robben announcing "Tottenham Hotspur want Real Madrid to subsidise Arjen Robben's wages in return for him moving to White Hart Lane, in one of the summer's more audacious transfer moves… Key to signing Robben will be his wages which, at £80,000 a week, are way in excess of the biggest earners at Spurs."
Yet the lie of the day is served up in The Sun, Janine Self blabbing that "Manchester United are monitoring Arsenal star Robin van Persie. Sir Alex Ferguson is aware the £20million-rated striker is yet to commit to a new contract at The Emirates."
The Daily Mail are responsible for spreading a large amount of unsubstantiated whispers this Thursday. On Arsenal, the psuedo-tabloid first boasts "Fiorentina are keen on Philippe Senderos, which could pave the way for Arsenal's bid for Felipe Melo." But then the rag turns on Gunners' fans bleating "Real Madrid are turning their attention to Arsenal midfielder Cesc Fabregas after being priced out of a move for Liverpool's Xabi Alonso." In other news, the paper claims "Blackburn are interested in taking former Spanish international Ivan de la Pena on loan from Espanyol."
---