Balotelli to start for City v Man United, Arsenal's bad Santi, Chelsea press for Falcao or Higuain & Liverpool linked to Michu
Comment & analysis round-up
Quote of the day: "I'm not worried about the distance. We have to improve the team and be mentally strong enough to compete in the second part of the league. At Valencia, we were well behind in January. If we have to do the same here, we will do it… I said before that, if the team played well and created chances, Fernando would score goals. For me, the really positive thing is that Fernando has a lot more confidence." – Rafa Benitez.
Runner-up: "It we don't win a game or two then I wouldn't ask them to spend any more money. I think it would be unfair to the owners. I wouldn't tell them to go and spend big money on a couple more players if we're that far adrift. You've got to be realistic. I'm just hoping we can get that win or two and then I'm sure they'll have a go, because they've had a go in the summer. They've done whatever was asked of them and look what they've ended up with. It's difficult. I can only work with what I've been given. It's like you've dealt me a hand of cards and this is what I've got. We've left ourselves with a squad that's got no balance to it, we've got no strikers." – Harry Redknapp.
All Eyes On Manchester: City v United
Mancini will NEVER be as good as Alex (Harry Redknapp, Sun) Roberto Mancini will NEVER be the manager Alex Ferguson is. He'll never get the chance to win as many cups because he will not be given the time to build an empire like Ferguson has at Old Trafford. A treble of Premier League, European Cup and FA Cup in 1999. Now that's a record. Bringing through players like Beckham, Scholes and Giggs. That's an achievement. Fergie has constructed teams piece by piece because he has been allowed the time. Mancini has done a great job, winning the Premier League for City. But in terms of personal achievement he's way off Fergie.
Balotelli gamble! Revealed: Mancini's secret plan to unleash Super Mario against United (Mail) Roberto Mancini will gamble on the fragile temper of Italy striker Mario Balotelli for the Manchester derby. Sources close to the Manchester City manager indicated that he will start with Balotelli up front, partnered by Sergio Aguero, and leave the experience of Carlos Tevez and the more predictable physical presence of Edin Dzeko on the bench.
The title is now a two-horse race and both are from Manchester (Gary Neville, Mail) Both of these sides are capable of withstanding a setback on Sunday and coming back to win the title. But at the same time, the race is likely to be so close that this result could be significant. Anyone who says they know who will win this is guessing. And if anyone tells you they know who will be champions after Sunday, you can ignore them. All that we can say for sure is that last season showed these Manchester derby games have the potential to be decisive – even if it's impossible to say exactly how at this point.
United they stand: If Robin and Rooney stay fit then Fergie will win the league this season (Ian Holloway, Mirror) If Robin van Persie and Wayne Rooney stay fit then Manchester United will win the Premier League title. That's a big statement to make but on the day of the first Manchester derby of the season, I believe that RVP and Roo hold the key to whether United can reclaim the championship from City.
Fab four ignite Manchester United strike action to rival class of '99 (Observer) When Manchester United swarm forward in the red blur that all sides fear, the Old Trafford congregation's roar becomes a simple chant that sums up the club's DNA: "Attack, Attack, Attack, Attack, Attack!" In the summer Sir Alex Ferguson, smarting from losing the title to Manchester City on goal difference, decided this would not happen again and £24m was spent on Robin van Persie who with Wayne Rooney, Javier Hernández and Danny Welbeck have formed a quartet who are drawing comparison with the famous four of Dwight Yorke, Andy Cole, Teddy Sheringham and Ole Gunnar Solskjaer who fired United to the Premier League, Champions League and FA Cup treble in 1999.
'Ridiculous' television scheduling could cost us the title, fears Ferguson (Independent) Assuming United progress past the first knockout stage of the Champions' League, they then immediately face weekend fixtures against City, Arsenal and Chelsea as well as a potential FA Cup semi-final. In one of the pre-emptive strikes of which he has become a master, United's manager said: "If you go back to the year we lost to Chelsea, we played away in Europe in midweek and then played a lunchtime game against Chelsea on the Saturday and they battered us. It was ridiculous, absolutely ridiculous. The biggest disadvantage will be television, because the demand for United will never weaken, and if they get us playing lunchtime on a Saturday after European games it's ridiculous. We tried to stop that but they control it, absolutely control it."
Fare pay league: Balotelli has to follow taxis to find his way out of Manchester (Mirror) Mario Balotelli hires taxis to guide him to meetings outside Manchester. The Manchester City ­striker is happy driving around his adopted home town, but pays cabbies to lead him on long journeys to avoid getting lost. Balotelli recently arranged to meet his agent Mino Raiola at the ­London home of Fulham manager Martin Jol as Raiola looks after both men. Jol saw a cab pull up outside, but Balotelli didn't climb out. He arrived behind the taxi, driving one of his cars – an £80,000 ­Maserati GT. The latest insight into Mario's ­madcap world has been revealed by his agent Raiola in a Dutch magazine interview.
Bad Santi
You diving little *#&%! (Sun) Santi Cazorla was caught up in a furious cheat storm yesterday. The Arsenal star was accused of diving for the first of two Mikel Arteta penalties against West Brom. Incredibly, Cazorla told Arsene Wenger he had been "touched". But replays showed no contact between Cazorla and Steven Reid. Baggies boss Steve Clarke said: "There was zero contact, it wasn't even close. There was clear daylight between Reid and Cazorla."
Why Cazorla's dive is a sickness that blights the game (Andy Dunn, Mirror) The game is so infested with conmen, there are no victims any more. Name me a team that has not won a penalty or a free-kick through simulation. Biters are being bit week in, week out. It has ­become second nature to most. As automatic as buying a Bentley with your first fat pay cheque. As Cazorla shaped to turn inside a static Steven Reid, there was only one aim in his mind. To win a penalty. Preferably with contact – but if not, never mind. And, with depressing predictability, referee Mike Jones was fooled. If it was not so commonplace, it would be outrageous. But the time has come for authorities to let us know exactly where they stand.
Tumbling Arsenal concede the moral high ground (Independent) Cut through the scented silliness of such statements and reality wriggles out. The Arsenal fans in a relatively sparse Emirates crowd were duly grateful to Santi Cazorla. TV replays exposed him as a diver, but he was their diver, who did his duty. He received a standing ovation when substituted three minutes from time. Something to boast to the grandchildren about on the day Arsène Wenger and his players made the admirable gesture of donating their wages to charity. The memory of Cazorla's dive to win a pivotal first-half penalty deserves to fester.
Santi proves he's no saint as Spaniard goes down easily to earn dubious penalty for Arteta to convert (Mail) Two penalties, one thoroughly bogus and the other of dubious origin, were enough to send them home happy. Style was merely an optional extra. Those penalties, one in each half, were almost the only memorable events of a miserably listless match. For the first, after 26 minutes, Steven Reid was judged to have tripped Santi Cazorla as the Arsenal player came jinking into the West Bromwich Albion area. It was possible to understand why referee Mike Jones made the award, but a couple of television replays revealed that there had been no contact, that the dive was outrageous.
Walcott close to Arsenal exit as injury and wage row stalls talks of new Emirates deal (Mail) Arsenal are in danger of losing England star Theo Walcott after his contract talks hit fresh delays.
What. Wait. Torres On Fire?!
From drought to glut: Now Torres can't stop scoring for Chelsea under Benitez (Mail) Fernando Torres continued his renaissance under Rafa Benitez with his third and fourth goals in three days as Chelsea claimed their first victory under the Spaniard by beating Sunderland 3-1. Torres ended nearly 13 hours of league football without scoring with two first-half goals, which helped end Chelsea's run of seven matches without a Premier League win. And Benitez underlined the Spanish forward's growing confidence by revealing Torres had demanded to take the penalty with which he doubled the visitors' advantage.
Ailing Chelsea must try to turn Japanese adventure to their advantage (Observer) Their two-game stay in Yokohama may disrupt Premier League rhythm, casting them further adrift in the title race, but the interim manager and his players have to consider the Fifa World Club Cup an opportunity on the other side of the world. The tournament is often maligned by snootier European leagues, despite Barcelona, Manchester United, Milan and Benítez's Internazionale having claimed the prize in each of the past five years, but Chelsea will be seeking to change the perception. "You can never, ever, say challenging for a trophy comes at a bad time," Benítez says. "It's silverware and a cup we want to win."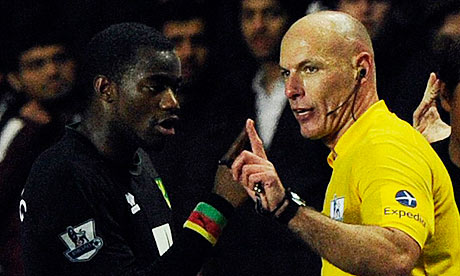 Swansea Racist Arrested
Swansea fan arrested for alleged racist gesture towards Bassong after referee Webb reports incident to fourth official (Mail) A Swansea fan was arrested for allegedly making a racist gesture towards Norwich defender Sebastien Bassong. The incident occurred during the second half of Norwich's 4-3 win at Swansea's Liberty Stadium after Robert Snodgrass had scored in the 76th minute to put the visitors 4-2 ahead. Bassong immediately reported the incident to referee Howard Webb and a 23-year-old man was arrested and charged with a racially aggravated public order offence after TV footage of the incident had been examined.
Swansea fan arrested for alleged racist gesture at Sébastien Bassong (Observer) At 6.15pm Swansea issued the following statement: "An incident occurred after Norwich's fourth goal and Sébastien Bassong made the referee aware that there was a racist gesture towards him from a Swansea City fan. From the time of that report, within 10 minutes the stewards obtained the CCTV footage, went through it and identified the alleged person in question. Also within the 10-minute period a male spectator was arrested for a racially aggravated public order offence. As a club, Swansea City abhor racism and have worked hard to keep it out of what is a family club."
Sunday Op-eds
Said & Done (David Hills, Observer) Image of the week France: Alex Dupont, coach of Corsican club Ajaccio, unhappy with unfair media pressure on high-profile signing Adrian Mutu: "When a normal player farts, nobody notices. But if it's Mutu, all of Corsica hears it." Mutu: "People expect too much."
Plantini's big idea has potential (Gary Neville, Mail) UEFA president Michel Platini has suggested that the Euro 2020 Championship will be in a multitude of countries rather than in one or two host nations. I think we need to hear the details before we form a fixed view as to whether it can be a success or not. Because if it's a tournament that takes place in six different cities within an hour's flight of one another, then it could be incredibly successful. Imagine London, Cardiff, Amsterdam, Paris, Brussels and Dortmund being the host cities.
Transfer Lies
Chelsea step up pursuit of Radamel Falcao or Gonzalo Higuaín, despite Fernando Torres' improvement (Telegraph) Chelsea are stepping up their efforts to sign a top-quality striker next month, with a key representative understood to have flown to Madrid this week to hold further talks over acquiring either Radamel Falcao or Gonzalo Higuaín in the January transfer window.
Pep Guardiola told by Manchester City: 'Name your price' (Star) Man City will tell Pep Guardiola to name his price this week after deciding time is up for Roberto Mancini. The City boss is a dead man walking after his second disastrous Champions League campaign in a row… City will even ask Guardiola for a wish-list of players. They are trying to snatch wonder-kid Gerard Deulofeu from Barcelona and have had enquiries about Cesc Fabregas and Sergio Busquets rejected in recent weeks.
Beckham considers finishing his career in the Middle East (Mirror) David Beckham will be offered a move to the Middle East as he weighs up where he should end his playing career. He has left LA Galaxy to search for one final challenge and Qatar side Al-Sadd – captained by Spanish legend Raul – want the midfielder to sign for them. United Arab Emirates outfit Al Wasl are also joining the hunt for his signature.
Fergie set to beat rivals with lease deal for Palace star Zaha (Mail) Manchester United boss Sir Alex Ferguson could land £10million Crystal Palace winger Wilfried Zaha, 20, in January by letting him spend the rest of the season on loan at Selhurst Park. Palace are willing to listen to offers for Zaha right away if they do not disrupt the club's campaign for promotion to the Premier League.
Serg forward: Chelsea line up £30m move for Barcelona star Busquets (Mirror) Chelsea are still keen on a swoop for Barcelona star Sergio Busquets – but they will have to wait until next season to prise him away.
Ashley Cole high on Manchester City's radar (Star) Ashley Cole could be a surprise summer signing for Manchester City boss Roberto Mancini… The chase is now on with Paris St-Germain showing interest as well as clubs in the USA.
Samba style: Arsenal add Brazilian midfielder Gustavo to January shopping list (Mirror) Arsene Wenger has added midfielder Luis Gustavo to his wanted list for next month's transfer window.
Spurs On trail of whizkid (Sun) Ogenyi Onazi wants a Spurs move after impressing Andre Villas-Boas with Lazio in the Europa League.
Swan song: Liverpool consider Michu bid if Sturridge falls through (Mirror) Brendan Rodgers will consider a move for Swansea hitman Michu if he misses out on top strike target Daniel Sturridge in January.
Allardyce admits he may have to let Diame leave West Ham if release clause is met (Mail) West Ham boss Sam Allardyce fears the club could struggle to hold on to in-form midfielder Mohamed Diame.
Tottenham plan cut-price £7m raid for Fernando Llorente (Mirror) Tottenham will try to tempt Fernando Llorente into quitting Athletic ­Bilbao in January… Juventus are also keen and the 27-year-old may prefer to wait until the end of the season, when he will be able to take his pick from a number of lucrative offers.
---
GAMBLING CAN BE ADDICTIVE, PLEASE PLAY RESPONSIBLY