AVB wins 3-2 at Man United, Manchester City & Chelsea linked with Cristiano Ronaldo & Roy Keane set to manage Kasimpasa
Comment & analysis round-up
Quote of the day: "We wrote history for our team. This is a very special night for us and it must serve as an example for what we want to achieve in the future. In the end, it is just an important three points but hopefully it will also serve as an inspiration for the future. We set out to win and the way we played in the first half was unbelievable, with so much authority and so much confidence. It is not common to see that on this ground and, in the second half, the way we defended showed a team that believes in each other. At half-time we knew we weren't going to get out of Old Trafford without a fight. The players were brilliant. Our quest is to qualify for the Champions League. It is very difficult to go for the title this season but it [the Champions League] is a place where the great teams of this country belong. We want to win a trophy this season. We want Champions League qualification." – Andre Villas-Boas.
Runner-up: "I am really pleased with the way we played, away at the Emirates, with the performance and the consequences. That gives the team a lot of confidence and belief that now we can play differently. We have to. We need to change our style a little bit from last season. We still have a lot of work to do to improve as we have not been together for much time." – Roberto Di Matteo.
AVB wins 3-2 at Manchester United!
Tottenham Hotspur's Gareth Bale banishes Manchester United hoodoo (Daniel Taylor, Observer) It was a match of extraordinary drama and in the end Tottenham Hotspur had their first victory at Old Trafford since 1989 and André Villas-Boas could reflect on his finest moment in English football. His team played with authority and togetherness and their supporters will like to believe that this result could be a defining moment under the direction of their ambitious new manager. Spurs survived some fraught moments during the late, final onslaught as Manchester United tried desperately to demonstrate why there is probably no better side in the world at rescuing seemingly irretrievable positions. Eleven years ago to the day Sir Alex Ferguson was in charge of a team that came back from 3-0 down at half-time to score five times at White Hart Lane. Three years ago Spurs had a two-goal lead at Old Trafford before being swamped by five United goals in 22 minutes. This time there was no feat of escapology; no late, dramatic twist. The visitors dug deep, refused to crumple and now they surely deserve to be taken more seriously when it comes to the teams competing for the top places.
Spurs shatter United to ease pressure on manager (Tim Rich, Independent on Sunday) He did not sprint down the touchline and slide to the turf in his suit, but this night would have done for Andre Villas-Boas what Porto's elimination of Manchester United from the Champions League here did for Jose Mourinho.  
Redemption day for AVB warriors (Ian Whittell, Sunday Sun) Andre Villas-Boas heard the jeers turn to cheers among the Spurs faithful last night after his side's astonishing victory. And the Spurs boss has tipped his side for "big things" in his debut season after their first Old Trafford win in 23 years. Goals from Jan Vertonghen, Gareth Bale and Clint Dempsey secured one of the most stunning results of the new Premier League campaign despite a spirited second-half comeback from Manchester United. And, after a slow start to his reign at White Hart Lane, three straight league wins seem to have turned the tide for the Portuguese chief.
Fergie warns Rio
Give it up, Rio! Ferguson tells Ferdinand to quit England and concentrate on future at United (Joe Bernstein, Mail on Sunday) Sir Alex Ferguson has urged Manchester United defender Rio Ferdinand to call time on his England career despite the vacancy left by John Terry's international retirement. The United boss, who saw his side crash 3-2 at home against Tottenham on Saturday, wants 33-year-old Ferdinand to 'concentrate on his career here' and has raised the prospect of the defender staying on beyond the end of his contract next summer. Ferdinand's England future has been widely discussed following Terry's decision to make himself unavailable to manager Roy Hodgson in the future.
Rio Ferdinand still has the power but is cast out by Roy Hodgson's England (Daniel Taylor, Observer)
Analsying Chelsea's win at Arsenal
A lack of belief is all that separates the London rivals (Gary Neville, Mail on Sunday) If ever a team were in need of a trophy, it would have to be this Arsenal team. Because when you watched them lose 2-1 against Chelsea, there wasn't a difference in quality. But it was as though there was one team who absolutely knew how to win a big game and another team that weren't too sure. It's that unexplainable edge in sport which is impossible to coach and you can't teach but which makes the crucial difference nonetheless. I don't know whether it is the special togetherness that is forged in the dressing room after a cup win, that feeling of having achieved and battled against the odds together.  Or whether it is simply the confidence those wins give you, so that you feel as though you are standing 10 foot rather than six foot tall. Probably it is a combination of both.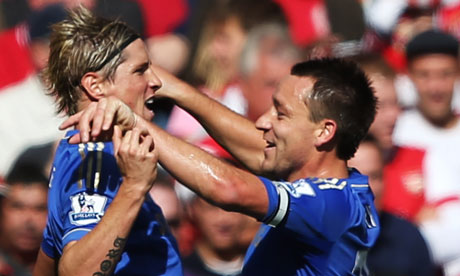 John Terry's prehistoric language falls on some deaf ears, at least (Paul Doyle, Observer) The Arsenal mascot Gunnersaurus extended his paw to Terry as the teams lined up before the game and then, as Terry went to shake it, pulled it back in, leaving Terry's hand dangling in the air – although Gunnersaurus had shaken Terry's hand earlier, when Chelsea arrived. It says something when even dinosaurs deem your language unacceptable. 
The Calvin Report: Terry's white boots belie a grubby week (Michael Calvin, Independent on Sunday) Say what you like about John Terry – and we will – he's a trouper. This was a fist-pumping, badge-kissing, legend-enhancing reaffirmation of character. The man has the durability of a cockroach, the nerve of a test pilot and the chutzpah of a street politician. Say what you like about John Terry – and we will – he's a trouper. This was a fist-pumping, badge-kissing, legend-enhancing reaffirmation of character. The man has the durability of a cockroach, the nerve of a test pilot and the chutzpah of a street politician.
John Terry takes first step to silence jeers as Arsenal taunts fail to make mark on Chelsea captain (Henry Winter, Sunday Telegraph) However much Eden Hazard, Juan Mata and Oscar may quicken the pulse-rates, it is difficult to warm to a club that has as its figurehead a man found guilty of making a racist remark. This hugely attractive side of Roberto Di Matteo's, all elegant interchanging between three spinning tops of attacking midfielders, really deserves sustained applause. With Mata pulling the strings and Fernando Torres a tireless threat, Chelsea were well worth their win over Arsenal at the Emirates. Oscar's refined technique kept moves flowing forward. Hazard has that little bit of magic in possession, his touch transfixing defenders like a cobra's stare.
Luis Suarez destroys Norwich… again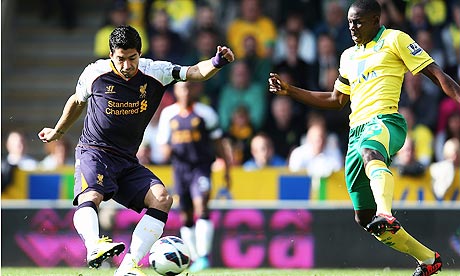 Our Suar of the show (Antony Kastrinakis, Sunday Sun) Brendan Rodgers hailed his hat-trick hero Luis Suarez after Liverpool finally broke their Premier League duck. But the Reds boss was fuming at the treatment Suarez gets after the Uruguayan striker was yet again the victim of a controversial decision. Referee Michael Jones failed to give a nailed-on penalty when defender Leon Barnett brought him down.
Norwich City 2 Liverpool 5: match report (Arindam Rej, Sunday Telegraph) For Liverpool, it was the most convincing of ways to secure their first league victory of the season. Suárez's first goal was created by Glen Johnson, who ventured forward towards the edge of the 18-yard box and then threaded the ball forward towards Sahin. Michael Turner, horribly exposed in this match, intercepted but could only clear as far as Suárez and the Uruguayan controlled well before scoring.
Is it the end for Cole & Lampard at Chelsea?
Rom timebomb: Chelsea owner's ultimatum could see veterans Cole and Lampard ousted (Dave Kidd, Mirror on Sunday) Roman Abramovich has planted a ticking timebomb at Chelsea – with Frank Lampard and Ashley Cole in the ­immediate blast zone. Hardline Rom has made it clear to his table-toppers, who won 2-1 at Arsenal yesterday, that no player in his 30s will be offered longer than a one-year deal – and that puts the future of the two England men, plus skipper John Terry, in doubt.
Manchester City & Chelsea linked with Cristiano Ronaldo
Ronaldo's desire to become best paid footballer in world opens door to City and Chelsea (Bob Cass, Mail on Sunday) Cristiano Ronaldo's ambition to become the world's best paid footballer is causing a growing rift with Real Madrid that has alerted Europe's big-spending clubs. Russian-owned Chelsea, along with Arab-backed Manchester City and Paris Saint-Germain, head the list of interested parties as the 27-year-old agitates for a huge pay rise to bring him into line with high earner Samuel Eto'o.
Juve want Nani
Arrivederci? Juventus could land United winger Nani in cut-price £12m deal (Simon Mullock, Sunday Mirror) Manchester United winger Nani will be offered an Old Trafford escape route by Juventus. The Italian giants are monitoring the Portugal international's growing unrest and are ready to make an offer in the ­January transfer window. But sources in Turin say that the bid will not come close to United's £25m ­valuation and that Juventus believe they could land Nani for a cut-price £12m.
Where next for Theo Walcott?
Up front: City and Liverpool ready to lure Theo Walcott with striker's role (Matt Law, Sunday Mirror) Manchester City and Liverpool will seize on Theo Walcott's plea to play up front to try to lure him away from Arsenal. Both Liverpool and City are ready to promise ­Walcott a role in a rotating strike-force that will give him more chances to score if his contract stand-off is not resolved. Arsenal legend Ian Wright believes that Walcott should be given a chance to play in his preferred position as central striker
Roy Keane heading to Turkey
Keano off to Turkey (Shaun Custis, Sunday Sun) Roy Keane  is back in management — in Turkey. The former Manchester United midfield star is set to be announced as the new boss of Kasimpasa today. Irishman Keane, 41, has been out of the game since being sacked by Ipswich in January last year.
---
GAMBLING CAN BE ADDICTIVE, PLEASE PLAY RESPONSIBLY