"At this rate the best defensive record in the Premier League will count for little because of Aston Villa's lack of penetration at the other end of the pitch" – Stuart James
Comment & analysis round-up
Quote of the day: "I maybe touched it a little bit with my hand, but I would have touched it with my head anyway. There have been so many incidents that he [Webb] got wrong, that maybe one more isn't anything more. I think we deserved the win – this was a test of character." – Cesc Fabregas.
Runner-up: "John [Terry] will not play this weekend. Carlo is giving him a bit of time off. He will come back and prepare for our game against Wolves on the 20th. They just had a little chat, John and Carlo, and decided that would be the best for all concerned." – Ray Wilkins.
Today's overview: Many in the fourth estate are treating Manchester United's draw at Aston Villa as if Ferguson's charges scooped all three points.
Making the point plainly, Kevin McCarra chugged "there are games that gleam in the memory of champions. Should Manchester United take the title for a fourth consecutive season, they will relive this result with relish. A draw is not normally a cause of jubilation for them but they had been reduced to 10 men against Aston Villa by the dismissal of Nani when more than hour of the game remained."
Looking at Nani's dismissal more closely, Matt Dickinson fears that the Portuguese winger has suffered another setback in his Old Trafford career. "It has guaranteed a three-match suspension for Nani exactly at the time that he did not need it… Instead now it will be Antonio Valencia who has that chance — as he had last night, coming on at half-time and seizing the chance to power up and down the right wing. As with Nani, Valencia has yet to prove himself deserving of a regular starting place for United, but the berth is his, if only by default, for the next few weeks unless the Portuguese is lucky enough to be recalled against AC Milan in the Champions League on Tuesday."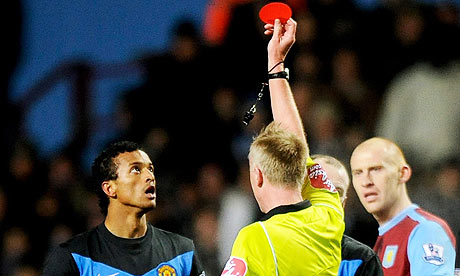 But what of Aston Villa? Stuart James fails to let the Midlander's off the hook allowing United to walk away with a point, writing "the lack of attacking threat that looks set to undermine Villa's pursuit of a place in the top four was once again a salient feature as Martin O'Neill's side struggled to trouble seriously a United team down to 10 men… United controlled more of the possession despite their numerical disadvantage and, when Villa did hold the ball for any period, their build-up was prosaic. At this rate the best defensive record in the Premier League will count for little because of Villa's lack of penetration at the other end of the pitch."
Also jumping on Villa's back was Oliver Kay. "If Nani's sending-off proved to be a turning point in the game, it was not in the way that Villa would have expected or hoped… Much like Everton in the Merseyside derby last Saturday, they lacked the wit and imagination to capitalise on their advantage."
Stepping back from the specifics of the Villa-United match, James Ducker bravely points out a slight weakness in Wayne Rooney's stats. "In the 40 games Rooney has played against Arsenal, Liverpool and Chelsea in all competitions since joining United, he has managed only eight goals, the equivalent of one every five matches. That is some way off his overall average of a goal every 2.24 games for United (120 goals in 269 appearances)."
Turning to Chelsea's defeat at Everton, many wonder how much John Terry's off-field problems  contributed to the Pensioner's stumble at Goodison Park.
Hammering home the point that JT has an awful night, Ian Herbert barked "rarely in the course of his Chelsea career has Terry been pulled this way and that quite like this… By the end of the night Terry wore the same red face you feel has accompanied him through some of his recent private reflections, only this time it was the one pinched by the bitter cold and the sheer, relentless effort of chasing shadows."
Walking a tightrope of confusion, James Ducker almost tripped over himself arguing "attributing the lapses of concentration that handed Everton their first win against these opponents for 9½ years solely to Terry's personal problems would do a great injustice to Saha, who, on this form,might have terrorised anyone, but the Chelsea captain looked very much like a man whose mind was elsewhere."
According to Rory Smith though, Terry's mistakes at Everton were purely related to football issues – which should be of major concern to Fabio Capello. "Here, Terry creaked. More worryingly, he creaked thanks to the intervention of an opponent he will face this summer. Landon Donovan, who will lead the United States' attack against Capello's team in Rustenburg on June 11, gave Terry a torrid time. A repeat when the ramshackle surrounds of Goodison Park are replaced by the veldt will get England's World Cup campaign off to a far from ideal start."
Are Arsenal back in the title race?
Richard Williams assumes a fence-sitting position, wondering "was this the third-place play-off that turned into a revival of Arsenal's bid to be taken seriously as contenders for the Premier League title? Recovering from an anxious and error-plagued first half last night, Arsene Wenger's players did enough to suggest that they cannot quite be written off, particularly on a night when Chelsea and Manchester United lived up to the Frenchman's prediction that they will continue to drop points as the season approaches its climactic phase."
Also unwilling to back the gunner whole-heartedly was Matt Hughes. "Wenger will be more concerned about what this win means for his team's title aspirations, which, although faint, cannot be completely discounted. This developing side, who have conceded ten goals in being beaten twice by each of Chelsea and Manchester United, do not have the battle-hardened look of champions in the making, but in mathematical terms the league table gives them a chance."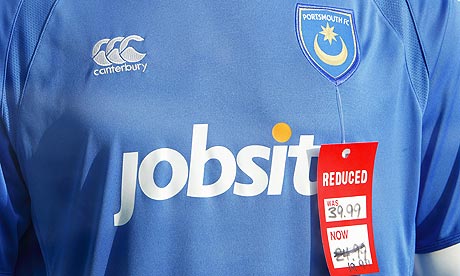 Portsmouth have once again avoid imminent disaster after the High Court gave the south coaster one more week to save themselves from administration. And now it's all about funds raising.
Jamie Jackson explains that "the high court granted Portsmouth another week to save themselves from administration, while their owner, the Hong Kong businessman Balram Chainrai, is believed to be considering a fresh injection of funds to stabilise the Premier League club… It is understood that there are two interested parties undertaking due diligence with a view to buying the club."
The Times fail to see much of a silver lining for Pompey as the potential end of the club is forecasted. "Should Portsmouth fail to raise the necessary funds, the Barclays Premier League match against Stoke City at Fratton Park on the evening of Saturday, February 20 could be their last game."
Stepping back from the specifics of the Pompey case, Paul Kelso points a finger of blame at the Premier League's door. "If this spectacle was humiliating for Portsmouth, it marked a terrible day for the Premier League. The League will soon announce that overseas television revenue has topped £1 billion for the first time, a 60 per cent increase in a global downturn, yet here was a member club revealed in court as unable to meet their basic commitments to the public purse. Pompey's fate may be the result of years of mismanagement and short-term thinking, but it occurred in a league framework that allows clubs to speculate almost without constraint."
While Pompey are desperately seeking new owners, so other football clubs are also touted as being close to a takeover.
We begin at Anfield, where Ian Herbert reports that "Liverpool yesterday continued to deny suggestions that new Indian owners are on the horizon, though sources in the subcontinent suggest that Subrata Roy, the billionaire owner of the Sahara group, is considering making a bid for a stake in the club and will decide within the next two weeks whether to join the race to make a £100 million investment."
Dropping down a division, the Independent spout that "Sir Richard Branson has revealed that he could be interested in a bid for Crystal Palace after administrators placed an advert in a bid to sell the troubled club."
Like a sickness, the papers continue to spread transfer guff.
Sam Wallace reveals that "Liverpool are the favourites to sign the Serbian winger Milos Krasic at the end of the season along with his international team-mate Milan Jovanovic who has already agreed to join the club on a free transfer at the end of the season." The Daily Mail also get in on the act spouting "Manchester City manager Roberto Mancini is chasing Fiorentina centre back Alessandro Gamberini."
The Sun claim that Sergio Aguero has made himself available to Chelsea and Manchester United, while the Mirror fart "Roberto Mancini is lining up a surprise £6m summer swoop for West Brom star Graham Dorrans."
And we end with the managerial merry-go-round, as the Mirror invent the story that "QPR have already started compiling a short-list for their next new manager – with Lothar Matthaus a possible shock outside candidate." And last but not least, John Cross is found yelping "Mark Hughes has been lined up to be West Ham's next manager."
---
GAMBLING CAN BE ADDICTIVE, PLEASE PLAY RESPONSIBLY