"At the final whistle, Inter fans celebrated as if they had reached the last eight. Chelsea will have other ideas at the Bridge. It's too close to call" – Henry Winter
Comment & analysis round-up
Quote of the day: "At Stamford Bridge I expect everyone to be pleased to have me back, as we were happy together. I go back to a different dressing room, a different dugout, and they know that normally Mourinho is lucky at Stamford Bridge. I have to control my emotions. I have to be professional, like I was today and like the Chelsea players were today. In the tunnel it was not a normal game for me and it was not a normal game for them, but on the pitch it was a normal game. The most important aspect is the result. It's not the best because the qualification is still open. But all the Champions League matches are very tight. No-one was expecting a big win from either team. Playing the first leg at home is always complicated. This time we go to Stamford Bridge with a win, a tight win, but it's important. I believe what happened tonight was a big achievement from my defenders. I believe we can go through. This year my team have a greater mental strength. Now it will be down to the team with the greatest ambition." – Jose Mourinho.
Runner-up: "I think it was a penalty in the first half, but a penalty is when the referee whistles. We were unlucky this evening and hope it will be better in the future. I believe we played quite well. We played a good game, with personality, with courage and with spirit. The result is not so positive, but not so bad. Cech has an injury on his calf. We have to wait and control his condition and see when he can return to the squad." – Carlo Ancelotti.
Today's overview: The first-leg of the Inter Milan-Chelsea tie appears to have gone down a treat on Fleet Street, with the 2-1 scoreline leaving the both sides in with a good chance of qualifying.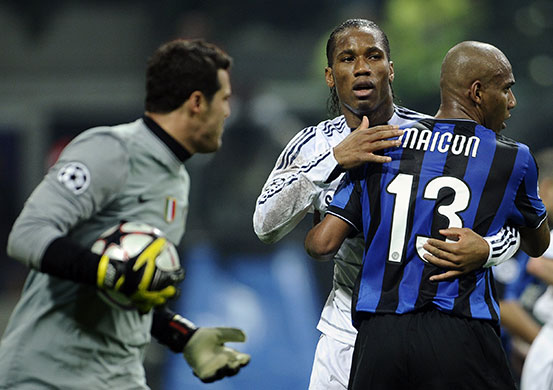 Henry Winter celebrated the occasion at the San Siro. "Two good teams went for glory, the pacesetters of Serie A and the Premier League laying on a magical spectacle, staging a sporting opera fit for La Scala of Italian football. A crowd of 78,971 relished this football of the old school, of the schoolyard even: you attack, we attack… At the final whistle, Inter fans celebrated as if they had reached the last eight. Chelsea will have other ideas at the Bridge. It's too close to call."
Looking to draw broadbrush observations, Matt Hughes flagged up how "Chelsea dominated possession in this round-of-16 first leg and had twice as many shots on target, but they were beaten by a craftier and more clinical side, which should come as little surprise given the identity of their coach… With the majestic Wesley Sneijder pulling the strings just behind them, Inter created the most clear-cut chances."
Staying with the bigger picture, Patrick Barclay made the case that Inter may have blown their chances having not turned the screw when they had the opportunity. "The inability of the Serie A leaders to control their Barclays Premier League equivalents in a vibrant match suggested that Ancelotti may come out on top this time."
Martin Samuel believes the tie is still too tight to call. "It is fiendishly hard to separate these sides and Mourinho would have expected nothing less. This is no slight on Ancelotti, whose understated style should never be mistaken for inertia. Playing Florent Malouda at left back to solve an injury crisis was a brave move and paid off. Malouda did not let Chelsea down defensively, which is more than can be said for some in the back line."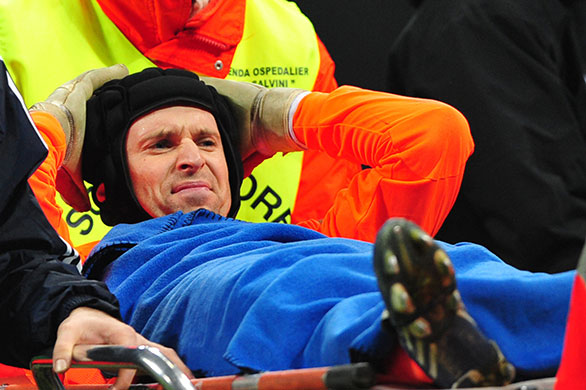 Delivering the most Inter-biased opinion of the day, Mark Fleming chimed that Chelsea are now the underdogs to qualify. "Europe is still proving to be Chelsea's Achilles' heel. They produced some great football at times against Internazionale last night, enjoying the bulk of the possession and creating by far the greater number of attempts on goal, but they were ultimately undone by the man out of whose shadow they still struggle to emerge… Chelsea had their moments but in the end face an uphill task if they are to make it through to the quarter-finals… Losing the first leg is one thing; but to lose such a player as Cech at such a key moment in the season could be of much greater consequence to the Premier League leaders."
From one extreme to the other, as Darren Lewis spouts how Chelsea are in pole-position in the tie. "Chelsea will host Inter Milan in three weeks with a real chance of wrecking the romance of the Special One's return to Stamford Bridge following this compelling contest… The Premier League leaders bit the hand that fed them last night by coping with everything their former boss could muster and emerging from an explosive San Siro with a priceless away goal. Inter have won just one of their last seven away games in all competitions."
Kevin Mitchell made sure to point out John Terry's failings for Inter's opener. "[Mourinho] starred in The Italian Job, coolly accepting the theft of a goal in the third minute by his diligent striker, Diego Milito, that caught his old ally at Stamford Bridge, John Terry, swivelling on the wrong spot to leave Petr Cech helpless on the near post. Why Terry had left his mark on the other side of the stage was more than likely down to the panic induced by excellent lead-up work by Wesley Sneijder, although it was difficult to excuse the Chelsea captain's ultimate clumsiness."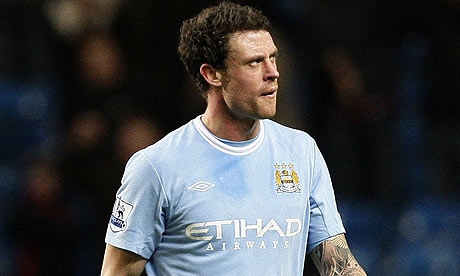 Is Wayne Bridge too proud to play for England?
According to Daniel Taylor, "Bridge is so 'devastated' by the scandal surrounding his former Chelsea team-mate John Terry he does not know whether he will even be able to shake hands with him when they play against each other this weekend. Bridge is considering pulling out of England's World Cup plans because he cannot bear the thought of spending so long with a man he now regards as a sworn enemy."
According to Oliver Kay though, the will he/wont he Wayne Bridge saga though only forms part of the defensive headaches gnawing away at Fabio Capello. "There have been some frank admissions this week that South Africa would not be ready if the World Cup finals were to start tomorrow, but if Fabio Capello were asked the same question about England, concerns over Rio Ferdinand and uncertainty over the fallout from the John Terry affair would force him to apply a similarly alarmist assessment."
Staying on an international footing, Kevin McCarra observes how the gods seem to be conspiring against Capello. "Capello is fitting into the same pattern as his predecessors, despite vain hope that he was radically different and would compel the universe to bow to his wishes… The variety of trouble is unusually broad at this stage in the build-up… The anxiety now is that a lack of depth will be exposed."
Yet, in an attempt to lift the nation's spirits, David Woods tells his Star readers that Rio Ferdinand may not be as crooked as many believe. "Rio Ferdinand could still make the Carling Cup final on Sunday, despite suffering a back problem. And it seems likely Ferdinand should be fit to lead England, having taking the skipper's armband from John Terry, in their friendly against Egypt three days later. Starsport understands the twinge in Ferdinand's back.. is 'not serious.'"
As standard, we finish up with the transfer guff.
The Daily Mail lead the way farting "Manchester United target Ingolfur Sigurdsson could be making his way to Arsenal are the 17-year-old impressed during a trial with the north London club." Staing in the Mail we also learn that "Portsmouth defender Dusko Tosic is ready to leave the club now on a free transfer as a bizarre consequence of their financial plight."
Laslty, in a cheeky piece for the Mirror, Darren Lewis argues that Joe Cole could be heading out of Stamford Bridge. "The ex-West Ham man has yet to sign a new deal at Chelsea, even though his contract expires in the summer… Should Ancelotti decide he can do without the playmaker, there will be no shortage of takers – both home and abroad."
---