"At a time when the workload of leading internationals is constantly criticised, why are England playing Andorra?" – Glenn Moore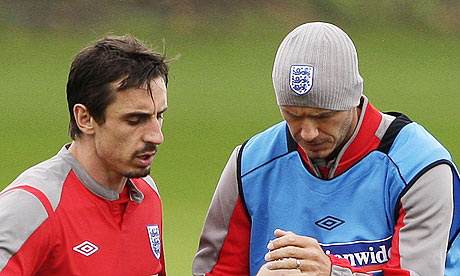 Comment & analysis round-up
Quote of the day: "Slaven [Bilic] is open to offers and there is interest from Portsmouth. There are different clubs who want him but he is very interested. Portsmouth have tried to get in touch, but there is no concrete offer at this stage. But the idea of working with and building the club would excite him. Slaven is hungry for the right club with the right ambition because he is a hungry manager. He is a person who sets high goals and wants to work hard to achieve them." – Bilic's agent, Rudi Vata.
Runner-up: "My first conversation was with Theo I told him that I would like him at the Under-21s but that I wouldn't like to say to Fabio to leave him out of the seniors so we could have him. He thanked me for that. I said that in a perfect scenario, I would like to see him represent both and he was in agreement. Theo thinks the Under-21 tournament will be fantastic for him, as he's never actually played in a major tournament at any age group. I spoke with Arsene after that and I just told him my plans for Theo. Credit to him, he didn't agree. I did say to him that I'd spoken to Theo. I have got an utmost respect for Arsene and I understand his point of view but we beg to differ a little bit and the most important driver in the whole conversation was the fact that Theo wants to be part of both squads." – Stuart Pearce.
Today's overview: The main story of the day should be England's fixture against Andorra tonight, but due to the inevitability of the Three Lions victory, the commentary is rather stale.
Kevin McCarra uses this opportunity to brown-nose up to Capello, farting jingoistic lines such as "whatever defects remain [in the England squad], complacency will not be amongst them" and "Capello does not aspire to visionary football. He will turn to anything that might be effective, whether it be spoiling tactics or high-spirited attacking." Oliver Kay, touching on the likely inclusion of Neville and Beckham in the starting XI, also spouted similar comments over Capello's pragmatism writing "It is all about winning. Experimentation, entertainment and excitement? They do not even come close."
Noting that "Andorra are very, very poor," it is left to Glenn Moore to ask "at a time when the workload of leading internationals is constantly criticised, why are England playing Andorra? Why is there not a preliminary qualifying round to winnow out the no-hopers leaving those minnows capable of the odd shock, as when Northern Ireland beat England? Their inclusion may seem romantic, but it is not when a key element of their defence is kicking opponents."
With a lack of any real story to set the pulse racing this Wednesday, David Hytner does his best at spicing up the news that Theo Walcott will play for both England and England U21s this summer. According to the hack, "Wenger has made no secret of his ­disgust at Walcott being asked to play first for the senior England team… and then Stuart Pearce's Under-21s."
The dark clouds hovering over the future of Setanta are blackening this Wednesday, although the fifth estate are at odds to decide who will be the biggest loser of any collapse.
According to Graham Spiers "the worst effects of a Setanta collapse would be felt in Scotland. Payments currently due to the individual SPL clubs range in size from £70,000 to nearly £750,000, with the Old Firm obviously taking the greatest hits. Yet Rangers and Celtic can probably withstand such setbacks — it is the smaller clubs who will feel the losses more deeply." Adding to the sense of panic north of the border is Paul Hughes who commented "Setanta look certain to pull the plug – leaving the SPL on the verge of potential meltdown… SPL clubs are now set to miss out on a mammoth £155m deal which was due to start in 2010 and run for four years."
Yet, for Charles Sale, it is English football who are at risk. "English football is on the verge of a giant financial crisis this morning, with troubled sports subscription network Setanta fighting for its life… The greatest potential threat is to the FA, who are only just concluding their first season in a four-year deal for England and FA Cup rights, of which Setanta's share was £150m."
Kicking the Toon when they are down, Martin Samuel lays into Mike Ashley in the Daily Mail for failing to secure Alan Shearer at the helm. "It was his decision to allow Newcastle to drift rudderless after the entirely predictable fall-out with Kevin Keegan that precipitated relegation. Now Ashley is prepared to let his club stagger aimlessly through the summer, putting the entire playing staff up for sale and amateurishly calling for parties interested in a £100million transaction to tender for the club by email. Then he frets over the one course of action that would give his business credibility: the appointment of Shearer, a respected man."
Changing tracks, Nick Szczepanik has a chin-wag with Jeff Stelling about the phenomenon that is Soccer Saturday. Stelling: "I've always associated football with that banter, and you sometimes don't get that at the Premier League grounds. I'm not saying it's exclusively a lower league thing, because it's not, but it's a different view of the game."
Onto the transfers, where Chelsea are said to have finally whipped out their chequebook. According to Gary Jacob, "Chelsea made a resounding statement of intent last night when they launched a £45 million bid for Sergio Aguero, the Atletico Madrid striker." David Bright fleshes out the deal even further by highlighhting that "a sticking point could be Aguero's wage demands, thought to be a staggering £11 million gross a season or £220,000 a week."
After signing Kaka, today's rumours commit Real Madrid to shelling out over £100 million more on new players.
Ian Herbert claimed that "sources close to [Real Madrid's Florentino] Perez claimed yesterday that £33m had secured [David] Villa's services. The add-ons for Villa winning trophies could take the eventual price closer to £40m." Lastly, Daniel Taylor reports that "Real Madrid's relentless pursuit of Cristiano Ronaldo will manifest itself in the Spanish club making their first official contact with Manchester United to propose a world-record £75m transfer."
Staying in Spain, Barcelona are being tipped with a move for Liverpool's Javier Mascherano in the Telegraph. "Barca have been linked with a £20 million bid for the Argentina international, and have reportedly already made contact with the player's advisors." Adding a twist into the story, David Maddock announced "Rafa Benitez is ready to fine Javier Mascherano after his agent claimed the player was desperate for a move to Barcelona."
They may be the richest club in the world, but Manchester City are not prepared to throw away money. According to Daniel Taylor, "Manchester City will seek £10m compensation for Daniel Sturridge if, as expected, the teenager defects to Chelsea when his contract at Eastlands expires at the end of the month." Ian Herbert commented "the fact that City have weighed up such issues is a reflection of the fact that there is now next to no hope that the striker can be persuaded to stay."
Every day Spurs are linked with a host of players and today proves no exception. Adopting a scattergun approach, the Daily Mail bleat "Tottenham are chasing Atletico Madrid captain Maxi Rodriguez and Galatasaray winger Arda Turan… the club look to have cooled on Real Madrid striker Ruud van Nistelrooy… [Redknapp] also has an interest in Atletico striker Diego Forlan… Jenas is wanted by Aston Villa, while Zokora is wanted by Sevilla." And there is more, The Sun's Andrew Dillon claims "Harry Redknapp aims to pip West Ham in the chase for Inter Milan's Luis Jimenez," while according to the Mirror "Redknapp is ready to kick-start a shakeup at Tottenham by selling keeper Heurelho Gomes."
In other news, the Daily Mail claim "Wolves are interested in Newcastle midfielder Nicky Butt and are hopeful of concluding their chase for Serbia international Nenad Milijas in the next 24 hours," the Mirror suggest that "Arsene Wenger is ready to offload William Gallas after the arrival of £11m Thomas Vermaelen," and lastly the Mirror confirm "Everton have won the race to sign Leeds sensation Fabian Delph. Blues boss David Moyes has beaten competition from Manchester United, Fulham and Sunderland to land the England Under-21 midfielder in a deal costing up to £4million."
---
GAMBLING CAN BE ADDICTIVE, PLEASE PLAY RESPONSIBLY