Assessing Fergie's fledglings, James Milner for England & Arsenal are ready to splash the cash in January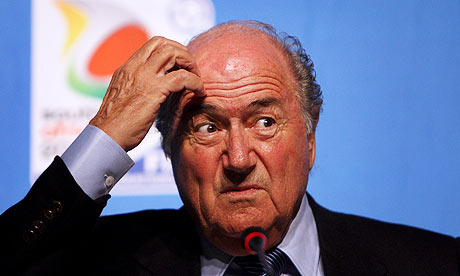 Comment & analysis round-up
Quote of the day: "We all agree that we need to help referees. The fourth official should use a television monitor so that, in some circumstances, the match referee can speak to him through a microphone and just check and see on controversial decisions. It is not right that we go to a game as though it was the Stone Age and we cannot see replays, when someone sitting at home on the sofa with a cigar and a beer can see everything. The people opposing change are the ones who believe that the same rules should apply in a World Cup final as to a game in a village. They think it keeps football popular – but because of the Thierry Henry incident, football is unpopular." – former Liverpool manager and now technical director of the French football federation, Gerard Houllier.
Runner-up: "[Sepp Blatter is] a bit of a loose cannon. He's an embarrassment to Fifa… I'm afraid Mr Blatter is a law unto himself. I thought it was very disrespectful how he presented [Ireland's request to be a 33rd team at the World Cup]. He's currently ignored most of the controversial things that went on that evening. He never had anything to say about that at all, like Henry's behaviour after scoring the goal and how that stands within his campaign to have fair play within the game. Henry celebrates as if he's done nothing wrong. Is that fair play? Hardly. But Mr Blatter chose to talk about the request to be considered as the 33rd team… I think when it comes to the big games, the big decisions in football, you'll find it's the big teams that get the decisions. But forget about that. We can accept that. What we can't accept is how he presented the case to the media in South Africa yesterday. He needs to show some respect." – Liam Brady.
Today's overview: Are Manchester United's next generation the real deal? Having breezed past Spurs in the quarter-final of the Carling Cup the fourth estate are left to assess the qualities of Fergie's new fledglings.
James Ducker kicks the analysis off with a bucket-load of praise. "Manchester United's youngsters showed why Sir Alex Ferguson rates them so highly by brushing aside Tottenham… Danny Welbeck impressed up front for the holders, Ritchie de Laet looked assured at left back and Anderson was a commanding presence in midfield. But it was Gibson who stole the show with his fourth and fifth United goals in only his twelfth start for the club."
Slightly more cautious, Sam Wallace was next to give his opinion on Fergie's whippersnappers. "Gibson and Luis Anderson were excellent, although Danny Welbeck, Gabriel Obertan and Ritchie De Laet are still awaiting their signature performances. As for Federico Macheda, who played such a starring role last season, he was only a late substitute last night. Macheda is the proof to Gibson that, however big the initial impact, it is no guarantee that you have made it."
Paul Wilson also surveyed the performances of a variety of United's kids before singling out one player for special mention. "If Gabriel Obertan was supposed to show he has the potential to become the new Cristiano Ronaldo, he failed. Danny Welbeck had a quiet game and Federico Macheda did not start. It was left to Gibson, who played in last year's Carling Cup final against Spurs but attracted most of the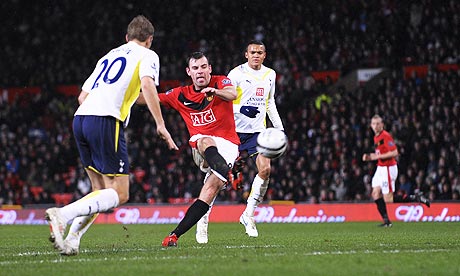 flak last week, to present himself as the new Paul Scholes. Anyone disputing this claim should view not just the immaculate twin strikes from outside the box but the tackle for which he was booked at the end when he dived in on Aaron Lennon without any realistic chance of winning the ball."
Unsurprisingly, Darron Gibson's brace against the Lilywhites focused attention on the midfielder and, for Matt Hughes, the time maybe right for the Irishman to be promoted to the first team. "The 22-year-old may look slightly cumbersome, but is physically imposing, passes the ball well and has a keen eye for goal, as he demonstrated when twice beating Heurelho Gomes from outside the penalty area. The most important goals of his fledgeling career took his total to five in 12 starts for United, a remarkable strike-rate that would make many strikers blush. Given the dearth of goals in midfield elsewhere in this team — Ryan Giggs is their top scorer from that area this season with three — he could be promoted sooner rather than later."
So what about Tottenham?
Amid all the Gibson-hype, Daniel Taylor is keen to observe that Spurs' misfortune to have lost the match on Tuesday. "Tottenham matched their hosts in just about every department and it is a measure of their ambition that their manager, Harry Redknapp, was unusually critical of his players afterwards." Yet Henry Winter appears to have watched a different match altogether, as he went about tearing strips off the north Londoners. "The visitors were disappointing, dithering in building towards goal and too uncertain defensively… Tottenham's fans deserved better than this flat display… Rarely can Jermain Defoe and Robbie Keane been so subdued in attack. Rarely can Jermaine Jenas been so anonymous in midfield. Spurs were far less than the sum of their considerable parts."
From one burgeoning midfielder to another, James Milner stole the headlines after Aston Villa dispatched Portsmouth 4-2 to also reach the Carling Cup semi-finals.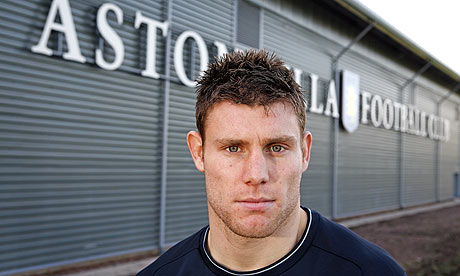 Nick Szczepanik advises the young Englishman to pack his bags for South Africa. "Even though Portsmouth fought as hard as usual, Villa were worth their victory, with James Milner a revelation in central midfield. The England man has now appeared for club or country in every position on the pitch apart from centre half and goalkeeper, and is beginning to look certain of his place on the flight to South Africa for the World Cup finals next summer." Mark Fleming reached a similar conclusion in the Independent, writing "if Capello wants players who can perform in a variety of roles, then Milner is making a compelling case for inclusion in the 23-man squad."
Without wishing to over-egg tonight's Manchester City-Arsenal Carling Cup quarter-final, James Ducker observes the implications for the Citizens. "The importance of a victory over Arsenal's young side tonight extends beyond a place in the semi-finals of a leading cup competition for the first time since 1981. Win and the picture will look very different for Hughes. Lose and the storm clouds will begin to gather before an enormous game against Chelsea."
Super-scribe Jonathan Wilson delivers a brilliant insight into England's tactics under Fabio Capello, observing how "England's lack of a natural left-winger is often seen to be their weakness, but Fabio Capello has turned it into an advantage… England at last have a coherent model of play. That it is not symmetrical is irrelevant; far more important is that it is balanced."
Turning to the Ballon d'Or award this week, won by Barcelona's Lionel Messi, Henry Winter observes how La Liga swept the board in voting. "The Premier League boasts more excitement and greater global popularity, but Lionel Messi's crowning as European Footballer of the Year, coming on top of Cristiano Ronaldo's £80 million defection to Real Madrid, should alarm the English authorities. The highest-placed current Premier League player is Manchester United's Wayne Rooney at eighth."
The 2010 World Cup draw takes place on Friday, and England remains on tenterhooks to know whether the Three Lions will be a seeded team. Should they miss out on that honour, Duncan White investigates how tough the draw could be for Capello. "If England don't get seeded, what is the worst case scenario? Pretty grim. Fabio Capello could be looking at negotiating his way out of a group containing Brazil, Ivory Coast and the United States. What an unenviable proposition. There is another side to the coin though. For one unseeded European team, an easy draw awaits because of the weakness of the hosts. So if England did miss the seedings they could end up with South Africa, North Korea and Algeria."
Good news for Arsenal fans as The Professor appears committed to whipping out the chequebook for a second winter in succession.
Carefully worded, Matt Hughes barks "Arsene Wenger will definitely be on the hunt for players in the transfer market during January," while the Guardian's David Hytner begins penning some realistic target for when the window opens. "Wenger's interest in the Bordeaux striker Marouane Chamakh is well documented, although a January deal appears unlikely. His other targets include André-Pierre Gignac of Toulouse, Milan's Klaas-Jan Huntelaar and Mario Balotelli of Internazionale. Sampdoria's Giampaolo Pazzini is another Serie A striker on Wenger's radar."
Continuing the speculation of potential, David Kent suggests Wenger could be set to do his shopping in London. "The Arsenal boss had been watching England's Carlton Cole before the West Ham man suffered knee-ligament damage last weekend. If Cole recovers before the end of January, he could yet be a target, although Liverpool and Manchester United have also followed his recent improvement with interest."
Onto the rest of the transfer gossip, where the Independent report that Valencia are trying to price their prized-striker out of the market, announcing "Manchester United and Chelsea have been warned they will have to stump up £75m to land the services of David Villa." The Daily Mail argue though that the suitors have not been put off Villa by this valuation, as "Manchester United are set test Valencia's valuation with a £35m bid in January."
It's a case of one in, one out for Spurs in the striking department, as Ashley Gray reports "Brazilian hot shot Welliton is keen to trade places with unhappy Tottenham Hotspur striker Roman Pavlyuchenko." Ashley Gray stays in Russia for his next piece of speculation, claiming CSKA Moscow's Milos Krasic is on the radar of Manchester United, Manchester City, Arsenal and Chelsea."
Elsewhere, Sami Mokbel details how "Hull want to cash in on Crystal Palace's money problems by taking Darren Ambrose on the cheap," the Mirror cough "Jermaine Pennant could be set for a shock return to the Premier League with Aston Villa," and Alan Nixon claims "Chelsea are ready to seal a £40million-plus deal for Argentine star Sergio Aguero… [while] a move for Brazilian super-kid Lucas Piazon is also on with Brazilian side Sao Paulo."
Finally, the Mirror toot "Alex McLeish is ready to launch a £6million bid for Austrian striker Marc Janko," John Cross bleats "big-spending Notts County are poised to rescue former England star Francis Jeffers from his Sheffield Wednesday nightmare," while north of the boarder the Daily Mail claim "Celtic are preparing a bid for highly-rated Hungarian defender Zsolt Korcsmar."
---
GAMBLING CAN BE ADDICTIVE, PLEASE PLAY RESPONSIBLY