Asmir Begovic is heading to Liverpool & Pellegrini has to win 5 trophies in 5 years at Man City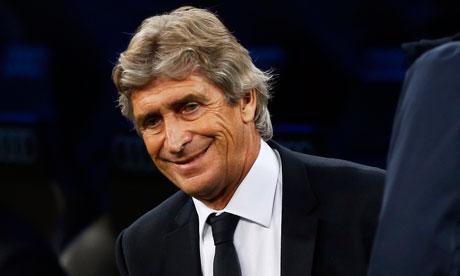 Comment & analysis round-up
Quote of the day: "I think that next season is going to be much better, I am convinced about that. It doesn't mean we're going to win one or two titles. But, in the grand scheme of things, if we look at the next five years and I could plan now, I would say I want to win five trophies in the next five years. That may mean we win no trophies one year and two in another but, on average, I want one trophy or title a year. That's the Champions League, the Premier League or the FA Cup. I think it's a realistic aim, yes. But I'm talking about five years. If next year we don't win, but progress our football and get to the semi-finals of the Champions League, finish second in the Premier League and lose the FA Cup Final again, that will be fine. That's because we will have progressed in the way our football develops." – Manchester City chief executive Ferran Soriano.
Runner-up: "He is a decent man, a great manager, but believe me he can be tough. If you want to win something, to create a good team you have to be hard sometimes with the players  – football is like this. He can be scary. I remember when I was banned after the Stoke game, he gave everyone the day off – everyone: The players, the entire staff – but I came to the training camp to do a training session with him. It was just me and him, and it is not easy to go into the camp to face him like that. I understood, because I knew I had made a mistake, but you know it's not easy when you know you have let him down. Just going in there knowing you have to look him in the eye was hard! He put me through a tough session… it was a full-on session, running, shooting, passing, everything and very intense, and afterwards I was upset. I said afterwards, 'Arggh, this is bad', but I am happy when he looked after me, so I understand. It was his way of telling me I had let the team down – it is how he is good manager, and he made sure I knew I had to face him. That way, I knew it was my mistake and I had to make up for it, to try hard to make it up to the team. It didn't make the journey in to face him any easier though. He is a great manager – he knows when he has to be tough." – Marouane Fellaini on David Moyes.
Asmir Begovic heading to Liverpool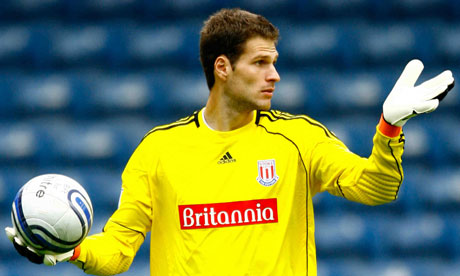 Begovic: I'm off to the Kop (Graham Hill, Sun) Stoke keeper Asmir Begovic is set to follow boss Tony Pulis out of the club — and sign for Liverpool. The £15million-rated Begovic has been watched by a string of clubs all season with Arsenal and Manchester United also keen on the Bosnian. But now he looks set to be the long-term replacement for the Kop's Spanish keeper Pepe Reina. Begovic, 25, gave an interview in Bosnia in which he claimed he would be joining Liverpool in July for pre-season training.
Napoli want AVB
Napoli have made approach for Spurs boss Villas-Boas, claims president De Laurentiis (David Kent, Daily Mail) Aurelio De Laurentiis, the Napoli president, has confirmed the Italian club have made an approach for Tottenham boss Andre Villas-Boas. The Naples club, who were runners up in Serie A last season, are without a manage after Walter Mazzarri decided to walk away from the club just last week. In quotes attributed to Portuguese newspaper DN, De Laurentiis, when asked whether they had made an approach for the Spurs manager, said: 'Yes. There is a very tempting argument to hire a young coach here.' Earlier De Laurentiis had said he would be heading to London on Wednesday. 'The new coach will come in a short time. The main feature of the new coach will be that he must have a deep love for the Neapolitan way, that is crucial," he said during a lively press conference. 'He must live in the area and also learn to speak the way of Naples. Tomorrow I will go to London, I'll be back in Italy on June 16.
Chelsea chase Arda Turan
Chelsea rival Galatasaray for Atletico's Turkish winger Turan (Simon Jones, Daily Mail) Chelsea are showing interest in Turkey winger Arda Turan, who is currently with Atletico Madrid. The 26-year-old has attracted interest from former club Galatasaray but their president Unai Aysal has revealed they face competition from Stamford Bridge. He said: 'Chelsea are involved with Arda and we won't be able to match what they are offering. 'I met with the head of Atletico Madrid, he told me that there were three players the club definitely do not want to sell, one of them being Arda Turan.'
Lukaku in Dortmund plea
Rom likes Luk of Dortmund (Sun) Romelu Lukaku is keen on a loan move to Champions League finalists Borussia Dortmund next season. Chelsea's powerful striker has just completed a successful loan spell at West Brom where he scored 17 goals in 35 Premier League appearances. Swansea and West Ham are also interested in the 20-year-old Belgian, who knows his chances at Stamford Bridge could again be limited.
Roberto Martinez could stay at Wigan
Roberto Martinez 'swinging towards' staying as Wigan Athletic manager, says chairman Dave Whelan (Luke Edwards, Daily Telegraph) Although Whelan had expected Martinez to decide when he wanted to do when they met on Thursday, he has instead asked for budget assurances and confirmation the club will continue to invest heavily in the development of young players at its Academy. Whelan has asked to look at the figures over the weekend before making any promises to the Spaniard, who would be a leading candidate to replace Tony Pulis at Stoke City, as well as David Moyes at Everton. "He has postponed making a decision until Monday, but it was a very constructive meeting and he is asking all the right sort of questions,"said Whelan. "I think he is swinging towards staying at Wigan and I was encouraged by what he said. We chatted for an hour and I'm happy with the outcome. "He is interested to know how we are going to push the club forward, how we are going to continue to develop our own players and the progress in moving into our new training ground. "He wants me to make certain promises and I've told him I don't want to make any promises I can't keep, so I'll have a look into things over the weekend and we'll meet again on Monday."
The Champions League final
Champions League final 2013: tension grows as Germany prepares for Borussia Dortmund against Bayern Munich (Ian Chadband, Daily Telegraph) One calls itself with no false modesty "a Club Less Ordinary", the other just invites you to embrace its motto, "Real Love". So, which of these two clubs, who grow less enamoured with each other by the day, do we wish to see lift the Champions League trophy? The strutting FC Hollywood burghers of Bayern Munich, who must win it for their sanity? Or Borussia Dortmund and their young working-class heroes, who just believe in fairytales? Germany, it seems, has made up its mind. Polls here show the vast majority plumping for Dortmund at Wembley, because there is something universally appealing about the resurrection from near-bankruptcy of the people's club under a manager, Jürgen Klopp, who adds greatly to the gaiety of the footballing nation. Even their great Westphalian rivals at Schalke, according to their chief executive Hans-Joachim Watzke, are rooting for them.
Why are Germany so good at football?
How Germany went from bust to boom on the talent production line (Stuart James, Guardian) As for Saturday's Champions League final at Wembley, the DFB proudly points out that 26 of the players Bayern Munich and Borussia Dortmund named in their Uefa squads this season are homegrown and eligible to play for Germany. More than half of those players came through the DFB's talent development programme, which was introduced in 2003 with the aim of identifying promising youngsters and providing them with technical skills and tactical knowledge at an early age. Covering 366 areas of Germany, this impressive initiative caters for children aged 8 to 14 and is served by 1,000 part-time DFB coaches, all of whom must hold the Uefa B licence and are expected to scout as well as train the players. "We have 80 million people in Germany and I think before 2000 nobody noticed a lot of talent," Dutt says. "Now we notice everyone."
Europa League winners to go into Champions League
Uefa to offer Champions League place to Europa League winners (Owen Gibson, Guardian) Uefa is set to award a place in the Champions League to the winners of the Europa League from the 2014-15 season, in order to make the competition more attractive, with an announcement expected on Friday. Other plans being considered include whether to award a fifth Champions League place to clubs in the big European leagues and to expand the number of Europa League places on offer. Also teams who win the Champions League or Europa League but finish outside the qualifying places in their domestic campaign will no longer usurp one of their league rivals to take up their place the following season. That means the fate that befell Tottenham Hotspur in 2011-12, when they missed out on Europe despite finishing fourth because Chelsea won the Champions League and finished sixth, would not happen again. Instead, England would now have five representatives.
---
GAMBLING CAN BE ADDICTIVE, PLEASE PLAY RESPONSIBLY