Ashley Young holds Villa to ransom as Liverpool & Chelsea slug it out over Glen Johnson
Comment & analysis round-up
Quote of the day: "What Real Madrid have done to the market does seem strange, particularly in these financial times. It's a staggering amount of money but, if they wish to go that way, that's up to them. If you can afford it, you can do it. But if you look at our squad and Real Madrid's squad, even with Ronaldo and Kaka there, which one would you rather have? I know which one I'd rather have, all day long, and that's without us even ­buying anyone new. Our squad is far stronger. I don't think our squad lacks anything. We certainly don't need to spend lavishly. I think the squad just needs refreshing. It's always advisable to refresh rather than renovate and that's what we'll do. I'm sure Carlo will bring in one or two players of genuine quality who are prepared to take on the challenge." – Chelsea's No.2, Ray Wilkins.
Runner-up: "Javier [Mascherano] loves it at Liverpool – that is all I can tell you. In the summer people like to make a lot of noises about world-class players – and Javier is a worldclass player. He has said himself that he is very happy at Anfield and there is no reason for him to want to leave." – Fernando Torres, from an EXCLUSIVE interview with the Daily Mail.
Today's overview: After successfully guiding the Young Lions into the quarter-finals of the U21 European Championships, Stuart Pearce and his England team are showered with praise by Fleet Street.
For Henry Winter, the standout player in England's win over Spain was Fabrice Muamba. "Muamba gave a masterclass in deep midfield, breaking up Spanish attacks, earning the praise of his manager." Peter Lansley however plays the sexier Theo Walcott card, after the winger came off the bench to help England to victory. "The gamble to use Theo Walcott as a substitute paid rich dividends when the team's star name came on in time to inspire the victory that takes England through to the semi-finals." Matt Barlow also focused his energies on the Arsenal wide-man, headlining his report as "snubbed Walcott now the supersub as young Lions book semi-final place in Sweden."
Keeping with international football, in an article headlined " Kim Jong-il vs Obama? That's political football," Glenn Moore fantastises over the two nations meeting at the 2010 World Cup. "[Sepp Blatter] is already dreaming of the moment when, in the VIP box at one of next year's World Cup venues, he can turn to Barack Obama and say: 'Mr President, I'd like to introduce Kim Jong-il, Dear Leader of the Democratic People's Republic of Korea, I don't believe you two have met, but I'm sure you've lots to talk about.'"
Villa fans will be dismayed to pick up the Guardian this Friday, as Stuart James leads with news that Ashley Young is holding O'Neill to ransom to either buying new players or see the England man hop on his bike. "Aston Villa will need to make a couple of stellar signings to match Ashley Young's ambition and avoid losing their most ­valuable asset this summer… Villa would be likely to demand around £25m for Young, a fee that would not be beyond Chelsea's reach but is likely to deter Spurs." On potential recruits the Express' Katherine Fenech blubbers "Villa are keeping tabs on Portsmouth defender Sol Campbell, who has been told he will have to take a 50 per cent wage cut to stay at Fratton Park."
Also holding a club to ransom is Carlos Tevez. Neil Custis splashes in The Sun with news that "greedy Carlos Tevez has told Manchester United: Make me your highest-paid player — or I go."
The battle rages in the red-tops over whether Glen Johnson is moving to Liverpool or Chelsea?
Tony Little in The Sun leads with news that "Benitez's pursuit of England full-back Glen Johnson has stalled – after Portsmouth accepted a rival £17.5million bid from Chelsea." The Star's Andy Rose reports the same story barking "Chelsea last night hijacked Glen Johnson's proposed £18.5m move to Liverpool." Nevertheless the Mirror's Alan Nixon takes on his fellow hacks loudly gassing "England right-back Glen Johnson will today complete an £18million move to Liverpool."
Liverpool fans will also be disappointed to learn that, according to Paul Joyce, both Javier Mascherano and Xabi Alonso have a concrete sale price. "[For Alonso] Benitez would be looking for a fee in the region of £30m for a player valued at £16m just 12 months ago. Mascherano has already seen Liverpool place a £50m price-tag on his head, although that did not deter agent Walter Tamer holding talks with Barcelona."
Toon-bashing is back on the menu as John Edwards flags up more dumb financial planing from the Magpies. "Newcastle's shamed players are about to share a £10million reward for their disastrous relegation campaign in another startling illustration of the financial shambles that has engulfed St James' Park."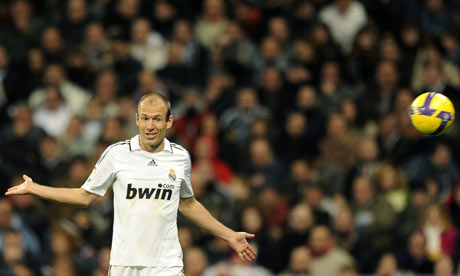 Keeping with left-wingers, Sid Lowe reports on how Arjen Robben is being frozen out at the Bernabeu as Real forced the Dutchman to move on. "The central reason for wanting to sell Robben is financial… [Robben] is the one expendable player for whom Madrid believe they can command a major fee." On Robben's potential suitors, Matt Law pens "AC Milan's tentative interest could be more appealing to Robben, but it is City who would most likely meet Madrid's £20million asking price and match or better his £80,000-a-week wages."
According to Gary Jacob, "Bayern Munich said last night that they were confident that they could prise Jose Bosingwa from Chelsea." Over in the Telegraph Jason Burt reveals how the Blues are weighing up the offer. "Chelsea have not dismissed the approach, partly because they want to continue discussions with Bayern over Franck Ribery."
The Cottagers and the Gunners find themselves going head-to-head over the same player, with Gary Jacob printing "Fulham held talks with Bordeaux last night about signing Marouane Chamakh, but they face competition from Arsenal for the forward." Staying in West London, the Daily Mail reveal that "Fulham are set to sign Paul Scharner from Wigan for £6m."
Clearly over-cooking the story, the Daily Mail cough "Kolo Toure remains desperate to leave Arsenal because he is unhappy over his fall-out with teammate William Gallas and the club's limited transfer budget."
Mark Ogden boasts how Manchester City are poised for a triple swoop of strikers. "Mark Hughes, who is confident of completing a £16.5m deal with Blackburn in the coming days for Paraguayan forward Roque Santa Cruz, has earmarked Eto'o and Manchester United's Carlos Tevez as the box office signings he is determined to lure to the club this summer."
Lastly, Southampton fans have something to get excited about as Gary Jacob reports how old boys Matt Le Tissier and Kevin Keegan could be about to assume the reigns as the club's new chairman and manager respectively.
---
GAMBLING CAN BE ADDICTIVE, PLEASE PLAY RESPONSIBLY