Ashley Cole & Wayne Rooney will both feature as Chelsea host Manchester United. But is it right?
Comment & analysis round-up
Quote of the day: "It sends out a terrible message. Something is wrong when a top international like Rooney is seen doing something like this, as clear as day, and is allowed to get away without being punished. If it was any other club or player, you can bet your life he would have been sent off. But officials seem intimidated by the words 'Rooney' and 'United'. Manchester United are allowed to get away with things the rest of us get pulled up for. And you can't have one set of rules for one club and another for the rest." – Dave Whelan.
Runner-up: "If things happen in the training ground, mistakes, then I have to take action. To read that Cobham is out of control though is totally wrong… Ashley made a mistake. When he said sorry he was really disappointed. What do we have to do now? Kill him? No. We have to support him. It would be very different if he had not said 'sorry'. We are not happy. He stepped over the line but we have to support him. We are really disappointed for the guy who was involved and was a victim of this. But things are not out of control." – Carlo Ancelotti.
Ryan Giggs: "When Chelsea won the double, it winds you up. You don't want it to happen again… It stays with you. You go away on holiday, you're lying on the beach trying to enjoy yourself with the kids, and you do. But then you have a quiet moment, it comes back to you and you can't help it, you're pissed off. You're on holiday, and you're just pissed off."
Today's overview: Nothing gets the press more in a tizzy than when they are able to jump on their soapbox and demand moral supremacy.
Accordingly, the cases of Wayne Rooney and Ashley Cole serve up a delicious double whammy this Tuesday, with Matt Lawton shouting "Spineless!" at the FA while Henry Winter flags up the "harm inflicted on football's reputation."
Others tear the incidents apart more forensically. Graham Poll, Ian Ladyman and Ian Hebert all discuss how the FA's hands were tied in the Rooney incident, while a tirade of abuse is heaped on Ashley Cole by Matt Lawton, Shaun Custis and Martin Lipton.
Ahead of the Blues versus the Reds tonight, the Telegraph assess the battle between JT and Wazza and Kevin McCarra reminds readers of the Pensioners outstanding home record.
Other topics on offer include discussion of the Baggies's survival hopes, reflection on Arsenal's Carling Cup loss, analysis of Aston Villa's finances, and a tabloid battle over which red-top can spin the Lious Saha crash story the furthest.
Finally, the transfers see Spurs and Manchester City both linked with defenders.
Sweet FA For Rooney & Cole:Â The Daily Mail's Matt Lawton takes the bait in his article headlined "Spineless! FA fail to punish Rooney and Chelsea let Cole off after shooting an intern." "On a day when English football should be relishing the prospect of a crunch encounter between Chelsea and Manchester United, the focus is instead back on the battered image of the game. The controversy concerns two players who will meet at Stamford Bridge this evening. Wayne Rooney, who somehow escaped a Football Association ban for elbowing Wigan's James McCarthy on Saturday, and Ashley Cole, who has been cleared to play by his club despite shooting an intern with a gun he brought into Chelsea's training ground."
Henry Winter also looks broadly at both incidents. "Neros in blazers, the Wembley beaks refused to punish Rooney for his very obvious elbow on Wigan's James McCarthy. The FA also eschewed the opportunity to become involved after Cole accidentally fired an air-rifle at a Cobham work-experience boy. Fortunately, both McCarthy and the pellet-hit intern are fine. Unfortunately, more harm was inflicted on football's reputation."
Wazza's Elbow: Mark Ogden reveals that "Manchester United were so resigned to Wayne Rooney being charged by the Football Association on Monday, following his use of the elbow on Wigan's James McCarthy, that they had explored possible loopholes to spare the 25 year-old from a ban."
Graham Poll tries to explain why Rooney got a free pass. "FIFA do not support the 're-refereeing' of incidents which referees act upon — whether rightly or wrongly. The statement issued indicates that referee Mark Clattenburg was happy with the action he took on the pitch. Without using video replays that does not surprise me."
Ian Ladyman takes issue with the current laws of the game. "The affair has cast the spotlight back on to the FA's disciplinary system. Many people, for example, believe an independent panel should sit every Monday to go through the weekend' s contentious issues, regardless of whether match officials claim to have dealt with them adequately."
Sharpening the distinction between the FA's wants and FIFA's demands was Ian Herbert. "The Football Association is frustrated that Wayne Rooney will be free to play the most critical stage of Manchester United's season, beginning with the league game at Chelsea tonight, but insisted yesterday that only Fifa could alter the system to ban the striker for three games after his blatant attack on Wigan's James McCarthy."
James Lawton simply vents at the whole episode. "There can surely be only two reactions to Wayne Rooney's egregious escape from punishment after his elbowing of an opponent at the weekend. One is anger. The other is another notch of disbelief that the football authorities blunder ever deeper into the 21st century piling one fiasco on top of another."
Ashley Is A Son of a Gun: So what of Ashley Cole, the air rifle, and the injured work experience victim?
Matt Lawton spits feathers over the lack of action against Cole. "The punishment for bringing a gun into training and accidentally shooting a kid on work experience? 'We're not going to tell you.' Cole will probably be fined around 250,000. Chelsea have said the appropriate action will be taken following an investigation… [Yet] the real problem arose when Ancelotti dared describe Cole as an excellent professional and a good man; one of the best he has ever encountered. How, he was asked, could he say that about a player who brings a gun into the training ground and smuggles a girl into the team hotel during a pre-season tour, one who then lies to club officials about the girl when he discovers he has been rumbled by a journalist."
Shaun Custis was also disappointed by Ashley Cole's escape from punishment. "It was pointed out that the ordinary man would be sacked if he shot someone with a rifle while at work. Could Chelsea not have sacked Cole?… Off you go then Ashley and would you kindly try not to shoot people any more? It does cause such a kerfuffle in the papers."
Getting a little too hot under the collar was Martin Lipton. "While Cole is not ­responsible for the ills of English football, he stands as a potent symbol of what is wrong with the national game… We are not talking about a player who got involved in a night-club affray, nor the normal tawdry bedroom antics. But an assault with a potentially deadly weapon… Instead of making an example of Cole, Ancelotti felt he had to make the case for the defence."
Managing to briefly lighten the mood was Mark Fleming. "The joke doing the rounds at the club's training ground yesterday was that Mr Cowan was unlucky it hadn't been Fernando Torres with his finger on the trigger, as the £50m striker would surely have missed. It is no laughing matter for Chelsea, however, who stand accused of failing to exert discipline over their star-studded dressing room."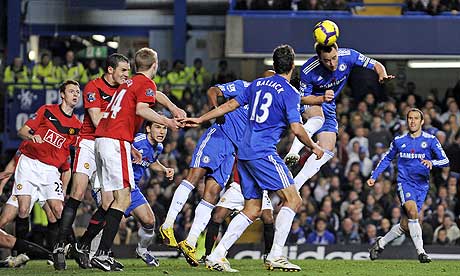 Chelsea vs Manchester United: After all that there is the little matter of arguably the biggest match in the Premier League season tonight to think about.
Matt Lawton is the bearer of bad news for Chelsea's Ivorian hitman, claiming "[Didier Drogba] will again have to watch as Fernando Torres takes what used to be his place alongside Nicolas Anelka."
The Telegraph flag up a key battle tonight. "John Terry v Wayne Rooney – Terry's major weakness is against express pace and movement, and although Rooney will probably start on the left, he can cause Terry problems by cutting inside and dragging Terry out of position. The key for Rooney is to angle his runs, skewing Chelsea's defensive line and creating space for Dimitar Berbatov."
Kevin McCarra reflects on fortress Stamford Bridge. "Chelsea were last beaten by United at home in April 2002, more than a year before Roman Abramovich bought the club. The sense of occasion that comes with this match regularly galvanises them. The superiority has been so marked as to be incongruous."
Can The Baggies' Survive: After a 1-1 draw at Stoke earned West Brom their second late draw in succession, Chris Wheeler remarked, "if fight is what's required for Albion to survive in the Premier League this season, Hodgson's players once again showed their new manager they are up to the challenge. Faced with that most gladiatorial of experiences – an away game at Stoke – Albion stood firm and came from behind to earn the point that lifts them out of the relegation zone."
Stuart James also wondered if West Brom can achieve the great escape. "Roy Hodgson knows a thing or two about acts of escapology, from his time in charge of Fulham, and he could be forgiven for wondering if this crucial point will turn out to be a key moment in another rescue operation."
Arsenal's Woes: Ian Wright is still mourning Arsenal's loss in the Carling Cup final. "Despite Birmingham's excellent display, I was gutted, particularly as the winner came courtesy of a mix-up between Laurent Koscielny and Wojciech Szczesny. Sunday exposed the Arsenal team for lacking experience, even though they have lots of potential. I've been on about this for a while now… You have to spend millions. Look at David Luiz at Chelsea. He is the type of player I'd like to see at the Emirates but his £21m price tag means Arsenal would never contemplate buying him."
Sounding forlorn and despondent over the Gunners' defeat was Mark Fleming. "Wenger's failed quest for the Carling Cup has certainly cost Arsenal, both physically and mentally. The positives to the cup run, on the other hand, have been few and far between. At least they have now played in a Wembley final."
Protecting himself under the Fox news'some say' style of journalism (namely a way to make your point without having to bring a shred of evidence in support), Martin Lipton is next to shoot his mouth off against the Gunners. "Many Arsenal fans are no longer buying 'the future.' What they want is something now. Missing out on the Carling Cup hurt them much more than it did the club."
Aston Villa: Paul Kelso announces "Aston Villa lost more than £37 million last season and were reliant on an investment of £25 million from owner Randy Lerner, taking his personal investment in underwriting the club to more than £200 million… Club sources said they are confident that they will be able to comply with Uefa's regulations by the time they are implemented in full at the start of the 2013-14 season."
Smasher Saha: There is a contest this Tuesday of which paper can make the most out of Louis Saha's recent car crash.
The Mail's Dominic King threw his hat in the ring by farting "Louis Saha will be asked to fire Everton into the FA Cup quarter-finals – 48 hours after his miraculous escape from an horrific car crash."
Phil Thomas raises the stakes in The Sun barking "Saha will try to keep Everton's Wembley dream alive tonight – after cheating death in a horror smash."
David Maddock then comes over the top in The Mirror with some extra details. "The Frenchman lost control of his sports car on a notorious rain-slicked stretch of road that travels under Manchester airport's runway…which is the same tunnel where Cristiano Ronaldo had a death-defying crash."
The Transfers: The Mail bleat that Obafemi Martins will not stay at Birmingham at the end of his loan period, before slapping the EXCLUSIVE on their article announcing that Spurs will bid £15m for Micah Richards this summer (with £10m Napoli right-back Christian Maggio a secondary option).
The Mail also claim that Manchester City are after Ajax right back Gregory van der Wiel, while Chelsea and Manchester City are said to be eyeing Kaka. Elsewhere, the Mirror say that Aston Villa's Barry Bannan is on Leeds' radar.
---
GAMBLING CAN BE ADDICTIVE, PLEASE PLAY RESPONSIBLY