"[Ashley Cole] is a man who embodies everything odious about the modern game." – Eurosport
Comment & analysis round-up
Quote of the day: "I left a message on George Burley's phone last night and he hadn't got back to me. I didn't think just leaving a message was very professional, so I spoke with Gordon Smith and informed him of my decision. I will not be playing for George Burley again, but I hope to be back in a Scotland jersey again one day." – Kris Boyd.
Runner-up: "I think that next year it is going to be a little more complicated for his club to retain him. There is hope that next year he could be with us. You need to do everything possible (to sign Ronaldo) because this player is worth it. Since the start I thought it was possible although difficult. Possible because the player really showed an interest. His class, his position on the right wing and in other areas of the pitch, his work in attack..he would have been an important signing." – Bernd Schuster.
Today's overview: Waking bleary eyed this Monday, you may be forgiven for thinking England actually lost 5-1 against Kazakhstan for all the praise they have been receiving in the papers.
Sour Richard Williams kicks off the complaints by suggesting "it would be better for all concerned to cast aside any sense of satisfaction that might have been taken from the result and to remember instead how uninterestingly England played." Henry Winter tries to be a little more constructive, drawing three conclusions on England ("Wayne Rooney must play in the centre, Steven Gerrard and Frank Lampard cannot work in tandem and Wembley, for all its magnificence, needs to tackle the slippery nature of the pitch"), while for David Pleat, England were too heavily reliant on Theo Walcott, lacking width on the left against the Kazakhs.
Jason Burt splashes with news that "Fabio Capello is considering dropping Steven Gerrard for Wednesday's vital World Cup qualifier away to Belarus."
Bucking the negative trend is Martin Samuel, who rallies behind England's win that shows how "Under Fabio Capello, the England team have recovered an ability that has been missing since the days of Sven-Göran Eriksson: that of not playing well but still winning." Samuel is joined by Matt Lawton who makes a similar point when saying "if Manchester United or Chelsea had just delivered an average performance and still scored five goals, it would be given as a reason why they remain title contenders."
The biggest fallout from Saturday's performance however has centred on the booing of Ashely Cole. Defending the footballer, Matt Dickinson warns his readers that "the difficulty in trying to work out why certain England players are being targeted by jeering fans is that it requires you to get inside the mind of dimwits." Oliver Holt also rallies against the boo-boys claiming "England will never regain their place as one of the world's leading football nations while morons who call themselves supporters boo their own players at their own ground."
But for the majority of the hacks, the booing was fully justified. Kevin Garside, Paul Hayward ("When Ashley Cole' nearly swerved of the road' in disgust at Arsenal's offer of £55,000 a week, he veered out of the football watching public's affections for ever"), Steven Howard (who calls both Ashely Cole and Rio Ferdinand "prima donnas") all defend the abuse hurled on Cole.
It is left to Eurosport's' "Early Doors" team to have the final word. "Early Doors never thought it would see anybody leap to Ashley Cole's defence. This is a man who embodies everything odious about the modern game. Who left his boyhood club to chase money; who became the face (or the back) of anti-respect when he turned away from a referee; who played the field despite landing a pop star wife; who published a remarkably self-pitying autobiography that sold only 4000 copies."
Ahead of the Belarus match, Sam Wallace calls for FIFA to get involved in the human rights' problems facing Belarussians. Interestingly, human rights were also the focus for the Daily Mail's Neil Ashton, who reports that "Fabio Capello will protect his England players from abuse by refusing to play February's proposed friendly against Spain at Real Madrid's Bernabeu stadium."
In the best of the rest, both Gabriele Marcotti and Rob Hughes focus on French coach Raymond Domenech, Peter Lansley interviews the Baggies' Roman Bednar, and Mike Anstead lists his top 10 "greatest foreign strikers to ever grace the Premier League."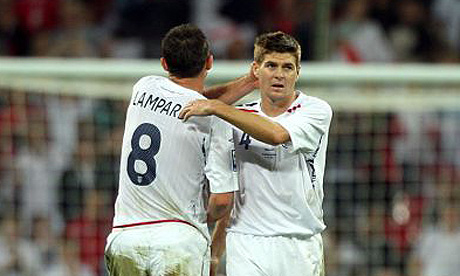 Sour Richard Williams (Guardian) continues to complain following England's victory on Saturday. "It would be better for all concerned to cast aside any sense of satisfaction that might have been taken from the result and to remember instead how uninterestingly England played. They were lumpy and ponderous, lacking merit in almost every area until the players from Almaty, Astana, Ordabasy, Tobol and Zhetysu inevitably began to succumb to a lack of physical conditioning. And if we are meant to assume, on the evidence of this strange match and its deceptive scoreline, that a 4-4-2 without a holding midfield player is once again an option for England, and that Lampard and Gerrard can ever become a genuine partnership, then the painful lessons of the 2006 World Cup finals will need to be learnt all over again."
In the Telegraph, Henry Winter draws three conclusions which he learned from England's performance with the Borats. "Along with the three welcome qualifying points acquired, three important points were made about England. Wayne Rooney must play in the centre, Steven Gerrard and Frank Lampard cannot work in tandem and Wembley, for all its magnificence, needs to tackle the slippery nature of the pitch and some of its customers… The Gerrard-Lampard debate is deeply frustrating because sides must be taken. It is one or the other, assisted by a defensive midfielder like Barry. Capello faces a difficult choice: Lampard is in sparkling form for Chelsea and England but Gerrard has the knack of turning games from Istanbul to Cardiff, as Liverpool supporters will testify."
For David Pleat in the Guardian, England were too heavily reliant on Theo Walcott, while lacking width on the left against the Kazakhs. "There was an over-reliance on the speedy Theo Walcott, who started so well, and Ashley Cole racing into advanced positions on the left, but the home side's tempo was too slow to make much of the strategy… Unfortunately for England, Walcott, who had started so well, failed to maximise his possession. With his pace, he needs to work on combination play. He can cause as much danger playing one-twos as trying continually to race past the full-back. There was a depressing lack of improvisation and quality from wide and England continue to pine for that left-flanker who can drag defenders out of the centre by racing on the outside of the right-back. What was confirmed was our traditional aerial strength. Against reticent defenders, we ran out victorious to a scoreline that failed to disguise a below-par performance."
Jason Burt splashes with news in the Independent that "Fabio Capello is considering dropping Steven Gerrard for Wednesday's vital World Cup qualifier away to Belarus… Capello is an undoubted fan of the 28-year-old talents but is disappointed that at Wembley and in a fluid position in central midfield he was unable to work effectively with Lampard and impose himself. Indeed Gerrard is understood to have typified what Capello believed was a timid performance… Capello will also not simply give up on Gerrard. He knows the player's worth and regards him as world-class. But if he can secure a victory in Minsk it will, with four wins out of four, be England's best-ever start to a qualification campaign."
Bucking the negative trend is The Times' Martin Samuel, who rallies behind England's win that shows how "Under Fabio Capello, the England team have recovered an ability that has been missing since the days of Sven-Göran Eriksson: that of not playing well but still winning." Yet Samuels has some choice words for Gerrard. "It is not good enough to keep trotting out the line that Gerrard is the better all-round footballer. His performances for England are no longer suggesting this. Capello took off Gareth Barry at half-time on Saturday but is unlikely to be as cavalier against Belarus with Alexander Hleb, even half-fit, on the prowl. Gerrard may be returned to a starting position on the left and told to come inside to link up with Rooney and Emile Heskey. He may not like this, but there was nothing in his performance on Saturday that suggested further indulgence would benefit the team; Lampard and Barry are the best central pairing right now."
Samuel is joined by the Daily Mail's Matt Lawton. "There are those who clearly think this is all too familiar territory. Another stuttering performance against a team who had to go shopping in London to buy studs because such items are not available in Astana. Problems with Steven Gerrard and Frank Lampard, concerns over England's left side, confusion over the formation and a section of the crowd who boo at the first opportunity. But if Manchester United or Chelsea had just delivered an average performance and still scored five goals, it would be given as a reason why they remain title contenders – a measure of their quality and a major worry for their rivals."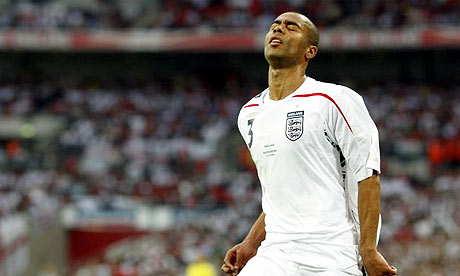 On the boo-boys, Matt Dickinson (The Times) warns his readers that "the difficulty in trying to work out why certain England players are being targeted by jeering fans is that it requires you to get inside the mind of dimwits." "Perhaps the supporters sense that he is too flash by half and, after all, he is being paid a fortune, so he cannot object to being knocked down a peg or two. That feeling is magnified by frustration that this generation of England players has let themselves, and the country, down… But, if all of this amounts to some sort of explanation, it stops a long way short of justification. Since when was it fashionable to abuse England players simply because we detect that they might be a little, how can we put it, up themselves? Cole, on form, is one of the best left backs in the world. Lampard is about as diligent a professional as any manager could want. Of course we would like them all to be humble, modest and not, as Cole once admitted, to be insulted by an offer of £55,000 a week, but sport is not meant to be a popularity contest. Yet that is, increasingly, what it appears to have become around the England team. David Beckham has convinced the public that he would die for the national cause, so he only has to remove his tracksuit to provoke hysteria."
Dickinson is supported by Oliver Holt (Daily Mirror), who rallies against the boo-boys claiming "England will never regain their place as one of the world's leading football nations while morons who call themselves supporters boo their own players at their own ground. It kills the players' confidence. It makes them tentative and cautious. Which in turn makes England vulnerable to the advances of visiting sides encouraged not just by playing at Wembley but by the novel sights and sounds of opposition players being slaughtered by their own supporters. It adds to the feeling many England players have that it's not really very much fun playing for the national team any more. And that when they do, they only feel liberated when they play away from home."
The Telegraph's Kevin Garside however seems to have little trouble understanding why Ashley Cole is a pillar of abuse. "In the eyes of Highbury's old North Bank faithful, Cole betrayed them with his move to Chelsea every bit as much as he cheated on Cheryl, his trophy wife. He then compounded his error by bleating for money in one of the more anodyne examples of the football autobiography. In short, Cole is, from the outside, a hard bloke to like… The new Wembley can seat 3,000 corporate diners on a good day. It needs to, to pay the bills. Cole will not lose any sleep. Abuse is the price on the ticket. Ask Frank Lampard or anybody who has represented Manchester United and England in the Premier League years."
Paul Hayward (Daily Mail) also finds it easy to justify the vitriol sent thew way of Cole. "When Ashley Cole' nearly swerved of the road' in disgust at Arsenal's offer of £55,000 a week, he veered out of the football watching public's affections for ever. Free careers advice to Premier League stars: never become symbolic of everything people loathe in the modern game. If you do, don't expect punters to pay £15 for the book in which you vent your indignation at your old club's refusal to go up to 60 grand a week."
The Sun's Steven Howard also wades into the booing debate, calling both Ashely Cole and Rio Ferdinand "prima donnas." "Cole was the guy who famously whinged he almost ran his car off the road when his agent told him of Arsenal's "insulting" contract offer of a mere £55,000-a-week. As such he became the focal point of an outraged public's increasing contempt for a group of pampered, over-indulged millionaires who had lost all touch with reality.Ferdinand, equally memorably, was once banned for eight months after missing a drugs test because he was out buying bed linen in Manchester. Here we have two leading members of an England team that has conspicuously failed to live up to the reputation conferred on the players within it. And two prime examples of the way the contemptuous treatment of officials is mimicked by the youth of today."
Eurosport's' "Early Doors" team seem to have the final word on the booing issue. "Early Doors never thought it would see anybody leap to Ashley Cole's defence. This is a man who embodies everything odious about the modern game. Who left his boyhood club to chase money; who became the face (or the back) of anti-respect when he turned away from a referee; who played the field despite landing a pop star wife; who published a remarkably self-pitying autobiography that sold only 4000 copies… First of all, there is the namby-pamby argument that nobody should be subjected to public ridicule. Tell that to Ashley's more successful other half Cheryl, currently appearing on a TV programme that has spent the last two months laughing at poor saps who think they can sing but can't. Next comes the claim that the fans are to blame for England's poor home record. Wembley will never become a fortress unless people get behind the team and show unwavering support. Surely this puts the cart before the horse? Fans wouldn't be booing if the team wasn't so crap."
In the Guardian, Martin Kelner goes on the offensive against the standard of ITV's punditry during the England match, while singling Graham Taylor out for special mention. "ITV was clearly pretty chuffed to be returning to big-time international football but that was no reason to reduce its analysts to the role of mere cheerleaders. Well done, though, to the channel for its restraint in waiting a full 22 minutes before making passing reference to Sacha Baron Cohen's Kazakh character Borat, and then playing only a very brief clip from the movie, giving the embassy no cause to get on the blower… [Graham Taylor] has joined the punditry gravy train, trousering decent fees for mouthing banalities that neither inform nor entertain, one's sympathy is diluted."
Ahead of England's trip to Minsk, Sam Wallace (Independent) calls for FIFA to get involved in the human rights' problems facing Belarus, being one of the few non-governmental organisations with real power. "Lukashenko can ignore Amnesty International all he likes but when the whole of Belarus is anticipating their first glimpse of Wayne Rooney their president would be foolish to ignore Fifa and the power they exert over Belarus's participation in World Cup qualification. No one is asking Fifa to lead the revolution, just one word from them about Lukashenko's human rights record, a mere shot across the bows, would make all of us who go there this week a lot more comfortable. As it is, most of us – players, fans and journalists – will spend our time in Minsk this week as part of the old lie that football and politics should be kept separate."
Interestingly, human rights were also the focus for the Daily Mail's Neil Ashton, who reports that "Fabio Capello will protect his England players from abuse by refusing to play February's proposed friendly against Spain at Real Madrid's Bernabeu stadium… Cole, Rio Ferdinand, Shaun Wright-Phillips, Jermain Defoe and Jermaine Jenas were subjected to monkey chants by Spanish supporters during England's 1-0 defeat in Madrid four years ago… England's head coach is throwing a protective cloak around his players in the World Cup qualifying campaign and does not want his squad sidetracked by issues over which they have no control."
Away from England, Martin Samuel goes gunning for Lord Triesman, a "man with more blather than Blatter." "For a guy sitting on £341.5 million of someone else's money, Lord PleasedMan, formerly known as Lord Triesman, the chairman of the FA, is rather smug on the subject of football debt… Some people think that PleasedMan is smart. He is not. As my colleague, Gabriele Marcotti, correctly identified last week, no one who was still a member of the Communist Party in 1976 is smart, or particularly quick on the uptake. PleasedMan is a career politician, with all that implies. And according to the most recent figures provided by Deloitte for 2007, his organisation exists with a bigger debt than Arsenal, Aston Villa, Black-burn Rovers, Bolton Wanderers, Ever-ton, Fulham, Hull City, Liverpool, Manchester City, Middlesbrough, Newcastle United, Portsmouth, Stoke City, Sunderland, Tottenham Hotspur, West Bromwich Albion, West Ham United and Wigan Athletic. Yet, mystifyingly, despite his love of transparency, PleasedMan did not mention this when he talked of football businesses operating with debt at high-risk levels. He just fingered the clubs."
Gabriele Marcotti (The Times) writes a short commentary on Raymond Domenech after France's 2-2 draw in Romania. "Domenech, the France coach, has so many lives that he would put most felines to shame. Even before his team's trip to take on Romania on Saturday, the knives were out, with Didier Deschamps, Laurent Blanc and Gérard Houllier lined up to replace him… Domenech did his part with a number of controversial decisions, which are sure to enrage the press. He left out Karim Benzema, sending the Lyons forward on after 37 minutes (and when a manager makes a first-half substitution, the kneejerk reaction is that he got the lineup wrong). In central defence he persisted with Éric Abidal (talented, but a natural full back) and Jean-Alain Boumsong (the less said the better), while leaving Philippe Mexès to warm the bench. Tomorrow, France host Tunisia in a friendly. Regardless of the result, reports in France suggest that it will be Domenech's final match in charge. Then again, he has been written off before."
The IHT's Rob Hughes also focuses on French coach Raymond Domenech. "In the first half on Saturday, it was impossible to see how Domenech could survive that vote. His men seemed talents betrayed by nervousness or indifference, and succumbed to two early goals. But Franck Ribéry and Joann Gourcuff rescued that situation and the game ended tied, 2-2. Is it enough?… Domenech hangs on. If he goes, if Basile is removed, the only ramification will be whether the coach is responsible or is a victim of his players' failings."
Peter Lansley interviews the Baggies' Roman Bednar in The Times, with the Dutch striker coming across just a little more arrogant than confident. "Now he can relish going to Old Trafford on Saturday, but not in awe. There will be no asking for a star's shirt after the match. 'I don't do that,' he says. 'I'm waiting for them to come and ask me for mine. I always want to be myself. I think I have something special that no one else has. I know Ronaldo is fast – he scores goals, has a great technique, everything – but I am still a different player and I can be in some ways better than him. When the supporters come to our stadium, I think they see something special in me.'"
The Sun's Mike Anstead lists his top 10 "greatest foreign strikers to ever grace the Premier League." "No2: Eric Cantona Whether you think Cantona is lazy, arrogant, violent or all three, few can argue against his supreme talent. The French forward is one of Alex Ferguson's greatest ever signings and helped launch their trophy-filled years in the 90s. Despite retiring at just 30, he remains a legend at United."
Click here for more Premier League betting tips
---