As the cash pours in Reina writes off Liverpool's title challenge while Man City paid £47m for Carlos Tevez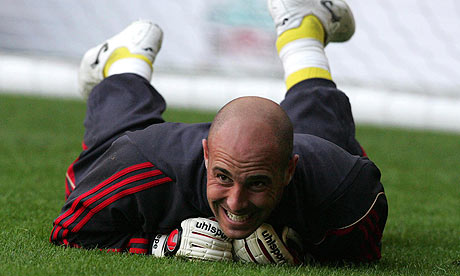 Comment & analysis round-up
Quote of the day: "Their [Arsenal fans] hate for me is the thing that will stay in my heart, not until the end of my career, but until the end of my life. It is normal if you play good that big clubs, good clubs, will come in for you. What I can't understand is why Arsenal fans charged me with being linked with moves to Barcelona and AC Milan. I can't understand. There's no-one who can say I said on TV or I said in the press that I would be leaving – no-one." – Emmanuel Adebayor.
Runner-up: "Teams like Manchester United have lots of players who can tip the balance; we haven't got the individuals. There are games that get congested and we haven't got the vision other sides boast. Chelsea have Didier Drogba, who can bring down any ball – a useful option we haven't got… We have to hope that [Steven Gerrard and Fernando Torres] don't get injured because they're fundamental… It would be good if the owners made an effort economically, if they pushed. It would be lovely if we could find ourselves in an economic position where we can bring players in and build a squad that can compete with other sides. But it's up to the owners to try to bring players in, not us." – Pepe Riena.
Today's overview: Is the glass half full or half empty for Liverpool?
Liverpudlians will wake up slightly confused this morning as after reading Pepe Riena's interview with the Guardian it would seem that the Reds are on their financial backs, yet the broadsheet is then quick to make public that "Liverpool are set to announce a new shirt sponsorship deal worth £80m over four years – the most lucrative in football history and equal to that of Manchester United."
The Times' Tony Barrett also comments on Liverpool's new sponsorship deal. "Liverpool have long been criticised by their supporters for punching below their weight when it comes to commercial opportunities but the sponsorship deal struck by Ayre, the commercial director, is an indication that the club are beginning to make the most of their glittering history and worldwide fan base."
Pepe Riena also alluded to the fact that the Reds' title challenge is already on the brink of dissolving, a charge with is categorically denied by Jamie Carragher in the Mirror. "We're still very much in the title race, there's no doubt about that."
Attempting to separate the forest from the trees on Liverpool's title challenge is Sid Lowe. Benítez's side may not win the Premier League – in fact, Reina describes the title as an 'unrealistic' objective – but it will not be because they lost to Tottenham Hotspur and Villa… It is, in short, all about the money. The nagging feeling remains that Benítez's side have not progressed. And with the manager able to spend just £1.5m of the £10m profit he made on selling Alonso and buying Aquilani, the tension and frustration surely grows."
Andrew Fifield assesses Tottenham's lofty aspirations ahead of the arrival of Manchester United. "Expectations are mushrooming at White Hart Lane and if Spurs can extend their unbeaten start for another two games – at home to Manchester United today and at Chelsea a week tomorrow – even the most battle-hardened sceptic would be forced to take note…Yet Tottenham's renaissance has not simply been down to chairman Daniel Levy's chequebook. Redknapp has also rehabilitated players who looked broken men a year ago, piecing together their crumbling confidence and helping them fall back in love with the game."
The Red Devils also have reason to be cheerful as Ian Herbert reports that Owen Hargreaves is close to his United comeback. "Ferguson's seems like an ambitious timeframe but the United manager said he expects Hargreaves available for United's 'last three Champions League games' – which would mean him playing a part by the time United encounter CSKA Moscow at Old Trafford on 3 November."
The fallout from Chelsea's transfer embargo has taken another twist with Steve Tongue reporting that "Chelsea last night suffered another blow from Fifa, when the world governing body ruled that under the terms of their transfer ban, players out on a season-long loan cannot be recalled in January."
How much did Manchester City pay for Carlos Tevez?
According to Nick Harris, "a report last night alleged that City had agreed to pay £47m for the Argentine forward, as opposed to £25.5m, the figure widely reported as the fee City paid to lure him from Manchester United. 'It's not true,' a spokesman for Joorabchain said of the £47m figure. The spokesman said that he expected Joorabchian, and possibly City, to issue a formal denial today." The £47m transfer fee is also flagged up by James Ducker in The Times who scribbled "City's billionaire Arab owners have agreed to pay almost twice the £25.5 million fee widely reported to have changed hands, The Times can reveal. An initial £15 million payment is to be followed by two additional sums of £16 million."
Reacting to the revised cost of the Tevez deal is a stunned Tony Cascarino. "If Carlos Tevez cost £47 million, then Cristiano Ronaldo is worth £200 million. In fact, the £80 million that Real Madrid paid Manchester United for Ronaldo looks like a bargain in comparison with the Tevez deal. £47 million? I'm picking my jaw up off the floor at the prices being paid."
Keeping with City's strikers, Emmanuel Adebayor consumes a wide amount of column inches as he prepares to face his former employers Arsenal.
The stand-out article is delivered by Henry Winter who traces the Togolese forward's relationship breakdown with Nicklas Bendtner. "It all kicked off over Nicklas Bendtner's sneakers, apparently. The friction worsened with a dressing-room debate about respect at Arsenal, turned nasty with a very public scrap between Bendtner and Emmanuel Adebayor and culminated in the Togo striker being sold to Manchester City. From little sparks, a pair of trainers in this case, do infernos grow."
After an extended period on the sidelines, Arsenal's Theo Walcott sits down with the Guardian's Daniel Taylor this Saturday. Walcott: "People always think it's about money, money, money but I just want to win trophies. Ryan Giggs is the perfect example for me, the amount of medals he's won. You want to look back on your career and see what you've achieved, not just have a fancy car and a big house."
Having formed part of England's failed Euro 2008 campaign, Terry Venables rewrites history this weekend on contextualising why Steve McClaren's Three Lions failed. "When I was assistant to Steve McClaren I frequently saw outstanding performances like that. Sadly, for the nation's Euro 2008 hopes, they were mainly on the training ground… Despite what some might choose to think, the talent was always there. Unfortunately, though, so were the injuries, pressure, inconsistencies and lack of confidence which meant, as a unit, we could not reproduce our training-ground form when it really mattered: On the pitch."
Mark Lawrenson manages to keep his feet on the ground when assessing England's World Cup chances. "Injuries and luck will play their part but England have potential and optimism even if they are not the finished article yet and are still some distance behind Spain and Brazil." Not everyone though is able to sit on the fence, and Brian McNally is happy to poop on the Three Lions parade. "I predict that this frenzy of anticipation and excitement will end in the footballing equivalent of premature ejaculation… I remain unconvinced that England have sufficient quality or depth of talent to beat the best sides on the planet. And by that I mean European kings Spain and World champions Brazil."
Des Kelly rounds on England WAGs as he praises Don Fabio's short-shrift for the females behind the England football team. "Just look at how he has dealt with the grotesque phenomenon of the footballers' wives and girlfriends, known as WAGs… Capello doesn't subscribe to any of this nonsense… Capello might as well have pulled out a can of WAG repellent and sprayed it through the room… With Capello, everything is concentrated on the performance on the pitch. He doesn't bend and sway in the tidal waves of public opinion. There is no 'Wazza', 'JT', or 'Stevie G', they are Rooney, Terry and Gerrard. And he is Mister Capello."
Diving into specifics, Patrick Barclay salutes the role played by Emile Heskey. "The important thing about Heskey is that he helps England to win well — and in matches that matter… What does it matter that Heskey has scored only seven times in 56 international matches? See how Owen used to score. See how Rooney, Lampard and Gerrard now score."
The Mirror adopt scare-monger tactics to deliver the sensationalist news that "South African police will have a shoot to kill policy at next summer's World Cup in a bid to cut gun crime."
Supposed transfer rumour know-it-all Alan Nixon today coughs up that "Middlesbrough and Newcastle [are] fighting it out for Hull striker Caleb Folan," while the Daily Mail's band of nameless hacks spew out the unlikely story that "Liverpool boss Rafa Benitez is ready make a shock move for Chelsea defender Alex as he bids to boost his defensive options at Anfield."
Over in the Express we learn that "Roy Hodgson expects negotiations over a new contract for Brede Hangeland to speed up now the transfer window has closed," while its a similar story at Chelsea with the Daily Mail reporting that the Blues "will open contract negotiations with Salomon Kalou in the next few days to keep him out of Jose Mourinho's clutches."
---
GAMBLING CAN BE ADDICTIVE, PLEASE PLAY RESPONSIBLY