As Chelsea reach the EL final Jose (done, July 1) & Xabi Alonso (on the cheap) view Bridge moves, Klopp on United's radar & Arsenal's Max power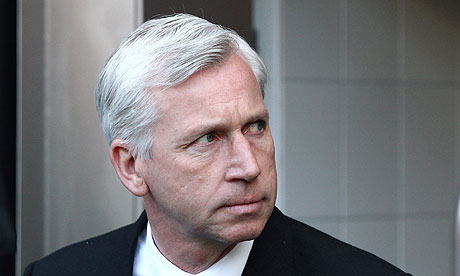 Comment & analysis round-up
Quote of the day: "As far as I'm concerned the group is very much together, pulling together, trying to get a result at West Ham on Saturday. The fact that we have a lot of French players and some language difficulties – working through an interpreter can make understanding certain things difficult – has been torn up and made to be something else but there is no problem. As you would expect after losing like that to Liverpool a lot of criticism has come our way, some of it completely unfounded, left-field and way, way off the mark. But we put a poor performance in last Saturday and we need to put that right. I just find that accusation insulting, if I'm honest. If you think because some of our players are from a foreign country, they're not bothered, it's just ridiculous." – Alan Pardew.
Runner-up: "The player is here to remain, independent of Champions League qualification being achieved or not. It's impossible to predict but this is the assurance I have had from the club. We understand that the more awards, the more recognition the player will have, the more media attention. But the club has to move forward by holding on to its best players and Gareth." – Andre Villas-Boas.
Everything Chelsea: Beat Basel, Jose Returns
July 1 (Rob Beasley, Sun) Jose Mourinho has agreed a sensational return to Chelsea. But the Special One's emotional comeback is unlikely to be officially announced until July 1… Mourinho is still under contract at Real. But, barring any last-minute hitch, he will be back at Stamford Bridge on a £10million-a-year package. SunSport can reveal he and Blues owner Roman Abramovich were spotted having dinner at La Famiglia restaurant in Chelsea… Mourinho's first match back is set to be the friendly against a Singha All Stars XI in Thailand on July 17. Chelsea also aim to field some stellar signings that day — they have been linked with Radamel Falcao, Robert Lewandowski, Andre Schurrle and Marouane Fellaini.
Jose Mourinho wants his Chelsea move sorted out in next TEN days (John Cross, Mirror) Jose Mourinho wants his move to Chelsea resolved in the next ten days.Real Madrid president Florentino Perez is ready to waive his £10m release clause when he meets with Mourinho's advisersMourinho has his sights set on a dramatic return to Chelsea and, as revealed in Mirror Sport, could see him earn £12m-a-year and be given a £100m transfer kitty.
Chelsea's new blood show the way as Mourinho prepares to return to Stamford Bridge (Neil Ashton, Mail) If Mourinho returns to Stamford Bridge they will be playing at a higher level, with the Champions League the priority again under their Portuguese coach. Luiz has been converted to a holding midfielder, sitting in front of the back four and influencing games with that awkward, pigeon-toed run.
Xabi Alonso could follow Jose Mourinho to Chelsea in 'cheap' deal (Pete Jensen, Independent) Chelsea could land Jose Mourinho on the cheap this summer and get the former Liverpool midfielder Xabi Alonso into the bargain if the Real Madrid coach goes back to Stamford Bridge.
The contract extension that Mourinho signed in May of last year included a £20m buyout fee but the clause is only payable if he leaves Real Madrid in mid-season. Although he has three years left on his deal, the club are prepared to negotiate a sum much lower than Mourinho's €12m (£10.2m) a year salary, such is the desire on both sides to part ways next month.
Chelsea 3 FC Basle 1; agg 5-2: match report (Henry Winter, Telegraph)
Many will make the journey without tickets on the off-chance. Chelsea will be confident, particularly after this second-half performance when Fernando Torres, Victor Moses and David Luiz scored to end Basle's hopes after they were stirred by Mohamed Salah's strike just before the break. Luiz's goal was a gem, curled in left-footed from 25 yards.
Although lacking the lustre of last year's climax in the Champions League, this final will still be special for Chelsea. For Ramires and Luiz, it will be an emotional occasion against their former Portuguese employers. Nemanja Matic will relish the chance to show Chelsea what they offloaded.
Chelsea get low ticket allocation for Europa League final, but Rafa Benitez is just happy to get there (Sam Wallace, Independent) Chelsea fans face a struggle to get tickets for their club's Europa League final against Benfica in Amsterdam in 12 days' time after Uefa announced last night that the club have been given an allocation of just 9,800 in a stadium that holds more than 52,000 spectators.
Rafa Benítez on a mission but Chelsea dream of José Mourinho (Barney Ronay, Guardian) Poor old Rafa Benítez, menaced at both ends of his interim reign by the sound of voices off. In the autumn it was those chants of "One Di Matteo". Here, as Chelsea struggled for 50 minutes to land a decisive glove on a spunky Basel team, it was the whispered return of the one before the one before the one before, as Chelsea's fans took pleasure in serenading José Mourinho – the manager of Real Madrid, and a man with whom Benítez in his most sweatily cherished homecoming fantasies perhaps dreams of swapping jobs.
United: Klopp That!
Manchester United want Jurgen Klopp as Alex Ferguson's eventual successor (Alan Nixon, Mirror) Manchester United have put Jurgen Klopp at the top of the shop as Sir Alex Ferguson's successor… Ferguson has no immediate plans to retire after coasting to a 20th title success and is busily working on targets for next season – and even looking to bring in some new scouts for the next generation.
Sir Alex Ferguson to be given £60m transfer kitty for Manchester United spending spree (John Cross, Star) His list of targets includes Cristiano Ronaldo, Leighton Baines and Robert Lewandowski.
Arsenal: Max Power 
Gunner Gona (Charlie Wyett, Sun) Arsenal are tracking £10million-rated Lyon star Max Gonalons… Wenger has £70m to spend this summer and is also looking to buy a striker, goalkeeper and central defender. The Gunners remain hopeful of landing Fiorentina hitman Stevan Jovetic.
Arsenal prepare £10m move for Gonalons as Wenger gets ready to spend transfer war chest (Lee Bryan, Mail) Wenger's attempts to sign a new central midfielder will cast doubts over Francis Coquelin's future at the Emirates. Meanwhile, Lazio full-back Luis Pedro Cavanda who has also been watched by Arsenal is attracting strong interest from Everton and Stoke City. The agent of the Belgium U21 international Ulisse Savini said: 'The most serious interest? That is Everton and Stoke City.'
Real-ly? Cristiano & Higuain To Leave Madrid?
Pea key to Ron (Neil Custis, Sun) Real Madrid will demand Javier Hernandez in any cash-plus-player deal for Cristiano Ronaldo. Manchester United had hoped to tempt the Spanish giants with an offer of £65million plus Nani. But Real want Hernandez and are set to bid £25m even if a deal for Ronaldo falls through.
Manchester United interest in Elliot Kebbie could see Javier Hernandez switch to Atletico Madrid (David McDonnell, Mirror) Manchester United are plotting a summer move for Atletico Madrid's English prodigy Elliot Kebbie… United striker Javier Hernandez go the other way to Atletico as part of the deal.
Spurs, Arsenal and City ready to swoop for Higuain after Real reveal striker will leave (Simon Jones, Mail) Tottenham, Manchester City and Arsenal have been alerted after Real Madrid confirmed they will sell Gonzalo Higuain. Tottenham failed in a bid to sign the Argentine last summer and Real Madrid general manager Jose Angel Sanchez said: 'In a great club like Real, we believe we need two number nines of a high level. We have Benzema and Higuain, Higuain will leave, Benzema will stay and two others will come.' Real Madrid, meanwhile, are continuing to monitor Everton midfielder Marouane Fellaini as they formulate their summer rebuilding plans.
---
GAMBLING CAN BE ADDICTIVE, PLEASE PLAY RESPONSIBLY