As Barcelona consider splashing £150m on Arsenal's Fabregas & Liverpool's Torres, news spreads that the Glazers have killed off the Red Knights
Comment & analysis round-up
Quote of the day: "The people who want to be there will come back. If people don't, then no problem. There will always be a Liverpool Football Club. People always talk about players leaving, about 'Is this the end of Liverpool?' but no chance. Better players than the ones we have now have left and we have replaced them. Anyone who doesn't want to be there, no problem, but we'll start next season with the players who want to do well." – Jamie Carragher.
Runner-up: "My future is with Liverpool. I have four more years of contract and I want to succeed. I have no offer [from another club]. I hope to make a competitive team. My critics in London say that I am not a good manager and experts with an English accent here [in Madrid] say the same. But Liverpool has had an average of 69 points in the last 12 seasons. The club made a huge mistake, which was to start winning four trophies [under his management]. Then people will ask for more. [Sir Alex] Ferguson took seven years to win the Premier League. I have no evidence that Torres wants to go. Right now he is focused on recovering from his injury, winning the World Cup and then he can think about his future. He has multiplied the image of Liverpool in Asia because he makes women crazy there." – Rafa Benitez.
Today's overview: Twenty-four hours is a long time in football as it now seems possible that Cesc Fabregas could be a Barcelona player before the start of next week.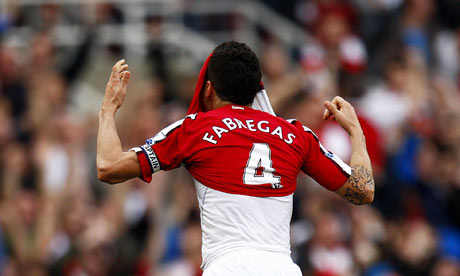 Let's Talk About Cesc: Sid Lowe reports "Barcelona believe they can conclude the signing of Cesc Fábregas before the weekend after agreeing the basis of a contract with the midfielder. Fábregas has informed Arsène Wenger of his desire to leave the Emirates and the Spanish champions are hopeful of swiftly tying up a deal, even though they admit that they face difficult negotiations with Arsenal… With Arsenal demanding a minimum of £40m, Barcelona's president, Joan Laporta, has said that he is prepared to pay more to make the deal happen."
Yet the idea that Cesc will soon be back in Catalunia is dashed by Jeremy Wilson who is getting prepared for a long summer. "Arsenal will demand at least £45 million for Cesc Fabregas, with Arsène Wenger and the club's board of directors now braced for a protracted summer of negotiations… There is also a feeling that Fabregas may have over-played his hand by allowing his preference to be known so early in the summer. As of last night, Barcelona had still made no approach to Arsenal and, having spent £34.2 million on Wednesday for Valencia's David Villa, it is doubtful whether they would immediately go beyond £45 million for Fabregas… Wenger is also focused on other transfer targets, with Felipe Melo, Jack Rodwell and Mikel Arteta likely to figure more prominently on his list of potential replacements."
Hard to believe, Simon Cass fights back for Gunners fans in the Daily Mail arguing "the Premier League club said Fabregas is going nowhere unless the Spanish giants stump up a fee in the region of the £80million that lured Cristiano Ronaldo to Real Madrid from Manchester United… There is no prospect of Barca parting with that kind of cash for Fabregas, although there is every possibility that an opening bid in the region of £30m will be faxed through to Arsenal today."
Changing focus away from the straight-forward will-he, won't-he debate, Martin Samuel explains why Cesc wants to bail on Arsenal. "Fabregas has only an FA Cup winner's medal to show for his time at Arsenal, won five years ago… For a player of his immense calibre it is nowhere near enough… Players leave Arsenal all the time. Kolo Toure and Emmanuel Adebayor went last season and Alexander Hleb the season before, but Fabregas is more important than all of them because he is central to the grand plan. He is, in fact, the embodiment of it."
Steven Howard then stupidly sticks his head above the parapet to fart ultimatums at Arsene Wenger that he must deliver success now. "Wenger has one final season in which to get it right at Arsenal.  Irrespective of whether he fights off Barcelona's bid for Cesc Fabregas. If he draws a blank once again, then the waverers among the Arsenal faithful will turn against the Gunners boss and join those who already feel his time is up… The bottom line, though, is Wenger HAS to achieve something other than Champions League qualification over the next 12 months to prevent the tide of public opinion turning fatally against him."
Away from Cesc, the big news in Barcelona on Wednesday was the capture of Sevilla striker David Villa.
According to Rory Smith, who believed Villa was signed for £35 million, "the 28-year-old striker signed a four-year deal with an option for a fifth season on Wednesday… Manchester City are likely to find their chances of signing Zlatan Ibrahimovic increased." Pete Jensen added "[Villa's] arrival rubber-stamps Thierry Henry's departure and also casts doubt over the future of Zlatan Ibrahimovic, who it now seems was not bought on the request of coach Pep Guardiola as the club insinuated at the time."
David Maddock closes out this section with a pie-in-the-sky rumour in the Daily Mirror. "Liverpool are bracing themselves for an incredible £70million bid for Fernando Torres by Barcelona… There have already been subtle overtures from Barcelona, and they have not yet been discouraged by Torres who is also a target for Chelsea."
Spanish Debt: In a neat juxtaposition, while Barca seem have no problems spending oodles of cash of new recruits, Owen Gibson points out the crippling debts blighting the Spanish top flight. "Debt among Spanish clubs had risen marginally in accounts for the 2008-09 season from the previous year's figure of €3.49bn, according to research by the University of Barcelona professor José María Gay. Of the 20 La Liga clubs, only the two huge teams that dominate income and exposure – Real Madrid and Barcelona – and the relegated minnows Numancia made an operating profit… The economic woes of the Spanish game were highlighted yesterday when Real Mallorca, who only narrowly missed out on qualifying for the Champions League on the final day of the season, said they would file for voluntary administration within the next few days."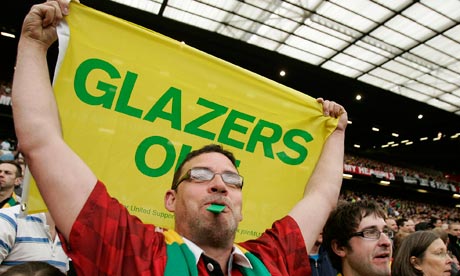 Good-Knight Sweetheart: Have the Red Knights been slayed or is this simply a propaganda campaign aimed at lowering expectations?
Under the headline "Red Knights' takeover of Manchester United looks doomed to failure," the Guardian's Daniel Taylor suggests that the Glazer family have seen off the battle for ownership of the Red Devils. "The Red Knights' attempt to take control of Manchester United looks increasingly doomed to failure after it emerged that key players within the consortium have become disaffected and are losing hope of persuading the Glazer family to relinquish power at Old Trafford. Senior figures involved with the Red Knights have told the Guardian there are internal divisions and that they suspect they are fighting a losing battle when it comes to putting together a takeover bid of sufficient value to end the Glazers' unpopular regime."
Adding to the sentiment that the Glazers won't be dislodged, Ian Herbert notes how Manchester United have largely renewed their season tickets already. "The Glazer family are destined to be the owners of Manchester United for the foreseeable future, with a deepening sense taking hold last night that the Red Knights' bid to take over the club is doomed to fail… The Red Knights will not offer more than £1bn and, given that the Glazers' PR offensive has elicited the suggestion that an as yet unnamed buyer offered £1.5bn but was turned down, it will simply not be enough. The only remaining hope is that United fans will refuse to renew their season tickets, unnerving the Glazers into accepting an offer. To this end, the Manchester United Supporters Trust (Must) issued its own pleas for fans to delay renewal on Tuesday night. A bid might be tabled as early as 11 June to generate the publicity to boost the boycott. But it seems too late to damage United seriously: many fans have already renewed."
Consolidation: Good news for Rovers' fans as the Guardian report "Blackburn's Morten Gamst Pedersen has signed a new four-year deal with the club."
Without explaining how they'll be able to afford it, Neil Gardner gives some rare good news for Portsmouth fans. "Kanu, 33, [David] James, 40, Hermann Hreidarsson, 35, and Ricardo Rocha, 31, have all been given the chance to extend their stays at Fratton Park. Lenny Sowah, Joel Ward and Marlon Pack, the promising youngsters, will also be retained, but Angelos Basinas, Jamie Ashdown, Steve Finnan and OJ Koroma have been released."
Rumours, Lies & Gossip: We end off with the transfer gossip.
The battle for James Milner is heating up nicely with Stuart James announcing "Aston Villa last night firmly rejected Manchester City's £20m offer for James Milner and reiterated their intention to hold talks with the England international over a new long-term contract after the World Cup finals." Spicing up the story David McDonnell added "Sir Alex Ferguson is ready to go head-to-head with Manchester City in a £25million battle to land England midfielder James Milner… United, mindful that mega-rich City would come out on top in a bidding war for Milner, could include out-of-favour midfielder Michael Carrick in their proposed offer to Villa."
Spreading City's net wider, James Ducker spewed "City are looking at several other midfield options in addition to Milner, with Marek Hamsik, the Napoli and Slovakia player, Steven Gerrard, of Liverpool, and Mesut Ozil, of Werder Bremen and Germany, all potential targets, although it is unlikely that they will move for more than one of them."
Almost ridiculously, Rory Smith expands City's transfer targets further. After claiming that Patrick Vieira will be offered a new one-year deal, we learn "City may have to spend as much as £21million to land the 23 year-old [Yoann Gourcuff]. Meanwhile, City are thought to be among the clubs interested in signing Everton's Mikel Arteta."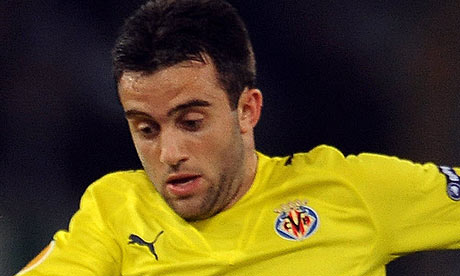 Appearing to try and spark a bidding war, the Daily Mail spout "former Manchester United striker Giuseppe Rossi's agent claims Arsenal, Tottenham, Manchester City and Liverpool are battling to sign him." In another juicy story, Neil Custis chimes "Manchester United are ready to go to war with Everton over Jack Rodwell… United are determined to go ahead with a £15million bid."
Elsewhere, Christopher Davies hurls the never-gonna-happen story that"Alberto Aquilani could be leaving Liverpool and heading to Juventus in an exchange deal involving Brazil international Felipe Melo."
In the best of the rest, Newcastle are linked with a £5million move for Aston Villa's Curtis Davies, Marlon Harewood has been offered a lucrative two-year deal by the new Turkish champions Bursaspor, Roberto Martinez is reported to be making a record £6million move for Estudiantes's Argentinian striker Mauro Boselli, while West Brom are set to sign Stephen Hunt for £4million.
Lastly, Tim Gray spews "Dutch champions FC Twente are trying to hijack Avram Grant's move to West Ham."
---
GAMBLING CAN BE ADDICTIVE, PLEASE PLAY RESPONSIBLY