As America celebrates, Fabregas talks about leaving Arsenal & Micky Owen weighs up interest from Stoke, Hull, Everton & Blackburn
Comment & analysis round-up
Quote of the day: "The absence of titles at Arsenal is what angers me the most. Cristiano said he's leaving Manchester United because he had nothing else to win. For me right now it is the exact opposite, seeing the impotence. This year we wanted it, we were giving everything – but we couldn't reach the level that everyone expected of Arsenal. When you win, you're well. But when you don't, everyone is in a bad mood. For four years now, we've needed a title to regain our belief in ourselves… Of course my family would understand if I signed for Real Madrid because they love me, they want me to be happy and what is best for me. They'd support me – whichever club I joined. My family will always be there for me – whatever decision I make. They're the ones who are always by my side." – Cesc Fabregas.
Runner-up: "You never say never in football, so of course I would be interested in throwing my hat into the ring if it was ever viable. I'm not sure whether Michael [Owen] would want to come here right now but that situation could always change for him. I imagine there will be bigger clubs taking an interest in his availability and I can't say I have received a copy of his dossier, but that doesn't mean he will end up signing for them necessarily. It could be a deal that comes on to our radar in time and one we would be silly to turn our back on." – Tony Pulis.
Today's overview: The United States victory over Spain at the Confederations Cup is our starting point this Thursday.
Gabriele Marcotti kicks off the post match reviews commenting "it was arguably the greatest victory for the United States since the 1950 World Cup, when they recorded a famous 1-0 victory over an England side that included Billy Wright, Wilf Mannion, Tom Finney and Stan Mortensen." Gordon Tynan joins in the American celebrations lauding "one of the biggest shocks in recent international history."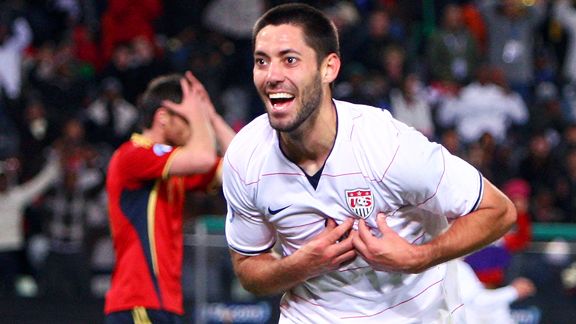 The American press also are quick to toot their own horns.
Writing for the LA Times, Grahame L. Jones boasted "it was a watershed moment for the U.S., signaling the team's true arrival on the world stage." The New York Times' George Vecsey went a step further arguing "when you think of it, the victory Wednesday is probably the second-biggest upset by an American team, behind only the 1980 Miracle on Ice by the hockey team over the Soviet Union in the Olympics." Jere Longman though was more concerned about American soccer's future. "A performance like Wednesday's, if it can be repeated often enough, could change the way the world views American soccer and perhaps even the way American players view themselves, not as merely able to challenge the top international teams but to beat them."
From the burning ashes of Setanta, ESPN are set to launch a new channel for broadcasting Premier League football in England. James Robinson notes how ESPN "will set up a new stand-alone channel to screen the games as it seeks to build a powerful presence in UK sport." And, according to Owen Gibson, this could be just the tip of the iceberg for ESPN as they try to assert themselves in the UK market. "ESPN is known to be looking at other sports to complement its acquisition of Premier League rights in the hope of building its own subscription channel."
The Independent's Nicholas Birch publicises the story of the gay Turkish referee who was axed but is now fighting back. "Turkey's football authorities were at the centre of a growing scandal this week after a referee they had sacked for homosexuality and outed to the press began fighting back in the courts and the press… Homosexuality is not illegal in Turkey, unlike in some other Muslim countries. But homophobia is widespread."
Jonathan Wilson delivers a brilliantly meaty article examining how Brazil's 4-2-3-1 formation is different from a European 4-2-3-1. "Most European observers have happily jotted down their formation as 4-2-3-1, with Luis Fabiano as the centre-forward, Robinho to the left, Kaká as the central creator and Ramires on the right of the attacking three. Gilberto Silva sits in front of the back four, with Fiorentina's Felipe Melo in the slightly more advanced holding role. Yet the Brazilians persist in describing the system as a diamond."
Little Micky Owen receives such much needed love this Thursday as Lawrence Donegan goes about convincing readers that the striker is far from past-it. "We in this country take an ugly delight in seeing successful and famous people torn down and it is one of our least endearing national characteristics… The idea that [Owen] doesn't have 'bottle' is ridiculous, although not quite as ridiculous as the notion that he… isn't capable of playing at the very highest level."
On Owen's current potential suitors, Donegan's point was strengthened by Martin Blackburn's opening line in The Sun saying "Owen's fall from grace was shown last night when Stoke joined Hull in chasing the ex-England striker." Elsewhere, Mark Odgen lists that Stoke, Hull and Everton are circulating around the striker, while over in the Independent, Ian Herbert pens that "the idea of hiring Michael Owen from Newcastle has not been dismissed out of hand by Blackburn, who are set seal a year-long loan of Chelsea striker Franco di Santo.
In news that alludes to the fact that no-one wants to buy the Toon, Colin Young bleats "Alan Shearer is on the verge of being installed as Newcastle manager on a permanent basis as he heads for crunch talks with owner Mike Ashley and managing director Derek Llambias on Thursday."
Heading to Anfield, Andy Hunter reports on the cat and mouse games with Real Madrid over the purchase of Alvaro Arbeloa. "Liverpool have rejected a £4.23m bid from Real Madrid for Alvaro Arbeloa, but will allow the defender to return to the ­Bernabeu providing they recoup £5m for the Spain international." Liverpool could also be set for more additional funds as they renegotiate their sponsorship with Carlsberg, James Ducker noting "Liverpool are looking to strike a deal similar to the £80 million, four-year arrangement that Manchester United secured this month with Aon, the American insurance giant, but Carlsberg is offering only about half that sum."
With a giant bucket of cold water, Gary Jacob rules out Chelsea's pursuit of Frank Ribery, Alexandre Pato, Maicon and Zlatan Ibrahimovic in his "window watch" in The Times. Echoing the same story, Mark Ogden extrapolates that "with Cristiano Ronaldo leaving United for Real and Brazilian forward Kaka rejecting late overtures from Chelsea to move to the Bernabeu, Ribery's decision to pursue a move to Madrid appears to have left the Premier League trailing La Liga once again." Completing the news on Chelsea, Darren Lewis reports that "Inter Milan sporting director Marco Branca yesterday launched a £10million double bid to sign Ricardo Carvalho and Deco."
Turning to Manchester United, Mark Ogden considers which targets would fit in at Old Trafford. "Sergio Aguero at Atletico Madrid and Karim Benzema at Lyon both have potential and United are seriously interested in Benzema, but it would be asking a lot to expect either of them to fill the hole left by Ronaldo and Tevez… Samuel Eto'o, at 28, would be a backwards step… [while Zlatan Ibrahimovic] has rarely lived up to his hype when the spotlight has been on him in the Champions League or at major international tournaments."
According to the Telegraph, "Real Madrid have turned their attentions to Lyon striker Karim Benzema after giving up on their bid to sign Valencia forward David Villa."
The Pompey takeover is reaching its conclusion according to Nick Szczepanik, writing "Sulaiman al-Fahim has predicted that his takeover of Portsmouth will be completed within two weeks." But, according to the Mirror's Football Spy this will not stop an exodus from Fratton Park with Besiktas tracking John Utaka, "Sol Campbell, 34, is thinking over an offer of a two year deal from Atromitos, and Noe Pamarot is set for St. Etienne."
In other transfer gossip, the Daily Mail claim "Djibril Cisse has given up hope of extending his stay in England and is on the verge of signing for Panathinaikos for £6.8million," a nameless articless in the Mirror claims "Tottenham boss Harry Redknapp has gone back in for Atletico Madrid midfielder Maxi Rodriguez," while David Anderson links Felipe Caicedo to Sporting Lisbon, Wigan and West Ham.
---
GAMBLING CAN BE ADDICTIVE, PLEASE PLAY RESPONSIBLY