"Arsenal were outclassed as Barcelona unfurled some of the best of their skills… Yet a fight is never over until the last bell rings or a man is counted out and, miraculously, Arsenal remained on their feet" – James Lawton
Comment & analysis round-up
Quote of the day: "I am not good. We have to wait for tomorrow but I hope I will be able to wear the Arsenal shirt again this season. I fear the worst, which is that I broke something. I took the penalty quite strong and after that I went to get the ball and I couldn't walk any more. I don't think it's going to be good news but I hope that it will be. It is the fibula. For 85 minutes it was not a gamble to play tonight. I knew in my mind I was not 100% and I knew in my mind that there was something there. But until the penalty I was feeling quite good. It was a gamble worth taking. It was an amazing experience, an amazing game and I will remember it all my life. The injury was bad but I think I would have done it anyway, having been injured before." – Cesc Fabregas.
Runner-up: "Last season we won many prizes, but never played away in the Champions League like we did here. It was the best 45 minutes since I became a coach. Against Bayern Munich [in the Champions League quarter-final] last season we had four chances and scored four goals, but this was the best 45 minutes my team have played… My team's performance was good and I will sleep OK. We created many chances and it's just a pity because we had a chance to take a bigger step towards the semi-final." – Pep Guardiola.
Today's overview: All of a sudden the title seems to be back in Chelsea's hands as, following Wayne Rooney's injury on Tuesday, Arsenal could be without their talisman Cesc Fabregas until the end of the season. That said, the Gunners' fightback from 2-down against Barcelona was incredible.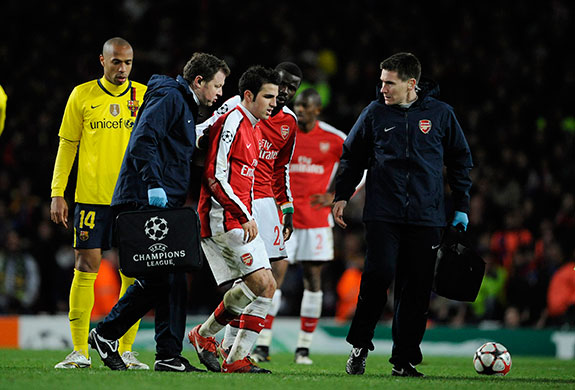 Arsenal-Barcelona & Cesc: Taking stock of a brilliant Champions league tie, Richard Williams doubts that Arsenal can progress any further. "The odds are now certainly against Arsenal making it through to the semi-final. They will be without Robin van Persie, Andrey Arshavin and William Gallas, as well as Fábregas, and the captain's most natural understudy, Aaron Ramsey, is out for the season. But none in the 59,572 crowd last night will forget the desperation with which Arsenal fought back after being overwhelmed throughout the first hour, or the part played by their young captain in a near-epic revival."
Paul Hayward is also quick to note how Barcelona are big favourites to beat the Gunners at the Nou Camp. "Barça have lost both first-choice centre-backs for next week's return leg… A north-London optimist would say the pendulum swung decisively in Arsenal's favour with those two defensive suspensions and that Walcott and Fábregas have shown Barcelona to be susceptible to pressure. A realist would counter that Guardiola's gang are unlikely to admire their reflection in the mirror twice in a row. If they maintain their first-half effort for the whole game on Tuesday night, Arsenal could be crushed by the high priests of their own artistic doctrine."
Oliver Kay was left bewitched by Barcelona's performance at the Emirates, particularly in the first forty-five. "It was a travesty of a scoreline in many respects, such was the majesty of Barcelona's football in the first half. Midway through the first half, the statistics showed that Pep Guardiola's team had enjoyed — and this certainly is the right word — 74 per cent of the possession; they had mustered 11 attempts at goal, nine on target — to Arsenal's none; 85 per cent of their passes had found a yellow shirt, against 59 per cent of Arsenal's. Their first-half performance was nothing short of a masterclass."
Adopting a boxing analogy, James Lawton credits Arsenal for still being on their feet. "For the first few rounds, sorry, minutes, it was impossible not to have the sense of a pitifully one-sided fight. You could even name one of the fighters, Muhammad Ali, representing Barcelona. And while it may have been blasphemous to even think it, there was hardly any other way to put it. Arsenal could have been any old Joe Palooka. Yes, they were that outclassed as Barcelona unfurled some of the best of their skills… Yet a fight is never over until the last bell rings or a man is counted out and, miraculously, Arsenal remained on their feet, even after those goals scored at a time when they might have felt they had survived the worst of the pressure."
Taking stock of Cesc's injury, Patrick Barclay fears the worst for the Wenger Boys. "The result of scans should be known this afternoon and, if the worst fears are confirmed, the injury could prove even more significant than Wayne Rooney's in Munich on Tuesday night. Quite apart from the personal anguish to Fà bregas, it could increase the likelihood of Arsenal's trophy drought entering a sixth year."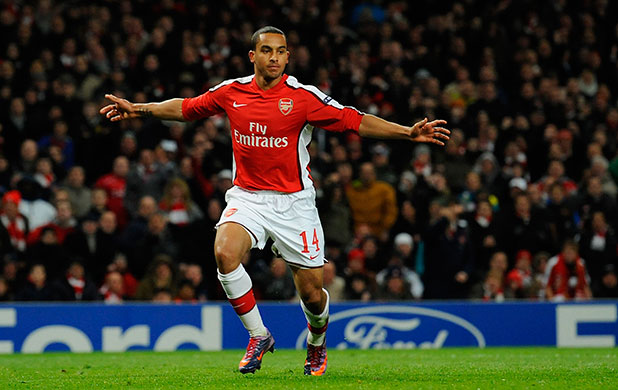 Changing tracks, Kevin Garside applauded Theo Walcott's cameo against the Catalans. "The removal of Bacary Sagna for Walcott, a defender for a striker with 24 minutes left, was gallows thinking, the act of dead men walking. Wenger had nothing to lose and chucked all his money on red 14. Walcott's instinct for the game has been questioned by those expert in keeping footballs on a string. Former England winger Chris Waddle thinks him not a footballer but a sprinter in boots. Waddle might have to return to his subject. Speed kills in any sport. Footballer or not, Walcott put the wind up Barça for the first time all night, his goal checking the stride of the European Cup holders."
Martin Samuel also leads the calls for Theo Walcott to be given more of a chance at Arsenal. "Walcott does not have the mind of Lionel Messi, his brilliance, the wonderful rhythm of his play, but he does have a talent that is the enemy of defenders everywhere: pace… Walcott changed the game. Not just because he scored, but because he altered the dynamic and gave Barcelona a problem equal to the challenge that faced Arsenal. Suddenly, they had this little rocket to control. It put them on edge and they threw the game away.  Few would bet against Barcelona in Nou Camp – Arsenal will be without Cesc Fabregas, a huge blow – but missing their two central defenders through suspension there is always a chance. Arsenal have Walcott to thank for staying in touch."
What of Wayne Rooney? Daniel Taylor delivers a positive prognosis on England's golden child announcing "Fabio Capello, the England manager, has been assured that Wayne Rooney's ankle injury should not be regarded as a serious threat to his participation in this summer's World Cup."
Sticking his head above the parapet, Kevin McCarra argues that despite Rooney's injury, Manchester United, with Berabtov, have no excuses for failure this season. "The touch and vision of the attacker are equal if not superior to Rooney's. While he does not have the devastating intent of the Englishman, Berbatov should, as tactfully as possible, exude gladness over any invitation to come to the fore. It is Rooney alone, rather than club or even country, who deserves commiseration. If United cannot get past Bayern and shoot for the European Cup because one particular footballer is unavailable, then they would have been unsatisfactory winners even with him in the ranks."
Paul Hayward also strikes up the Dimitar Berbatov band. "A £30.75m centre-forward comes off the bench to hunt the two wins United need to disprove the accusation that they are a one-man band. Berbatov is an international who has played in two Champions League finals and scored 32 times in European competition. Hardly the bare bones of United's squad. Yet the success of his elevation will depend on his response to the urgency of this five-day test and the team's ability to survive the psychological jolt of seeing their best player on crutches."
Taking a more expansive viewpoint, Henry Winter slams England for it's over-the-top reaction to Rooney's injury. "The country that gave football to the world currently resembles a house of cards, vulnerable to an ill wind such as the one that blew through Bavaria. "No Rooney, no hope" runs the accepted wisdom of England's chances of an extended stay in South Africa this summer… No country limps into tournaments like England. Michel Platini's pithy verdict on those who wear the Three Lions, calling them "lions in the autumn but lambs in the spring", continues to ring true."
Also looking at the bigger picture, Glenn Moore wonders if Rooney's injury is a positive or negative for the Three Lions. "A case can be made that Rooney's injury is a blessing in disguise for Fabio Capello, ensuring his key player gets some rest before South Africa and allowing the knee condition that caused friction with Sir Alex Ferguson last month to heal. However, should the worst happen and the striker not recover by June, who would be Capello's best bet as a replacement for his leading goalscorer and most dynamic performer?"
Premier League news: Simon Cass reports that "Chelsea face a major injury worry of their own ahead of Saturday's top-of-the-table clash with Manchester United with Didier Drogba struggling to be fit for the trip to Old Trafford… Drogba has sat out the last two days of Chelsea training after picking up a knock."
April Fools: The Daily Mail lamely report "West Ham will brave ridicule next season by wearing pink on their home shirts as part of a saucy new sponsorship deal with erotic retailers Ann Summers. The chain of high street stores, famed for sex toys and lingerie, are owned by David Gold, joint chairman of the Hammers. Sportsmail can reveal a tantalising first glimpse of the new shirt, with pink flashes added to the traditional colours."
The Sun really go all out with their effort, Neil Custis reporting that "Sam Allardyce last night gave the thumbs up to an amazing 'ref-mobile'.  The Blackburn boss believes the motorised two-wheeler will keep referees up to speed with the game's fastest players."
The Transfer Lies that should be April Fools: The Sun kicks things off farting "Arsenal want Spanish ace Ander Herrera and are mulling over Real Zaragoza's asking price of £7million." Also in the never-gonna-happen category, the Mirror bark "Arsenal have moved to the head of the queue in the race to sign Inter Milan star Mario Balotelli."
The Daily Mail bleat that "Charles N'Zogbia will be allowed to quit Wigan in the summer if one of the Premier League big guns comes calling."
Another one bites the dust at Fratton Park as the Mail details how "Avram Grant has suffered another blow to his depleted Portsmouth squad with the departure of forward Quincy Owusu-Abeyie. The Spartak Moscow player, who was supposed to spend the rest of the season on loan at Fratton Park, has clinched a £2.7million move Qatari side Al Saad that will reportedly earn the 23-year-old a whopping £65,000 a week tax free."
---
GAMBLING CAN BE ADDICTIVE, PLEASE PLAY RESPONSIBLY