Arsenal & Wenger humiliated at Bradford, Man United want Walcott as Liverpool close in on Sturridge & Ince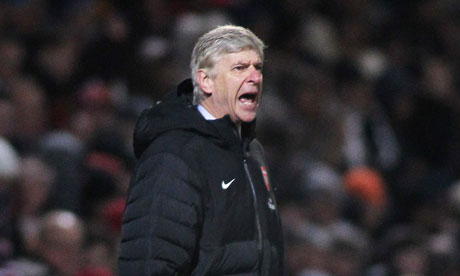 Comment & analysis round-up
Quote of the day: "I don't think this was a humiliation, no, you feel embarrassed when you don't give everything, and I can't fault the effort of my team because I believe we gave absolutely everything for 120 minutes. I know people will say it's against a division four side, but it was a typical English cup tie, and in these games there is always a chance this can happen. I feel we gave everything, and I don't think we lacked quality, I just think we couldn't take our chances in the end. It's a lot to take in, but let's accept you have to give credit to Bradford – they played well and that's part of the game too." – Arsene Wenger.
Runner-up: "We just want to enjoy this but I don't think for the players the enormity of their achievement has sunk in yet. We were surprised when we saw the Arsenal team sheet and show strong their side was, but we said to the lads it would be an even greater achievement if we could beat their first team, and makes it an even more incredible achievement. We wanted to give the fans something to shout about, because they've not had much in the last 10 years, and we've done that, by going some way to putting Bradford back on the map again." – Bradford boss Phil Parkinson.
Arsenal humiliated at Bradford
Wenger hits new low after Arsenal's embarrassing defeat at Bradford (Andy Hunter, Guardian) The defeat will increase the pressure on Wenger as he continues to insist that Arsenal's financial prudence will eventually reap dividends at Emirates Stadium. Arsenal's impressive travelling support sang Wenger's name in response to taunts of "You're getting sacked in the morning" from the Bradford fans following Thompson's volley. But with Arsenal seventh in the Premier League, and his team failing to force the Bradford goalkeeper Matt Duke into a save until the 70th minute, Wenger was again left on the defensive. He denied Arsenal's players had cause to be embarrassed by their cup exit.
Bradford spike Wenger's big guns as crisis deepens (Richard Rae, Independent) Arsenal's eight-year trophy drought will not be ended in this season's Capital One Cup. On a frozen night in West Yorkshire, what was on paper one of the strongest sides Arsène Wenger could have chosen had its myriad weaknesses exposed by League Two Bradford City in this quarter-final in much the same manner in which Premier League opposition have been exposing the Frenchman's teams all season. Well though the Bantams played, for 70 minutes Arsenal were quite astonishingly poor. Unsteady at the back, particularly when trying to deal with set pieces, unfocused in midfield and lacking in any sort of cutting edge, only when Bradford began to tire did the visitors start to put them under pressure.
Daily Telegraph match report (Mark Ogden) Not so long ago Arsenal's trophy misery was inflicted by the likes of Barcelona. Now they have their ambitions shattered by Bradford City. Can things get much more humiliating than this for Arsène Wenger now that Bradford join Wrexham, FA Cup conquerors in 1992, in Arsenal's chamber of horrors? Forget the silverware drought, which is now set to enter its eighth year, and the boardroom promises that things will be great in two years' time. The reality, the here and now, is that once mighty Arsenal will be on the outside, looking in, when League Two Bradford prepare for their Capital One Cup semi-final next month after bundling the Premier League club out of the competition penalties. For the ninth successive time, Bradford emerged victorious from a penalty shoot-out after Thomas Vermaelen's crucial spot-kick crashed against goalkeeper Matt Duke's left-hand post.
How Brad can you get? (Phil Thomas, Sun) Arsene Wenger was clinging on to his job by his fingernails last night after the most humiliating defeat of a 16-year reign. The Arsenal manager saw his millionaires crash out on penalties to League Two Bradford in the Capital One Cup. Incredibly, Wenger defended his side after skipper Thomas Vermaelen missed the last spot-kick.
Manchester United want Walcott
Fergie set to beat City and Liverpool to Walcott as United lead race for Arsenal's contract rebel (Sami Mokbel, Daily Mail)Manchester United have joined the race for Arsenal rebel Theo Walcott in a move similar to Robin van Persie's controversial switch to Old Trafford in August. Sir Alex Ferguson is keen to land the England winger, whose deal expires at the end of the season. Sportsmail understands that should Walcott leave Arsenal, his first choice would be United.
United want Walcott: Fergie ponders reuniting the Arsenal contract rebel with RvP (John Cross, Daily Mirror) Sir Alex Ferguson is considering ANOTHER sensational raid on Arsenal – this time for Theo Walcott. Manchester United pulled off the transfer coup of last summer when they bought Robin van Persie from the Gunners for £24million. Now, United boss Ferguson is understood to be keen on winger Walcott, who could end up leaving the Londoners because of his contract stand-off. It would infuriate Arsenal fans if another big name was sold to United, who they see as one of their biggest rivals. Van Persie's switch provoked a fan backlash and losing Walcott to Old Trafford so soon after would be hugely unpopular.
Vidic is back
He's back! Fergie confirms Vidic will "definitely" play against Sunderland (Peter Ferguson, Daily Mirror) Nemanja Vidic is poised to return to Old Trafford action and make the grin on Sir Alex Ferguson's face even wider. Manchester United's 3-2 derby victory over ­champions City at Eastlands on Sunday has already given the manager a six-point lead at the top of the Premier League. Now, warrior Vidic is set to rejoin the back four against Sunderland on Saturday after 11 weeks on the sidelines with a knee injury. And Ferguson could hardly have wished for a better Christmas present than to get the Serbian centre-half operating again at the heart of his leaky defence. Manager and player have both been frustrated by his latest enforced absence, even though United have forged ahead in the chase to regain the title while he's been a spectator.
Liverpool chase Sturridge & Ince
Liverpool hoping to sign Daniel Sturridge and Tom Ince in January (Andy Hunter, Guardian) Liverpool are on course to meet Brendan Rodgers' request for early January signings following talks over an £18m outlay on Daniel Sturridge and Tom Ince. The Liverpool manager has operated with only one fit striker – Luis Suárez – for most of his debut season at Anfield, due to injury to Fabio Borini and a calamitous end to the last transfer window. The club are anxious to address their summer failings at the earliest opportunity and have made further progress on Rodgers' chief targets after negotiations with Chelsea and Blackpool.
Kop close on Dan, Tom (Phil Thomas, Sun) Liverpool want to make a £12million swoop for Chelsea's Daniel Sturridge. And boss Brendan Rodgers is confident of making it a double swoop next month with the £6m return of Tom Ince from Blackpool. Talks are advanced on both players, with Rodgers desperate to get his transfer business done as early as possible when the window opens. Rodgers ignored the chance to land Sturridge, 23, in the summer as he was worried about his character. However a change of heart has seen him return for the England striker, who is currently out with a hamstring injury.
Liverpool apologise to Fulham
Liverpool issue grovelling apology to Fulham over Dempsey tapping-up affair (Martin Samuel, Daily Mail) Liverpool have made a grovelling apology to Fulham over the tapping-up of Clint Dempsey in the summer. A statement from Fulham, expected today, will confirm that in return the club have dropped their complaint to the Premier League over the affair. The peace deal came only after a personal visit by Liverpool co-owner Tom Werner to Craven Cottage chairman Mohamed Al Fayed was followed up by a letter from Liverpool managing director Ian Ayre  admitting that the club's behaviour 'was wrong' and 'simply never should have occurred'.
The fallout from the Manchester derby
Being good at football is not an act of provocation (Martin Samuel, Daily Mail)Being good at football is not in itself an act of provocation. Nor is scoring a goal and celebrating it. Some of us would like to see more smiles and less snarls when this happens, because Sir Alex Ferguson gets easily as much grief as his players but always reacts to a Manchester United goal with untrammelled glee, but as long as no scorer deliberately instigates a riot, then all's fair. On Sunday, United celebrated in front of their own fans, who happened to be adjacent to a Manchester City section. There was nothing provocative in what they did, unless winning a contentious derby match late is now reclassified as incitement. Maybe if the scores are tied, or close, with  10 minutes to spare, the referee should blow early to prevent anybody getting overwrought.
The 'beautiful game' is at a crossroads: can anyone out there provide the answers? (James Lawton, Independent) When Lord Ouseley, chairman of the Kick It Out campaign, described the governance of English football as a moral wasteland riddled with hypocrisy he did it against the backcloth of the Palace of Westminster. This at least was good for a laugh but on the lips of anyone connected with the game it was one which surely had the briefest of lifespans. This, after all, was not a good time to collect such a denouncement – not a good day or week or year because, sooner or later, a certain reality will have to be absorbed. It is that if football was any other branch of the nation's commercial life, one guaranteed more than £3bn paid by a captive audience, it would some time ago have been hauled before a parliamentary subcommittee, if not a full scale Royal Commission.
Club World Cup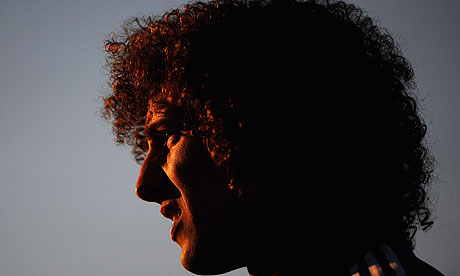 My personality is to be a natural leader, says Chelsea's David Luiz (Dom Fifield, Guardian) David Luiz has heard the grumblings: The Fifa Club World Cup is little more than a contrived mid-season distraction, a long-haul trek to the other side of the globe for a jamboree few care one jot about. Energy will be further sapped ahead of a busy festive fixture list while rivals steal a march in the Premier League, a more accurate gauge of Chelsea's qualities, back home. The arguments are familiar, their validity persuasive in part, and yet the Brazilian rejects them out of hand. Cue the case for the defence. For David Luiz this is actually "a dream", a trophy he has craved since his days in the youth team at São Paulo or attracting the Benfica scouts with Vitória in the Brazilian championship's third tier. And aside from fulfilling personal ambition is the pick-me-up it can offer the team. "This competition comes at a great moment for us," he says. "As a club we need to win trophies every year, so to go out of the Champions League in the group was so disappointing. If you aren't down then you don't deserve to wear the shirt. But this gives us a chance to change that feeling, a chance to be happy again. Win this and confidence will come, we will push forward. Things will feel better."
Jonathan Woodgate interview
Jonathan Woodgate hopes for happy ending with Middlesbrough after career full of regrets (Luke Edwards, Daily Telegraph) He should have spent his whole career at Leeds United. He should have stayed at home rather than go out drinking before the incident which led to him being convicted of beating up an Asian student. He should have helped turn Newcastle United into European giants. He should have made more of a move to Real Madrid. He should have won more than just a League Cup with Tottenham Hotspur. He should have been one of England's finest centre-backs. Woodgate is the nearly man of the Premier League era. A supremely talented defender with a handful of England caps and a room full of hard-luck stories.
---