Arsenal to rest Walcott & Cazorla at Bayern, Monaco's big plans for Man United's Rooney & Liverpool eye several summer signings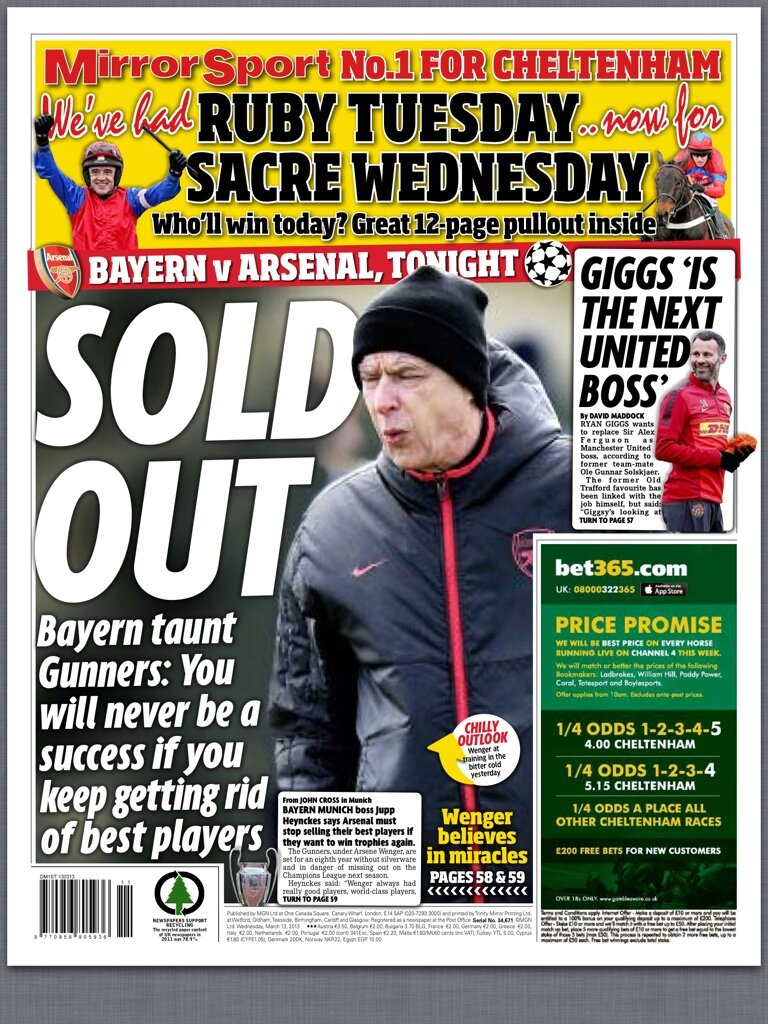 Comment & analysis round-up
Quote of the day: "Wenger always had really good players, world-class players. But if you look at the last two years, you have to say that the absolute top players have been transferred to other clubs. Talented players have come in but for every manager wanting to play at the absolute top level, you have to have the players to do that. I think that at Arsenal maybe it has been a bit more difficult for Arsene Wenger." – Jupp Heynckes.
Runner-up: "If there is one thing that surprises me about the players, one thing I have learned, it is that they are so competitive despite having won it all. These are players who really feel it, who hurt when the team loses, and that is one of the reasons why they are so good. These have been hard times but they were extraordinary. They have a voracious appetite… People speculated that Messi was not in a good moment, they said I-don't-know-what and I-don't-know-why, this and that. But if anyone had any doubts about Leo, they only have to look at tonight. He gave another magisterial lesson in how to play football. He has shown once again that he is extraordinary and that on the big occasions, surrounded by great players, he can do amazing things." – Jordi Roura.
Bayern v Arsenal Previews
If you must lose, at least put up a fight (Steven Howard, Sun) One thing Wenger's team will never be able to live with — and certainly not those Gunners fans who have been let down so many times over the last seven seasons — is a thrashing. If that happens then a set of players who have already plumbed the depths, after being knocked out of the domestic cup competitions by Bradford and Blackburn, will never again be able to look their supporters in the eye. They will go down in Arsenal history as the biggest embarrassment of all time, a team not fit to wear the shirt. Tonight, they have to remember what representing Arsenal is all about.
Gunners give in! Wenger will rest Walcott and Cazorla against Bayern to focus on top-four spot (Neil Ashton, Mail) Wojciech Szczesny has been dropped because of 'mental' issues and calamity goalkeeper Lukasz Fabianski will make his first appearance of the season… Theo Walcott and Santi Cazorla are expected to be rested and replaced by Alex Oxlade-Chamberlain and Francis Coquelin in midfield. Kieran Gibbs and Carl Jenkinson could play in defence, with Per Mertesacker taking the night off.
Arsenal in disarray as Wojciech Szczesny's mental state is questioned (Sam Wallace, Independent) As for Szczesny, Wenger said that the Poland goalkeeper was "mentally" affected by having played so many games this season. It pointed towards Wenger signing a more experienced goalkeeper this summer with Szczesny having tested the faith of his manager a number of times this season. Lukasz Fabianski, who may well start tonight, was a surprise inclusion in the squad, as was Andrei Arshavin.
Wenger's fear for Jack (Shaun Custis, Sun) Asked if he feared a repeat of how the previous injury started, boss Wenger said: "Yes. Last time we let him continue to play and it transformed into a stress fracture. That's why the specialist said we cannot take this gamble."
Jack Wilshere's being rested because Arsenal fear he'll suffer same long-term injury to OTHER ankle (John Cross, Mirror) Gunners midfielder missed 17 months after bone bruising turned into a stress fracture and boss Wenger reveals a recent scan showed more bone bruising.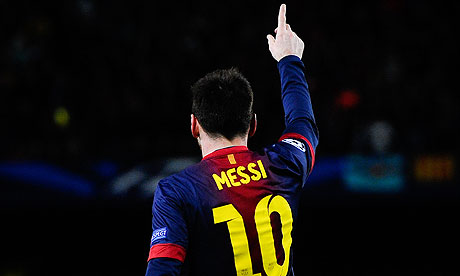 Barcelona 4 – AC Milan 0
Lionel Messi's magic ignites Barcelona revival to sweep Milan aside (Sid Lowe, Guardian) Milan three weeks ago was forgotten, the end of an era postponed. There was relief but there was also redemption. This was a brilliant Barcelona performance, bookended by a two goals. It had been a long night; it had also been a perfect one, even the nerves failing to disguise just how well they had played. Milan hit the post; otherwise, for all the emotion, they created little. Three shots on target to Barcelona's 10 told a story but not the whole, fascinating tale.
Magical Messi makes mockery of Italian giants and Villa seals the deal (Martin Samuel, Mail) We are watching a genius, you do know that, don't you? In Lionel Messi, Barcelona have a player as great as any to have walked the earth. Up there with Pele, with Diego Maradona, with Johan Cruyff or Zinedine Zidane. It no longer matters that he has the good fortune to play in a magnificent team. What he does on nights like this transcends such petty quibbles. These were his 52nd and 53rd goals of the season. It is simply untrue to suggest that any player of talent would score them, surrounded by these exceptional team-mates.
Recall Rio
Why England must recall Rio Ferdinand for crunch World Cup qualifier in Montenegro (Ollie Holt, Mirror) The only question that matters is this: Is Ferdinand the best man to help us get a result against Montenegro? Forget the long-term. There might not be a long-term if England don't leave Montenegro with at least a point… Frankly, recalling Ferdinand for the matches against San Marino and Montenegro should be a no-brainer. Michael Dawson, the Spurs centre-half, should be included as well. There shouldn't be any concerns about playing Ferdinand in two games in the space of five days because he's been managing it for United. But if there are, the answer's simple anyway: Leave him out of the San Marino game.
A Qatari Mega League?
World's top football teams to be offered huge sums to play in Middle East summer league (Paul Cockerton, Mirror) Oil-rich billionaires could offer up to £175m to the world's biggest clubs just to take part in a summer 'Dream Football League'. The tournament – to be held in six cities in the Gulf region every other year, starting in 2015 – would involve 24 elite clubs. Organisers would hope to attract four English clubs from Manchester United, Manchester City, Chelsea, Arsenal, Liverpool and Tottenham Hotspur to take part, a report in The Times today claims.
Bad dream: Why the Qatari football league could have devastating consequences (Ed Malyon, Mirror) The prospect of some sort of European Super League is nothing new. For years fans and journalists have speculated about the possibility while clubs have used it's spectre as a bargaining chip to lever Champions League expansion, but there has always been a sense that it would never happen. It couldn't. "Where would it fit in the schedule?" "Who would play in it?" "How would fans afford it?" Well, Qatar think they have all the answers – except to the last question, because they couldn't care less about supporters. Unless they're draped in merchandise, that is. A biennial summer tournament comprising 16 regular competitors and eight invitees would showcase to the world that Qatar was ready to become a major player on the world football stage.
Transfer Lies
Monaco want Rooney (Star) Monaco are ready to launch a blockbusting bid to sign Wayne Rooney… Starsport can reveal Monaco officials have told Rooney's camp they are prepared to blow their rivals "out of the water" with a huge transfer fee and tax-free wage deal.
Blow for United as agent tells Ronaldo to put Madrid exit on hold (Mail) Cristiano Ronaldo has been advised by his agent Jorge Mendes to stay at Real Madrid for another season.
Spendin' Rodgers (Sun) Swansea and Wales skipper Ashley Williams tops the Kop manager's list, with centre-back Jamie Carragher set to retire at the end of the season. Rodgers is also eyeing Feyenoord defender Stefan de Vrij, Newcastle midfielder Hatem Ben Arfa, Blackpool's former Reds rookie Thomas Ince and Lyon's versatile French left-back Aly Cissokho.
Rodgers wants four summer signings to turn Liverpool into Champions League contenders (Mail) Feyenoord's Stefan De Vrij and Swansea captain Ashley Williams will be considered as potential new central defenders, while Newcastle's Hatem Ben Arfa, Tom Ince of Blackpool and Paris St Germain's Kevin Gameiro will also come under consideration.
Anzhi rejected by £50m Chelsea misfit Torres with striker considering his options (Mail) Anzhi Makhachkala have been rebuffed in an attempt to persuade Fernando Torres to leave Chelsea for Russia in the summer.
Manchester City's Roberto Mancini is wanted to boss Zenit St Petersburg (Mirror) Zenit chiefs are ­disappointed with Spalletti's results, having splashed out a staggering £64million last summer to sign Brazil striker Hulk and Belgium midfielder Axel Witsel.
---
GAMBLING CAN BE ADDICTIVE, PLEASE PLAY RESPONSIBLY