Arsenal to back Wenger with £70m war chest but will Silent Stan make his presence felt?
Comment & analysis round-up
Quote of the day: "I was here with Chelsea for the 'ghost goal'. For me, it wasn't a goal! That was the sheer force of the crowd that got the goal. The atmosphere was as good as you will ever get. There have been many famous nights in Europe here, it is known around the world for that, and there is no doubt the fans can be a massive influence. We know how passionate the fans will be. And that is a tremendous asset. But even though we need to get two goals, we also need patience. We have to be aggressive in attack and we must have intensity in our pressing. It is not an early goal that is important, but simply the first goal. If that comes after 40, 55 or 70 minutes, I still think we have the power of the crowd and the players to get the result – as long as we stay super compact. We have to keep our discipline and let the crowd do their job." – Brendan Rodgers.
Runner-up: "The good thing is that they are going to have to come at us now as they're behind in the tie. Hopefully that will leave space in behind. It is going to be a difficult game as they made it difficult for us in patches. But it was great to get the goals in the first leg. The most important thing was that we got the victory which obviously gives us a little bit of an advantage going into the second leg." – Gareth Bale.
Arsene Wenger isn't going anywhere
We still trust in Arsene… Board will back Wenger with more cash to rebuild Arsenal (Neil Ashton & Sami Mokbel, Daily Mail) Arsene Wenger will be assured he is the man to revive Arsenal's fortunes at a board meeting with the club's American owner Stan Kroenke on Thursday. The club have confirmed the manager will meet Kroenke, who arrived in London to watch Arsenal's 3-1 defeat by Bayern Munich in the Champions League, after training. Arsenal's only remaining ambitions this season are to avoid a humiliating second-leg defeat in Munich on March 13 and to secure a top-four finish in the Barclays  Premier League.
Buy-buy not bye-bye: Arsenal to back Arsene Wenger with £70m summer war-chest (John Cross, Daily Mirror) Arsene Wenger will be given £70million worth of support by the Arsenal board. The Gunners boss will attend Thursday's monthly meeting of directors facing the biggest crisis of his reign. Despite a growing feeling from fans against him, Wenger has been reassured that the hierarchy are fully behind him and will back him in the transfer market. Majority shareholder Stan Kroenke, who was at the Emirates for the Champions League defeat by Bayern Munich on Tuesday, is expected to be at the meeting, where Wenger will be told of the total support.
Ribery: We didn't think beating Gunners would prove so easy (Charlie Wyett, Sun) Franck Ribery has ridiculed Arsenal following Tuesday's Champions League disaster. The Bayern Munich star admits he was stunned by how easy it was for his team to storm into a 3-1 first-leg lead at the Emirates. French frontman Ribery said: "We didn't think it would be so easy. "We know Arsenal are having some problems in the league, maybe they are lacking in confidence. "But we feel good and we're delighted to have got that result. "We're all working hard together, with the will to play well, to win, to defend together. It's important to carry on like this. "We will have to match that performance in the return leg. We're in good shape to reach the quarter-finals but nothing is ever over in football."
Arsenal majority shareholder Stan Kroenke must get tough with manager Arsène Wenger following latest loss (Henry Winter, Daily Telegraph) Dear Stan It sounds like you're going to give Arsène Wenger your full support at Thursday's board meeting. Well, if you genuinely care for the Arsenal, or at the very least care for your substantial investment, please attach conditions. You must either persuade the manager to change his ways or face the inevitable prospect of changing the manager for another. And please tell Ivan Gazidis to stop being so darn deferential towards Wenger. No employee is bigger than the Arsenal. Those familiar with your business modus operandi say it's your style to appoint individuals (including inherited ones), give them a budget to work with and leave them to get on with it. Not now. Not with Arsenal's season in this kind of meltdown. You need to be more hands-on. It's time to challenge the manager and the culture. We know you hate the nickname 'Silent Stan'. So don't be.
AC Milan 2 – Barcelona 0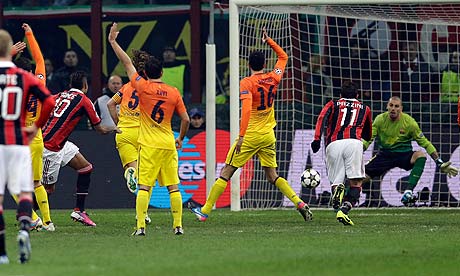 Sulley Muntari puts Milan in driving seat against favourites Barcelona (Sid Lowe, Guardian) A frustrating and already damaging night for Barcelona turned into a disastrous one when Stephan El Shaarawy flicked up the ball in the 81st minute and dinked a perfect assist into the path of Sulley Muntari to guide the ball into the bottom right corner. It was the second shot that had hit the same spot after the impressive Kevin-Prince Boateng opened the scoring after 57 minutes. Although the assistant coach, Jordi Roura, said he was "absolutely convinced" his side will still go through, it leaves a largely impotent Barcelona with a huge task in the second leg. It leaves Milan in a position as perfect as it appeared implausible. A huge banner was unfurled over the south stand before this game: "We are history," it declared. Milan may not be what they were, seven times winners of this competition, but they deserved the 2-0 victory and, as the noise roared round San Siro and shirts were thrown to fans, this felt like a historic night.
Forza Pompey! Former Premier League stars Boateng and Muntari strike with Messi off the pace (Daily Mail) AC Milan took a surprise first-leg lead in their Champions League last-16 tie against Barcelona. While Barca top the Primera Division by 12 points, Milan lie third in Serie A – but Kevin-Prince Boateng's controversial opening goal set the Italians on their way at the San Siro.
And Sulley Muntari's superb second put Massimiliano Allegri's side firmly in the driving seat ahead of March 12's return leg at the Nou Camp.
David Gill leaving Manchester United
Sir Alex Ferguson hit by 'big loss' as United's David Gill steps aside (Jamie Jackson, Guardian) Sir Alex Ferguson has lost his closest confidant at Manchester United after David Gill announced he will step down as chief executive in the summer to allow the club to "refresh" itself. The United manager described the 55-year-old's departure as a "big loss". Ed Woodward, the executive vice-chairman, will replace Gill on 30 June although Gill will remain a director. "Him stepping down is a big loss to me but the fact that he is staying on the board encourages me that the reason for his departure is heartfelt – that he believes it is time for the club to move on," Ferguson said. "If I could have found a way of persuading him to stay I would love to have done that. But he has made his decision and I respect him for it."
Manchester United manager Sir Alex Ferguson says David Gill stepping down as chief executive is a 'big loss for me' (Mark Ogden, Daily Telegraph) Ferguson admitted Gill's departure would be a "big loss" to him personally, and revealed he tried to find a way of persuading him to stay. The pair formed a crucial alliance during Gill's decade as chief executive, fostered during regular Friday morning meetings in Ferguson's office at the club's training ground. "We have had a million arguments," the United manager remarked affectionately on Wednesday. Gill, 55, will be replaced by Edward Woodward, the club's 40-year-old executive vice-chairman, who has driven a huge expansion in United's commercial activity in recent years. Gill will remain on the United board but will now focus on his attempt to win election to Uefa's executive committee as the Football Association's representative in three months' time. Gill is understood not to be interested in a role with the Premier League or Football Association, whose chairman, David Bernstein, will stand down this summer. He is keen to retain his connections to United, although he has not ruled out a possible future position with the FA.
Dortmund want Dzeko
Dortmund want Dzeko to replace United target Lewandowski… but plan to pay City £10m less than their £25m valuation (Simon Jones, Daily Mail) Borussia Dortmund are interested in Manchester City's Edin Dzeko but may struggle to strike a deal for the 26-year-old. City value Dzeko at around £25m and Dortmund are reluctant to spend above £15m. The German side are looking for a replacement for Robert Lewandowski who is attracting attention from Bayern Munich and Manchester United.
Pele tells Neymar to pick Barcelona
Pele tells Neymar to pick Barcelona over Manchester City… and stop worrying about his hair (Simon Rice, Independent) Three-time World Cup winner Pele has urged Neymar to snub any advances from Manchester City and join Barcelona instead. Brazil's current leading player is expected to leave Santos following the 2014 World Cup, and has been linked with a host of clubs in Europe. Reports this week have suggested Manchester City will lead the way, and are prepared to pay £55m to acquire the services of the 21-year-old. However, Pele has told Neymar that the English game would not suit him, and a move to Barcelona in Spain would be a better destination.
How good is Christian Benteke?
Gabby: Teke your time (Graham Hill, Sun) Benteke, who faces the Gunners this Saturday, was a £7million signing from Genk and is now worth more than double that figure. But Agbonlahor said: "He's good enough for even higher than them. He's up there with the best. "He shows that by the way he plays, he has composure for a big guy and quite a bit of pace too. "He's going to get linked with the top clubs, especially because he is young. "Christian's shocked a lot of people — he's one of the players of the season. A number of clubs would love him."
Spurs fans attacked in Lyon
"Drips of blood left in the bar": Spurs fans attacked in Lyon by masked Nazi thugs (Darren Lewis, Daily Mirror) Spurs fans were last night attacked by masked thugs ahead of the club's Europa League showdown in Lyon tonight. The ambush – the second on Tottenham fans in successive European trips – happened around 10.30pm local time. Three fans were taken to hospital. Lyon fans were said NOT to be involved with unconfirmed reports claiming the attack was carried out by a far right organisation. Tottenham's own security services raced to the scene and were joined by representatives from the FA and along with the Metropolitan Police.
---
GAMBLING CAN BE ADDICTIVE, PLEASE PLAY RESPONSIBLY