Arsenal target Cole, Doyle & Kjaer as Arshavin plots Barcelona move; Madrid eye Lampard while United want Benzema; Bayern move for Spurs' Gomes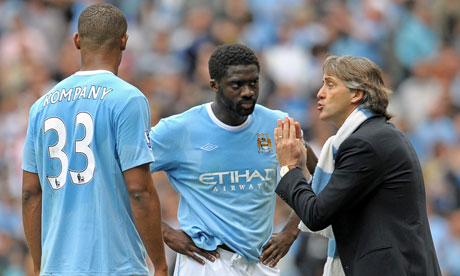 Comment & analysis round-up
Quote of the day: "Wednesday is a final. We wanted a final this year, we have a final. We need all our supporters because it may be the most important game this year." – Roberto Mancini.
Runner-up:  "I decided to sign an extension because the squad was good and the money could be there. At the end, things changed. We've had a bad season and hopefully things will be different in the future, but at the moment I can't talk about the future because I don't know what's going on. It's not a question of money. I said no to massive offers. I decided to stay under some conditions which have changed." – Rafa Benitez.
Today's overview: Sunday. The day of rest, and the home of the football transfer lies. And as usual the gutter press refuse en masse to reveal their non-existent sources as the nation are force-fed a litany of stories which have as much chance of happening as a Brit winning Wimbledon.
Sheiking Scousers: Flying solo, the Sunday Express's John Richardson goes alone in reporting "Dubai International Capital are closing in on a £500million buy-out of Liverpool as manager Rafa Benitez prepares to join Juventus… DIC will also commit funds to build the much-anticipated new ground and make a considerable sum of money available for transfers."
Moving Managers: With the season so close to its conclusion hype continues to link a series of managers with moves, with Liverpool the central cog in the merry-go-round.
Chris Bascombe leads with "Bye-Bye Benitez" as the hack chimes in with news that "[Rafa Benitez] expects today's clash with Chelsea to be his last game at Anfield as Liverpool manager… Juventus have been openly courting Benitez since January… AC Milan is another potential destination for Benitez, while last year he says he turned down Manchester City… With first choice Mourinho seemingly heading to Spain, the frontrunners for the Anfield post are now Martin O'Neill and Roy Hodgson. Further afield, Benfica boss Jesus Jorge also has admirers at the club, if they choose to look abroad."
With the Anfield hotseat soon to be vacant, Neil Ashton swoops in to shout "Roy Hodgson has emerged as the shock front-runner to succeed Rafa Benitez at Liverpool this summer… Hodgson has told close friends he is interested in transforming Liverpool's fortunes, though there has been no official approach." However that position is challenged head-on by Paul Hetherington who barks "Liverpool have started their search for a new manager – admitting they have nobody lined up if Rafa Benitez quits for Juventus… The obvious target, Jose Mourinho, is unlikely to accept… Liverpool could end up considering Bayern Munich's Dutch boss Louie Van Gaal… Aston Villa's Martin O'Neill and Birmingham's Alex McLeish will be considered and Fulham's Roy Hodgson, despite being 62, could be discussed."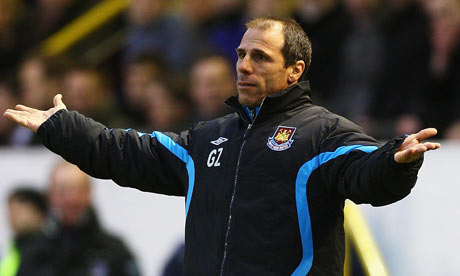 Heading to east London Greg Gobere inserts the daily no-one-has-a-clue-what-will-happen-at-West-Ham article as he barks "Slaven Bilic has been lined up for an emotional return to Upton Park as West Ham's next manager." Proving the point, Paul Smith directly contradicts that position scrawling "Gianfranco Zola will stun West Ham by declaring his intention to carry on at Upton Park in talks with co-chairmen David Sullivan and David Gold next ­weekend." And Alan Nixon muddied the waters a little further, announcing "West Ham are ready to make an official move to appoint Steve McClaren their new manager – as Gianfranco Zola becomes more marginalised by the day."
Against the backdrop of managers on the move, in north London consolidation is the name of the game as the NOTW claim "Harry Redknapp will be offered a bumper new contract that will keep him at Tottenham until 2013."
Transfer Lies: And then we arrive to the meatier, tastier transfer lies, kicking off with Neil Ashton's oddly written report that "Carlos Tevez can choose between Inter Milan or Real Madrid this summer after Manchester City chief Roberto Mancini opened the exit door."
Rob Shepherd injects too many variables to take seriously his report that "Joe Cole is at the centre of a transfer triangle involving Luka Modric and Manchester United… Harry Redknapp doesn't want to lose Modric but if he could offload the Croatian and then strike a deal with Cole as a replacement the Spurs boss would regard that as good business and help fund the signing of a new centre-forward. West Ham's Carlton Cole and Sunderland's Kenwyne Jones are on Tottenham's wanted list."
Chucking a further spanner in the works, Tony Stensen reports that "Arsene Wenger has put Chelsea star Joe Cole on his summer wish-list… One player Wenger does fancy is PSV wideman Ibrahim Affelay, 24." And offering an incredible third option on the Joe Cole saga, Paul Smith chimes in with news that "West Ham will make an audacious bid to re-sign Joe Cole on a free transfer this summer" before throwing the doors open with news that "Manchester giants United and City, Everton, Tottenham and Liverpool are all monitoring his situation."
Far more straight-forward to digest is news that Manchester United are targetting Real Madrid's Karim Benzema for £20milliom. Next, Chelsea are linked with an £18million bid for Valencia winger Pablo Hernandez.
The big splash in the Mail on Sunday sees Malcolm Folley chug "Jose Mourinho will make a £30million move for Chelsea star Frank Lampard if, as expected, the Portuguese becomes Real Madrid manager next month… If [Chelsea] are serious about living within their means, then a bid of around £30m for a 31-year-old would be difficult to resist – and it would provide funds to buy the £40m-rated Argentine, Kun Aguero, from Atletico Madrid."
Ignoring the fact that Marouane Chamakh should be arriving at the Emirates this summer, Greg Gobere spits the doubtful story that "Arsenal are weighing up a shock £10million summer move for Ireland striker Kevin Doyle." Staying with the stupid Arsenal stories, the Mirror on Sunday fart "Arsenal boss Wenger already has Manchester City goalkeeper Joe Hart, central defenders Brede Hangeland of Fulham and Gary Cahill of Bolton and midfield man James Milner of Aston Villa on his radar. [Scott] Parker has joined them as Wenger looks to bring proven experience to a young squad that faded out of the title chase."
Putting the cat amongst the pigeons, Ben Duffy crashes in with news that "Andrey Arshavin says he will quit Arsenal for Barcelona this summer – and reckons team-mate Gael Clichy could follow him." Finally on Arsenal, The People spout the long-standing rumour that "Arsene Wenger wants Denmark World Cup centre half Simon Kjaer… A fall back option for Wenger if Kjaer will not agree terms is Hull's French centre-back Steven Mouyokolo, 23."
Looking at some of the Premier League's lessor lights, Birmingham are said to be eyeing Wolfsburg's Makoto Hasebe, newbees Newcastle are targetting Bayern Munich's soon-to-be free agent Hamit Altintop, Sunderland are planning a £4million swoop for Manchester City outcast Stephen Ireland, while Everton are reportedly in the hunt for Manchester City utility man Nedum Onuoha for £3.75million.
Breathe. There's more yet.
Continuing the gossip we learn that Bolton are interested in Newcastle's Ryan Taylor while separately we're informed that Burnley's Steven Fletcher and Chris Eagles are also potential new recruits for the Trotters, Matt Derbyshire is named as a Celtic target this summer, Stoke believe they can snare Liam Ridgewell from Birnmingham, while West Ham are linked with Italian bad-boy Mario Balotelli.
According to Rob Draper, Bayern Munich are planning to swoop for Tottenham goalie Heurelho Gomes this summer. But, as usual, that position is challenged elsewhere as the Star's Peter Griffen (are they employing Family Guy characters now???) bleats "Kasper Schmeichel is ready to turn his back on England and join Champions League finalists Bayern Munich this summer."
Staying on the continent, the Mail on Sunday claim "Barcelona head race to land Valencia's £30m-rated striker David Villa."
Homophobia & Football: Kate Youde marks a historic day in the football calander. "Homophobia remains an ugly stain on the "beautiful game": the majority of football fans at matches across the country this weekend will hear – and some engage in – anti-gay abuse. Today marks the 12th anniversary of the suicide of Justin Fashanu, Britain's first black, million-pound player. He remains the only professional footballer to come out as being gay."
Three Lions: Duncan White spends his Sunday wondering who'll be in goal for England in South Africa. "Capello has whittled down what's available to four men: Rob Green of West Ham, David James of Portsmouth, Joe Hart of Birmingham and Paul Robinson of Blackburn. Three of those will go to South Africa and any one of them could be in goal for the opening game with the United States on June 12. It's all up for grabs… If it all came down to form, Hart would surely start… Erratic as he may be, James is, in terms of ability, the best goalkeeper."
Saluting Chelsea, Doubting United: Turning to the op-eds, Gary Lineker flags up Frank Lampard as one of the key reasons Chelsea are likely to pip Manchester United to the title. "Lampard is incredible, a brilliant footballer. He scores 20 goals a season from midfield, something United have lacked this season with Cristiano Ronaldo gone and Paul Scholes now 35. The statistics show Lampard's 20 Premier League goals are more than Antonio Valencia, Ryan Giggs, Scholes, Michael Carrick, Nani and Darren Fletcher put together. He also has more assists than anyone else, so if Ancelotti wins the title at his first attempt, he will know who to thank… [Chelsea] have a Lampard in their team – and United don't."
Jonathan Northcroft also picks up on Chelsea's goalscoring this season. "If Chelsea win the title, it will be because of brio. Ancelotti, unlike his predecessors, has hardly spent or issued a tactical instruction or press conference word that was not constructive. His Chelsea go forward more productively than the most positive sides of Premier League lore; Kevin Keegan's Newcastle, Treble-winning United, Spice Boys Liverpool, Thierry Henry's Arsenal."
And staying with the Blues, Alan Smith argues against claims that Liverpool will lie down against the Pensioners so as to ensure Manchester United don't win the league. "It goes against the grain, especially in a match like this when a team as talented as Chelsea could turn the occasion into a complete embarrassment for opponents showing anything less than full commitment. In any case, there's still an outside chance of Liverpool taking fourth place. Not much, I grant you, but it would be criminal to give up before the fat lady sings."
Turning to the Mancunians, Steve Tongue makes the case that United should be out of the running for this season's championship. "The taxi driver, a Manchester United supporter, was as blunt as only his breed can be. 'United have only played well once this season, away to Spurs,' he insisted. 'I can't believe they're still second.' If it was a harsh judgement, there is a kernel of statistical truth in at least the second part of his observation. Seven League defeats have always in the modern era been too grievous a hindrance to prospects of becoming champions of England. That United are still in a position to achieve that aim is testimony to their rivals' failings as much as their own obstinacy."
Year of the Managers: Lastly, Henry Winter delivers an excellent article celebrating how the last 12 months have witnessed the importance of managers in the Englisg top flight. "Everybody is pontificating about the Manager of the Year when really we should be celebrating the Year of the Manager. From Roy Hodgson to Jose Mourinho, the stars of the European season have been emerging from dugouts to stride across the pitch at the final whistle, dodging sprays of Champagne or water sprinklers. From Carlo Ancelotti to Sir Alex Ferguson, the kings of the Premier League campaign have been strong men in suits guiding young men in boots. Even Avram Grant has shown the importance of a touch of quiet wisdom in the technical area. Even, amazingly, the Wally with the Brolly, Steve McClaren, has found sunshine after the rain. Fabio Capello confirmed this to be the Year of the Manager by taking only 10 minutes to strip John Terry of the England armband."
Click here for more Premier League betting tips
---