Arsenal stay in the elite, Spurs need to retain Bale & eye Moutinho & Hansen thinks City & Chelsea are stronger than Man United
Comment & analysis round-up
Quote of the day: "Everyone ruled us out but we showed character and attitude to come back. We got 73 points and that's three better than last season. Consistency is the most difficult thing in our sport and we knew we had to be resilient. We were this season up against very strong Tottenham and Everton teams, so it was really special to come back and get in front of them." – Arsene Wenger.
Runner-up: "We have to keep our ambitions high and hold on to our best players. We finished on 72 points — our best-ever Premier League points tally. For us to make it better we need to keep hold of the best assets. It was another great moment of individual brilliance [from Gareth Bale]. It is very difficult to lure a player of this dimension away. We got so close but our rivals will do their job in the window. We will do our job the Tottenham way — scouting properly, looking for good grabs in the summer to make it a stronger squad. We have to continue to raise the bar." – Andre Villas-Boas.
Arsenal Get Fourth
Koscielny's Muller-lite strike keeps Gunners in the elite (Martin Samuel, Mail) To compete 16 consecutive seasons in the Champions League is a fantastic achievement, but Wenger will know it is not a trophy. This is the summer the spending policy is supposed to change at Arsenal, the summer when the numbers add up and UEFA's financial fair play regulations start working in their favour. Wenger, we are told, has £70million to lavish on taking his team to the next level. If he is merely happy with fourth this time next season, then someone has messed up. Maybe him. Maybe them.
For all Arsenal's dreams and prettiness there must be nagging sense of futility (James Lawton, Independent) What you had to believe Wenger achieved with the fourth qualifying place was one last chance to re-make a team that is now only a shadow of those created by his most brilliant work… Arsenal may believe they have earned the right to permanent membership of club football's most lucrative competition but the big question could have hardly have been more pressing on Tyneside. When are they going to enter it as anything more than a sometimes decorative but ultimately disposable asset?
Arsene Wenger delivers again despite loss of Robin van Persie (Mark Lawrenson, Mirror) Arsenal had every right to be celebrating after clinching Champions League qualification. It might not to be a trophy they crave, but the importance of sealing this lucrative finish cannot be underestimated. Every year Arsenal appear to sell their best player but Arsene Wenger continues delivering a top-four spot. For the Gunners shareholders, they will be rubbing their hands with glee. You just hope they back Wenger up with some funds so they can add some real quality next season. I always thought they would pip Tottenham.
Arsenal's Theo Walcott curbed but Laurent Koscielny finds vital space (Michael Cox, Guardian) n the end, Arsenal's goal originated from a set piece – and it was fitting that Laurent Koscielny scored. His return to the side after their terrible defensive performance in the 2-1 defeat at White Hart Lane was crucial to their end-of-season run to fourth. In the 10 games since, Arsenal have collected eight wins, two draws and five clean sheets, while this was their third consecutive 1-0 away win. When their attacking play has faltered, their defensive resilience has saved them. This was a perfect example.
Spurs: The Rebuild
Spurs should push the boat out for Bale (Jamie Redknapp, Mail) Spurs have to keep Gareth Bale. He's scored 21 goals this season and nine from outside the box, the highest total of long range goals in Europe's top leagues. He deserves Champions League football but I hope he is patient and that Tottenham push the boat out for him now.
Moutinho on AVB's list (Mike McGarth, Sun) Joao Moutinho is the first target in Andre Villas-Boas' summer revolution at Spurs. The Porto midfielder, 26, almost joined Tottenham at the start of the season before his move collapsed. Spurs boss AVB worked with Moutinho in Portugal and wants to make him a key player. But a deal would cost at least £30million and Monaco are also considering a bid.
AVB urges summer splurge or Tottenham will suffer heartbreak again (Darren Lewis, Mirror) Jermain Defoe and Emmanuel Adebayor have managed just five Premier League goals between them since the turn of the year. And AVB wants Barcelona striker David Villa and Aston Villa marksman Christian Benteke as replacements.
Man City's 2013-14
New City boss Pellegrini linked with £20m Real defender Pepe (Mail) Manchester City boss Manuel Pellegrini has been linked with Real Madrid defender Pepe, 30, but the Spaniards want £20m… Pelligrini faces losing one of his star men with Carlos Tevez admitting that he would be interested in a move to Paris St Germain.
City chaos hinders search for sponsor as financial giants pull plug on £125m shirt deal (Nick Harris, Mail) Industry sources say City's hierarchy decided months ago to find a major sponsor to replace Etihad on City's shirts, although Etihad will remain a major club sponsor… It is understood one potential shirt sponsor, an international financial services firm with their headquarters in the United States, were considering a five-year £25million-a-year deal but have dropped out of negotiations 'because of uncertainties about where City are going, medium-term'.
Juventus chasing Manchester City star Carlos Tevez (Neil McLeman, Mirror) Carlos Tevez is a summer target for Scudetto winners Juventus. The Serie A champions have the Manchester City striker and Real Madrid's Gonzalo Higuain on a shopping list to boost a Champions League bid next season.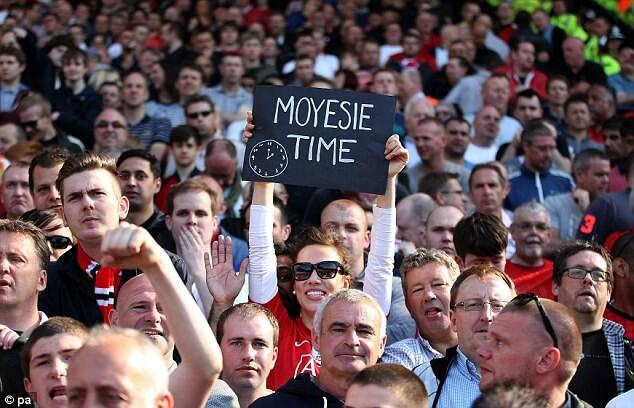 David Moyes' United
Sir Alex Ferguson's parting gift to Manchester United manager David Moyes may have been a poisoned chalice (Alan Hansen, Telegraph) With Sir Alex Ferguson now the ex-Manchester United manager, the club will now witness the dawn of a new era and sustaining success at Old Trafford will be a really hard job for David Moyes… David is a top-class manager, one of the very best, and there is no way that anybody in his position would ever dream of turning down a six-year contract to manage Manchester United. But I believe he would have been better served had he taken the job on with a different United team to the one he inherits from Ferguson… I believe City and Chelsea have stronger starting line-ups than United and, if they kick on and add to their squads this summer, they will pose a much sterner test next season and make David Moyes's first campaign as manager a much more difficult one.
Sir Alex Ferguson's exit kicks off new reality for Manchester United players (Paul Hayward, Telegraph) There is a smoothness about the United operation that Moyes will do well to maintain in his first campaign. As the club glided towards their 20th English championship this year there was nothing to challenge, nothing to moan about, nothing to doubt. Ferguson's authority was absolute. The board were still releasing funds to strengthen the squad (Robin van Persie, Shinji Kagawa). With stability from top to bottom United transcended the normal laws of football, which say that any manager is only five bad results from a crisis.
Carlo In, Jose Out
Real to seal Mourinho's Madrid exit in urgent meeting as moves are made to bring in Ancelotti (who confirms plans to leave) (Neil Ashton, Mail) Jose Mourinho's fate as Real Madrid coach will be sealed at a directors meeting scheduled for Monday evening. Real have already made their move to make Carlo Ancelotti their next boss after the Italian asked to quit French champions PSG on Sunday… Real president Florentino Perez wants compensation for Mourinho from Chelsea in order to use the cash to release Ancelotti from his contract at the Parc des Princes.
West Ham: Summer Signings
West Ham to complete signing of Shakhtar left back Rat and remain keen on Figueroa (Mail) Romania and Shakhtar Donetsk left back Razvan Rat will have a medical at West Ham today ahead of signing a three-year deal… West Ham are still keen on Maynor Figueroa, 30, of Wigan and Newcastle's Danny Simpson, 26, as are Hull.
West Ham prioritise signing Andy Carroll from Liverpool (Express) Sam Allardyce has confirmed that West Ham's move to permanently sign on-loan Liverpool striker Andy Carroll is the club's 'priority' this summer.
---
GAMBLING CAN BE ADDICTIVE, PLEASE PLAY RESPONSIBLY