Arsenal salvage some pride, PSG want Rooney, Lewandowski eyes United & the away goals rule sucks!
Comment & analysis round-up
Quote of the day: "It's a massive disappointment for English football because for many years we have not been used to this. It's a massive wake-up call for us and it means that the rest of European football has caught up with us. We have to take that into consideration when we talk about the Premier League in the future. To qualify is 180 minutes. It's a bit similar to last year's situation against Milan, when we missed the first leg [and lost 4-0]. The regret we have is not this game against Bayern but the first game. You could see tonight the weight of that third goal that we gave away with four minutes to go. It's massive. We went close and I am very proud of the performance but as well I am very disappointed for everyone who follows Arsenal. When you look at our game tonight we have many regrets about the first game. I felt it was very feasible to knock Bayern out. We had a plan that we respected tonight. It went a bit for us on some occasions but overall we played well. The second goal came too late but we did have a few opportunities in the second half. Bayern defended very well. They were a very defensive team tonight and they stopped us from playing. We were under pressure because a bad performance would have been terrible for the morale and the pride of the team. The regret I have is that there is potential in the team and we are, of course, out of the competition." – Arsene Wenger.
Runner-up: "I can do nothing about that. Just concentrate on my job and try to do my best to prepare the team for every competition. Maybe somebody else will blame me, They will say it's my fault, because everything is my fault." – Rafa Benitez jokes about Chelsea's packed fixture list if they negotiate past Steaua.
Bayern Munich 0 – Arsenal 2
Arsenal exit with heads high after shock defeat of Bayern in Munich (David Hytner, Guardian) In the end the damage in London proved irreparable. Arsenal's calamitous first-leg defeat had required them to become the first team in Champions League history to overturn a two-goal deficit away from home and this season's Bayern Munich are not known as the accommodating type. Arsenal won 2-0 on the night to draw 3-3 on aggregate but lost on away goals. Yet how close the Gunners came, on a night when the ultimate failure was steeped in honour and even glory. From the moment that Olivier Giroud put Arsenal in front in the third minute they refused to believe a third consecutive last-16 elimination was their destiny, following the losses to Milan and Barcelona. They did not chase the goals they needed in swashbuckling fashion. Rather they defended stoutly to retain a puncher's chance. But they set up an unlikely knockout when Laurent Koscielny squeezed home a late header from Santi Cazorla's corner.
Arsenal save reputation yet leave it late to find some belief (Sam Wallace, Independent) Dignity in elimination, victory in defeat, a rare humbling of the mighty Bayern Munich – and just one goal away from the most memorable comeback since, well, Tuesday at the Nou Camp. This is Arsenal in 2013, a mix of hope and disappointment whose speciality has become a strange kind of heroic failure. First of all, let us give Arsenal their due for beating a Bayern side that has lost just two games previously all season and saw an 11-match winning streak come to an end last night. Yes, Bayern looked pretty ordinary at times and their unfortunate habit of choking against English clubs in Europe almost came back to haunt them again.
Gunners go out in a blaze of glory (Steven Howard, Sun) We had asked for a performance. We had asked a team humiliated by Bradford and Blackburn to go out and fight, scrap and die with their boots on — and they did. Arsene Wenger had said his side had to implant a doubt in Bayern's mind. And that could only happen if Arsenal had a real go. Which, even without Jack Wilshere, they proceeded to do. There were a lot of Arsenal heroes out there last night but none more than stand-in goalkeeper Lukasz Fabianski, Laurent Koscielny and Theo Walcott. And, yes, the whole of a defence who have been rightly ridiculed at times this season.
Henry Winter match report (Daily Telegraph) So the great European party that is the Champions League goes on without the English. Arsenal fought hard to stay in the VIP enclosure of European football, giving Bayern Munich a nervous final few minutes here, but ultimately they paid the price of poor defending in the first leg. Premier League defending has been in decline for a while, barring robust displays like Chelsea's last season and, as the light faded, by Arsenal in the second leg here. Arsène Wenger's back division were as solid and well-organised as they had been insipid at the Emirates. Lukasz Fabianski, making a first start in 13 months, kept goal well. and all along the watch-tower in front of him were alert sentries. Carl Jenkinson dispossessed Arjen Robben almost nonchalantly at one point. Per Mertesacker and Laurent Koscielny kept Mario Mandzukic, then Mario Gómez at bay. Kieran Gibbs showed what a good player he can be when free of injury.
Arsenal must copy Bayern's blueprint if they want to end their trophyless run (Neil Ashton, Daily Mail) On Wednesday night they almost bridged the gap between Bavaria and a bright future after a stunning, but ultimately unsuccessful, win in the Allianz Arena. Both clubs have the stadium, the 60,000-seat arenas built with the modern corporate fan in mind, but Bayern just about have the edge. Manuel Neuer, Javi Martinez, Arjen Robben, Philipp Lahm, Thomas Muller and Toni Kroos are today's stars and tomorrow's Champions League quarter-finalists. Eight wretched years is too long for a club the size of Arsenal to go without winning a trophy; Bayern won the title in the season they moved into the Allianz Arena, the same year Arsenal moved to the Emirates, and never looked back. Bayern wobbled when Arsenal striker Olivier Giroud put them in front and Laurent Koscielny caused a stir with another four minutes from time. Yet beyond Barcelona, Bayern are next in the queue when it comes to consistency. They have won the Bundesliga a record 22 times and will add another before Pep Guardiola replaces Heynckes at the end of the season.
PSG want Rooney
French connection: Manchester United's Wayne Rooney a target for PSG to replace 'unsettled' Ibrahimovic (David McDonnell, Daily Mirror) Zlatan Ibrahimovic could leave Paris Saint-Germain – paving the way for a £35million bid for Manchester United's Wayne Rooney by the money-bags French side. Ibrahimovic is said to be disillusioned with life in France after less than one season, and could be ready to move on this summer to what would be the eighth club of his nomadic career. That would leave the mega-rich Qatari-owned PSG free to raid the Old Trafford club for Rooney. Sweden striker Ibrahimovic, bought from AC Milan in July, has already served three suspensions this season and is set to be the target of a £20m bid from Bayern Munich. Incoming Bayern boss Pep Guardiola signed Ibrahimovic when he was in charge at Barcelona and the pair could be reunited in Germany.
Lewandowski eyes United
Rob eyes a Way in (Martin Blackburn, Sun) Robert Lewandowski is keeping a close eye on Wayne Rooney's situation at Manchester United. Borussia Dortmund's Polish hotshot would love a move to Old Trafford. Alex Ferguson bid £17million for Lewandowski, 24, last summer — but pulled out when he landed Robin van Persie. But he has continued to keep close tabs on the striker. Bayern Munich are leading the chase, but Lewandowski knows it would upset Dortmund fans if he moved to their rivals, plus he wants to try his luck in England.
Where next for Jose?
On your way, Jose? Mourinho to meet Real president to discuss Madrid future as Chelsea, City and United monitor progress (Simon Jones, Daily Mail) Jose Mourinho will meet with Real Madrid president Florentino Perez at the end of this month to discuss his future. Real are understood to have already prepared a £10m severance package for the Portuguese coach to depart in the summer. Chelsea, Paris Saint-Germain, Inter Milan and both Manchester clubs are monitoring developments.
Liverpool chase Kevin Gameiro
Liverpool need to talk about Kevin with PSG: Reds step up bid to sign striker Gameiro (Simon Jones, Daily Mail) Liverpool have been encouraged to step up their pursuit of Paris St Germain striker Kevin Gameiro. Brendan Rodgers expressed interest in Gameiro in January and wants to try again this summer after learning of the striker's increasing frustration at his lack of game time. The 25-year-old was reported to be 'furious' after being left on the bench again last week.
Will Rio Ferdinand bag a place in the England squad?
Rio fears Roy snub again (Sun) Rio Ferdinad fears an England snub today. Three Lions boss Roy Hodgson announces his squad for the upcoming World Cup qualifiers with San Marino and Montenegro this afternoon and last night Ferdinand had still not been contacted by anyone at the FA. The Manchester United star, 34, was dreaming of a return to international football after injuries to Phil Jagielka, Chris Smalling and Phil Jones. Ferdinand, whose last England game was against Switzerland in June 2011, believes he was no longer considered by Hodgson after the race row involving his brother Anton and John Terry. But with Terry having retired from international duty, Ferdinand was hopeful of a call-up.
The failure of English clubs in Europe
Arsenal's exit to Bayern Munich leaves David Beckham flying England's flag in the Champions League (Jim White, Daily Telegraph) After Wednesday night, it appears the only thing the nation that invented the game will provide for the final at Wembley, the supposed home of football, is the catering staff. And the blokes manning the car parks. Yet, even as former dominance fades, we can take comfort that there is one thing of which English football retains its mastery: the glorious failure. And how glorious Arsenal's failure was here. This is the Allianz Arena after all, home to a Bayern Munich side that are currently perched twenty points clear at the top of the Bundesliga, a club with legitimate claim to be the favourite to lift the trophy in May. Everything in the preamble to this game suggested Arsenal were already beaten. Their manager even admitted as much, hinting that qualifying for next season's tournament was more of a priority than trying to stay in it this year.
England's dreaming: European clubs have caught up, so what's next? (Martin Lipton, Daily Mirror) So much for "the best league in the world"? Spain, surely, have that title sewn up now. Hard to argue otherwise. And while it would be wrong for knee-jerk reactions, for doom and gloom to descend, the reality is that the status of the Premier League's heaviest guns has diminished. Between 2004 and 2009, England's "big four" – Arsenal, Chelsea, Liverpool and Manchester United – accounted for 13 of the 24 semi-final berths on offer. Since then, only two. Indeed, in 2008, the only teams that could beat the Premier League sides were…the Premier League sides, Arsenal defeated by Liverpool, who lost to Chelsea, who were beaten on penalties in Moscow by United. Those teams had few, if any, weaknesses. That Ji-Sung Park was not even able to get into United's 18 for the Final demonstrates the strength in depth. But with the dawning of the Barcelona era in 2009 – the only non-English semi-finalist won the trophy – the balance has shifted, clearly and incontrovertibly.
Brilliant Barca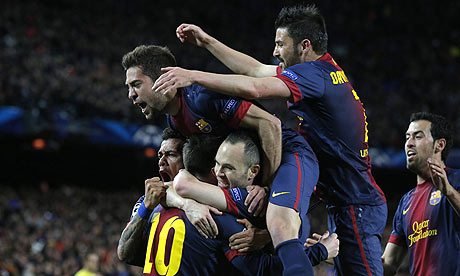 Barcelona do it their way to restore Champions League pride (Sid Lowe, Guardian) And so in the dying seconds, Barcelona threw a defender into the attack. But this was not Gerard Piqué and this was not desperation. Lionel Messi brought the ball out and found Alexis Sánchez on the right. On the other wing, Jordi Alba was hurtling up the pitch, legs whirring like Roadrunner: stoppage time, 3-0 up, nerves frayed, and the left-back was racing into the opposition penalty area. Some might have taken the ball into the corner but Sánchez curled it into Alba's path instead and he finished the night off at last: 4-0, relief and redemption. Barcelona had gone back to what they know, not just in winning but how they won. They did it their way. Until that stoppage-time goal, the threat always hung over them: a Milan goal would have put them out of the Champions League and, for all the dominance, that was not impossible. M'Baye Niang hit the post – "At this club, you can't do that," Javier Mascherano said of his mistake – and as the final seconds ticked away, Alba made a vital interception, stopping Robinho barely six yards out. But they had got it right.
The away goals rule sucks!
The Question: is the away-goals rule counterproductive? (Jonathan Wilson, Guardian) Transport is better now, there is a great homogeneity of conditions while the differences between a German side and a Spanish idea, say, or a Russian side and a French side, are far less than they were. Teams are cosmopolitan, national styles less distinct than they once were. Away trips simply aren't as frightening as they once were and so the away goal becomes a weird distorter. To see how this can spoil football, you only have to look at last season's Champions League semi-final between Bayern Munich and Real Madrid. Bayern led 2-1 from the first leg. Real Madrid, seeking an early equaliser at the Bernabéu started furiously and struck twice in the first 14 minutes. That forced Bayern on to the attack and they made it 3-3 on aggregate with a 27th-minute penalty. It had been a thrillingly hectic opening half hour, and then the game died. Bayern looked to protect a level position on away soil, while Real were inhibited, knowing that if they conceded one they would have to score two to stay in the tie. Bayern behaved just as any away side would; Real were forced on the defensive by the away goals rule: far from encouraging the away team to play progressively, the away goals rule encouraged the home team to play more cagily.
Click here for more Premier League betting tips
---