"[Arsenal need] an intelligent, mobile, unselfish guy who might be happy to come off the bench and do a job for you. These type of players are not overly expensive" – Gabriele Marcotti
Comment & analysis round-up
Quote of the day: "Football lives in an artificial world at the moment. We have to live in a realistic world at Arsenal, and we are very proud of that. If you go high on transfer fees, you also go with high wages. It is linked, but we cannot afford [to do that]. Also, we live as if everybody can just buy, buy and buy in the market. But look what happened in the January transfer window. Give me one big move: there were none. People ask me: 'Why did you not buy a great striker?' Well, tell me one who moved clubs. There wasn't one. We are one of the 10 best clubs in Europe and players who can strengthen our team in that window are either not available or at a price that we cannot afford." – Arsene Wenger.
Runner-up: "I am too connected and tied up to the players. I have a relationship with them and we had a quick chat to remind them our job is to play football. I have a relationship with the supporters, who have been fantastic for me. I don't like to leave situations unfinished, but I am a person with principles and I won't allow anybody to walk over my principles… They [the club's hierarchy] can talk about players as much as they want, but when an article [revealing wages cuts in the summer] comes before a match like this one, I'm not happy. Maybe they should talk to us first before talking to a newspaper. I give my honest answer, whether people like it or not. I don't really care the way it will be taken." – Gianfranco Zola.
Today's overview: Forget staying up. Can Pompey survive as a football club for next season?
The news is grim on the south coast this Wednesday, as Jamie Jackson reports "Portsmouth could become the first Premier League club to enter administration today after talks between their lawyers and Her Majesty's Revenue and Customs failed to avert this morning's winding-up petition in the high court."
Reacting to the impact of clubs falling into administration, David Conn reveals how such proceedings affect a much larger group of people than just the football clubs. "Since 2002, when ITV Digital's collapse helped push 10 clubs over the edge, an estimated £200m due to creditors has been left unpaid, including sums owed to the police, local ­councils, hospitals, universities and other public bodies, a Yellow Pages-worth of small businesses and, most unforgivably, St John Ambulance… Compounding this embarrassment is football's insistence that when a club is bought out of administration while "ordinary" creditors have to accept a fraction, often a 10th, of what they are owed, other clubs, and players, must be paid in full."
Staying with belt-tightening, Matt Hughes fleshes out how "Arsene Wenger bowed to mounting pressure from Arsenal fans to explain his lack of transfer activity yesterday by revealing that the club cannot afford big-money signings… Wenger did insist, however, that Cesc FÃ bregas, his coveted midfield player, will not be moving to Spain, despite recent speculation."
But not everyone agrees with Wenger's assertion that he cannot afford a new striker, with Gabriele Marcotti going out on the offensive against The Professor. "What Arsenal lack is a reserve striker with a big body who won't fall over the ball but, in certain games, can provide the muscle which is lacking, open space for the more skilful players and generally provide the kind of presence which has been lacking. This does not mean signing Kevin Davies and lumping balls to his head. It means getting an intelligent, mobile, unselfish guy who might be happy to come off the bench and do a job for you. These type of players are not overly expensive. Heck, he could even have signed someone on loan with a buy-back option."
Manchester City may have returned to winning ways against Bolton, but many in the fourth estate are unable to ignore the Jekyll and Hyde nature of the Citizens.
Louise Taylor noted that "it seemed somehow appropriate that a scruffy Carlos Tevez penalty and a ­superlative Emmanuel Adebayor volley sealed victory for a sometimes struggling, sometimes sublime, Manchester City." James Ducker was also only mildly impressed by City writing "it was far from vintage stuff from City, but with Bolton offering little in the way of attacking threat and lacking the conviction that they could become the first side to win at the City of Manchester Stadium since April last year, the home team never needed to be at their best."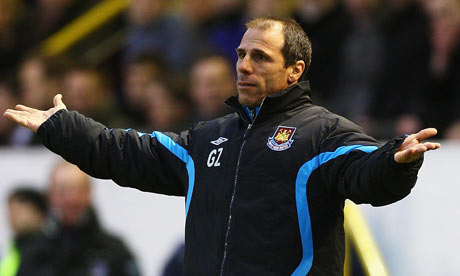 Tension is mounting at Upton Park as fault lines between manager and owners begin to come to the fore.
Mikey Stafford details how "while [Zola] said he had no desire to walk away from the club, he hinted that he would not suffer excessive interference from Sullivan and David Gold, who bought 50% of the club last month… the West Ham manager knew ­nothing of their plans to cut wages during the summer, whether the club – currently third from bottom in the league – avoid relegation or not."
So bad is the situation the Jason Burt feels compelled to write "Telegraph Sport understands that under the 'shareholders agreement' between Sullivan, co-chairman with David Gold, and Straumur, the stricken Icelandic bank, as part of last month's takeover deal the manager cannot be removed until June."
Yet Martin Samuel offers some support for West Ham's new owners and their claims the the Hammers need to be more financially and realistically prudent. "The new owners are growing increasingly frustrated at being told that this will not be a relegation season. There is a point at which positive self-belief meets complacency and the pair have dined on expenses at West Ham for too long. Perhaps the dose of reality Sullivan introduced by talking of 25 per cent wage cuts in the summer was ill-timed, but the problem is one of extremes; West Ham has shifted from a land of plenty to one of austerity with no middle ground."
Are Liverpool set to bought out by a billionaire Indian investor?
Tony Evans stokes the flames of a story most Liverpudlians will want to believe. "Subrata Roy is ready to increase the pace of his bid for Liverpool. A spokesman for Sahara, the Indian tycoon's company, declined to comment on the takeover attempt yesterday, but sources in India confirmed the interest while saying that discussions were at an early stage… The Times understands that India's wealthiest man remains in the background as a potential investor."
While Liverpool search for new owners, Patrick Barclay delivers his sorry assessment that Manchester United fans appear to be saddled with the Glazers for the long term. "The Americans can now, if they choose, just sit back and watch their asset's value grow. Unless the protesters are prepared to countenance tactics, such as boycotts, that would drive the price down, it can only go up… It is difficult to be optimistic at this stage about what the protest can achieve. For all the desirability of its apparent aim, which is to adapt the Barcelona model of ownership to English conditions, the price of United looks prohibitive. On the other hand, United have an unparalleled capacity for profit-generation that might just persuade enough people to combine business with pleasure."
Not only do the Glazers appear financially secure as owners of Manchester United, but Ian Hebert reports the story of the United steward who has been fired for appearing to side with the protesters. "Fans' suspicions that the club is seeking to silence their protests have been fanned as word has spread of the dismissal of one of Old Trafford's longest-serving stewards after he took back a banner seized from fans by his employers and attempted to return it."
The transfer news continues to flow despite it being months before players can move between clubs again.
Andy Hunter announces "Milan Jovanovic last night signed a three-year contract with Liverpool, with the option of another year. Benitez refused to comment on reports that he is unhappy with how Liverpool handled their pursuit of the Bordeaux striker Marouane Chamakh, who will move to Arsenal instead of Anfield this summer." Fleshing out the Chamakh story, John Cross adds that Arsenal have agreed a £50,000-a-week deal with the striker while in a separate article Cross also reveals that "Arsenal could be about to lose William Gallas after the French centre half was only offered a one-year deal. Gallas, 32, is a free agent this summer and has made it clear in negotiations that he wants a two-year contract to stay."
Leaving most to ask "who?," the Daily Mail fart that Wigan and Sunderland are vying for the signature of Paraguay international Cristian Riveros. The Mail aren't finished there though, also popping out the story that "Manchester United are watching two of Roma's 15-year-olds Valerio Verre and Filippo Cipriani."
Danny Fullbrook slaps the word EXCLUSIVE on his far-fetched article shouting "Chelsea's first summer transfer target is Barcelona's £30m defender Dani Alves. Boss Carlo Ancelotti wants a new right-back and the Brazilian fits the bill. But he will face competition from Manchester City for his signature." Elsewhere, The Sun claim that Newcastle are tracking Wigan duo of Titus Bramble and Ben Watson.
Lastly, in a deal unlikely to happen, Lisa Gray barks "Rangers manager Walter Smith has refused to read too much into reports linking Madjid Bougherra with a move to Barcelona after claiming he is now used to the constant speculation surrounding the defender."
---