Arsenal line up Ba & Huntelaar, Man United linked with Lewandowski & Sneijder as Jose Mourinho prepares Real Madrid exit
Comment & analysis round-up
Quote of the day: "We have not always been supportive of the way that Celtic try and play football. However, their fans deserve the knockout stages of the Champions League as I think the competition would be a quieter place without them." – Lionel Messi.
Runner-up: "I can take a distance with things when it goes well and when it goes less well. I don't believe I am the king of the world when it goes very well nor that I am the worst manager in the world when it doesn't go well. What has changed a bit is that the world has become more emotional about every single thing, but that's not the real world. The real world is to take things in the right way and care about what we do. I really care about what I do and about this club but, as well, not go overboard. We lost a game on Saturday. No matter what happens, Arsenal will lose games again, and Arsenal will win games again. We have to play well and keep facing the game the way we want to play football and in the values we want to defend. We have always done that. We live in a world that needs a drama every day. You have to enjoy to play football and not to live in a dramatic world in a consistent way. This club is in fantastic shape. We have a good team, we have a strong structure that we have built over the years; we are in a strong financial situation and we are mentally strong. I can understand that not everybody is pleased about that, but it is a fact. That's why we have to continue to behave like we do. It's fashionable to be against Arsenal so every single word you say, people turn it against you." – Arsene Wenger.
Arsenal linked with Ba, Huntelaar, Zaha, Henry & Reina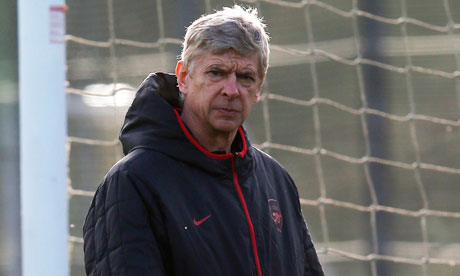 Wenger wants Demba (Pat Sheehan, Sun) Arsene Wenger will go all out to sign Demba Ba in January. The Arsenal manager knows he can land the Senegal striker for £7.5million due to a buy-out clause in his Newcastle contract. Wenger is desperate for a proven Premier League striker after selling Dutch superstar Robin van Persie to Manchester United. And he believes Ba could be the answer. Despite intense speculation last summer, no club stepped forward to trigger Ba's clause — but Toon manager Alan Pardew revealed it will re-activate next month. Arsenal are ready to offer him £60,000 a week plus add-ons.
Wenger ready to make Huntelaar top of his Klaas … with Henry, Zaha and Reina set to follow as Arsenal boss bids to save season (Sami Mokbel, Daily Mail) Arsenal manager Arsene Wenger wants to sign Schalke goalscorer Klass-Jan Huntelaar next month and he could be available for a cut-price £6million. The Holland international has been watched extensively by Arsenal scouts during the opening weeks of the season. Manager Wenger is a long-term admirer of the 29-year-old striker and has tried to sign Huntelaar in the past. The Frenchman has received glowing feedback from his European network of spies regarding the former Real Madrid striker. And after discussions with influential chief scout Steve Rowley, the Arsenal manager has made a firm decision to make an offer for the centre forward when the transfer window reopens. Wenger has been told there are substantial funds to spend on signings and a portion of the kitty has already been assigned to the Huntelaar move. Huntelaar's current deal expires at the end of the season.
Arsène Wenger's free rein has left Arsenal's visionary in the dark (Richard Williams, Guardian) The signs of decline have been evident since David Dein, the vice-chairman who brought him to London, was forced by internal politics to resign five years ago. Dein's £75m sale of his shares to Alisher Usmanov may have created a fundamental and potentially dangerous schism in the club's ownership, but his departure also removed a source of wise counsel and positive decision-making to which, we now realise, Wenger owed a great deal. And, left to his own devices, the visionary has run out of vision.
Where next for Jose Mourinho?
José Mourinho cannot escape from rumours of a divorce with Real Madrid (Sid Lowe, Guardian) Mourinho knows the very fact that the story was published at all is significant and will no doubt wonder about its source, given not only the by-line but also the shift over the last few weeks. He has also been positioning himself, with Chelsea and Manchester City potential destinations, while in a documentary screened on ITV on Monday night Sir Alex Ferguson said Mourinho would be more than capable of succeeding him at Manchester United. Again, the Portuguese batted the question away. "That's what friends are like," Mourinho said. "They always say nice things about you, they are always on your side. He [Ferguson] is a proper friend and that's why he said that. But that is out of the [time] slot. The succession will be in 10 years time. [Ferguson] is fine and is better by the day."
Big three scrap to get Jose back! Is it United, City or his old friends at Chelsea? (Neil Ashton, Daily Mail) This time he is on his way back to England and even the possibility of becoming the first coach to win the European Cup in three different countries will not stop him leaving. His team are 11 points behind Tito Villanova's Barcelona in La Liga and Real president Florentino Perez is unhappy with the atmosphere at his club. Mourinho addressed the issue ahead of the match against Ajax in the Champions League,  in the face of reports in Spanish newspaper Marca that his reign is as good as over. Asked if Perez was happy, a tetchy Mourinho replied: 'Ask him. I don't have to say when I spoke to the president and I don't have to say what we spoke about. I don't suppose the president will say anything either. We have a very good relationship.' His availability has been noted in the boardrooms of United, Manchester City and Chelsea. With Pep Guardiola also on the market, it will be impossible to ignore Mourinho as he flirts with a return to the English top flight.
Where next for Pep Guardiola?
Warning Seine: Paris Saint-Germain ready to outbid Chelsea for Guardiola (Martin Lipton, Daily Mirror) Roman Abramovich's worst Chelsea nightmare started to look a reality last night as Paris Saint-Germain targeted Pep Guardiola to take over next summer. With interim boss Rafa Benitez struggling to impose his authority on a team in free-fall after the sacking of his predecessor Roberto Di Matteo, Abramovich is even more desperate to entice the former Barcelona boss to Stamford Bridge. Guardiola has insisted he will not make any decision over his future until the New Year – with Manchester City and Manchester United also potential options. But PSG's Qatari owners are set to pull the plug on ex-Chelsea chief Carlo Ancelotti and throw everything at Guardiola to try to tempt him to France when he ends his sabbatical on New York.
Rafa Benitez & Chelsea in crisis
'If I told you any more, I would have to kill you…': Inside Roman's inner circle, Sportsmail speaks to Bobby Campbell, the former Chelsea boss who sits next to Abramovich at every home game (Neil Ashton, Daily Mail) 'Roman is a wonderful man and I have a very good relationship with him,' revealed Campbell just as he stepped off a big red London bus outside Stamford Bridge this morning. 'He is a good man, but you have to remember he is Russian and there is a big cultural difference which people don't want to accept in this country. 'I accept him because I know the man and I respect him and like him. I have been invited to watch games with him for seven or eight years and I have learned a lot from him. 'They are a decent bunch of lads, there is no doubt about it. They really are good people with Chelsea's best intentions at heart. 'I can't tell you much more about my relationship with Roman, other than to say if I did, I would have to kill you.' Let's hope it doesn't come to that.
Rafael Benítez tells Chelsea he does not need Avram Grant's help (Jamie Jackson, Guardian) Rafael Benítez has been assured of his immediate future by Chelsea but has told the hierarchy he does not want Avram Grant at Stamford Bridge. The club on Monday denied reports that the Israeli has been sounded out regarding whether he would consider joining as an adviser to the Spanish interim manager, who is yet to win a match after three games in charge. After goalless draws with Manchester City and Fulham, on Saturday Chelsea lost at West Ham to put Benítez under pressure despite being appointed only a fortnight ago, with the former Liverpool manager continuing to be a highly unpopular choice with the fans after he succeeded Roberto Di Matteo.
Granted, talk of Avram's return is laughable but joke is on club (James Lawton, Independent) Just when the affairs of Chelsea Football Club appear to have moved beyond parody, reports emerge that Avram Grant may reappear as a cool and steadying influence. It has been briskly denied but then who can really say what next is about to fly over the cuckoo's nest? Imagine it, Rafa and Avram and Roman – football's answer not to the Three Musketeers but the Three Stooges. No doubt this is extremely hard on Rafael Benitez, who alone among the bizarre triumvirate has a body of work behind him strong enough to survive in some viable form even a fleeting association with what may lightly be described as the management structure at Stamford Bridge. But then he cannot claim to have enrolled in the circus unaware of its worst possibilities.
I can't ever remember seeing Chelsea that bad (Ian Wright, Sun) Chelsea remain a club in chaos and it's all becoming a bit embarrassing. The team is like a wounded animal and all their opponents over the next month will be smelling blood. Things, potentially, could get worse for Rafa Benitez. Roman Abramovich — and all the club's fans — will already have to accept that the Premier League is a two-horse race with both clubs coming from Manchester. Only after appointing Benitez did Abramovich decide to speak with the fans. But it was a bit too late for that. Had he kept Roberto Di Matteo in charge, I wonder whether Chelsea would have managed only a couple of draws and a 3-1 loss at West Ham. 
Chelsea manager Rafael Benítez must avoid farce at Stamford Bridge after Italian soap opera with Inter Milan (Jonathan Liew, Daily Telegraph) Karl Marx once wrote that history repeats itself once as tragedy and twice as farce. After just three games of Rafael Benitez's tenure at Chelsea, a few parallels are already beginning to emerge with his abortive stint at Inter Milan two years ago. Then, as now, Benítez was taking over from a much-loved Champions League-winning manager. The haughty, gesticulating ghost of Jose Mourinho stalked the corridors at the San Siro in much the same way that Roberto Di Matteo's fingerprints are still visible all over Stamford Bridge's current generation. In both cases, Benítez stepped into a dressing room that was still fiercely loyal to its previous manager. The enduring ties may even have been deeper than that, given Mourinho's predilection for exchanging text messages with former players. And so Benítez was caught between two stools: a keenness to assert his own style and personality on the Inter team, and a need to maintain continuity in the interests of stability and morale.
Is Robert Lewandowski being lined up by Manchester United?
That's just, like, your opinion, Man: Big Lewandowski-to-United talk doesn't worry Dortmund (David McDonnell, Daily Mirror) Manchester United have been told to forget about signing Borussia Dortmund striker Robert Lewandowski in January. Sir Alex Ferguson wants to sign Lewandowski and fresh reports from Germany claimed United have already agreed a £12million deal and will sign him on a five-year contract. United boss Ferguson watched the 24-year-old Poland forward in October, when Dortmund played at Manchester City in the Champions League group stage. But Dortmund coach Jurgen Klopp said there was no way the German champions will allow the striker to leave next month, with a summer move the likeliest scenario.
Manchester United play waiting game for Borussia Dortmund's £24m-striker Robert Lewandowski (Mark Ogden, Daily Telegraph) Manchester United are prepared to wait until the end of the season before making a renewed bid for Borussia Dortmund forward Robert Lewandowski after the German champions placed a €30 million (£24.3million) valuation on the Poland international. United made a formal inquiry for the 24 year-old during the summer, but were told by Dortmund that the player, who has scored nine goals in the Bundesliga this season, would not be allowed to follow Japanese midfielder Shinji Kagawa from Signal Iduna Park to Old Trafford. Lewandowski, who could face Manchester City in Tuesday night's Champions League group tie in Germany, has told Dortmund that he has no intention of signing a new contract to replace his deal which expires in June 2014. The Pole has also made it clear that he wants to play in the Premier League and favours a move to United, who will face competition from Arsenal, Chelsea and Juventus should Dortmund choose to sell at the end of the season.
… United also wants Sneijder (again) 
Wes Red Alert (Sun) Manchester United are on alert for Wesley Sneijder again after the midfielder's contract bust-up at Inter Milan. Old Trafford manager Alex Ferguson was ready to pay £35million for the Dutch international last summer. Inter want Sneijder, 28, to take a pay cut but he is refusing to renegotiate a new deal. He rapped: "There is little reason for me to sign."
Daniel Sturridge's rather large demands to join Liverpool
Sturr crazy? Chelsea reserve wants £80k a week AND position pledge from Liverpool (Darren Lewis, Daily Mirror) Daniel Sturridge is demanding a staggering £80,000 a week to move to Liverpool in January. The Reds have already asked Chelsea about their reserve striker's availability, and look set to follow up their interest, which dates back to the summer, in the winter transfer window. There is a feeling at Anfield, however, that Sturridge has done little in the last 12 months to justify such big wages since his fine start to last season. Back then, he scored 10 goals playing wide in an attacking three under Andre Villas-Boas. But since last December, he has scored just five times for the European Champions.
Andy Carroll attacks a photographer
Snapper is Hammered by Andy Carroll (Nick Parker & Edel O'Connell, Sun) Footie star Andy Carroll was last night accused of attacking a photographer and gouging his eye. Sun snapper Paddy Cummins claimed he was assaulted by the pony-tailed England ace outside a nightclub following a binge with West Ham team-mates. Paddy said boozed-up Carroll — sidelined by a knee injury — went berserk at him for trying to take a photo of him without a leg brace he had been wearing earlier. The 5ft 8in lensman said the 6ft 3in striker DUG his fingers into his right eye while trying to grab his camera.
Rob Earnshaw on staging Euro 2013 in Israel
Robert Earnshaw: 'I saw two rockets come across the sky' (Independent, Simon Hart) On the day we meet, though, there is no sign of the recent hostilities that claimed six Israeli and more than 150 Palestinian lives – not here at the Hilton Hotel, with the sun shining and the cappuccinos served. "You look at it now and people don't think of Israel like this," Earnshaw reflects. For all the negative images, this is a place where "you've got the beach, you've got parks, you've got malls – you've got so much to do". This is the Israel that Uefa hopes we will see at the European Under-21 Championship next June. It was at the Hilton that last Wednesday's draw took place – putting England in the easier group alongside the hosts, Italy and Norway, and away from Spain – and it is Earnshaw's belief that Stuart Pearce's England have nothing to fear off the pitch either from the first major football tournament on Israeli soil. "This is the normality in Tel Aviv as you see it now. I don't think they've got anything to worry about," he says. "They are big on security [and] when there is a tournament like that here they'll be even stricter. I am sure this is the Tel Aviv that they'll see – the beach, the outgoing people."
---
GAMBLING CAN BE ADDICTIVE, PLEASE PLAY RESPONSIBLY