Arsenal increase their bid for Luis Suarez, Moyes still wants Fabregas & New Liverpool deal for Stevie G
Paper round-up
Quote of the day: "It's my first season as manager and I'm following probably the finest football manager that's ever lived. If I can even win a quarter of what he won, then I'll have done very well. So the first thing I've got to do is settle in to the job, get to know everybody and find my way around. I'm really fortunate that everybody who's working at the club is making that easy for me. The players, especially, have been terrific in what they're doing and we'll be adding one or two more players who've come in to join us, who have may be been away with international teams over the summer time in the next month or so." – David Moyes.
Runner-up: "I like Olivier very much. He scored 17 goals in his first season in England. He needed to adapt and I'm sure he will respond. I was very pleased with the way we played, the young players, the senior ones and to score seven goals was very pleasing. We grew stronger as the game wore on, the substitutes made a difference and we showed our extra power and physical strength towards the end. It's been a very positive night for us. Everyone did very well, we played with pace, good passing and technical skill and we could also test some of our young players tonight. We were faithful to our game and we were rewarded with seven goals and a very good performance from all the players. Although it was only 1-0 at half-time it became a very big win the last 20 minutes when we changed some players when Indonesia were tiring. The difference was our physical power and though there is still a lot of work to do before we are ready for the new season, this is a good start." – Arsene Wenger.
Arsenal increase their bid for Luis Suarez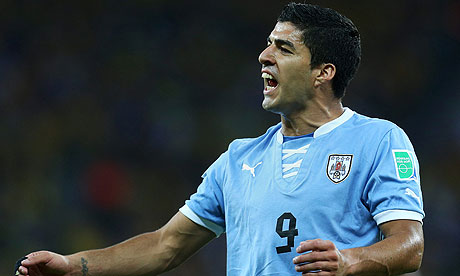 Arsenal to tempt Liverpool with £35m offer for Suarez as fresh bid for wantaway Red raises doubts over Higuain chase (Sami Mokbel, Daily Mail) Arsenal are determined to land Luis Suarez and will make a £35million offer for the wantaway Liverpool star this week. The Uruguayan is fast emerging as Arsene Wenger's No.1 target this summer and a mega-money swoop is gathering pace at the Emirates Stadium. Arsenal have seen an initial enquiry rejected out of hand by the Merseysiders, who want at least £40million for the South American.
Arsenal to test Liverpool's resolve with new £35m bid for Luis Suárez (David Hytner, Guardian) Arsène Wenger is determined to test Liverpool's resolve over Luis Suárez with an improved £35m bid. The Arsenal manager has lined up a deal for Real Madrid's Gonzalo Higuaín, with the Argentina striker having agreed personal terms in principle on a move to the Emirates Stadium. But the delay in signing Higuaín has come as Wenger explores the possibility of pulling off a coup by landing Suárez. Arsenal have been in contact with Liverpool to indicate a readiness to pay £30m for the Uruguayan only to be told that the figure was too low. Only something much closer to £40m may make Liverpool reconsider, even though they will fight to keep their star player. Wenger is keen to give them a decision to make and Manchester City have also expressed an interest. The striker has issued several messages about his future via the Uruguayan media and, in spite of his affection for Liverpool, he has reached a stage in his career where he wants to play in the Champions League. His willingness to entertain the notion of a transfer to another Premier League club has been surprising, given his insistence that he has been victimised by the mediain this country.
Moyes still wants Fabregas
As Van Persie returns to United training, Rooney finds himself out in the cold as Moyes ramps up bid to bring Fabregas back (Ian Ladyman, Daily Mail) David Moyes' plans to recruit a new attacking midfield player and confirmation that Robin van Persie will start the season as Manchester United's preferred centre forward has raised fresh question marks over Wayne Rooney's future at Old Trafford. It is understood that Moyes is still keen to bring Cesc Fabregas to United from Barcelona if possible or at the very least a skilful alternative. With the new United manager understood to be keen to play Japanese international Shinji Kagawa as a 'number ten' behind a central striker, Rooney will be left wondering where he will fit in next season.
Rooney warning
Wayne Rooney warned by David Moyes over Manchester United pecking order (David Moyes, Guardian) Wayne Rooney has been left in no doubt regarding his position at Manchester United with David Moyes, the manager, issuing a stark message that the striker is considered vital only if "we had an injury to Robin van Persie". Ed Woodward, United's executive vice-chairman, also underlined the hardline stance towards Rooney, claiming the club have no fear of a player's deal running down. With Rooney not for sale and Woodward insisting there are no plans to open contract talks despite the England international entering the last two years of a deal that pays £250,000 a week, Moyes urged Rooney to prove his worth. "Wayne can play up on his own, he can play dropped in. Overall my thought on Wayne is, if for any reason we had an injury to Robin van Persie, we'll need him," said Moyes, speaking in Bangkok before United flew to Sydney for the next leg of their tour. "I want to be able to play the two of them, I want to use Danny Welbeck and Javier Hernández as well. I want to give myself as many options as possible."
New Liverpool deal for Stevie G
Liverpool captain Steven Gerrard has agreed a two-year contract to stay at Anfield until 2015 (Chris Bascombe, Daily Telegraph)  Negotiations between Gerrard and the Liverpool hierarchy have been ongoing since the end of last season and he is expected to put his pen to fresh terms prior to embarking on the club's pre-season tour of the Far East and Australia this week. Gerrard had one year remaining on his existing deal but manager Brendan Rodgers was determined to remove any doubts about his captain's immediate and long-term future. Having already lost Jamie Carragher through retirement, it was essential for Rodgers to retain the services of the most decorated player still on the playing staff.
Spurs ponder Benteke bid
Tottenham ponder opening bid for bags-packed Aston Villa ace Christian Benteke (James Nursey, Daily Mirror) Tottenham are set to get serious and table an opening bid this week for Christian Benteke – as Aston Villa boss Paul Lambert prepares for life without the striker. Benteke wants to play for Andre Villas-Boas at White Hart Lane after slapping in a transfer request. And Lambert is ­reluctantly resigned to selling the Belgium international. But Villa are holding out for £25million and are eager for a quick deal to avoid disrupting their campaign.
City want Negredo & Jovetic
Pelle to splash £40m on Negredo and Jovetic (Martin Blackburn, Sun) Manchester City will step up their new striker hunt after they drew a blank here in Pretoria yesterday. The Sky Blues are closing in on Seville's Alvaro Negredo and Stevan Jovetic of Fiorentina in deals totalling more than £40million. Boss Manuel Pellegrini hopes to have them in at the Etihad by the end of the month as City look to replace Carlos Tevez and Mario Balotelli. The Chilean also confirmed he will sell Brazilian defender Maicon, 32, with Roma close to sealing a £4m deal.
Newcastle to move for Bent
Joe Kinnear to sit down with Newcastle manager Alan Pardew with Darren Bent top of agenda (John Percy, Daily Telegraph) Alan Pardew will meet with director of football Joe Kinnear on Monday and is seeking the green light to press ahead with a £5 million bid for Darren Bent.  Kinnear has returned from a pre-arranged family holiday in Italy and is scheduled for pivotal transfer talks with Pardew, the Newcastle United manager, almost a month after his controversial appointment at St. James' Park. The pursuit of Aston Villa forward Bent is certain to be on the agenda, with Pardew expected to push Kinnear into making their first official move this week, possibly before Newcastle fly out for their pre-season tour of Portugal on Wednesday. Kinnear has been given full control of Newcastle's transfer policy by owner Mike Ashley and Pardew, who is yet to make a single senior signing this summer, will make clear that he sees Bent as a priority target.
Why you need a VPN?
Cut chords:
Watch everything (Netflix, BBC iPlayer, Hulu) online using a VPN.
Unlock geoblocking:
A VPN gives you access to the best content from anywhere in the world.
Privacy & security:
A VPN keeps your information private, activity encrypted & data anonymous.
Just $6.67 a month + 3 months free!
Best football betting tips & free bet offers
Click here for more Premier League betting tips
---