Arsenal chase £30m Cavani, Chelsea line up Fellaini & Walcott as Man City are linked with Falcao & Guardiola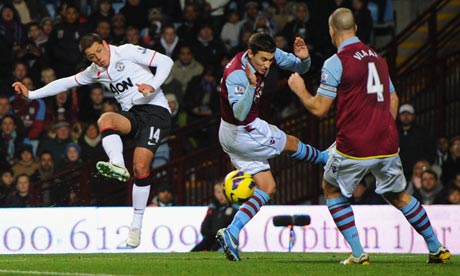 Comment & analysis round-up
Quote of the day: "It was an amazing game and Villa played fantastically, they've run their socks off. We never gave in, we hit the bar twice and after the second goal we came alive. It was a fantastic game. We were careless in the first half, there was no tempo to the game, we didn't have a shot at goal." – Sir Alex Ferguson.
Runner-up: "I have so many mixed feelings, we were very brave. In the end they had probably more problems with Ruiz than we had with Santi Cazorla." – Martin Jol.
Aston Villa blow another lead against Manchester United at Villa Park
Javier Hernández seals Manchester United's comeback win at Aston Villa (Barney Ronay, Observer) Manchester United, maestros of the helter-skelter comeback, produced another surging late show to take all three points from a match they were losing 2-0 after 48 minutes and remain top of the Premier League table. Not just behind but effectively smothered by a well-organised and energetic Aston Villa, this had looked to be a bridge too far for United, who were limp in the first-half but energised by a switch to a revolving 4-2-4 formation after the break. In the end it was Javier Hernández, a half-time substitute, who made all the difference here, electrifying United's front line, scoring twice and forcing the own goal that levelled the scores.
Sunday Telegraph match report – Aston Villa 2 – Manchester United 3 (Jason Burt) Wayne Rooney limped out of this match — and maybe out of the England squad — after a heavy block tackle just as it appeared Manchester United's title hopes were also going to take a blow. Enter Javier Hernandez. Rooney had ice placed on his ankle injury — which will be assessed on Sunday — but it was the ice in the veins of the Mexican that reversed the result in a raucous Villa Park. "He did his natural thing," said Sir Alex Ferguson after Hernandez claimed a hat-trick — walking off with the match ball and a huge grin — though the second of those goals will be chalked off as his effort would not have found the net without Ron Vlaar's deflection.
Arsenal chase Cavani
Step aside City! Wenger ready to splash £30m on Cavani as Van Persie replacement (Bob Cass, Mail on Sunday) Arsene Wenger is ready to break the bank at last with a £30million bid for Napoli striker Edinson Cavani as the Frenchman bids to save Arsenal's season. Wenger is ready to act after watching his side fall 11 points off the pace in the Premier League title race following a 3-3 draw at home against Fulham on Saturday. The Arsenal manager has been under massive pressure from fans and shareholders to start splashing big money in a bid to end the club's eight-year wait for a trophy, and he has decided 25-year-old Uruguay forward Cavani is top priority after getting a glowing report on the player from chief scout Steve Rowley.
Sign da ting? Arsenal finally set to re-open talks with Theo Walcott (Matt Law, Sunday Mirror) Arsenal have finally made a move to reopen contract negotiations with Theo Walcott. But the England star ­will not be bullied into rushing a decision. Boss Arsene Wenger wants Walcott's contract sorted out ­before Christmas. The forward turned down an £80,000-a-week offer and the Gunners will see whether a compromise can be struck. Walcott is ­unmoved by Arsenal's belief they will sign Wilfried Zaha from Crystal ­Palace in January for £12million.
Fulham's Mark Schwarzer saves late penalty in dramatic draw at Arsenal (Amy Lawrence, Observer) This was a tussle so dizzyingly unpredictable, so helter skelter, so dramatically charged, it was hard to assess whether anybody's glass was half empty, half full, or just needed to be poured over one's head in an attempt to cool down. Come the final whistle, Mikel Arteta lay flabbergasted on the turf. Fulham's players huddled around their goalkeeper Mark Schwarzer. Arsène Wenger looked bleak. Martin Jol thundered towards the referee, Phil Dowd, with a piquant word or two. That Arsenal had at one stage been 2-0 up, were pegged back to 3-2, then level at 3-3, and with the final twist awarded a stoppage-time penalty that was saved … it was bedlam.
Inter want Balotelli back
Renaissance man: Inter Milan confirm they want Mario Balotelli back (Simon Mullock, Sunday Mirror) Inter Milan want Mario Balotelli back at the San Siro. Manchester City have ­confirmed that Inter were ­represented at last Tuesday's Champions League clash with Ajax. And sources in Italy claim that Inter's sporting director Piero ­Ausilio opened transfer talks with his new City counterpart Txiki Begiristain after the 2-2 draw. The Milan giants want Balotelli to lead a renaissance at the club as they look to replace ageing players. Owner Massimo Moratti has earmarked the 22-year-old as his No.1 target – after allowing the controversial Italian striker to join City in a £24million deal just over two years ago.
Ashley Cole to PSG
Ash for PSG (says his mum!) (Sunday Sun, Mike McGrath) Ashley Cole will be off to Paris Saint-Germain at the end of the season — says his mum! Cole has failed to agree fresh Chelsea terms after being offered only a one-year deal and PSG are set to win the race to sign him. Manchester United have also been interested in the England defender, who will be available on a FREE in the summer. But the 31-year-old's mum, Sue Cole, has told Facebook pals: "Well looks like his going somwhere better hear than the talk of man u. Not too far on the Euro star x"
Raheem Sterling to leave Liverpool?
Liverpool starlet Sterling deletes Tweet over new contract talks (Joe Bernstein & Rob Draper, Mail on Sunday) England's newest call-up, 17-year-old Raheem Sterling, added to the uncertainty over his Liverpool future by withdrawing a tweet that was meant to reassure Anfield fans. Sterling, who will become the country's third youngest international in 100 years if he makes his debut against Sweden on Wednesday night, sent out mixed messages on Twitter by claiming he was going to sign a new deal on his 18th birthday next month — then removing the message. It followed claims that his advisers were asking Liverpool for £50,000 a week, bringing him in line with England internationals Stewart Downing and Jordan Henderson, both being kept out of the first-team by Sterling.
Chelsea line up Fellaini & Walcott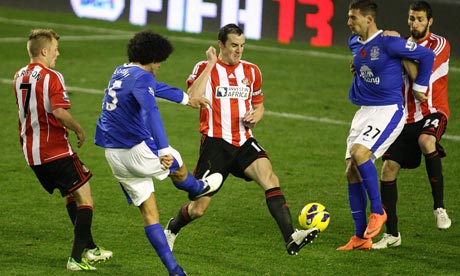 Hair raising! Chelsea line up £30m January move for Marouane Fellaini (Alan Nixon, Sunday Mirror) Chelsea will make a ­sensational £30million move for Everton ­talisman Marouane Fellaini in the January transfer window, writes the Sunday People. Blues owner Roman Abramovich has given the green light to a huge offer for the powerful Goodison hero who has been one of the major successes of the Premier League this season. Boss Roberto di Matteo wants more strength in his side and an alternative to Fernando Torres, with fearsome Fellaini top of his wish list. And the fact Belgian Fellaini would be eligible for the Champions League is a major plus as the Londoners set up one of the biggest deals of the January market.
Chelsea plan January swoop for Arsenal's Theo Walcott (Jason Burt, Sunday Telegraph) Chelsea are planning to bid for Theo Walcott in the January transfer window while Frank Lampard is poised to leave the club as he weighs up an €8 million-a-year offer to join the highly ambitious Chinese club Guizhou. Chelsea sent a scout to monitor Walcott's performance for Arsenal – his first Premier League start since the opening day of the season – in the 3-3 draw at home to Fulham. Walcott's contract expires next summer and talks over a new deal have not progressed.
Mancini wants Radamel Falcao
Manchester City manager Roberto Mancini makes move for Atlético Madrid's Colombian striker Radomel Falcao(Jason Burt, Sunday Telegraph)  The City manager flew to Madrid to speak to Jorge Mendes. Falcao, the 26-year-old Colombian, is expected to leave Atlético Madrid at the end of this season. More than one meeting has taken place, which suggests City are pushing hard to outmanoeuvre Chelsea and Real Madrid. It appears that Mancini is driving the deal and he has also revived his interest in Roma midfielder Daniele De Rossi. Falcao wants a $6 million (£5 million) salary after tax, which means around double that in gross terms, so the full cost would be around £85 million.
Man City chase Pep Guardiola
Second chance: City chase Guardiola as boss…after turning him down as a player (Dean Jones, (Sunday Mirror) Manchester City have already failed to sign Pep Guardiola once – so the club must hope he does not hold a grudge if they target him to succeed Roberto Mancini, writes the Sunday People. Mancini's future at the Etihad is in doubt, and former Barca boss Guardiola is in the frame to replace him as he looks for a return to management. But he will not have happy memories of the time he spent with City.In 2005, Guardiola spent 10 days on trial with the club under the guidance of boss Stuart Pearce. He was looking for a new side following a stint with Qatar outfit Al-Ahli, and travelled to England in a bid to earn a contract. Man City offered him a six-month deal – but it was not enough. The Spaniard was looking for an 18-month contract, so he was forced to pack his bags and head away.
Roberto Mancini to be given time to ride out storm at Manchester City (David Conn, Observer) After a week of European disappointment, Manchester City face Sunday's home challenge against Tottenham insisting that there is no crisis and the renewed storm over Roberto Mancini's managerial tenure is just another squall. Speculation that the Italian's days at Eastlands are numbered has been fuelled by City's appointments of chief executive, Ferran Soriano, and director of football, Txiki Begiristain, architects of the renaissance at Barcelona, whose former coach Pep Guardiola is still resting and so tantalisingly available. City and Mancini's assistant, David Platt – who faced the pre-match press conference that Mancini swerved on Friday – say this is to draw an apparently logical but mistaken conclusion from the arrival of the Barça alumni.
Even Bill Shankly couldn't boss City – too many egos and hangers-on (Harry Redknapp, Sunday Sun) But even the great Bill Shankly could not manage that club. He would not be able to put up with the mental baggage — Louis Vuitton of course — that goes with trying to run a team of superstars. Bill grew up playing football on the streets, he was blunt and saw football as a simple game. Sadly, that's not the case any more. We all know money is king. But equally, the role of manager at a top club like City has been greatly diminished. Mancini is a hostage to that as much as any. Look how Carlos Tevez went AWOL on a golf course last season for four months. He eventually decided to return to work for the club which pays him handsomely and now it's as if he's never been away.
Gary Neville on Manchester City
Why Manchester City are still searching for their own identity (Gary Neville, Mail on Sunday) Despite the success that Mancini and City have had in winning the FA Cup and the Premier League, they still seem to be a club in search of a strong identity. By which I mean, you don't have a clear idea as to what their style of play will be or what they stand for as a football team. Their rise from mid-table Premier League team to champions has been so rapid and the styles and tactics they've been through have changed so much — from a cautious counter-attacking team to a possession-based side, from solid back fours to three at the back — that the true sense of who they are as a team and club hasn't really been established yet. And you sense that Sheik Mansour and chairman Khaldoon al Mubarak want something more than just cups. They seem to want to create a legacy. They are building a spectacular new academy, with similarities to the Barcelona model, and seem to want to put people in place to dictate the style of play over the next 10 years. In business terms, they are building a brand.
Carlos Tevez on Gary Neville
Running a hotel doesn't help England, Gary (Carlos Tevez, Sunday Sun) I can't believe that any of the top countries would employ a television pundit as a part-time coach. Can you imagine Spain, Italy, Germany, Holland, Brazil or Argentina employing a manager's right-hand man whose day job is a television pundit? I can't ever see it happening. This week, I saw that Gary is part of a venture to build a new hotel in Manchester. How does that benefit England and Roy Hodgson?
On Celtic beating Barcelona
Brilliance of Celtic only masks a wider malaise in Scotland (Richard Wilson, Independent on Sunday) In the space of three hours last Wednesday night Hearts announced that the club might not survive beyond this weekend, Craig Levein revealed he is taking legal advice over his sacking by the Scottish FA, and Celtic beat Barcelona. Each individual event was in itself shocking, but what does the combination of all three say about the state of the game in Scotland? In one way, very little; in another, it tells us everything.
Why didn't James McClean wear a poppy?
McClean refuses to wear poppy on eve of Remembrance Sunday as Sunderland suffer defeat (Colin Young, Mail on Sunday) Sunderland have distanced themselves from McClean's decision and have again given their full support to the appeal. A club spokesman said: 'As a club Sunderland AFC wholeheartedly supports the Remembrance Commemorations. It was James' personal choice not to wear a shirt on this occasion.' The 23-year-old former League of Ireland midfielder, who broke into the Sunderland squad following O'Neill's appointment at the Stadium of Light less than a year ago, has been embroiled in controversy in the last 12 months as a result of his Republican views.
Tight Arsh! £80,000-a-week Arsenal forward saves McDonald's vouchers (Aaron Tinney, Sunday Sun) Wealthy footie ace Andrey Arshavin saves McDonald's discount vouchers to "treat" his family to cheap grub, it emerged yesterday. The £80,000-a-week Arsenal forward regularly snubs trendy celeb hotspots such as The Ivy. Instead, the Russian star scrimps together £1.99 meal deal tokens when he takes his missus and their three kids to their local McDonald's in London's posh Hampstead. One stunned worker said: "None of us can believe it when we see Andrey in here with his family.
---
GAMBLING CAN BE ADDICTIVE, PLEASE PLAY RESPONSIBLY