"Arsenal are out of the title race. Too lightweight in midfield and attack, too many similar players, too one-dimensional" – Tony Cascarino
Comment & analysis round-up
Quote of the day: "We were naïve. We never had any cohesion, offensively or defensively. We were completely not at our level. Why? I believe there are some mental reasons in there… We will have to deliver a different kind of performance in that game [against Chelsea]. We need to do something special to stay in the race. Of course. I'm conscious of that."- Arsene Wenger.
Runner-up: "It was a great performance by us. I'm really pleased with that. At this time of the year we really need to kick on and I think Wednesday's result [beating Manchester City in the Carling Cup semi-final] really galvanised us… We need Chelsea to drop points, obviously, and they'll be saying the same about ­ourselves. Arsenal are not out of it, though. I hope Arsenal go to Stamford Bridge next ­Sunday and batter them. Batter them! I hope they can get some of these points off them that we hope Chelsea drop." – Sir Alex Ferguson.
Today's overview: The fourth estate have been left with their jaws open following Manchester United's trouncing of Arsenal on Sunday, and the hacks band together to express their dismay at the Gunners tepid performance which could see them doomed to failure in the league once more.
With the Gunners now off the pace in the Premier League race, Kevin McCarra chastises the north Londoners. "Arsenal are at risk of looking like a test-your-strength machine in a fairground as they are given repeated hammerings… As a large, well-supported club in the capital, much will be asked of them and the burden of paying off the cost of a fine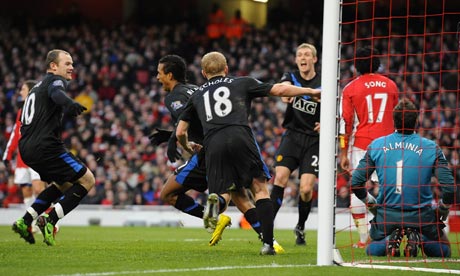 stadium may not be accepted ­indefinitely as reason for finishing among the also-rans."
Also focusing on the negative impact of the defeat on Arsenal, Richard Williams commented "if the north London side deserved credit for the way they responded to the 3-0 hammering by Chelsea in front of their horrified home crowd two months ago, this defeat may turn out to be the one from which, for this season at any rate, there is no recovery."
Oliver Kay warns that "writing off Arsenal again may appear dangerous" before continuing "it is very easy to pick holes in the Arsenal team. They were devoid of character, devoid of fight and devoid of leadership, but what will trouble Wenger most is the way that his team were outclassed and outwitted." The lack of leadership was also flagged up by Alan Hansen. "Where is the Tony Adams figure who will shout players back if Arsenal are too open and exposed? Cesc Fabregas is a wonderful footballer, but he is not a leader in the sense of organising and marshalling his team-mates in those situations."
Sidestepping any ifs, buts or maybes, fat-mouth Tony Cascarino is convinced Arsenal wont win the title. "Forget the game against Chelsea on Sunday – Arsenal are out of the title race. They were once Arsène Wenger decided not to buy a striker in this transfer window. Too lightweight in midfield and attack, too many similar players, too one-dimensional. A few hard games lately have exposed them as overachievers."
Whipping out his scatter-gun, Matt Dickinson goes about shooting down the reputations of the Gunners backline. "It was such a chaotic defensive performance that no one could be sure exactly when William Gallas was moved up front to emergency centre forward, so out of position was the Frenchman on so many occasions. As for Gael Clichy, the left back was so outplayed by his opponent that one wondered if Cristiano Ronaldo was back on the right wing… Where was Denilson, the holding midfield player who was not a sentry so much as a spectator?"
Flipping to Sunday's winners, Daniel Taylor gushed over United's performance. "Sir Alex Ferguson's side played with width and penetration, flair and imagination, and they counter-attacked with a speed that was devastating. In other words, they took on Arsenal at their own game and on their own manor – and they dismantled them so clinically there was a startling sense of deja vu from that encounter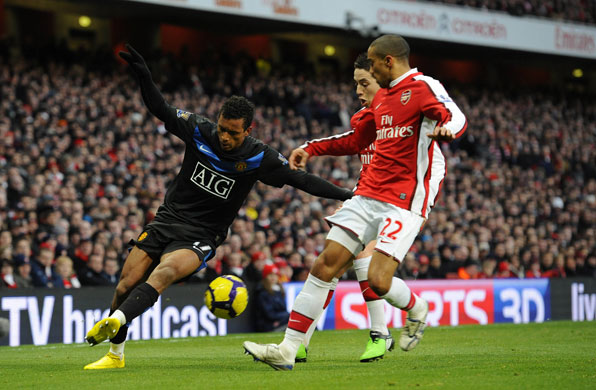 here nine months ago… When Nani plays like this there is no need for anybody at Old Trafford to continue mourning Cristiano Ronaldo's departure."
Henry Winter adopted his usual poetic style to chug "with Nani and Wayne Rooney flying forward like the Red Arrows, Arsenal were left choking on Manchester United's vapour trails yesterday as the champions took a grip of Chelsea's coat-tails."
The praise for Nani continued, with Matt Hughes commenting that this was "his best performance for the club… Nani has taken some time to make his mark after his £17 million signing from Sporting three years ago, but it will have been worth the wait if he continues in this vein."
***
John Terry's affair with Wayne Bridge's missus remains in the spotlight this Monday, as opinion begins to swell that JT needs to lose his England privilege of being captain.
Now the government are getting involved, as Dominic Fifield details how "sports minister Gerry Sutcliffe has intervened in the furore that has erupted over John Terry's suitability to be England captain by claiming that, should allegations over his private life be proved, his position should be questioned."
Setting aside the maxim the masses are asses, Oliver Kay reports that the public also want Terry to be punished. "On the members-only England fans message board on the FA's official website, Terry was described as having 'the morals of a rat,' with most supporters calling for him to be stripped of the captain's armband. Radio phone-in shows have also received similar calls."
With snappy soundbites like "England cannot be led out again by someone who comes with more baggage than Louis Vuitton," Patrick Barclay also feels Terry need to be stripped of the captaincy. "His extramarital affair with the former girlfriend of Wayne Bridge would scarcely be any of our business if it were an aberration. Instead it is just another case to chuck on Terry's tottering pile of unwanted publicity. Enough is enough, and this is now too much."
Similarly using pop-culture to make his case against John Terry, Martin Samuel trumpets "The bottom line is that the England dressing room in South Africa cannot be left to play out like a celebrity edition of the Jeremy Kyle show. Infidelity, breaches of trust, duplicity, a termination. This is the seamy side of the WAG culture that contributed to England's downfall at the last World Cup and Fabio Capello will be incensed it is now unfolding on his watch."
Twice divorced and a love-rat himself, Tony Cascarino ignores his own experiences to wade into the John Terry debate. "An England captain separated from his wife and children, perhaps going through an expensive and messy divorce, possibly feeling guilty and depressed? That is a serious concern. Toni, Terry's wife, is now a factor in England's prospects of winning the World Cup."
Taking a different, more understanding, approach, Jim White tries to get to the root of the public backlash towards Terry. "Terry's is not a deceit on the scale of Woods… Any company that decided to hitch its flag to Terry would already be aware of the human stains besmirching their client. They have been out there since long before he was entrusted with the national armband… If the England captain had not tried to suppress his extramarital affair in court, it would have been a storm in a D-cup."
Challenging that position though, Kevin Gardside barks "Terry is in the same stocks as Tiger Woods. Where he differs is in the absence of shame. He led out the Chelsea team at Burnley oblivious to the irony of his holding the hand of an innocent child. At least Woods had the decency to check in for cure-your-sex-addiction-here classes. Terry now has a price on his head. I wonder how many more brunettes are queuing at Max Clifford's door?"
Hinting that John Terry should remain England captain, Sam Wallace makes the argument to defend Terry's football reputation. "No footballer should be immune from the consequences of his behaviour off the pitch because of his importance on it. Terry has done many daft things, some of them greedy and this latest alleged one just plain cruel. But this decision should be made according to what is best for the England team, not to silence the roar of the scandal."
***
Moving onto other footballing topics, Gabriele Marcotti takes the unpopular position of defending the decision to ban Togo from the next two African Cup of Nations tournaments. "Togo were banned not for withdrawing from the competition… because the decision to pull out was taken by the Togolese Government, which apparently overruled the players, who reportedly wanted to play. And CAF, like Fifa and Uefa, has strict rules about government interference in sporting matters: the decision should have been made by Togo's football association and it should have been final."
***
We end with the final transfer gossip of the winter window.
The Times' Window Watch announce that Middlesbrough have told Manchester City to up £5 million offer for Adam Johnson, Spurs could be back in for keeper David James while they are letting Alan Hutton go on loan to Sunderland, City should sign Parma's McDonald Mariga for £7 million today, Victor Moses has left Crystal Palace for Wigan for £2.5 million, and West Ham are tracking St. Etienne striker Ilan.
Over in the Daily Mail we learn "Sunderland have targeted Stoke striker James Beattie after their move for Benjani hit problems and a proposed deal for Robbie Keane was deemed too costly." Also in the Daily Mail, West Ham are said to be eying Robbie Keane on loan, Birmingham are after Marc Janko after moves for Roman Pavlyuchenko and Aruna Dindane stall, while Celtic are poised to sign Bayern Munich defender Edson Braafheid as moves for Ivan Ramis and Diomansy Kamara edge closer.
Finally in the red-tops, Alan Nixon farts "big spending Manchester City are set to make a beat-the-deadline £20m offer for Real Madrid midfielder Fernando Gago" and the Mirror go all continental to announce "Barcelona's Brazilian striker Keirrison will join Fiorentina on loan until June 2011."
---