Are top of the league Cheslea in a crisis?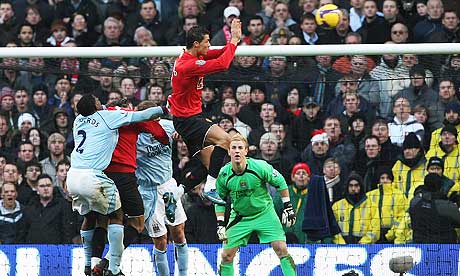 Comment & analysis round-up
Quote of the day: "All the people here know that all season I've never said anything against the referee, but today it's different. I don't want the referee to make something different, but only for him to look in the television and see it was wrong and say sorry. I don't want three points, I just want 'sorry' because they made a mistake. They are not God. In the first half they make the same mistake against us. In the second half there was another big mistake against us. It's difficult to play and, after this, my team lost their concentration and didn't play well. I want to hear some words from the referee tomorrow and hear that it was offside. Offside killed my team." – Felipe Scolari.
Runner-up: "If the ball was going to hit him [Cristiano Ronaldo] in the face why didn't he just head it?" – Mark Hughes.
Today's overview: Reporting on Arsenal's win at Chelsea, David Hytner turns attention on the Blues' fans who taunted Arsene Wenger throughout the match, writing "the poison drips from the lips of young supporters who look barely out of their teens and are accompanied by their proud fathers."
David Pleat tries to get explain how Arsenal turned the game around, pinpointing the withdrawal of John Obi Mikel as destabilising the Blues formation yesterday. Sam Wallace is quick to highlight that "under Scolari this season, Chelsea have lost at home to two of their three big rivals – Liverpool and now Arsenal – and they managed only a draw against Manchester United at Stamford Bridge." And Alan Hansen tries to stick the boot in the Blues commenting "Chelsea simply do not have the backbone they had under Mourinho. That might be due to injuries, in particular to Essien and Carvalho, and it is to their credit that they are still up there at the top of the table."
Reacting to Ronaldo's red card in the Manchester derby, Graham Poll is critical of the red card arguing "whether there was a whistle or not, handball is not a mandatory caution. The player must be seen to be either breaking up a promising forward attack or trying to gain an advantage with his deliberate act."
Ahead of tonight's Liverpool-West Ham match, Sam Wallace assesses the signings that Alan Pardew brought in the club and argues that "only Matthew Upson, Craig Bellamy, Lucas Neill and Scott Parker from those have been signed post-Pardew can claim to have improved the side."
In a standout article from Martin Samuel, calling Iain Hume's injury "merely collateral damage" from the viewpoint of the footballing authorities, the journalist commented "the FA pushes its Respect agenda but fails to recognise that this begins at the top. And how can any individual respect an organisation that knows Emmerson Boyce, of Wigan Athletic, has been the victim of injustice after his dismissal in the match away to Newcastle United, yet fails to do anything about it, for fear of challenging Fifa?"
On the transfer rumours, the Daily Mail report that "Liverpool, Aston Villa, Spurs and Manchester City are eyeing a cut-price move in the transfer window" for Wigan's Emile Heskey.
In other news, Mike Anstead lists his 10 top Prmeier League keepers, and Gabriele Marcotti writes about Antonio Cassano – "in a world of trite clichés and gutless conformity — and I'm not just talking about football — a man such as Cassano who can be brutally honest not just to himself, but to the whole world, makes for a refreshing change."
Best football betting tips & free bet offers
Click here for more Premier League betting tips
---