Are England unlucky in shoot-outs or mentally fragile? Where is England's Pirlo? But don't worry, there's room for optimism (apparently)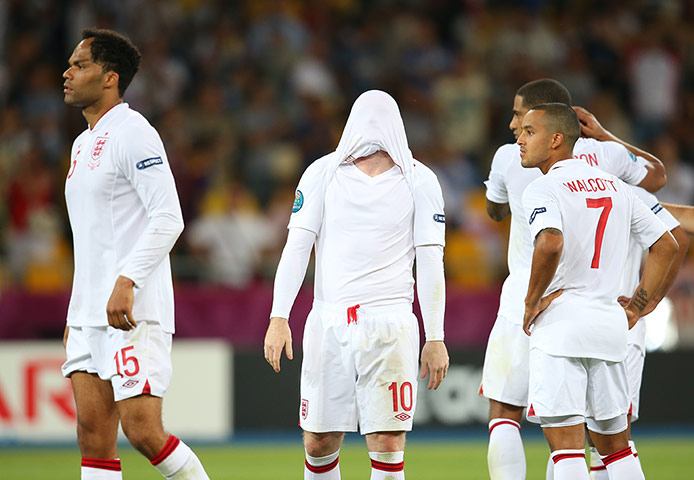 Comment & analysis round-up
Quote of the day: "I've watched all these players smashing in penalties during training but you can't reproduce the occasion, the tension and the nervousness. No amount of coaching can reproduce the cool calculated way Andrea Pirlo chipped the keeper. We had five great penalty takers but unfortunately for us two of them missed." – Roy Hogdson.
Runner-up: "Everyone's been great in training, every time we've come out I think we've done the country proud. This time I thought we might have the bit of luck we needed but it wasn't to be. Credit to Italy, they are fantastic team and they got the luck in the shoot-out." – Steven Gerrard.
Italy KO England On Penalties
Until England can find their Pirlo, we must prepare for more of this (Martin Samuel, Mail) Penalties again, then. Why us? We know the answer to that, too, sadly. We're not quite good enough, are we? Inefficient at the highest level. England can get so far on endeavour, but closing a match, claiming a result against world-class opposition in 90 or even 120 minutes requires more. England can take it to the brink, but no further.
Hodgson finds noble efforts shackled by a familiar curse (James Lawton, Independent) Excruciating but filled with the possibility of undreamed glory. For a few moments it looked as though he had done it but he hadn't. England, with something close to ultimate cruelty, had lost still another shoot-out.
Ashes to Ashleys (Sun) Roy Hogdson insisted there was nothing more England could have done as they lost their FIFTH successive penalty shootout. Ashley Young and Ashley Cole both failed to score from 12 yards as the Three Lions were sent packing from Euro 2012.
Cole and Young miss as Three Lions crash out on penalties AGAIN (Matt Lawton, Mail) [This] again highlights the mental fragility of English players when it comes to the cruel lottery of spot-kicks.
Cole caught in two minds over spot kick (Martin Keown, Mail) If Ashley Young had scored his penalty, I think Cole would have taken his much more confidently.
Spot-kick obsession weighing England down, laments Roy Hodgson, after defeat to Italy (Jason Burt, Telegraph)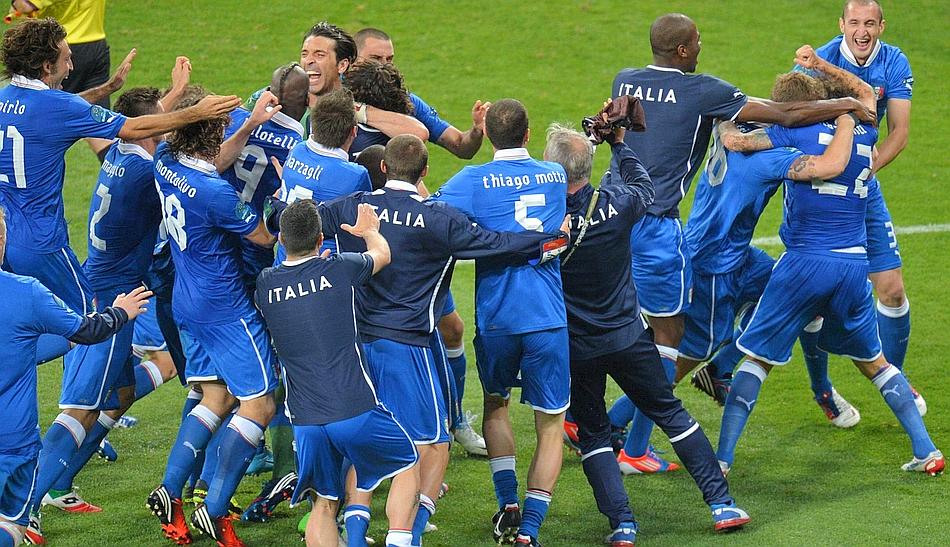 Fair Doos, Italy Were Better
England bulldogs finally put out of their misery (Steven Howard, Sun) Ashley Cole had said England would fight to the death like 11 bulldogs. But in the end the family pet was put out of its misery at Euro 2012… Had they won last night, it would have been one of the greatest miscarriages of justice on a football field for some considerable time.In fact, it would have been an embarrassment. You can't be so comprehensively outplayed by the opposition — practically in every department — and expect to come out on top.
England hearts broken on penalties again as Italy triumph (Guardian) Nobody could say the result was unjust. Not when Italy had accumulated 35 shots, compared to England's nine, and greedily kept 64% of possession.
England's night slips away as Italy ultimately prevail (Richard Williams, Guardian) Cesare Prandelli's Italy were undistinguished here on Sunday night, but at least they have Pirlo as a guarantee of some sort of commitment to the game's creative arts.
Italy's sparkling diamond Andrea Pirlo torments England (Michael Cox, Guardian) Pirlo was unquestionably the game's key player, and his outrageous "Panenka" penalty kick, taken at the most pressurised part of the penalty shootout, should be remembered rather than the misses of Ashley Cole and Young. From kick‑off until penalties, this was his game.
England head home as penalty jinx strikes yet again (Sam Wallace, Independent) If there was any consolation last night then it was that at least England deserved to lose this game.
England show weak hand in their poker game with the devil as penalties prove undoing again (Paul Hayward, Telegraph) England lost on penalties, lost on all the statistics and lost morally to Italy, who had 23 shots to the English six and won the possession struggle 68 per cent to 32 per cent as Roy Hodgson made a familiar discovery about the country he now manages. These big knock-out games are an endless loop of shattered dreams.
England: Revolution Not Evolution
End of road for the 30-somethings (Rob Beasley, Sun) There is a powerful argument for a complete clear-out of the remains of the Golden Generation. The big names who gave us such great expectations but delivered nothing but heartbreak. Some may fall on their swords. Some may have to be axed.But there must be changes and it's the 30-something brigade who must be in most danger. Frank Lampard is now 34. Steven Gerrard turned 32 last month. And Ashley Cole, John Terry, Gareth Barry and Scott Parker are all 31. So is it now time to say: Thank you and goodbye?Is it time to turn to the likes of Leighton Baines, Gary Cahill, Phil Jones, Chris Smalling and Jack Wilshere?
Now we need to find kids who can play just like Pirlo (Harry Redknapp, Sun) What we have got to do is bring through kids who as defenders will be happy to bring the ball out and forwards who want to receive the ball in tight areas surrounded by the opposition because they are comfortable in possession.
Where was our Pirlo? We couldn't get close to him (Jamie Redknapp, Mail) It was one of the best midfield performances I have ever seen. But we have our own version, he is just recovering from injury and we must hope he gets well soon. He is Jack Wilshere of Arsenal.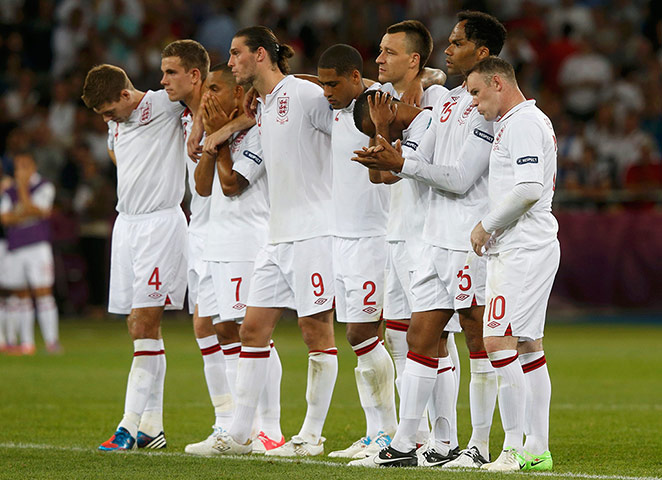 Chin Up Little Englanders, Here's The Upswing
England's penalty agony goes on but at least there are grounds for optimism (Henry Winter, Telegraph) Dry the tears. Danny Welbeck has signalled his promise out here and the memory endures of his brilliant finish against Sweden. The rejuvenating of England will continue when Jack Wilshere and Kyle Walker are fit enough to rejoin Welbeck, setting off on the road to the 2014 World Cup.
Heartbroken (Sun) Steven Gerrard last night insisted England go home heartbroken — but with their heads held high.
Roy Hodgson upbeat about England's future despite exit (Dominic Fifield, Guardian) Hodgson has blooded the likes of Danny Welbeck, Theo Walcott, Alex Oxlade-Chamberlain, Jordan Henderson and Andy Carroll in Ukraine over the past fortnight to offer a glimpse of this team's future.
England have sense of peace after exiting tournament (Rob Smyth, Guardian) For the first time in at least a decade, England at a major tournament were more than the sum of their parts.
England are out but Roy has made a mark (Jack Gaughan, Independent) A far cry from the side that slumped so wretchedly in South Africa, Hodgson's men leave Euro 2012 with dignity intact and not without hope.
The dream is over – but at least we won't get hammered by the Germans (Shaun Walker, Independent)
England: Let's Go ScapeGoating
Gary Lineker takes the pun out of everything coming our way (Martin Kelner, Guardian) The BBC's bullish buildup for England's quarter-final against Italy is to blame for this latest let-down.
Transfer Lies
Cardiff are weighing up a move to bring back Craig Bellamy (Sun)
West Brom and Everton ready to swoop for ex-Rangers stars Naismith and Whittaker (Mail)
Spurs defender Rose in demand as Newcastle and West Brom eye loan deal (Mail)
Brendan Rogers will sell £20million-rated centre-half Martin Skrtel because he wants to boost his Kop transfer pot (Star)
Best football betting tips & free bet offers
Click here for more Premier League betting tips
---