"[Ancelotti's] rotation policy has seen him use 29 players this season. It was little wonder, then, that Chelsea began the match playing like strangers" – Mark Fleming
Comment & analysis round-up
Quote of the day: "Michael Owen is one of the very best strikers around in terms of his positional play and finishing… The real evidence of ability is always found on the football field and Michael has given us plenty of that tonight. Michael has improved steadily in training since joining us but, in some games recently, we've chosen to play just one central striker. We had a different system featuring two strikers tonight, Michael's proved his worth in it and we're delighted." – Sir Alex Ferguson.
Runner-up: "That was not a good evening. In the second half we lost intensity, we lost concentration, we played too slowly and were too soft. For that, I'm not happy. I'm unhappy because we have to play the whole 90 minutes with intensity and concentration. It's not important always about the result, but you have to play your best every game and, tonight, it was not like we want. I spoke with the players at the end. It was the poorest we have played under me since I became manager. In the second half, we played badly. I don't have a problem saying that. The first goal we conceded can happen. The second goal should not. That was a consequence of our own play. We played too softly. We had the possibility to close the game out, but we didn't play well. APOEL deserved their draw." – Carlo Ancelotti.
Today's overview: Little Mickey is standing tall this Wednesday, basking in the glory of a stunning hat-trick at Wolfsburg in the Champions League. And yes, that means that, despite not being a Manchester United regular, (knee-jerk?) questions about Owen's inclusion at the World Cup have again resurfaced.
Kevin McCarra kicked off the Michael Owen love-fest. "Michael Owen has often been a fringe figure at the club but there will be a surge of acclaim for this hat-trick. It is going be enjoyable to see if Fabio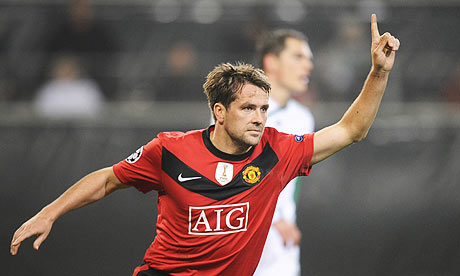 Capello is ready to check the praise for an eminent striker." The Owen baton is then carried on by James Ducker, writing "Owen's place in Capello's squad for the World Cup finals in South Africa next summer is far from assured, but he will have done his chances no harm with his first hat-trick for four years, the fourteenth of his career."
Frank Praverman toots from the same hymn-sheet noting "the Manchester United striker has been overlooked by Fabio Capello for most of the Italian's reign but the England coach may be stroking his chin this morning as he tries to complete his World Cup jigsaw." While taking a a slightly more considered approach to the Owen-England conundrum was Mark Ogden. "Goals are the only currency that will enable Owen to turn Capello's head, but by scoring his first hat-trick since his three goals in Newcastle's 4-2 victory over West Ham in December 2005, the former Liverpool striker has delivered a powerful message."
In a separate article, Mark Ogden questions whether Owen can really force his way into Capello's squad. "Owen is [a] real outsider. His record of 40 goals in 89 internationals underlines his top-class pedigree, but those goals were scored during the 29-year-old's prime. Injuries and a nightmare time at Newcastle have left his international career in ruins, but he still has time on his side to turn the tide with Capello… [Owen] has to get more game time at United, and more goals, to shake Capello out of his stubborn refusal to consider him."
Spreading the love around the United team, Louise Taylor saluted Fergie's makeshift defence. "Naturally the defence rode their luck at times but they also proved that finely tuned football brains can compensate for more orthodox defensive attributes as the German champions found themselves outwitted if not outmuscled as Michael Owen scored a hat-trick."
While United are riding high, Chelsea have their tail between their legs after drawing 2-all at home with minnows APOEL Nicosia. Careful not to overstate his case, Dominic Fifield details a difficult seven days for the Pensioners. "Chelsea have now shipped seven goals in a week following their Carling Cup exit to Blackburn Rovers last Wednesday, after a 3-3 draw, and the 2-1 defeat at Manchester City on Saturday."
Matt Hughes, though, ignores any fence-sitting with his Chelsea analysis, convinced that "something is not right. In the past seven days Chelsea have conceded seven goals in failing to win three matches in three different competitions, a level of performance that will not be rewarded with silverware at the end of the season… Complacency has crept in. How else to explain the loss of two goals at each end of a game in which otherwise their dominance was manifest?" The "C" word was also referred by Henry Winter. "At the first whiff of Christmas, Chelsea have started dishing out presents with almost maniacal zeal… An alarming theme is developing, one of complacency after taking the lead."
Swimming against the tide, Mark Fleming criticises Carlo Ancelotti for Chelsea's dip in form. "Ancelotti has to take his share of the blame, as his policy of rotating his players had some part to play in the disappointing result. He made seven changes from the side that lost 2-1 to Manchester City on Saturday, giving starting debuts to the midfield prodigy Gaël Kakuta and goalkeeper Ross Turnbull. The Italian's rotation policy has seen him use 29 players this season. It was little wonder, then, that Chelsea began the match playing like strangers."
Introducing Arsenal's next generation.
David Hytner previews the mooted debut of two fresh-faced Gunners tonight in the Champions League as Arsene Wenger is set to send out the babes against Olympiakos. "[Tom] Cruise, the reserve-team left-back, will not be the only debutant in a startlingly youthful Wenger side. Kyle Bartley, another 18-year-old, will make his bow in central defence… Cruise is a technical player, comfortable in possession but he can be somewhat timid. His development would be accelerated if he could impose himself against the Greek champions and the same is true of Bartley. The two Englishmen, both integral parts of Arsenal's Youth Cup triumph last season, have begun to dream."
Tom Dart also focused on Arsenal's youth squad for their trip to Greece. "The squad in Greece looks like the ultimate vindication of the manager's trust in emerging talent: ten teenagers and a probable squad with an average age of 20 that is nudged up by the presence of Mikaël Silvestre, 32. Any younger and the dressing room would be a crèche."
Flipping to Arsenal's North London rivals, the Telegraph report on the latest setback to Tottenham's Ledley King. "The 29 year-old, who has a history of chronic knee complaints, limped off before half-time against Blue Square Premier club Grays after the ball struck him in the face and knocked him over, causing him to fall awkwardly… As a result, Anton Ferdinand has been linked with a move to Tottenham in a swap deal that would see Alan Hutton join Sunderland."
Continuing with the transfers, it appears that Alan Nixon may have actually got a sensationalist headline spot-on for once. Yesterday the Mirror hack claimed Robbie Keane could be heading to Celtic, and today The Times' Phil Gordon confirms the story. "Dermot Desmond, the Irish billionaire who is Celtic's largest shareholder, will hold the key to any potential move to attract Robbie Keane from Tottenham Hotspur on loan, if he decides take a personal involvement in persuading his compatriot to join the Glasgow club."
The jaw-dropping rumour today though is delivered by Charlie Wyatt in The Sun, who incredibly writes "Manchester United are ready to launch a sensational bid for Sol Campbell. Old Trafford boss Alex Ferguson sees the former England centre-half as the answer to United's defensive problems now he is finally allowed to play again." The same story is trumpeted by James Nursey, who adds "United are ready to offer Campbell the chance to train with them instead ahead of the transfer window opening on January 1 to asses the veteran's fitness. And United boss Ferguson may then offer Campbell a six-month contract until the end of the season."
As the dust settles on the James Beattie-Tony Pulis bust-up, Ian Edwards observes the suitors lining up for the Stoke striker's services. "Sam Allardyce, would be keen to bring Beattie back to Ewood Park as he is still searching for a replacement for Roque Santa Cruz, who joined Manchester City in the summer. Hull City are also monitoring the situation, with Phil Brown looking for a solution to the club's lack of goals."
Staying with players up for sale, the Daily Mail splurge with news that "Fulham have sent a circular to Barclays Premier League and Championship clubs to tell that Eddie Johnson, Seol Ki-Hyeon, Fredrik Stoor, Toni Kallio and David Elm are available for transfer as Fulham try to slash their wage bill." And the list of unwanted footballers extends with Neil Moxley, who claims "Lee Carsley will be an unexpected casualty of Alex McLeish's rebuilding campaign at Birmingham City when the transfer window opens."
Other transfer gossip sees The Sun claim "Manchester City are leading the hunt for AC Milan's Ignazio Abate," while a throwaway article in the Daily Mail, which seems to have been written just to garner eyeballs to the pseudo-tabloid, we have the headline "Arsene Wenger open to offers for Arsenal youngster Jack Wilshere, with Rangers, Celtic and Middlesbrough all interested."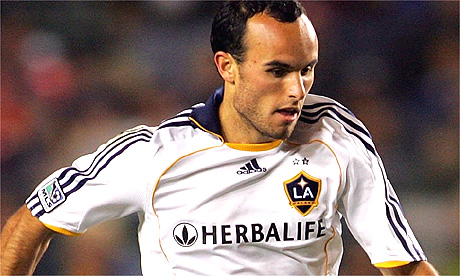 Landycakes could be on his way to the Premier League, with Andy Hunter revealing "David Moyes hopes to strengthen his injury-plagued Everton squad in the January transfer window with a loan move for the USA forward, Landon Donovan." Rory Smith also claims that the United States forward is positive about the move, scrawling "the 27-year-old can play anywhere across the front line and it is believed he would welcome the chance to prove himself in Europe after two underwhelming spells in Germany, with Bayer Leverkusen and Bayern Munich."
In the manager-merry-go-round, John Edwards announces "John Gregory is back in football – as the £67,000-a-year manager of the bottom club in the Israeli League. The former Aston Villa, Derby and QPR boss, who was earning more than 10 times as much in his Barclays Premier League days, accepted Maccabi Ahi Nazareth's modest offer after despairing of finding a way back into management."
Finally, the problem of who will keep goal for England at the World Cup is highlighted by two articles in the Independent.
John Curtis allowed himself to be the mouthpiece of Alex McLeish, shouting "Joe Hart has "a great chance" of forcing his way into England's World Cup squad after making improvements to his game since joining from Manchester City on a season-long loan, according to [the Birmingham manager.]" And continuing to show how open the field is, Damian Spellman farted "Newcastle manager, Chris Hughton, would have no qualms in recommending goalkeeper Steve Harper if England came calling. The 34-year-old has been in superb form for the Magpies this season."
---
GAMBLING CAN BE ADDICTIVE, PLEASE PLAY RESPONSIBLY