"Almost everybody will be blamed for relegation apart from those most responsible, namely the players" – David Lacey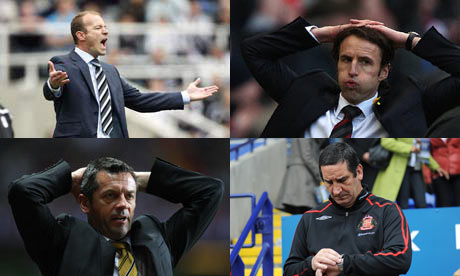 Comment & analysis round-up
Quote of the day: "When I am manager of a club, I do with what I have available and you have never heard me complain. But as well, I do not accept people to think that I'm stupid enough that I have £100m at my disposal and I put it in the bank because I am scared to spend it. If I tell you I have £250m, every player I call will cost three times more. I believe the more everybody shuts up inside the club and doesn't talk about anything and works hard is the best." – Arsene Wenger.
Runner-up: "I was contemplating ringing the three managers, but Ricky Sbragia has worked here and knows this club and knows what we will do. Alan Shearer and Gareth Southgate have played against us many times and know what it is like to play against Manchester United. They will know we will be doing our best. There has been all this speculation and conjecture and concern, but we have got a league that has the best integrity in the world and we will play our part in that. No matter which team I play it will represent Manchester United in our normal way. We are expected to win and we will go there to win, and that's the responsibility we always have."  – Sir Alex Ferguson.
Today's overview: Several topics appear across the backpages this Saturday, kicking off with analysis of the relegation dogfight, moving onto a discussion of Chelsea's punishments following the European exit, and finally ending off with a slew of transfer gossip.
Louise Taylor traces the common mistakes shared by Newcastle, Boro, Sunderland and Hull as the quartet face their battle for Premier League survival. "All four clubs have a horrible penchant for buying badly, with the examples too numerous to mention – think Fabricio Coloccini at Newcastle, Afonso Alves at Middlesbrough and David Healy at Sunderland – but Hull were particularly badly stung by the £5m, £50,000-a-week January acquisition of Jimmy Bullard from Fulham."
David Lacey looks forward to the relegation scrap. "Whatever happens the Premier League is again assured of a fearful, tearful, fascinating last day at its lower end, a day when the flow of hyperbole will burst its banks, referees will be cursed, managers mocked and chairmen reviled. Almost everybody will be blamed for relegation apart from those most responsible, namely the players." A similar sentiment is tabled by Phillip Collins, who writes "there is never an injustice with relegation. If you don't get the points you go down — there is no extra category called 'deserving to stay up.' But that doesn't stop some clubs having a sense of moral grievance at the fact that they are not very good."
The Daily Mail's Charles Sale attempts to rally a sense of injustice by announcing that "Former FA chief executive Brian Barwick astonishingly earned nearly £2million in his last year at Soho Square…It is made up of a salary of around £450,000, including bonuses, plus a monster pay-off when he left the FA last December that approached £1.5m, three times his salary."
UEFA are now dealing with the fallout from Chelsea's Champions League exit, and Patrick Barclay offers his advise on what punishments should be served. "Drogba should never play in European competition again. The severity of his offence, which verged on a minor instance of street crime, demands it, especially in the grim light of a remorse-free apology for an apology. For Bosingwa, a short ban and a warning should suffice; he was young and foolish. But Ballack has had the best part of 32 years to learn that you cannot lay hands on a referee and still he sends out a message that renders him – to use the phrase once applied by a Uefa luminary to Mourinho – an enemy of football." But Ballack has walked away from the incident without charge, Jason Burt speculating that " Ballack was presumably not charged because his protests, while aggressive, came during the match and were, therefore, dealt with by the referee."
Terry Venbables reveals why Manchester United will beat Barca in the Champions League final. "While Barcelona have been left reeling by the suspensions of influential full-backs Daniel Alves and Eric Abidal, United have almost shrugged off Darren Fletcher's harsh ban as an occupational hazard. While Barca fret over injuries to Thierry Henry and Andres Iniesta, United are considering leaving Dimitar Berbatov and Carlos Tevez out of their starting line-up. It highlights the gulf in class and squads." And keeping with the champions, offbeat Russell Brand comments on the longevity of Sir Alex in the Guardian. "From beyond the grave Fergie will be kicking open his coffin and demanding that Madrid 'shut their 'effin gobs and keep their swarthy palms off of Ronaldo.'"
The old chestnut of whether Great Britain will turn out a Team GB football team at the Olympics is picked up by Owen Gibson after "Lord Triesman, ­yesterday said he was "very close" to ­sealing a deal with Scotland, ­Northern Ireland and Wales… it is understood that Scotland, Northern Ireland and Wales – who remain bitterly opposed to the idea of their players participating, for fear of ­compromising their independence in the eyes of Fifa – agreed in principle to "turn a blind eye" to an English team competing under the Team GB banner."
In other news, Daniel Finkelstein explains why according to his calculation Petr Cech is the player of the year, while Henry Winter argues that "if [Wayne] Rooney delivers in Rome, eclipsing Ronaldo, Lionel Messi, Andres Iniesta and Thierry Henry, he will inevitably be tipped as a front-runner for European Footballer of the Year."
In the Saturday interviews, David Conn speaks with Rio Ferdinand ahead of the Champions League final, while in the Independent Sir Bobby Charlton tells James Lawton how Manchester United considered hiring Terry Venables before Sir Alex eventually took the reins at Old Trafford. Elsewhere, Matt Lawton catches-up with West Ham keeper Robert Green to talk about England's goalkeeping situation.
Turning focus onto Europe, Amy Lawrence centres attention on Paolo Maldini who, at 41, will play his last ever match tomorrow for AC Milan at the San Siro. "A quarter of a century in the first team of any club is a staggering enough feat. To do it at one of the world's elite teams, sweeping up five European Cup medals and seven Serie A titles along the way, sets a benchmark that looks unmatchable. To put it into perspective, 35-year-old Ryan Giggs would have to play on for Manchester United for another seven years to equal Maldini's length of service." Chris McGrath continues to lavish praise on one of the great football icons, noting "Maldini gilded even the most physical of footballing duties with the tenderness of genius… Maldini has always had impeccable humility, has never been seduced by flatterers or sirens."
We end with the transfer lies.
The Sun outdo their tabloid rivals splashing with Neil Custis' EXCLUSIVE that "Cristiano Ronaldo plans to quit Manchester United this summer for a £70million move to Real Madrid. And in a double whammy for United, Manchester City are ready to battle Liverpool to capture Carlos Tevez." And speaking of the Citizens, Andrew Dillion farts that "City will relaunch their £10million bid to sign Joleon Lescott this summer."
In the second EXCLUSIVE in The Sun, Tony Little claims "Steve Bruce has held talks with Sunderland about taking over as boss — if they beat the drop."
In other news, James Nursey claims Liverpool can sign Gareth Barry for £10million, Darren Lewis comes from left-field to announce that "John Carew has emerged as a shock target for Manchester City," while the Daily Mail mischeviously print "Chelsea boss in waiting Carlo Ancelotti wants Brazil superstar Kaka to follow him from AC Milan" before admitting that Kaka "has no plans to take the same path as his boss to the Premier League."
---