All the Sundays agree that Fernando Torres will leave Liverpool (El Nino has even told Stevie G)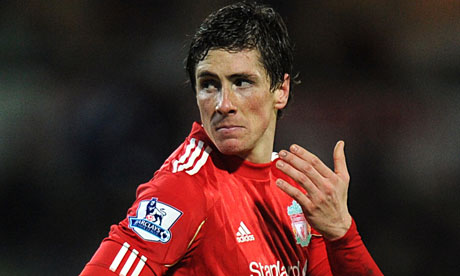 Comment & analysis round-up
Quote of the day:Â Â "I don't know, we will have to wait. There is no change." – Carlo Ancelotti on Fernando Torres leaving Liverpool for Chelsea.
Runner-up: "Nothing is official yet. I had discussions about my transfer after my performance against Coventry City. I'm ready to go to Manchester United. We'll see later in the season, as I'm hoping to reach the promotion target with my current club QPR. I like England, so I am not against the idea of continuing my career at United." – Adel Taarabt.
Today's overview: Fernando Torres will leave Liverpool before the end of the January transfer window, according to all the Sunday papers this morning. All that needs to be sorted is the fee.
A number of papers suggest if Chelsea include Nicolas Anelka rather than Daniel Sturridge, the deal can be done. Or if the bid approaches 50 million pounds, the Merseyside giants will relent. The People take the biscuit for classic tabloid sensationalism, claiming El Nino has told Steven Gerrard he will be leaving Anfield.
Surprisingly Joe Bernstein and Paul Hayward argue that Liverpool should sell Torres ("no player is bigger than the club…") but Rory Smith injects some realism – "To lose him would confirm their place outside of England's elite."
There is plenty of transfer gossip, much of it a little frenzied with just 48 hours of the January window left. Among the most intriguing stories are Michael Bradley to Aston Villa (good signing!) and Manchester United have joined the race for Charlie Adam.
Elsewhere, there is chat about Manchester United, Crawley, Ian Holloway writes of a crazy week and there are a host of articles on Richard Keys and Andy Gray. Stand out amongst them is Kenny Dalglish who provides his take on events after being mentioned in the original rant.
Fernando Torres can leave Liverpool: Rob Draper reveals in the Mail on Sunday: "Rebel Liverpool striker Fernando Torres will be allowed to leave the club before tomorrow's transfer deadline, providing Chelsea owner Roman Abramovich comes up with a package to match Anfield's £50million valuation. Liverpool have agreed to let Torres go for straight cash or a partexchange deal involving Chelsea striker Nicolas Anelka, who would be valued at £8m. And if Torres does depart, few at Anfield would miss him. The Spaniard has become a surly, sulking figure in recent months. One team-mate admitted: 'He has always been admired by his teammates, but not loved.' Crucially,  Liverpool manager Kenny Dalglish is in agreement with American owner John W Henry's strategy and accepts that it is better for the club to sell at the right price than to keep an unhappy player."
Paul Wilson reports along similar lines. "Liverpool, having been dismayed by Fernando Torres's public declaration that he would prefer to move on, are likely to do business with Chelsea if an improved bid is received for the striker. With money at their disposal, Chelsea have used the tail-end of the transfer window to launch a classic sting, leaving Liverpool little option but to seriously consider accepting a realistic bid for a player they will now be resigned to losing and whose continued presence in the squad may even become disruptive. Carlo Ancelotti did not want to answer questions about the pursuit of Torres after their FA Cup clash at Everton. Chelsea are thought to be preparing a second bid for the Spaniard, after Liverpool rejected their offer, believed to be £35m plus Daniel Sturridge. There are some suggestions that a new offer could include Nicolas Anelka as a makeweight."
Steve Tongue adds "Chelsea will step up their attempt to sign Fernando Torres from Liverpool in the most expensive transfer between two British clubs before tomorrow's 11pm deadline. Although Chelsea's manager, Carlo Ancelotti, refused to discuss the bid after yesterday's 1-1 draw at Everton in the FA Cup, they could offer £45 million, with or without the England Under-21 forward Daniel Sturridge. Liverpool are determined to hang on to their World Cup-winning striker at least until the summer, when a £50m release clause in his contract is understood to kick in. If, as expected, they have not qualified for the Champions' League, Torres will be more determined to force a move. His club were shocked when he made a formal request to leave on Friday, just as they signed Luis Suarez from Ajax with their season brightening under caretaker-manager Kenny Dalglish. Torres was one of several players who appeared rejuvenated by Dalglish's appointment."
Rory Smith also believes "Chelsea will return with an improved offer to sign Fernando Torres before the transfer window closes on Monday night but even that may still not be enough to tempt Liverpool to grant the Spain international the move he craves.  The Stamford Bridge club are thought to have had two offers rejected by the Anfield side already this month, with a bid of £28 million turned down last week and a second attempt, worth £35 million, refused on Thursday. In response, Torres submitted a formal transfer request on Friday evening. That request was immediately rejected by Liverpool. Their third bid, though, is still likely to fall short of the £50 million release clause in the 26 year-old's contract. That clause, inserted by Liverpool's previous regime, is seen by Chelsea as a visible deterrent, rather than an asking price."
The People also claim "Chelsea are locked in a Mexican stand-off over Fernando Torres. Liverpool want an offer of at least £50million before they will consider selling the Spanish World Cup winner. But Chelsea, whose initial £35m bid was rejected on Friday night, are confident they can get him on the cheap, especially after Kop fans turned on their idol yesterday."
In classic tabloid sensationalism, Tom Hopkinson says "Fernando Torres informed one man at Anfield of his decision to leave Liverpool BEFORE he handed in his ­transfer request … the skipper Steven Gerrard. Torres, edging closer last night towards a £50million move to Chelsea, was ­desperate to let his team-mate know ­before he heard it via official channels. Gerrard welcomed Torres with open arms when the Spaniard arrived on Merseyside in 2007. And Torres felt he owed Gerrard the courtesy of face-to-face talks."
Why El Nino can leave Liverpool: Joe Bernstein runs with the argument that "No player at Anfield can ever be bigger than the club, not even Fernando Torres." "Experienced managers Rafael Benitez, Vicente del Bosque and Roy Hodgson all have one thing in common besides winning major trophies. They have all fallen out with Fernando Torres. Del Bosque, one of the most popular men in the game, was so irritated by El Nino, as Torres is known, that he made him warm up for an hour at the World Cup final before sending him on. Current Liverpool boss Kenny Dalglish will probably not have time to fall out with Torres given that the player has demanded a move to Chelsea within the next 48 hours."
Paul Hayward chimes in with a similar argument. "Liverpool in Dalglish's time as a player was not splenetic, as it is now, and he would not want it to remain so. One step to salvation is to employ only those who want to be there. Torres perked up when Dalglish took over but also when the January transfer window opened to offer an escape. Courted by Manchester City in the summer, El Niño stayed at Anfield reluctantly and was not sufficiently reassured by the Fenway Sports Group takeover to reject Chelsea's overtures. Players talk hogwash about leaving 'to win things'. They leave mainly for money and because they tire of sharing teams with colleagues they know to be inferior. At first selling Torres seemed unthinkable. Then it started to feel like part of the recovery."
Rory Smith argues Liverpool cannot afford to lose El Nino. "That Torres finds them more appealing than remaining on Merseyside says a lot. Not for FSG, but for Hicks and Gillett. Such is the damage they have done. Torres knows how long the rebuilding of a shattered club will take. He grew up at Colchonero, after all. He bears the weight of Atlético Madrid in his soul. He feels he does not have that time. These Americans, these new Americans, are rather different to their predecessors, though. They despair at the lawlessness of European football; as of last night, there was every indication that they would continue to refuse the striker a move, that they would countenance the idea of keeping him against his will. It is a crucial battle: City kept Tévez, United kept Rooney, Arsenal kept Fabregas, Chelsea retained Terry. It seems unlikely Liverpool and Torres will experience a detente, as in all of those cases. But to lose him would confirm their place outside of England's elite. It would prove Torres right. Liverpool cannot afford to be different. For their future, they must show Torres he is wrong."
Transfer gossip: The Mail on Sunday claim Sir Alex Ferguson has joined the chase for Charlie Adam, Spurs have bid 26 million pounds for Fernando Llorente and Aston Villa are poised to sign Michael Bradley.
The People have a host of transfer stories, including Carlo Ancelotti to make a shock move for James McCarthy, Ashley Young will get a big pay boost to stay at Aston Villa and Bolton want Daniel Sturridge. Further stories include Sir Alex Ferguson confident of signing Alex Chamberlain, United want David De Gea to replace Edwin van der Sar and Newcastle want Stephen Ireland.
The Sunday Mirror add that Barcelona want Gareth Bale, Roma are after Carlo Ancelotti and Manchester City and Liverpool have been alerted to a possible return to England by Jose Mourinho.
Manchester United: Paul Wilson calls for Dimitar Berbatov to start banging in the goals in Europe. "Berbatov managed only 26 goals in his first two seasons at United, roughly half the strike rate he had been achieving at Tottenham, and questions over his effectiveness were largely justified. He may never have been the complete flop that some United fans claimed – his touch rarely let him down and some of the goals he did score or help create were sublime – but £30m strikers have to be measured by their strike rate and even Sir Alex Ferguson seemed to harbour doubts when the big games came around. Berbatov made only the bench for the 2009 Champions League final in Rome and was not selected to start in either of the games against Bayern Munich last season that marked the end of United's European journey."
Steve Tongue reports on United's win at Southampton. "Knocked out of the FA Cup last season by a League One side, Leeds United, Manchester United were in danger of a similar embarrassment here last night, before Michael Owen and Javier Hernandez – aka 'Little Pea' – finally pulled rank. Richard Chaplow, who once knocked Liverpool out of the Cup in his Burnley days, scored just before half-time and Southampton's deserved lead was held until almost midway through the second period.All in all Nigel Adkins' side gave a fine account of themselves, even if they tired towards the end. Chaplow, Lee Barnard and Rickie Lambert formed an effective trio, the one disappointment for Southampton being that the highlyregarded Alex Oxlade-Chamberlain – son of the former Stoke and England winger Mark – was unable to force his way into the game. Arsenal and United are believed to be rivals for his signature, which like those of Theo Walcott and Gareth Bale, would cost a good few million pounds. He found John O'Shea in the first half and the substitute Wes Brown in the second, hard nuts to crack."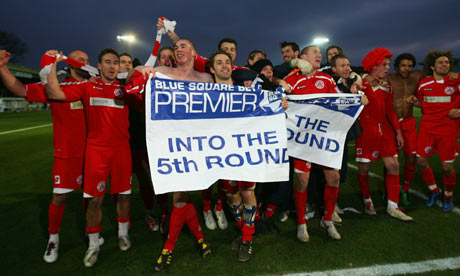 Crawley and the magic of the FA Cup: Mike McGrain reports on a crazy game. "Two red cards, two penalty saves and a touchline fracas added grit to the romance of a non-League away win – and with Crawley Town's record, few will fancy being paired against them in today's fifth-round draw. The Blue Square Premier club, becoming only the sixth non-League side since the second world war to reach the last 16, fully deserved their victory, settled by a first-half goal from prolific striker Matt Tubbs – his 25th of the season so far. It was their third win over League opposition this season, with Swindon Town and Derby County already knocked out. However, given the club's resources, the run of conquests is perhaps less surprising. Having spent more than £500,000 on players last summer, Crawley's squad is rich with the sort of quality and experience needed to perform at a higher level."
Mike McGrath also puts the giant killing in perspective. "Crawley Town have been labelled the Manchester City of non-League football, and after this victory they may be rubbing shoulders with Premier League opposition in the next round of the FA Cup. Even without the surprise result the game would not have been incident-free. There were two red cards and two penalties saved, with Matt Tubbs's strike ensuring his side become only the sixth non-League team since the war to reach the fifth round. "It feels fantastic," Crawley's manager, Steve Evans, said. "But we'll be practising penalties. You say they didn't turn up but give us credit for that; I don't think Derby or Swindon turned up either." Given that they had Richard Brodie, a striker bought for more than £200,000 from York City, on the bench, the £90,000 prize money was hardly a factor for the lowest-ranked team in the competition. What mattered was a place in the last 16 and the chance of a Premier League heavyweight in the next round."
Ian Holloway: Surely the best columnist on a Sunday reveals that he handed in his resignation this week. "Let's start with the fine. The Premier League hit us with a £25,000 punishment because I made 10 changes for our League match with Aston Villa in November. When I was told, I honestly could not believe it and I certainly can't print here the words I was coming out with. I find it so offensive and nonsensical for these people to sit in their glass houses and throw stones. It is a joke. I said I would resign if I got fined and that is what I did on Friday. I offered my resignation to my chairman Karl Oyston because that is how strongly I feel. He says he won't accept it and that is up to him. But what is going on? I don't know who I am working for – the Premier League or my club. Everyone keeps talking about how Wolves were fined last season for doing the same thing, but that is not the same scenario. We weren't playing Manchester United away. We were playing Aston Villa on a Wednesday, when we had already had three or four games in a short space of time before it."
Keys/Gray and sexism at Sky: Yep, it's still going, with the few pundits who haven't had their say now weighing in. Patrick Collins gets the ball rolling: "I cannot recall such unanimity among journalists, broadcasters and people in sport since this newspaper set the ball rolling last Sunday morning. Give the folks what they want, indeed. And if that smacks of dancing on the grave, then I refer you to the legion of Sky employees who bear witness to the bullying, misogynistic culture over which Gray and Keys presided. The details are by now well known, the video clips are in the public domain, the tangible and anecdotal evidence is overwhelming. The scale of the reaction is a measure of public disgust. A curious infamy has descended upon two men whose practical contribution to television sport is relatively trivial. Gray has long been a caricature, a cartoonist's impression of an old pro, chundering torrents of earnest jargon to conceal the fact that he has precious little to say. The corporate lounges of our great stadia are full of people who believe you can pass yourself off as a football authority by mimicking the collected phrases of Andy Gray. Seriously."
Kenny Dalglish, one of the unwitting participants in the scandal, reveals: "The person I really feel sorry for in the Andy Gray-Richard Keys affair is Sian Massey. Gender does not dictate how well you know football and if Sian knows the laws, why shouldn't she be involved in the game? When Sammy Lee brought the team sheets in last weekend at Wolves, he didn't even mention that one of the assistant referees was a woman. That's a reflection of how unimportant it is."
David Mitchell also adds his two penneth in The Observer. "These men have so completely misapprehended the nature of humanity that they should be pitied. Poor, stupid Richard Keys – he probably doesn't even understand how funny it is that he said: 'Did you hear charming Karren Brady this morning complaining about sexism? Yeah, do me a favour, love.; But it's hard to pity people who have built massively successful careers in spite of mirthless arrogance, a towering sense of entitlement and disdain for a world they're convinced has got everything wrong. So I don't. And these guys aren't alone. Football is full of Napoleons. Croatian FA president Vlatko Markovic is a good example. Last year, he said: 'While I'm a president of the Croatian Football Federation, there will be no homosexuals playing in the national team', adding: 'Luckily, only normal people play football.' Yeah, normal people like Paul Gascoigne, Wayne Rooney, Gordon Ramsay, George Best and Craig Bellamy. What normal people."
Jim White shows no signs of getting bored of the affair. "For a subscription-hungry organisation like Sky image is all. Especially as a significant proportion of its subscribers are female. While Sky can now, with the dinosaurs culled, modernise its output, no doubt the pair will re-emerge from all this unrepentant, reinventing themselves as the victims of political correctness gone mad. No doubt, too, in other Sky commentary boxes, presenters will be assiduously first naming the camera man and asking after the make-up lady's children. Meanwhile, there is no doubt football is preening itself about the wider response to the episode. The backing Massey received suggested the game as a whole is significantly more enlightened than the loathsome twosome."
In David Hills' Said & Done column, "Last week's toughest sexism reaction: the Sun, attacking Sky's 'shamed TV pair' for 'toe-curling sneers', 'sexist ranting' and 'lampooning women in sport'. Last time the Sun covered the issue: February 2010 – paying Perry Groves to rate Amy Fearn's impact as the first woman to referee a League game. Perry's verdict: 'With a woman in charge, players will be thinking, 'You know nothing about football.' Also, let's face it, women have periods and we all know how hormones affect them. Would women refs be banned during their 'time of the month' because they might be more emotional, depressed or aggressive?'"
The Mail on Sunday also add some smut to proceedings. First, a producer, Vanessa Bridger, who was the victim of the bullying double act and then suggestions that Julia Keys may be set to ditch Richard.
Smut: The People have pictures of Coleen and Wayne snuggling up at an Usher gig and Posh Spice is convinced her fourth child will be a boy.
Click here for more Premier League betting tips
---