"All the credit Grant never received for taking Chelsea to their first European Cup final in 2008 must be heaped upon him now" – Dominic Fifield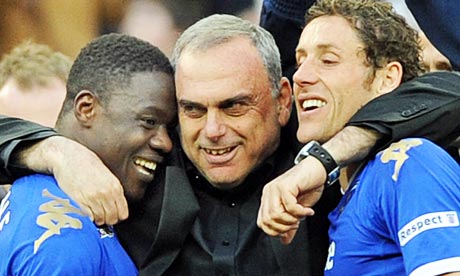 Comment & analysis round-up
Quote of the day: "We had a belief and the courage to win this game, we knew we could do it. They are a good team with a great manager but tactically we played very well. The players gave their hearts. It was not easy. Five players were not 100% and some players did not play in their right position and we did not even have one defender on the bench. In spite of this we played football, scored two goals and I could not ask for more. The way we did it after what has happened all this season and to see players give everything and not take the easy solution and not give up and to be in the final, it is a crazy day. We could write a book about the many things against us this season. Blues against blues. I'm very happy. I want to celebrate… This is the second time it's happened, getting to a final [on Holocaust Remembrance Day] so it's more than symbolic. My father died in October and I lost members of my family [in the Holocaust]. My father was the most optimistic guy I have ever met. He came into life with a smile and departed in his sleep with a smile. This result is for him." – Avram Grant.
Runner-up: "We have to be realistic. It will be very difficult to get fourth now. As a manager you have to believe and you have to support the team, that's why I said what I did at that time. But it is not in our hands now, we are depending on other teams, and I think maybe the [points] difference is too much." – Rafa Benitez.
Today's overview: Unbelievable. Pompey, already relegated to the Championship, beat Tottenham to book an FA Cup final place against Chelsea on Sunday, in one of the great stories in the competition's long history.
Portsmouth's FA Cup magic: Yet savouring the victory is almost immediately soured by David Hytner who explained "Grant will face selection problems for the final on 15 May, as a host of his players could be unavailable because of performance-related contractual issues. The club, meanwhile, will not qualify for the Europa League because, such is their parlous financial state, they did not apply for a licence."
Staying with the negative, a sarcastic Glenn Moore spewed "if the administrators cannot sell Portsmouth now they never will. Consider the advertisement. For sale: seat at Wembley stadium, FA Cup final, Royal Box, front row, comes complete with football club carrying an estimated £80m debt."
Putting the European question to one side, the consensus opinion is one of celebration for Portsmouth.
Oliver Kay summed up their achievement writing "in this basket-case of a season, at this basket-case of a club, a basket-case of a storyline. It seemed to defy belief that Portsmouth Football Club, after the self-inflicted woes of the past year and more, could enjoy a day like this, but in sport, in this competition, logic, as so often, was turned on its head."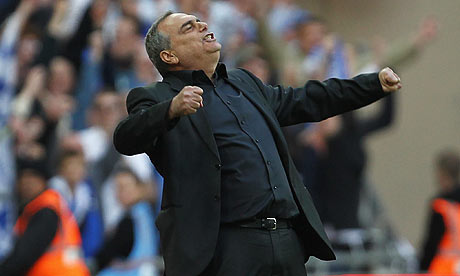 Has Avram Grant, who has rarely received credit in the press for his achievement, finally earned his stripes according to the fourth estate?
Leading the celebrations on Grant's wonderful achievement was Dominic Fifield. "The Israeli had accepted an impossible task when assuming the reins at this financially stricken club earlier this season but, even with Pompey cast adrift and condemned at the foot of the division, he will emerge with his reputation enhanced by events this term. To have steered this mishmash of a team, an awkward blend of hugely committed cast-offs and over-paid remnants of better times, to a second FA Cup final in two years is a wonderful achievement. All the credit Grant never received for taking Chelsea to their first European Cup final in 2008 must be heaped upon him now."
Henry Winter was next to shower praise on the Israeli. "In a time of adversity, Portsmouth fans found a leader who understood their plight and their personality. Like Pompey, Grant has always seen himself as an underdog fighting the odds, often the establishment. No wonder the Portsmouth fans held up a banner declaring 'Avram Grant – The True Spirit Of Pompey' … The real author of yesterday's drama was Grant."
Switching to Spurs, Patrick Barclay could not help flag up the Spurs' failure. "The only way it could have got much worse for Harry Redknapp would have been if Kanu, who scored the goal that gave his Portsmouth team the FA Cup two years ago, had sprung from the bench and, with a third, rubbed salt in yesterday's wound. At the scene of Redknapp's crowning glory came humiliation"
Champions Chelsea & Berba-bashing: Following Manchester United's goalless draw at Blackburn on Sunday the feeling sweeping the backpages is that Chelsea will win this season's Premier League.
Snootily dismissive, Mark Odgen chugged "so much for Manchester United gaining strength as the season reaches its climax. So much for their ability to succeed without Wayne Rooney." While also surveying the wreckage Louise Taylor scribbled "Sir Alex Ferguson may not quite have waved a white flag and surrendered to Chelsea but the Manchester United manager did acknowledge that the Premier League title is sliding from his team's grasp."
In a supplementary article, Louise Taylor went on to flag up Dimitar Berbatov's failings at Blackburn. "Increasingly frustrated with team-mates, the Bulgarian lacks the capacity to lift them in the way Wayne Rooney customarily does. Berbatov, for all his technical brilliance, quite simply does not boast the charisma and dynamism of a Cristiano Ronaldo or an Eric Cantona and singularly failed to bring Macheda into things… In Rooney's absence United appear to have no Plan B."
Ramping up the Berba-bashing, James Ducker considers whether United would be wise to cut their loses with the forward in the close-season. "In Rooney's absence, the Bulgaria striker was asked to the lead the line alongside Federico Macheda and, one good pass to tee up Antonio Valencia for a glorious chance in the first half aside, produced the kind of performance that must make Ferguson wonder he is worth persisting with beyond the summer, regardless of the huge financial hit that United would inevitably take."
Bucking the trend, Ian Ladyman turned on Ferguson himself to question some of the Scot's selection choices. "This really was a dreadful afternoon for him. So it was, too, for some of his team-mates, namely the ones who were not picked. The likes of Michael Carrick, Darren Fletcher and Ji-sung Park are supposed to be United's big-name players these days. Well, this was a big game and Carrick was in the stands while the other two began the day on the substitutes' bench. Maybe this was always Ferguson's plan. Perhaps he is trying to save their energy ahead of next weekend's Manchester derby.  Nevertheless, this was a big game, was it not? Surely they should have played."
Widening the finger-pointing at Old Trafford, Alan Hansen goes a step further claiming Manchester United need a major overhaul to get back on track. "If Sir Alex had just one problem in his team, he could spend £30 million on one player to resolve it. But when the problems run right through the team, it is a different story, and rebuilding United from here is going to be tremendously difficult… Ferguson does not have the options in reserve that he once had and there is no young Giggs or Scholes coming through to threaten the older players. Breaking a team up and starting again is the hardest thing for any manager to do, but the next rebuild will be the hardest of the lot because we don't know if the money is there for Sir Alex to do it."
Liverpool get Yanked: Bittersweet news arrives on Merseyside this Monday as rumours that Hicks and Gillett are planning to give up Liverpool are fleshed out.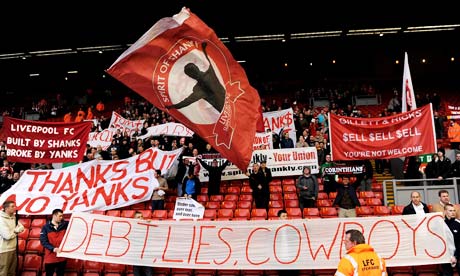 According to Helen Power, "it emerged over the weekend that Tom Hicks and George Gillett Jr have abandoned plans to sell a minority stake to Rhône Capital, an American private-equity firm, instead appointing Barclays Capital to sell the club completely. Hicks and Gillett are expected to end their ill-fated relationship with the Merseyside club within the year."
Adding flesh on the bones Andy Hunter details that "Tom Hicks and George Gillett, Liverpool's unpopular co-owners, are expected to officially put the club up for sale this week but are unlikely to appease the manager, Rafael Benítez, or supporters opposed to their reign with an imminent departure from Anfield."
Ultra negative, Oliver Kay formulates a situation in which Liverpool fans may be wishing the Americans had staying on Merseyside. "It is an unnerving thought, but when the time comes to sell up — surely imminent in the case of Hicks and Gillett — the fate of the club will be in their hands. Or indeed that of the banks. There will be no informal "fit and proper person's test" of the type David Moores, the former Liverpool chairman, tried so unsuccessfully to apply to Hicks and Gillett. It will simply be a case of looking to maximise profit… Are there worse owners than this lot out there? Potentially, yes."
Away from the speculation though, on the field Liverpool were held to a goalless home draw with Fulham and Tony Barrett traces the impact of that poor result. "The only likely certainty at present is that Champions League football will elude them. The European funding that has maintained them in recent years looks set to disappear and the void that leaves in Liverpool's finances, given their current parlous state, could be the most damaging blow they have suffered since Tom Hicks and George Gillett Jr took ownership."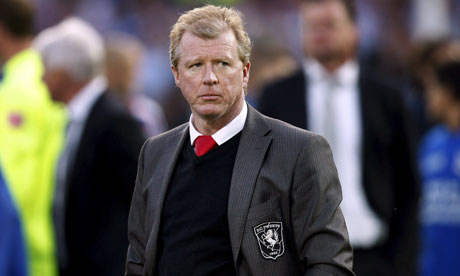 Celebrating Schteve: After FC Twente won again at the weekend in Holland, Sam Wallace rejoices in Steve McClaren's achievements in the Eredivisie. "Would it be too much to ask English football to forget about the disappointments of England's failure to qualify for Euro 2008 and feel proud that McClaren is flying the flag for English managers overseas?… If we can give Hodgson the credit for restoring credibility to the reputation of the English manager then we must surely do the same for McClaren. He is English and he is making a success of himself in a competitive foreign league, making him something of a rare commodity."
Staying with the former England boss, the Daily Mail appear to lie once more as they splutter how Sporting Lisbon are interested in making Steve McClaren their new coach while also looking to bring in Fabio da Silva on loan from Manchester United.
The Mirror Lies: Peddling the daily transfer toss, the Daily Mirror steps forward to give the public the lies which they love to swallow whole.
James Nursey details Birmingham's transfer plans this summer claiming "Birmingham want to keep Ecuador striker Christian Benitez for another season on loan… McLeish [also wants] Celtic's Aiden McGeady, Rangers' Kris Boyd and Fulham's Paul Konchesky. City insist they have dropped their interest in Argentine Mauro Boselli though after McLeish decided against signing the striker."
Taking journalistic license to determine who is termed a football "star" under the headline "Stoke set to launch summer move for Hull star," Alan Nixon farts "Tony Pulis is ready to raid Hull for French centre-half Steven Mouyokolo – and hopes to pull off a bargain deal… Stoke boss will have to act quickly – ­Liverpool, Chelsea and Arsenal are all said to have cast admiring glances at the Frenchman."
Elsewhere we learn that West Ham are the latest club to join the race for Jermaine Beckford and Spurs are targetting Manchester City's Micah Richards.
Muslim Marlon: We end with Anthony France's report in The Sun in which he reports that "disgrace  soccer star Marlon King has converted to Islam in jail – and named himself after hook-handed hate preacher Abu Hamza. The former Premier League striker has been radicalised by Muslim inmates after being caged for molesting a girl and breaking her nose. And he describes vile Hamza – jailed for seven years in 2006 for soliciting murder – as his 'hero.'"
---
GAMBLING CAN BE ADDICTIVE, PLEASE PLAY RESPONSIBLY